How Does Bryan College Station Stand Out from the Sports Event Crowd?
It's simple, really. Take a passionate college town, add elite sports facilities, throw in a dash of dedication and you've got yourself a winning formula for a successful sports event. Not only do sports planners and teams have access to the high-quality facilities at Texas A&M University, they also have more than 30 multipurpose fields across two cities at their disposal—most within a five-minute drive.
Bryan College Station's dedicated sports planning team has an integrated relationship with the city parks and recreation departments, which means key partnerships with facility managers, more flexibility, and an 'all hands on deck' mentality for supporting athletic events. Count on the folks from Bryan College Station to be there on the day of your event to help with registration, refill water bottles, or just be onsite for whatever last-minute tasks pop up. Plus, the local recreation is plentiful, with dozens of hiking and biking trails nearby, a skate park, beautiful golf courses, and a lake for boating, fishing and swimming events. When it comes to sports events, there isn't anything this place can't handle.
Loads of Family Fun, Local Traditions and Down Home Food
Bryan College Station prides itself on being a close-knit community with the attractions of a big city. It holds up to that reputation with outstanding museums, art galleries, shopping, food trucks, outdoor recreation, and more to entertain your team once the games have ended.
Visit the George Bush Presidential Library and Museum for an intimate look at the life of the 41st president, or learn about local history and culture at the Brazos Valley African American Museum. Your team can spend their downtime at Grand Station Entertainment playing laser tag, miniature golf, arcade games, bumper cars and showing off their bowling skills; or spend the day shopping at the unique stores of Downtown Bryan.
When your players get hungry—and they inevitably will—grab some good old-fashioned Texas barbecue at Fargo's Pit BBQ or have a meal while washing your dirty jerseys at the famous Harvey Washbanger. Need to please a crowd? Sample Bryan College Station's food truck scene for a picnic-style lunch outdoors. Satisfy their sweet tooth with a stop at local ice cream shop Farmhouse Creamery, where toppings range from Baja Chocolate and Apple Strudel to Banana Cream Pie and Blueberry Cheesecake.
Click the Instant Info Logo to let us connect you with Bryan College Station

---
X Factors
Dedicated sports planning team
Preferred access facilities agreement with Texas A&M University
Centralized location of athletic facilities
HOT Grant program available
Discounts to local attractions
Help coordinating local volunteers and event staff
Planner Perspective
Very seldom in this business do we find the perfect trifecta combination of top-notch facilities, combined with warm and inviting community hospitality, dovetailed with concierge-level attention to every detail of your event! The Bryan College Station Sports and Events team takes all the apprehension away from event planners and producers like myself. Anytime I plan an event in the Bryan College Station area, I have the utmost confidence in the realization of a highly successful, memorable experience for everybody in attendance, which makes it easy to come back!

– Cindy Cowart, Cowart Sports Events, Inc., IFA/VTD Girls Fastpitch Softball
In the 27 years of running Great American Shootouts throughout the state of Texas, I can honestly say the Bryan College Station CVB is the best! As an event planner, having the opportunity to work closely with Kindra, Dominique and John is a real blessing—they and their staff are true professionals.

– Mike Kunstadt, Owner/Founder, Great American Shootout
The Bryan College Station staff is very professional and has been a pleasure to work with over the last 10 years. The facilities are great for our events and the hotels and restaurants do an excellent job taking care of our teams. Any sports event planner that has the opportunity to work with them is guaranteed to be just as pleased with the results.  We look forward to many more events in Bryan College Station!

– Brandon Hollmann, COO, PrimeTime Sports, LLC
Collegiate Facilities and Local Venues Make the Grade
Veterans Park Athletic Complex (VPAC)
Sports: softball, kickball, soccer, football, lacrosse, field hockey, rugby, ultimate, quidditch, archery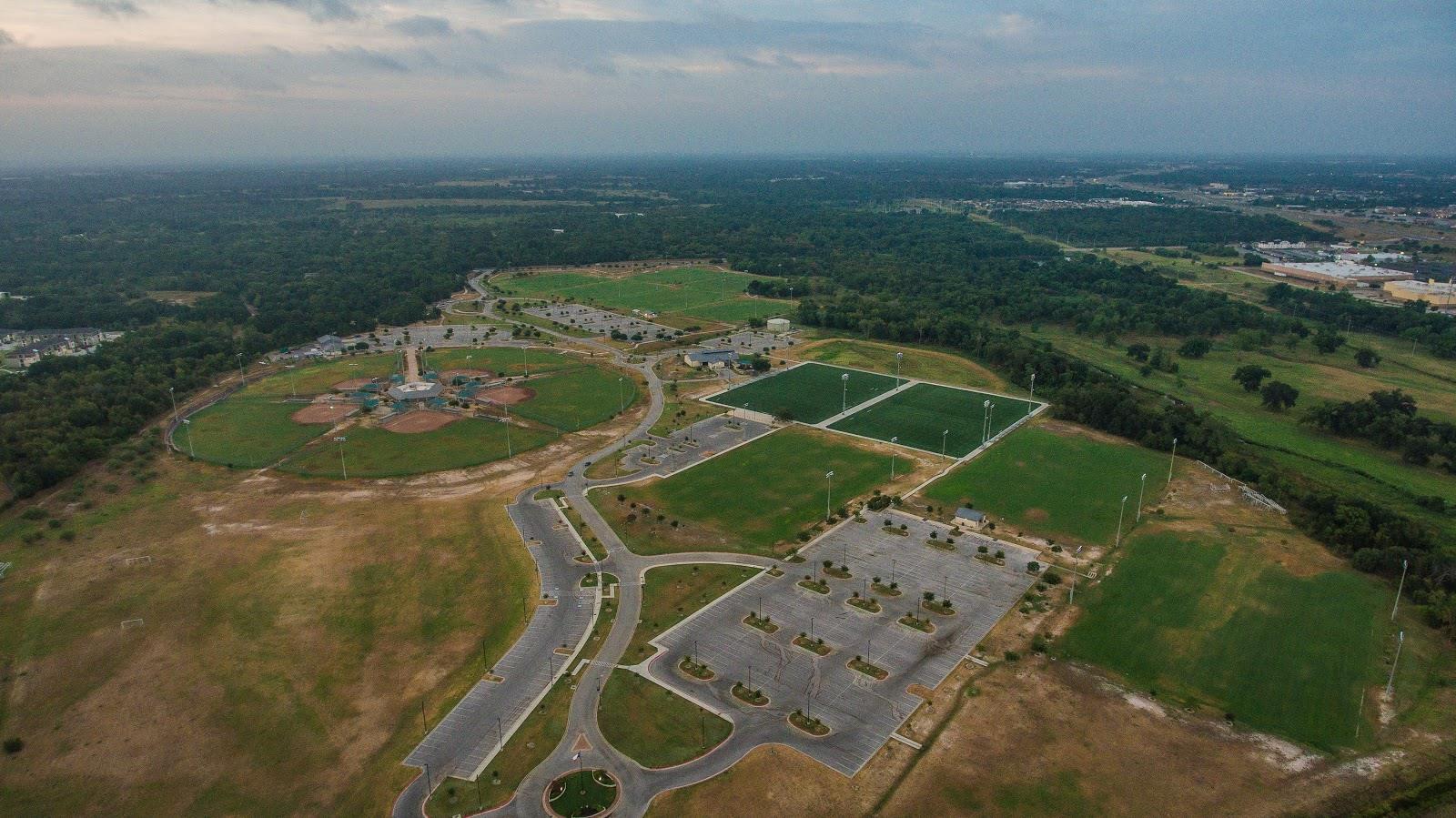 This 150-acre park features 13 multi-purpose athletic fields (4 synthetic and 9 natural grass) and five softball fields. Other features include a lighting system for day and evening play on all fields, Wi-Fi connection, a pavilion with 550-seat capacity, parking for more than 1,200 vehicles with an additional overflow parking lot, and a 12-acre memorial site and heritage trail honoring military veterans.
Texas A&M Penberthy Rec Sports Complex
Sports: Football, baseball, softball, soccer, lacrosse, ultimate frisbee, rugby
The newly renovated Penberthy Rec Sports Complex on the Texas A&M campus is a great option for outdoor sports. It is a 50 acre complex with 4 artificial turf fields, 6 natural grass fields, 2 softball fields, 18 tennis courts (12 lighted), covered pavilion area/lightning shelter with outdoor picnic tables that seats 200+, restrooms with showers, changing areas and a central control room.
Brazos County Expo
Sports: Equestrian, rodeos, livestock events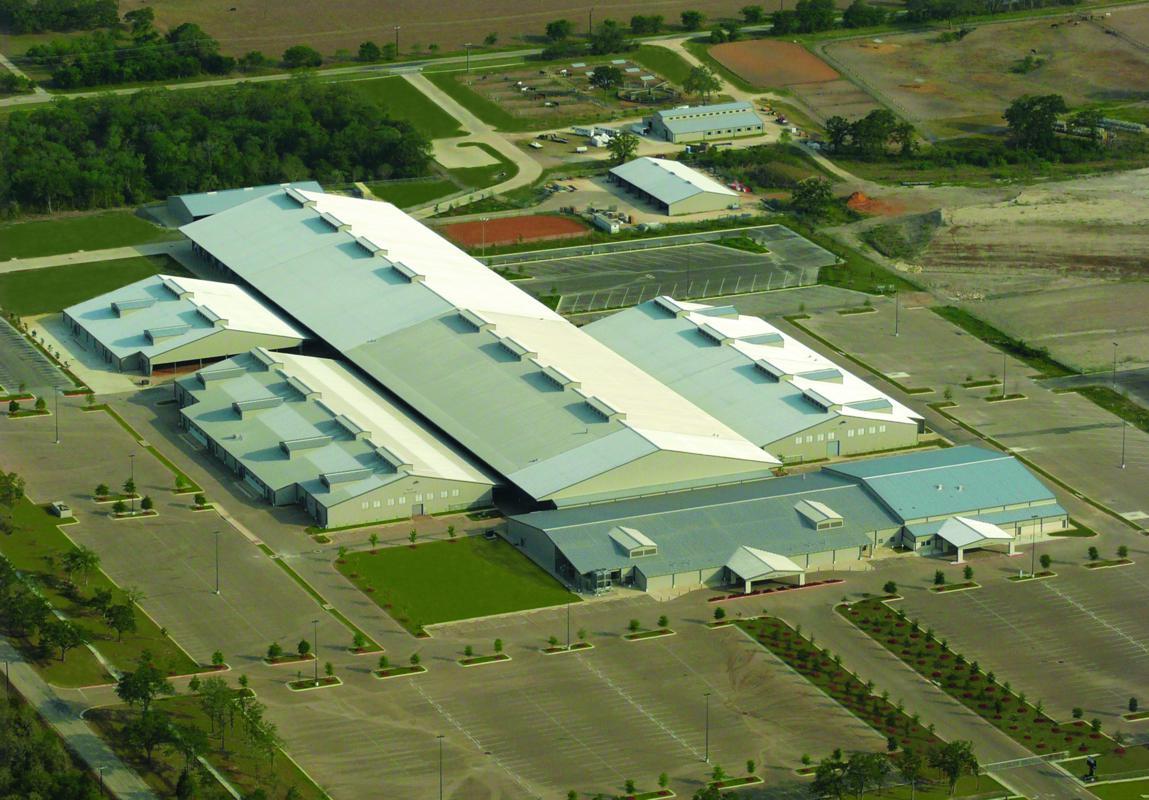 The 70,000-square-foot North Arena is located in the heart of the Brazos County Expo complex. This venue is ideal for equestrian, livestock competitions, concerts, opening ceremonies and whatever you can think of for your event. The South Arena, at 75,000 square feet, has been used for cutting, dressage, barrel races, polo events, roping and more. Plus, another 41,000 square feet of indoor multi-use space that can be tailored to many sports and events!
Reed Arena
Sports: Basketball, volleyball, wrestling, cheer, dance
This unique 12,989-seat events center located on the west side of the Texas A&M campus is home to the Texas A&M Men's and Women's basketball and volleyball teams. Reed Arena contains 25,000 sq. ft. of column free arena space, two 8,700 sq.ft. practice gymnasiums, 9 concession stands, locker room facilities, training/medical room and over 5,000 parking spots available on-site or within walking distance.
Texas A&M Natatorium
Sports: Swimming, diving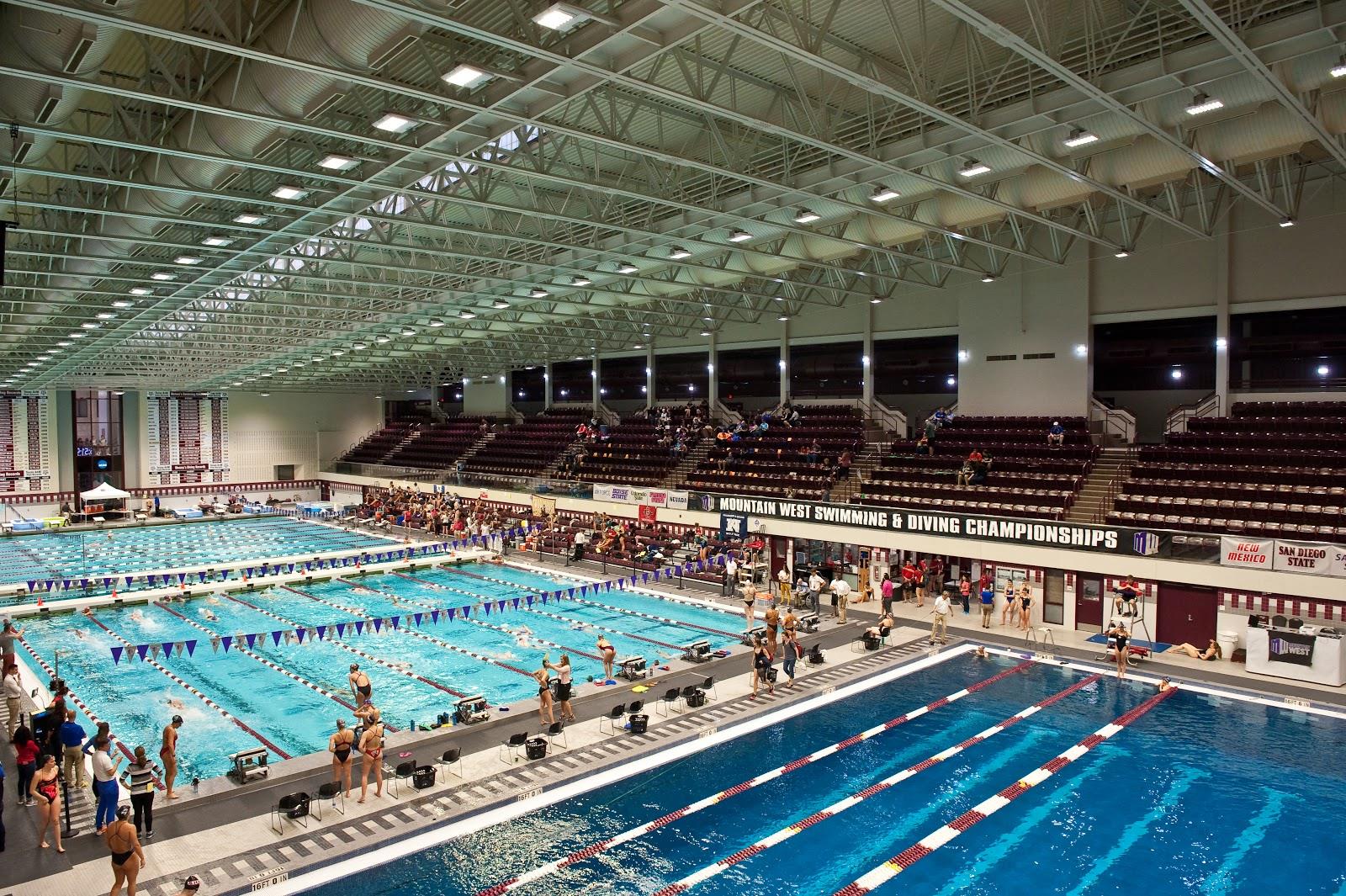 The newly renovated Texas A&M Natatorium is a world-class swimming facility and home to the Texas A&M swimming and diving teams. The venue showcases a 50-meter pool with graduated depths of 7-9 feet, 2 moveable bulkheads, an electronic timing system with an 8 lane display, an underwater viewing window, a 25 meter long and 58 feet wide dive well, second level seating for 1,100 spectators and poolside meeting rooms. Additional features include a dryland training area, showers with 10-12 person heated jacuzzi spas, and computer and event software for swimming, diving, water polo and syncro. This venue has hosted many national, regional and collegiate championship events.
Bryan Regional Athletic Complex (BRAC)
Sports: Softball, baseball, soccer, tennis, basketball, sand volleyball, running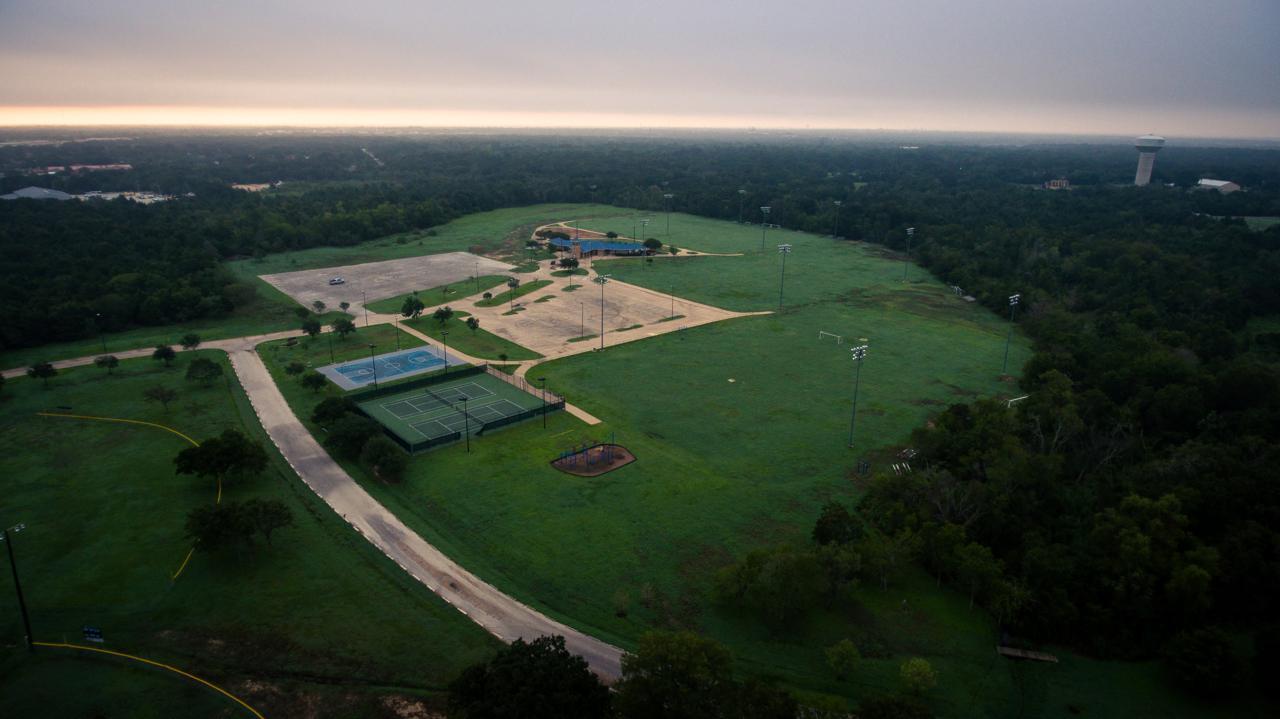 This multipurpose facility is enhanced by four lighted adult softball fields, a little league baseball field, one girls softball field, nine soccer fields, two tennis courts, a basketball court, two sand volleyball courts, two pavilions, and a half-mile walking/nature trail.
Hall of Champions
Sports: Powerlifting, award ceremony
This 30,000 sq. ft. of multi-purpose column less meeting space is located inside of the historic Kyle Field. THe facility is 100 yards long and 60 feet tall in a unique oval shape representing the football tradition at Texas A&M University. Additionally, the Hall of Champions features multiple video screens, a customizable ribbon board and an interactive museum honoring Texas A&M Athletics. The facility can host a wide variety of events from opening ceremonies to award banquets.
Texas A&M Future Track Stadium
Sports: Track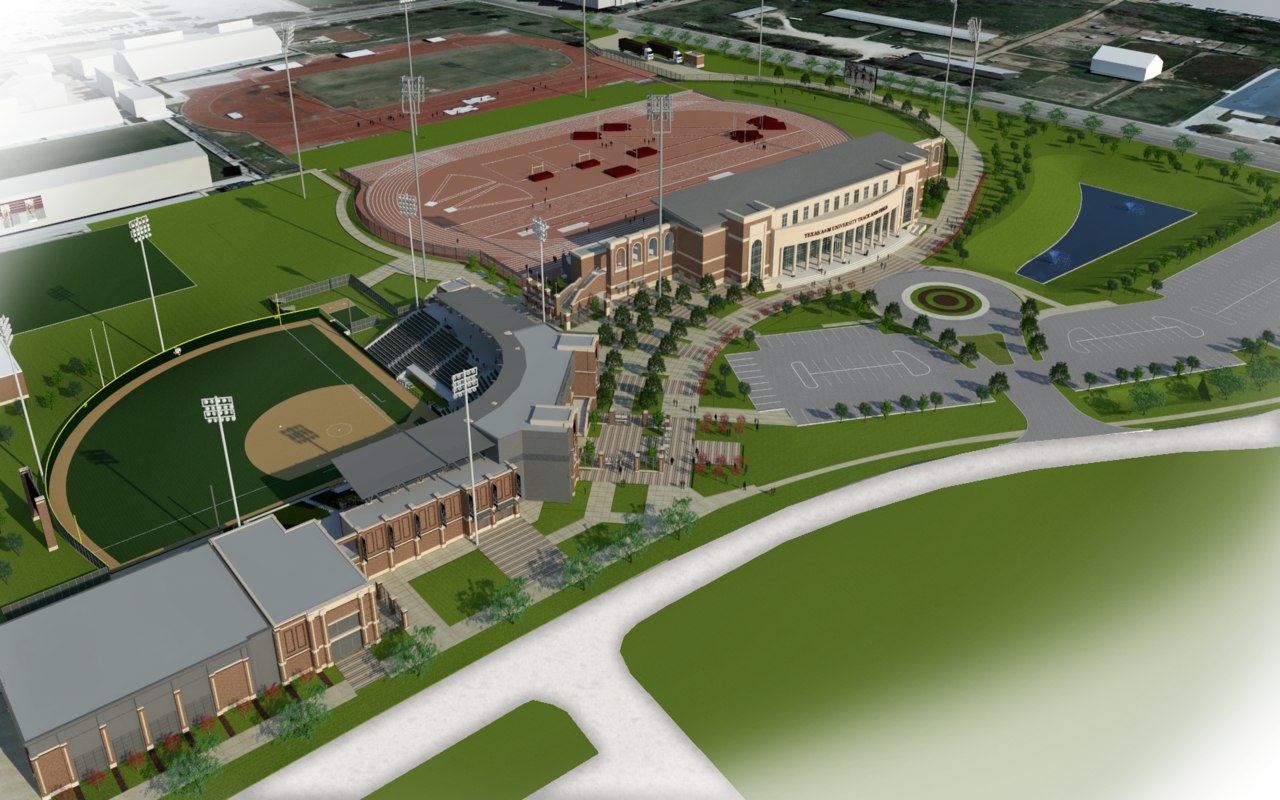 Texas A&M's nationally-ranked track and field program will have a new outdoor venue to call home soon following the approval of new stadium projects by The Texas A&M University System Board of Regents in April of 2016.
Designs for the new track and field facility, which will be a 90,500 square foot complex, includes a nine-lane sprint and hurdle straightaway down the middle of an Olympic standard nine-lane running oval along with dual field event area. Longer throwing events will utilize the grass infield of the current training facility.
The facility is expected to be completed in August 2018.
Texas A&M Future Softball Stadium
Sports: Softball
Texas A&M softball will have a new stadium to call home after the Texas A&M University System Board of Regents approved construction in April of 2016.
The exterior of the new stadium will resemble Blue Bell Park, home of Texas A&M's baseball team, as well as the new Track & Field Complex. The softball stadium will hold 2,000 fans and will include club level seating as well as two luxury suites. The new press box will feature two radio booths, a TV booth and a writing press area.
The project also includes a 6,744 sq. foot indoor hitting facility with four batting cages in addition to staff offices and locker rooms, a visitor's locker room adjacent to the first base dugout as well as locker rooms for the umpires. The concourse will also feature two concession stands, a team store, guest services and restrooms down the first- and third-base lines to enhance the game day experience for fans.
Located at the corner of Tom Chandler Road and Penberthy Road, the $28.6 million project is scheduled to be completed in 2018.
New Developments in #BCSTX
Century Square
Redefining the Brazos Valley, this 60-acre development creates a dynamic community center where people congregate from across the region to experience a walkable, urban destination. The project features premier retail and restaurant establishments, entertainment venues, 60,000 sq. ft. of Class-A office, two full service hotels, luxury apartment home and an activated central gathering space. A few of these establishments include Hopdoddy Burger Bar, Zoes Kitchen, Blaze Pizza, Merge Boutique and Star Cinema Grill.
Inside Century Square includes two brand new hotels, Cavalry Court and The George. Cavalry Court incorporates the rich Texas A&M traditions through early military design, relaxed gathering spaces both indoors and out, and a cool aesthetic that promotes community involvement.  The George, a luxury hotel here in BCS, is steeped in an atmosphere of authentic Texas charm, bringing a sophisticated flair all its own.
Atlas
An extension of the acclaimed Traditions Club and Community, featuring a Nicklaus-designed golf course that is home to the Texas A&M Golf teams, ATLAS is the first and only master-planned community in Texas designed for companies in the manufacturing of biologics, pharmaceuticals, nutraceuticals, and medical devices.
An incredible asset to our growing community, Atlas built a lake in the center of their development with triathlons in mind. Surrounding Lake Atlas is the brand new Stella Hotel. Inspired by the stars and the singular spirit of Texas, The Stella Hotel welcomes guests into a world that honors local history and cherished traditions.
Smack Dab in the Middle of the Texas Triangle
With around 60 hotels and more than 6,000 rooms, Bryan College Station has no shortage of space for your participants. The area accommodates thousands of people attending the Texas A&M football games each fall, so hosting large tournaments isn't a problem at all.
By Car: Bryan College Station is located right in the middle of the Dallas-Houston-San Antonio triangle, and is in the center of 80 percent of all of Texas' population. Both Houston and Austin are roughly an hour and a half drive away.
By Air: United and American Airlines fly into Bryan College Station's Easterwood Airport from Dallas and Houston. If you can't make one of those connections, the Austin or Houston airport are both about an hour-and-a-half drive from Bryan College Station.