learn_more caption="Learn More"]
The following article appeared in the Pennsylvania State Sports Guide. Download the full guide below.
[/learn_more]
If you're organizing a sports tournament, then you have a lot on your plate. From youth athletics, to amateur and professional sporting events, Butler County, PA has just the right sports venues in mind. And not only will you have to decide where to stay and which attractions to check out, but you will have to figure out just how you're going to accomplish your goals for the season. Butler County, located 20 minutes north of Pittsburgh, is the answer to all your burning questions. This town comes prepared with tons of sports facilities and equipment, plus many captivating attractions dispersed throughout beautiful farmlands.
To make matters even more convenient, the Butler County Sports Commission offers some of the most unique services in the business. The sports commission will connect you to the best venues that are fit for your tournament as well as nearby accommodations for the whole team. They will see you through the whole day and provide amenities that are difficult to find elsewhere, such as community support, vendor relations and concierge service. Because of your combined expertise, you'll have the opportunity to host competitions that simply could not be held any place else.
Notable Recent/Upcoming Events
United State Hockey League (UPMC Lemieux Sports Complex)
Tough Mudder (Cooper's Lake)
PSAC Outdoor Track and Field Championships (Mihalik-Thompson Stadium)
Pittsburgh Power Softball- Battle in the Burgh (Dick's Sporting Goods Sportsplex at Graham Park)
Mighty Moraine Man Triathlon (Moraine State Park)
CVB/Sports Commissions Services Offered
Volunteer Staff
PR/Media Assistance
Signage
Site Visits
Transportation Assistance
Mobile Apps
Lodging Services
Welcome Bags/Gifts
Itinerary Development
Event Planning Assistance
Volunteer Recruitment
Community Support
Vendor Relations
Event Concierge Services
Click on tab to see more information about a specific facility
UPMC Lemieux Sports Complex
The UPMC Lemieux Sports Complex is the primary practice and training facility for the Pittsburgh Penguins, as well as a comprehensive outpatient facility for UPMC Sports Medicine. This first-of-its-kind facility in the Pittsburgh region is a true partnership between two world-class organizations. The facility is dedicated to treating, training, and inspiring athletes at every level.
This multi-use facility is a destination for athletes of all ages and skill levels seeking sports medicine, performance, and rehabilitation expertise as well as hockey-specific skills and performance training.
The UPMC Lemieux Sports Complex prepares athletes of all levels and hosts various tournaments, such as the United States Hockey League.
Sports: Hockey
Cooper's Lake
Immerse yourself with the ultimate versatility of Cooper's Lake Campground.  More than 450 acres with a variety of terrains will suit your needs, include a 10-acre lake, wooded areas and mowed fields.
The rolling hills, countryside and backcountry trails contributes to a challenging obstacle course, making Cooper's Lake a recurring destination for Pittsburgh's Tough Mudder. This hardcore, 10-12 mile obstacle course includes mud run challenges designed to test strength, stamina, teamwork and mental grit.
Sports: Various
Slippery Rock University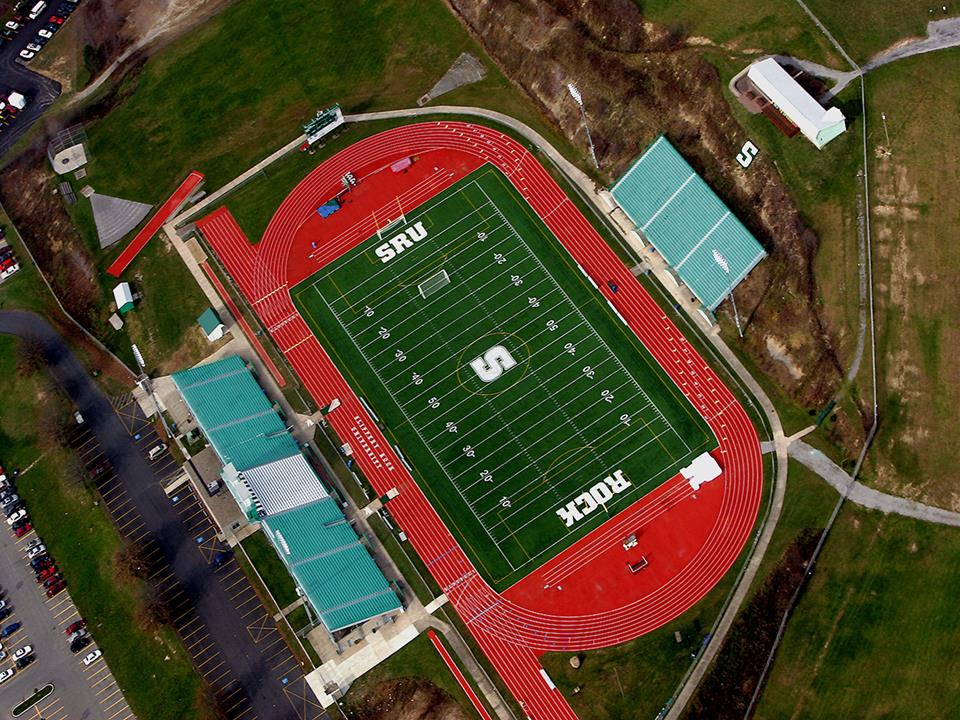 Known as one of Western Pennsylvania's largest college campuses, Slippery Rock University covers 611 acres and houses 17 varsity sports in several modern facilities. These include, a baseball stadium with 1,800+ seats, a Stadium that can host multiple sports, including football, lacrosse, soccer, field hockey, and track and field. It has a synthetic turf field and is capable of hosting a crowd of 10,000 people, full-sized fenced in Soccer fields, one varsity field that can accommodate 300+ people, and a Fieldhouse is capable of hosting 2,500+ people.
Sports: Baseball, basketball, field hockey, football, lacrosse, soccer, softball, track and field, volleyball
Dick's Sporting Goods Sportsplex at Graham Park
Though Dick's is famously known for its popular clothing and sports equipment stores, the brand also champions the Dick's Sporting Goods Sportsplex at Graham Park. This gorgeous park features 13 lighted fields for baseball, softball, lacrosse, soccer, and football. Other unique features include a Dek Hockey rink, tennis courts, pickle ball courts, basketball and three exercise stations.
Sports: Baseball, biking, football, hockey, lacrosse, soccer, softball, tennis
Moraine State Park
Moraine State Park stretches across Butler County for nearly 16,800 acres, including 1,750 square-feet of beautiful beaches. While the park is open for leisurely activity, planners will find prime spaces for a variety of competitive biking and outdoor sports. During the summer, athletes can take their mountain bikes out on six miles or hike along 38 miles of trails. Winter brings on the opportunity to ski or snowmobiling for 26 miles. Test your skills of endurance at the park's Mighty Moraine Man Triathlon. The 3,225-acre Lake Arthur runs on Butler County's west side with 10 boat launch areas for canoeing, fishing, windsurfing and much more. Finish the day with a picnic until the sun sets.
Sports: Biking, cross-country skiing, disc golfing, hiking, mountain biking, snowshoeing
Kelly Automotive/Pullman Park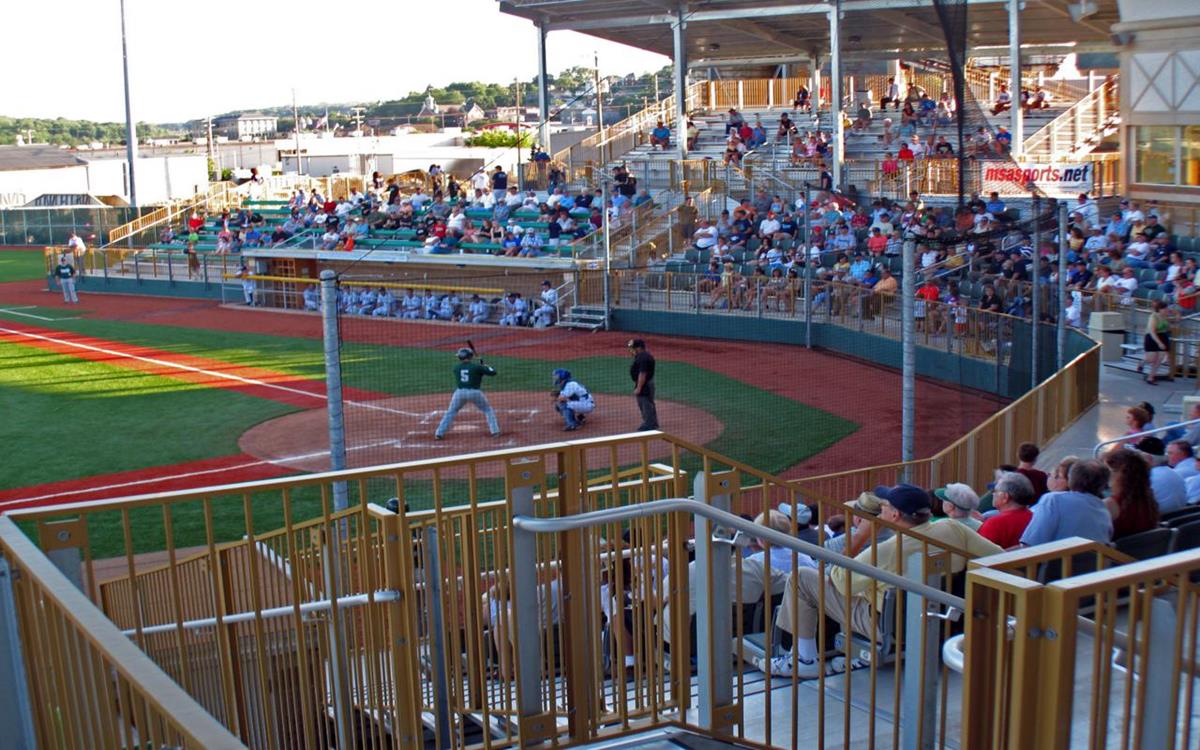 Kelly Automotive/Pullman Park is a first class ball park, with first rate amenities, including  a modern playing surface, broadcast and press box- and a large concession area and gift shop. Customer catering and conference/banquet rooms are available for your organization's meetings, events and outdoor activities. Notable players who played at Pullman Park were Whitey Ford from the NY Yankees and Joe DiMaggio. Josh Gibson from the old Negro leagues is said to have hit one of the longest baseballs ever at Pullman Park.
Sports: Baseball
North Boundary Park
North Boundary Park, located in Cranberry Township, boasts three soccer fields and one baseball field. In early 2019, the park will feature a new Disc Golf facility. The course will be noted to be one of the longest courses in the world, from tee to basket! This course will be one of three championship courses in Butler County, PA. Spectators can also enjoy the Cranberry Waterpark and walking trails on site.
Sports: Baseball, disc golf, soccer, hiking
Things to do in Butler County
Butler County is known to many as one of the top nature-filled destinations of the Northeast. Explore the nearly 16,800-acre, Moraine State Park where there are thousands of trails for every outdoor activity, including biking, snowmobiling, hiking and swimming. Visitors may even go sailing on the park's calm lake.
Take the excitement indoors to Butler County's three indoor trampoline parks. In particular BounceU and Get Air Pittsburgh's newest locations indoor parks offer fun party packages including dodge balls, cushy inflatables, foam pits and a ninja course. The Urban Air Trampoline and Adventure Park in Pittsburgh features themed packages of trampolines and live entertainment for all ages. If you're looking for more amusement, the Fun Fore All Entertainment Center provides award-winning mini golf courses, arcades, go-carts and batting cages. Kids will especially enjoy climbing a four-story playpen and whizzing through the venue on amusement rides with their friends.
Families will enjoy a day out at Lernerville Speedway, Butler County's prime destination for professional auto racing and monster truck rallies. The track is celebrating its 51st year with numerous exciting competitions that are sure to have you on the edge of your seats. During the day, treat yourself to fashionable and affordable finds at Grove City Premium Outlets, one of the country's largest malls. This mall houses over 130 stores and a food court—not to mention a store featuring official merchandise for the Pittsburgh Steelers.
Planner Perspective
For over 15 years I have been organizing events in Butler County. I now organize the only Triathlon Series in the county. I could not do this without the support of the county, Moraine State Park and most of all, Butler County Tourism and the Butler County Sports Commission. Their support helps us to secure our location, sponsors, vendors and participants. They also support us with grants opportunities and marketing. Butler County has so much to offer. If you have not been to an event in our county, please join us. If you are looking to hold an event, look no further than Butler County.
Get Fit Families/Mighty Moraine Man Race Series: Joella Baker
Our partnership with Butler County Sports Commission/Butler County Tourism & Convention Bureau (BCTCB) was instrumental to our successful hosting of the 2015 PDGA Pro Disc Golf Championships. BCTCB helped us win the bid, line up the host hotel and other player accommodations, as well as connecting us with local sponsors and venues for what the Professional Disc Golf Association called "one of, if not, the best Pro Disc Golf World Championships ever!
2015 PDGA Pro Disc Golf: J. Gary Dropcho and Chas Ford
How to Get to Butler County
By Car: Planners that are driving to Butler County are within reasonable distances from big cities such as Philadelphia, Cincinnati, Columbus, Cleveland, New York City and Baltimore. Take interstates 70, 76 and 80 from any of these cities into Butler County. If you're traveling from north or south, I-79 is the most convenient route to connect to from there, while I-80 travels from east or west.
By Air: The Pittsburgh International Airport, just 30 minutes away from Butler's county line, is the most convenient airport to get to where you need to be. The airport is serviced by 16 airlines, including Allegiant, American Airlines, Delta Air Lines, JetBlue, Southwest and United Airlines.
Contact Information
Company Name: Butler County Sports Commission
Sports Sales Manager: Amy Pack
Title: Director of Tourism Development
Telephone: 724-234-4619