Northeastern US
This first-class location on the Eastern Seaboard is perfect for your next tournament.
[...]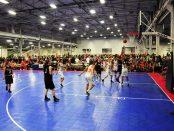 Hard Work. Dedication. Perserverance Success isn't something that comes easy. It's built on hard work, dedication and perserverance. That's what drives Valley Forge
[...]
On the shores of Lake Erie, the town of Erie, Pennsylvania is a haven for sports enthusiasts looking for high-quality venues and a supportive community focused on fostering an appreciation for athletic pursuits.
[...]