When first asked to plan and organize a sporting event for yours and a multitude of other teams, a million thoughts and worries might come to mind. One thing you definitely won't have to worry about, however, is finding the perfect destination to host it. The towns in Champaign County are hidden gems in the sports world, capable of effortlessly bringing the logistics of event planning to life. Between its sister cities of Champaign and Urbana and the top-tier athletic traditions and facilities of the University of Illinois, Champaign County seamlessly combines the energy, culture and spirit of a college town with the humble roots and generosity found only in the Midwest.
But don't just take our word for it – listen to the scores of sports planners who have discovered what Champaign County has to offer for themselves. The county is scheduled to host notable upcoming sports events including the 2019 National Intercollegiate Wheelchair Basketball Tournament, the Illinois High School Individual Wrestling State Championships and the Illinois Triathlon Championships. The diversity of resources each event requires and athletes they bring to the region proves that Champaign County is able and eager to accommodate your teams as well. For a truly unforgettable sporting event and experience for your players, choose Champaign County.
Notable Recent/Upcoming Events
2019 National Intercollegiate Wheelchair Basketball Tournament (March 14–16, 2019)
Illinois Futbol Club Spring & Fall Invites (May 4–6, 2018 & September 28–30, 2018)
Illinois High School Individual Wrestling State Championships (February 15–17, 2018)
Illinois Triathlon Championships (September 23, 2018)
Christie Clinic Illinois Marathon (April 27–28, 2018)
CVB/Sports Commissions Services Offered
Volunteer Staff
PR/Media Assistance
Signage
Site Visits
Transportation Assistance
Lodging Services
Welcome Bags/Gifts
Itinerary Development
Event Planning Assistance
Click on tab to see more information about a specific facility
Activities & Recreation Center (ARC) at the University of Illinois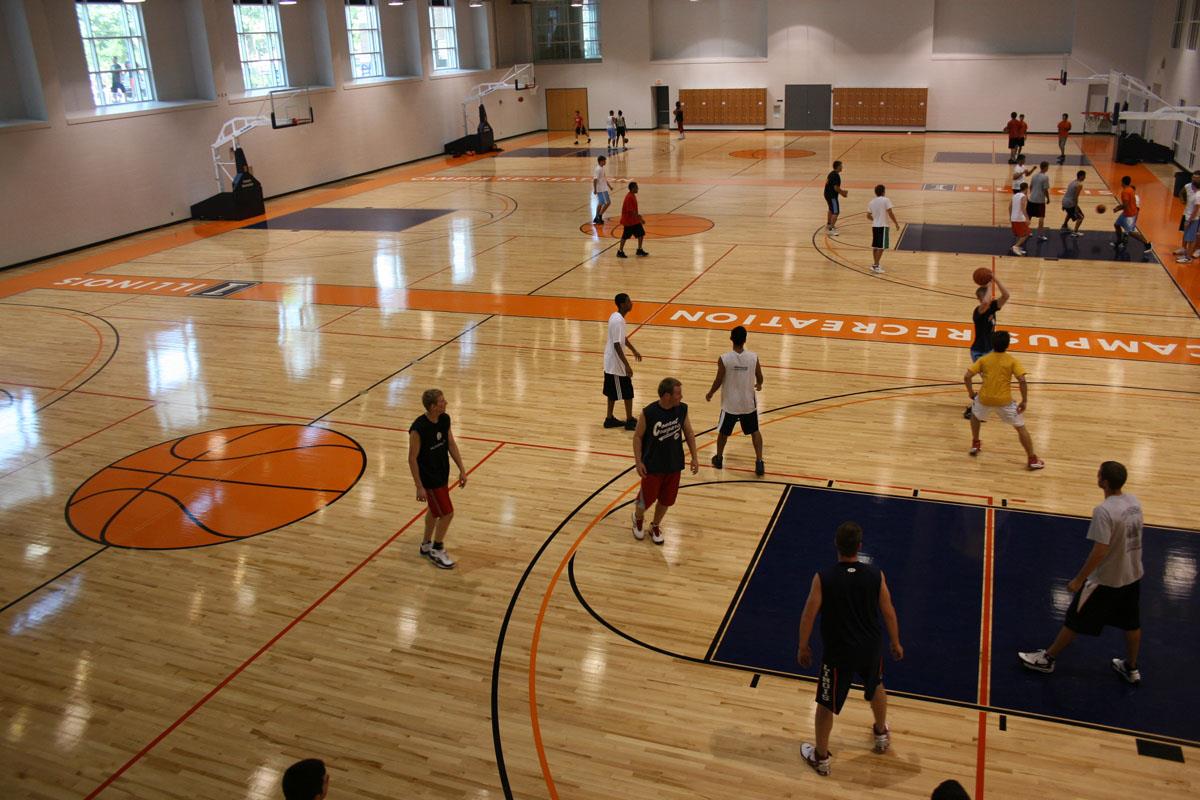 Take advantage of the resources of a Big Ten school right in Champaign County and check out the University of Illinois's Activities & Recreation Center. The 340,000-square-foot center is one of the country's largest on-campus rec centers, meaning it is capable of meeting your most important sporting event needs. The space houses an indoor and an outdoor swimming pool, both with diving wells, a one-fifth mile indoor track, a 35-foot climbing wall, four gymnasiums that can be turned into either 12 basketball courts or 16 volleyball courts, three squash courts and 12 racquetball courts. Other amenities include a sauna, a café and a 150-seat auditorium perfect for post-tournament award ceremonies.
Sports: Basketball, volleyball, swimming, diving, squash, racquetball
Dodds Park
The 103 acres of Dodds Park contain more than your typical outdoor sports complex. This park is home to 11 premier soccer fields of varying sizes and four 3-Plex tournament quality softball fields. In addition, the site also has a disc golf course, a community garden and a memorial honoring Champaign County athletes who have gone on to participate in the Olympic or Paralympic Games. There are also indoor concessions and restrooms for guests' convenience.
Sports: Softball, soccer
Atkins Tennis Center/Khan Outdoor Tennis Complex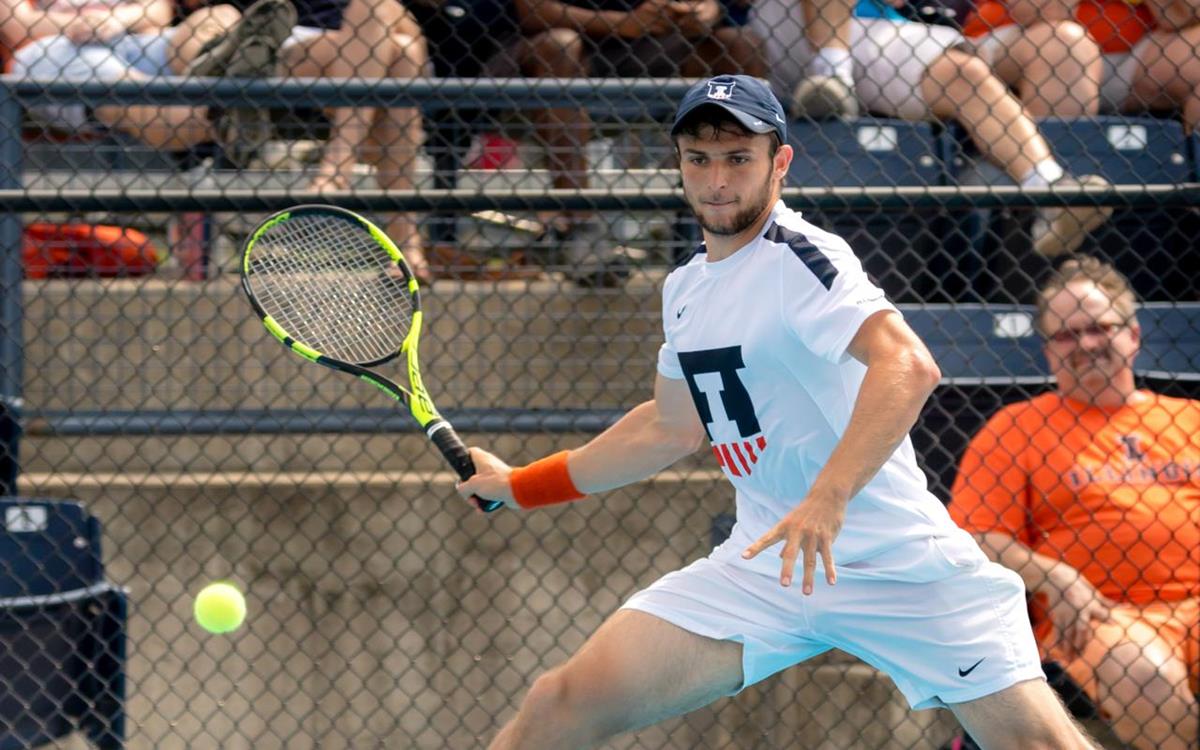 University of Illinois's Atkins Tennis Center/Khan Outdoor Tennis Complex is regarded by many as Champaign County's premier site for tennis matches and tournaments for good reason. Able to seat 3,800 spectators, the complex's air of professionalism is the extra quality you've been looking for to make your sports event extraordinary. Public grass parking is available with designated spots for handicapped vehicles for easier access. The complex offers indoor restrooms but no on-site concessions.
Sports: Tennis
State Farm Center
Loved by Fighting Illini basketball fans for years, the university's State Farm Center has played host to everything from rock concerts to Broadway plays, and can even host your sporting event too. This expansive space houses 15,500 permanent seats and can be upped to 16,500 for events that allow for portable seating on the arena floor. After the tournament or during breaks between games, the center's convenient location offers guests plenty of surrounding restaurant, bar, shopping and hotel options to explore. The arena itself has various concessions vendors, restrooms on all levels and many convenient parking options.
Sports: Indoor, multi-purpose
Leonhard Recreation Center
The Leonhard Recreation Center is another excellent option for sports event planners to consider when choosing between facilities in Champaign County. The fitness building sports amenities such as an indoor walking track, weight room, locker rooms, an indoor playground and geothermally-powered energy. The main star of the show, however, is the center's large gym capable of transitioning from two full-size IHSA basketball courts to four IHSA regulation-sized volleyball courts.
Sports: Basketball, volleyball
Memorial Stadium
Built as a tribute of thanks to Illinois's World War II veterans, Memorial Stadium at the University of Illinois at Urbana Champaign will give a special meaning to football tournaments and championships played here. The stadium and field are as impressive and well-maintained as you would expect from a university with strong athletic pride. After a few hours watching their favorite team battle it out on the football field, spectators and players can take advantage of the stadium's concessions options, including traditional dishes like nachos, hot dogs, brats, French fries and barbeque. There are restrooms throughout the stadium and portable restrooms throughout the parking lot for visitors' convenience.
Sports: Football
Stone Creek Golf Course
As the home course for University of Illinois golf teams, Stone Creek Golf Course will provide visiting teams from all over the country a golfing experience unlike any other. This championship golf course in the Southern Illinois countryside includes a driving range, chipping area, putting green and practice bunker, as well as additional services such as locker rooms, a pro shop and the Attie's Bar & Grill restaurant. With everything a golfer could ever need and more all in one place, Stone Creek makes for another excellent reason to bring your sports team to Champaign County.
Sports: Golf
Things to do in Champaign County
After hours spent fighting for win after win, your team deserves a break from the field or court with a trip to one of Champaign County's well-loved attractions. A local's favorite, the Curtis Orchard & Pumpkin Patch is a historic, family-operated farm that runs from July 20 to December 20 and offers fall festivities such as apple and pumpkin picking, a petting zoo, corn maze, pony rides, putt-putt golf and more. To sneak some educational value into a team excursion, take them to the Spurlock Museum on the University of Illinois campus. This expansive museum features artifacts from cultures from all corners of the globe. Included in the collection are exhibits on Native American, South American, Mediterranean, European, African, Asian and Middle Eastern peoples. When in doubt on what to do next, downtown Champaign's entertainment district is home to theaters, shops and over 40 locally-owned restaurants just waiting to be discovered.
The University of Illinois serves as a beautiful campus where visitors can wander through landmarks like the Krannert Art Museum, attend a high-intensity football or basketball game or attend engaging academic lectures and events. If you're looking for an original way to bring your team together, consider signing your players up for the Adventures in Time and Space escape rooms. With different themed settings and time periods, this group challenge testing their teamwork and critical thinking under pressure will not only provide an hour of fun and bonding, but will also ignite the competitive spirit in your players that brings out their best performances in games.
Planner Perspective
I have always had great support from the staff at State Farm Center.  Their attention to detail in preparation for and management of my events continues to be outstanding. The updates have enhanced the great atmosphere our event has enjoyed for years. We look forward to our annual return to State Farm Center as we know we will be supported at all levels including Visit Champaign County and the great staff at State Farm Center.
Illinois High School Association: Craig Anderson (Executive Director)
Teams are looking for the best complexes to play and for thirteen years Dodds Park has been one of the best multi-field complexes in the midwest.  Excellent, flat, well-manicured fields that drain well and amazing field crews that work tirelessly to get fields ready after wet weather make Dodds Park an annual stop for hundreds of travel baseball teams each year.
Game Day USA: Don Flynn (VP Business Development)
How to Get to Champaign County
By car: Champaign County serves as a meeting point where I-57 intersects with both I-72 and I-74, both which mainly run through the state of Illinois. Whereas I-72 runs east to west across the state, I-57 and I-74 both cut diagonally and therefore provide an easy route to and from Chicago and Indianapolis, respectively. These routes all stop at or around the cities of Champaign and Urbana in the middle of the county.
By air: Teams visiting from farther destinations may find it easier to utilize the University of Illinois Willard Airport for non-stop flights to O'Hare and Dallas/Fort Worth airports, serviced by American and United Airlines, where travelers can catch a connection if need be. Alternatively, nearby metropolitan cities Chicago, Indianapolis and St. Louis are within a short drive's distance and both have their own major international airports, including O'Hare, Midway, Indianapolis International Airport and St. Louis Lambert International Airport.
Contact Information
Company Name: Visit Champaign County
Sports Sales Manager: Ryan Reid
Title: Director of Sports & Special Events
Telephone: 217-351-4133