Cherry on Top: Tremendous Traverse City
The Northern Michigan City combines top sports complexes with some of the most pristine settings for outdoor activities the Midwest has to offer
Why Should I Take My Tourney to Traverse City?
Tournament planners have a difficult job: They search tirelessly for the best facilities that are fit to hold their particular event. These venues must have adequate space, capacity for spectators, exceptional concessions and other important amenities. They want their event to be the best it can be. In Traverse City, a plethora of suitable sports sites makes the lives of tournament planners easier, while also making it more enjoyable for players participating in some of the top athletic events in the Midwest. A variety of sports is covered in this Michigan town, from hockey at Centre Ice Arena to BMX racing at Grand Traverse County Raceway. Soccer fans can head over to the massive Keystone Soccer Complex, while sailing enthusiasts will adore West Grand Traverse Bay. No matter your passion, Grand Traverse has what you're looking for.
What Can I Do in Traverse City?
What can't you do in Traverse City? Summer is beach season, as warm temperatures and ample sunshine make pristine Lake Michigan beaches more tantalizing than ever before. Sometimes called the Caribbean of the North, Traverse City was named one of National Geographic's top 10 summer trips. There are also over 150 inland lakes and hundreds of miles of Lake Michigan shoreline for outdoor activities. Tourists enjoy fishing, while 20 golf courses in the area never go unnoticed. But what if it's raining? No problem—head over to the City Opera House to catch the Traverse Symphony Orchestra, or visit the ever-changing art exhibits at the Dennos Museum Center. Hungry? There is a ton of little eateries, plus Traverse City is the largest producer of tart cherries in the world. With hundreds of restaurants and shops, this Michigan town provides all the entertainment necessary between games.
---
X Factors
Comprehensive bid presentation
Assistance in site selection
Referral service
Attendance building
Information tables
Media assistance
Planner Perspective
What Are the Top Venues?
Centre Ice Arena
Sports: Hockey, figure skating, curling
Home to the Traverse City North Stars hockey program, Traverse City Figure Skating Club, Traverse City Curling Club, Detroit Red Wings Training Camp and the NHL Prospect Tournament.  Traverse City's finest frozen sports venue boasts two ice rinks, one with 1100 seats and the other with 710 seats.  In total, the arena offers 20 locker rooms, four function rooms, a large community room and plenty of space for exhibitors.
Keystone Soccer Complex
Sports: Soccer, lacrosse
This venue hosts a multitude of youth soccer and lacrosse tournaments every year. With ample parking and 23 well-maintained fields on 74 acres, it's not hard to believe that many of the most competitive events take place at Keystone Soccer Complex during the spring, summer and fall months.
Grand Traverse County Civic Center
Sports: Swimming, hockey, softball, baseball
Grand Traverse County Civic Center is a 44-acre park featuring seven baseball/softball fields, a skate park, a one-mile walking track, a multipurpose field, basketball courts, an arena, an amphitheater and the indoor Easling Pool.  With some of Traverse City's primary recreational facilities within its bounds, the Civic Center thrives on its athletic flexibility and entertainment potential.
Vasa Pathway
Sports: Cycling, cross country skiing, running
The Vasa Pathway is a well maintained and groomed trail that features a series of loops (3K, 5K, 10K, 25K) that offer users a number of challenges, ranging from easy to difficult. Cross-country skiers, runners, hikers, mountain bikers, walkers and naturalists enjoy the trail.  It is the home of the North American Vasa Festival of Races – a two-day series of Nordic ski events, and the annual Iceman Cometh Challenge (the largest one-day mountain bike race in the U.S.) uses a portion of the trail.
West Grand Traverse Bay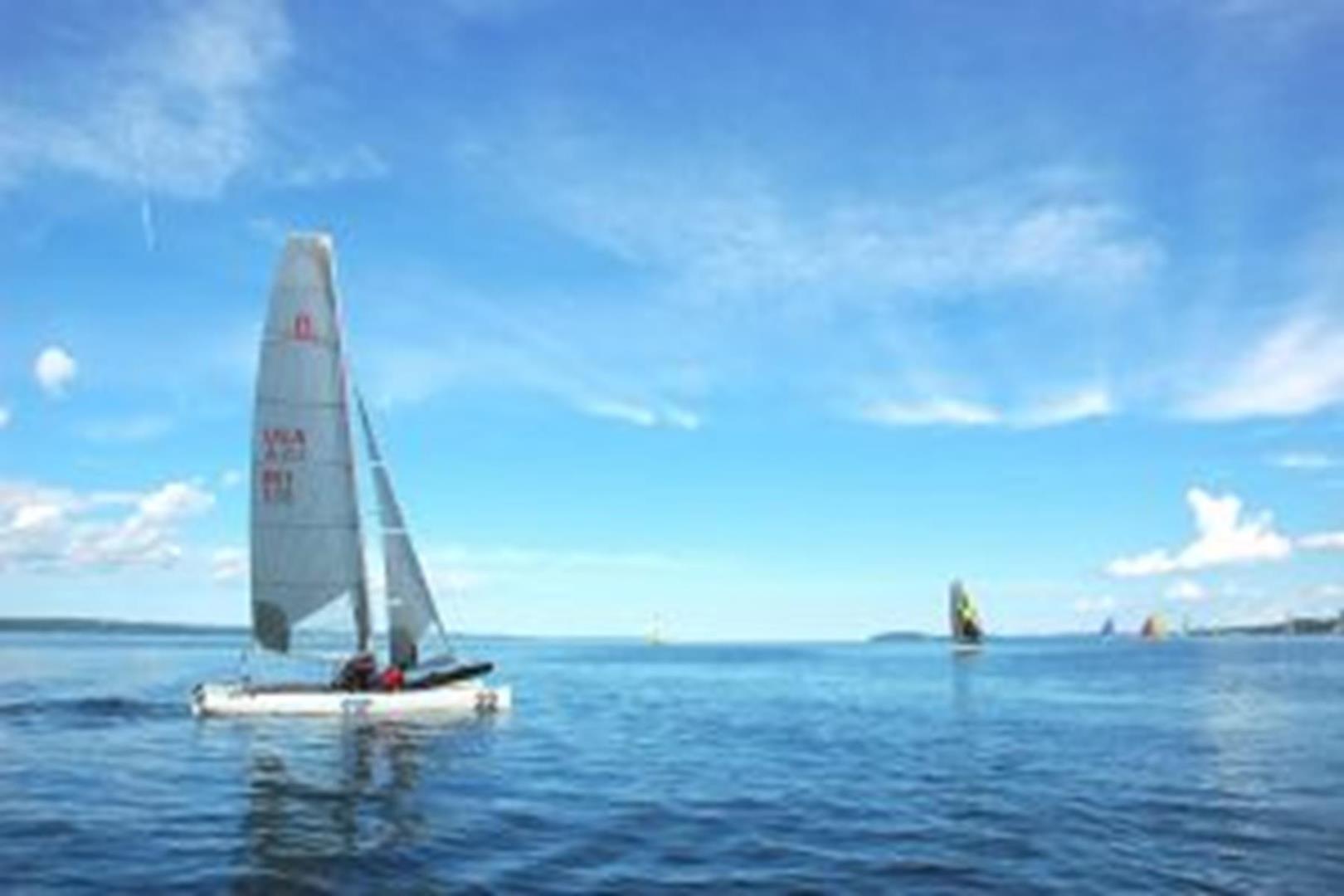 Sports: Sailing, swimming, stand-up paddleboard, fishing, power boat races
West Grand Traverse Bay is 32 miles long, 10 miles wide and up to 620 feet deep in certain spots. Traverse City sits at the south end of the bay, while a host of other communities populate the surrounding area. The waterfront provides many opportunities for outdoor activity, including fishing and sailing.  It was the perfect location for the Melges 17 National Sailing Championship.
Flintfields Horse Park
Sports: Horse shows, dog agility
Built in 2007 and the host of the Great Lakes Equestrian Festival, Flintfields is just 10 miles east of Traverse City. While annually it holds some of the most competitive equine events in the United States, this venue also hosts weddings and concerts. The 84-acre park is ready to host almost any major event.
Grand Traverse County BMX Raceway
Sports: BMX
Grand Traverse County BMX Raceway opened in 1999 as a sanctioned National Bicycle League track prior to the NBL merging with the American Bicycle Association, forming USA BMX.  In the spring of 2013 the track was rebuilt by Lance Maquire Tracks, creating one of the finest biking tracks in the Midwest.  GTC BMX has continued to grow through the years, averaging over 100 riders per race day making it one of the busiest tracks in the State.
West End Beach Volleyball Courts
Sports: Volleyball, beach rugby
The six volleyball courts at West End Beach famously hosted the 2005 World Cup beach volleyball tournament. Though a beach volleyball haven, located on West Grand Traverse Bay in downtown Traverse City, the area is popular with anyone who enjoys a day in the sun at one of Michigan's most serene coastal getaways.
How to Get There
By Car: M-22 follows the Lake Michigan shoreline from the north into Traverse City, providing a scenic drive. US-31 runs thru the area, connecting many cities along the shores of Lake Michigan. In addition, M-72 passes east-west through Traverse City.
By Air: Cherry Capital Airport is a full-service commercial airport offering major airline service to over 300 domestic and international destinations.
Summary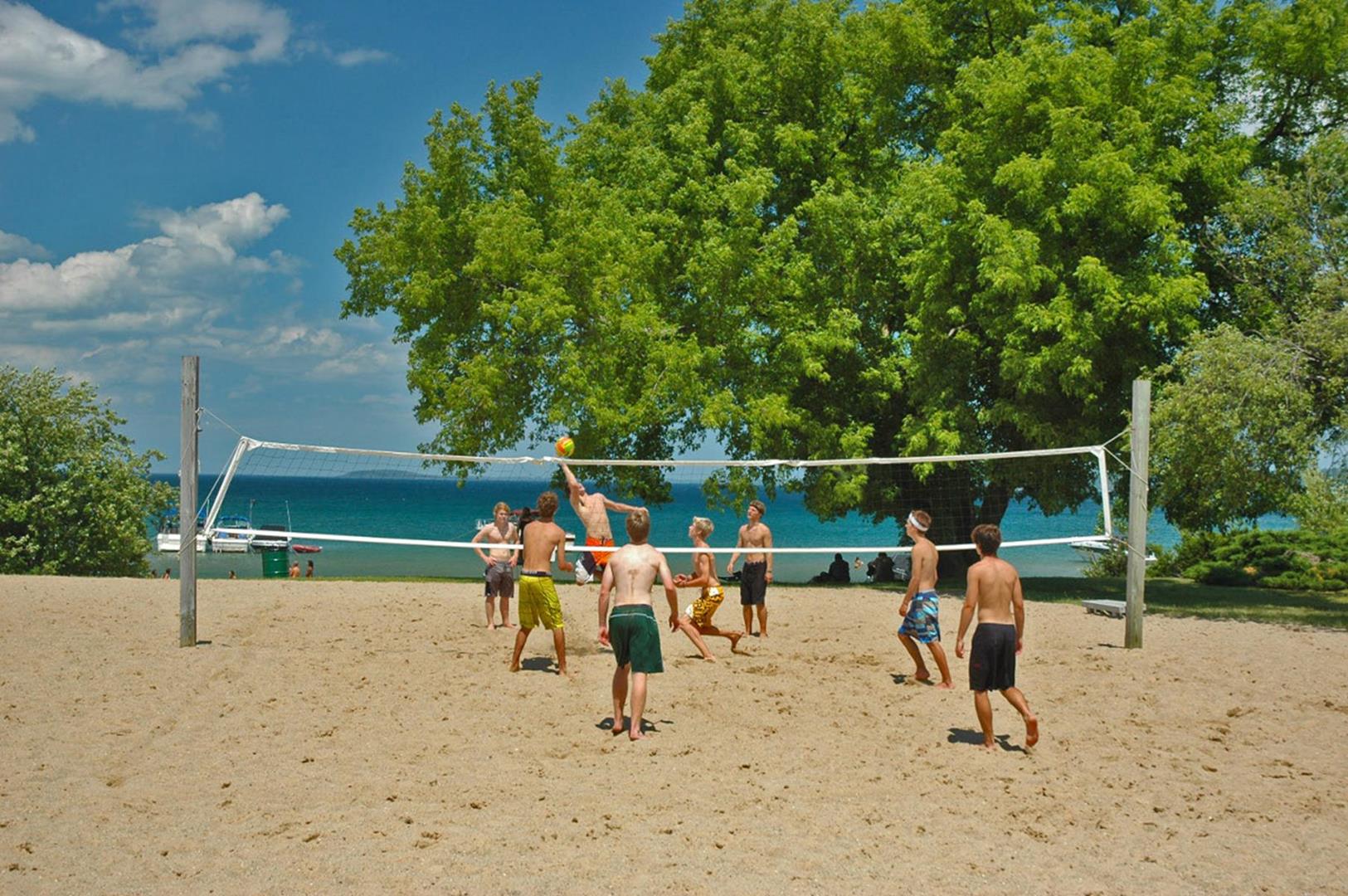 Article Name
Cherry on Top: Tremendous Traverse City
Description
The Northern Michigan City combines top sports complexes with some of the most pristine settings for outdoor activities the Midwest has to offer.