Columbus, Georgia, a City Rich in History and Amenities is the Place for Your Next Event
Southern charm meets abundant facilities in a city rich in facilities and amenities.
Planning a sports tournament is no easy task. You'll need facilities, numerous hotels and dining options of every price range for teams, and all in a city with easy transportation and welcoming locals. Whether it's for one game or an entire tournament, Columbus, Georgia provides all the fields, facilities and places of interest to please your team, no matter the sport.

Columbus off the field
Have an afternoon off or a day with no games? Columbus boasts activities for all ages that blend southern charm with all the bustle and variety of the modern South. The city's main attractions are centered around the Chattahoochee River, with the 14 mile riverwalk guiding visitors through historic uptown to Oxbow Meadows Environmental Learning Center. Uptown Columbus, it's where the locals go!  Enjoy great restaurants, shopping and Woodruff Riverfront Park with splash pad and playground.  Catch a show at the Springer Opera House, the State Theater of Georgia, or at the RiverCenter for the Performing Arts. If your team prefers a more adventurous day off, experience whitewater rafting and the Blue Heron zipline and treetop experience.
The National Infantry Museum is one of Columbus's premier educational attractions featuring more than 70,000 artifacts from the last 240 years of American military history.
With thousands of artifacts, monuments, interactive exhibits and video presentations on display, the National Infantry Museum is one of the nation's leading military history destinations. Visitors of all ages can experience first-hand the American Infantryman's journey to defeat tyranny around the globe.

The Coca-Cola Space Science Center is located in the heart of Uptown along the beautiful Chattahoochee River and riverwalk. The center offers simulators, film screenings and observation events appropriate for all ages. The Omnisphere Theater can transport you to distant planets while the Challenger Learning center simulates a rocket launch from the command center.
Click the Instant Info Logo to let us connect you with Columbus Georgia Sports

---
X Factors
T.E.A.M. Columbus: A unique partnership between the Columbus Convention and Visitors Bureau, Columbus Parks and Recreation and the Columbus Sports Council promotes sports in the area and ensure a memorable experience for all visiting teams.
Longest Urban Whitewater Course in the World: USA Today chose the Chattahoochee Whitewater Park as one of the top-12 man-made adventures in the world.
Housing information to meet your specifications
Site visits
Loyal volunteers for major events
Visitor Guides with local attractions and dining
Columbus Sports Council's dedicated and experienced staff to help plan and assist
Planner Perspective
USTA Georgia recognizes the excellence of the Columbus Regional Tennis Association and Cooper Creek Tennis Center.  We hold many tournaments and events at Cooper Creek (including Georgia State Championship events) and are always treated to first class hospitality in a first class facility.  Columbus truly is a tennis player's dream destination, a vibrant city to compete in and enjoy all it has to offer.

– Darren Potkey, USTA Georgia, Executive Director  
Facilities Overview
Columbus Aquatic Center
Sports: swimming, diving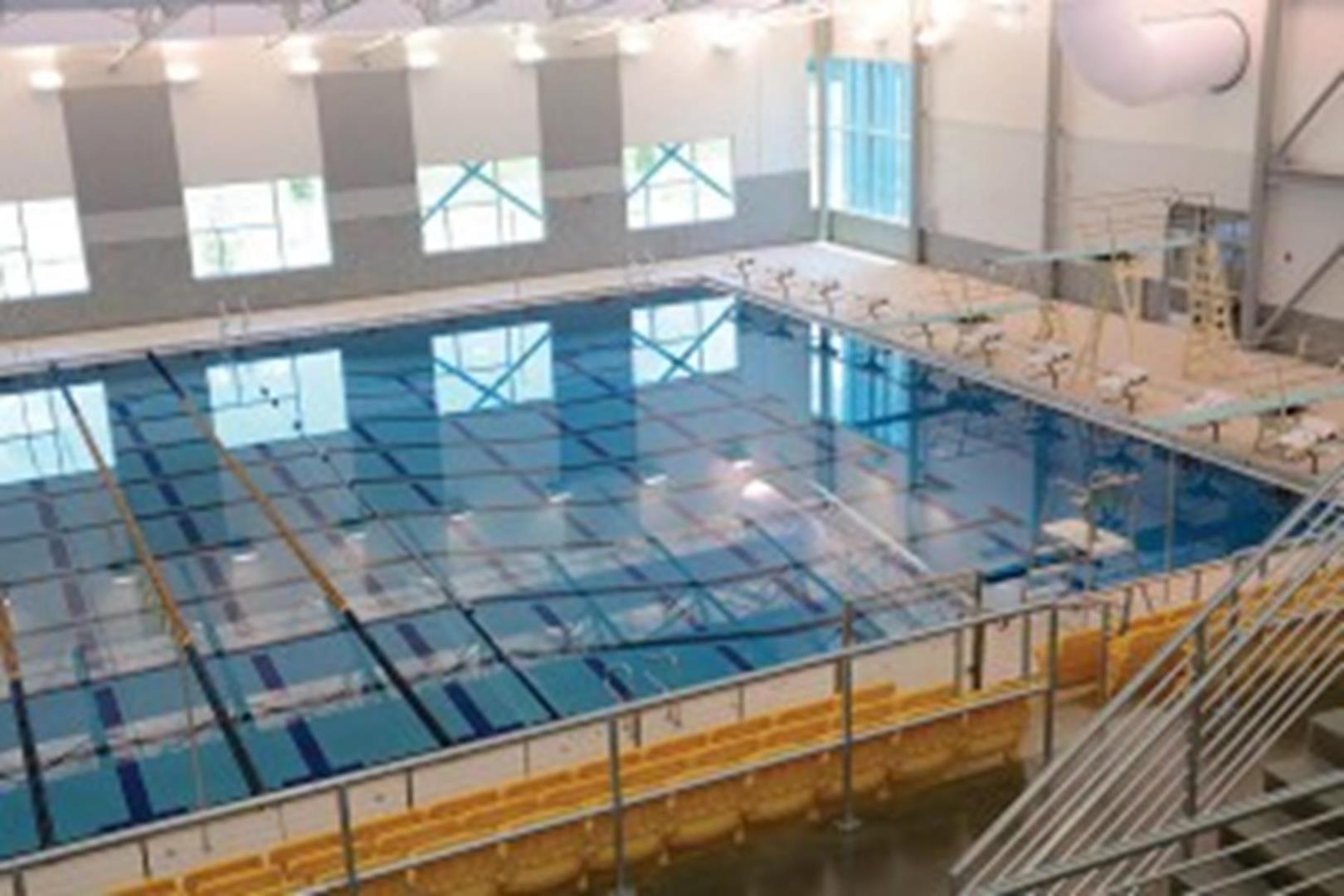 This state-of-the-art natatorium features a 50-meter Olympic swimming pool and diving platforms for 1 and 3-meter competitions. A 25-yard warming pool and complimentary locker rooms are welcome to all competing athletes, while spectators will have plenty of space in the 900-seat mezzanine. The center is equipped with audio and video equipment as well as high definition screens to provide high-definition coverage. Concessions and free parking are also available.
South Commons Softball Complex and Stadium
Sports: softball, baseball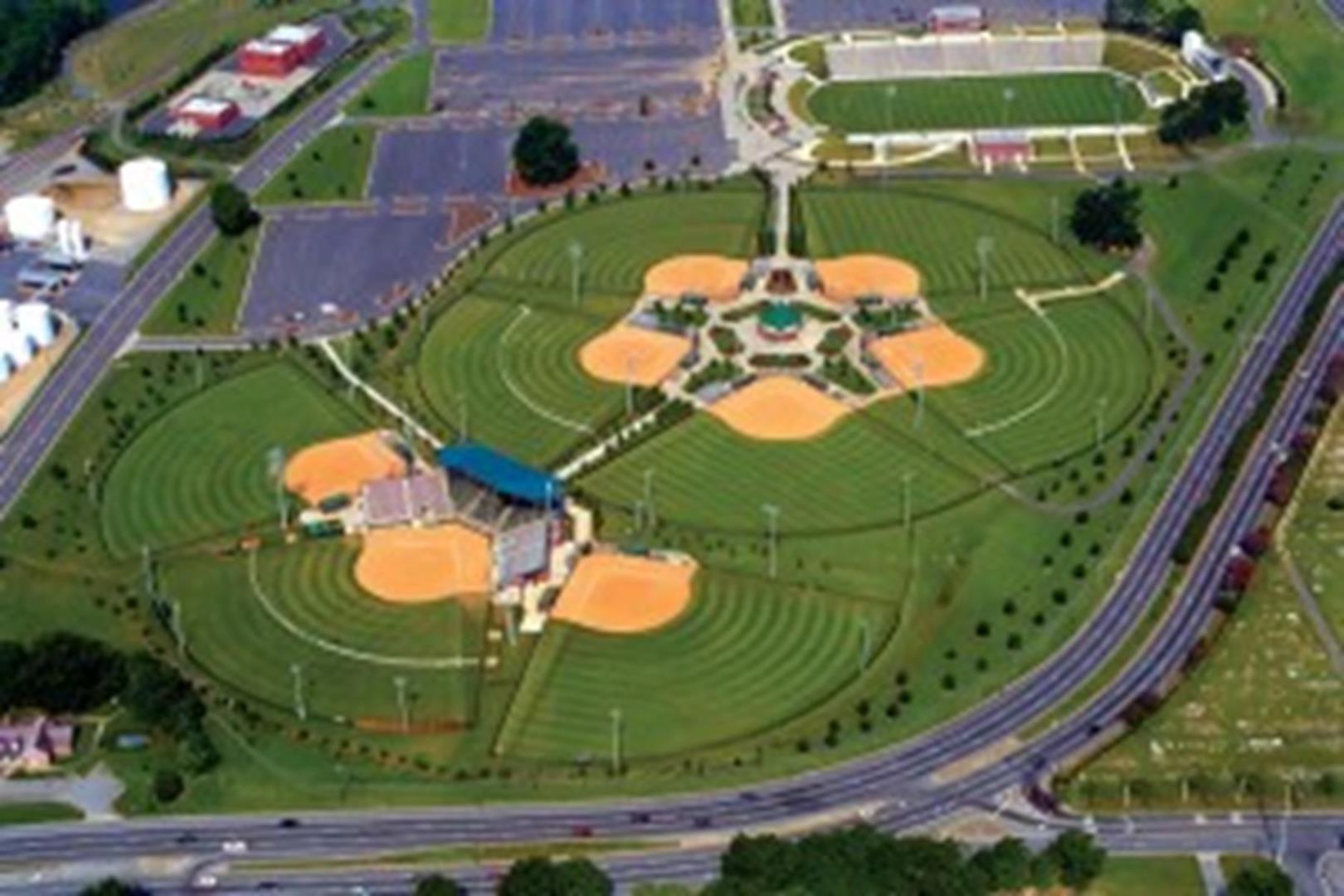 Home to the 1996 Olympic fast pitch softball competition, this complex is internationally renowned by softball players and coaches. The elite venue includes 8 fields with a roadhouse and a 2,500-seat stadium that has hosted local, state, regional, national and international competitions. For spectators, South Commons provides concessions, abundant parking and easy access to the Civic Center, as well as nearby baseball and football fields. There are over 40 nearby hotels and dining options due to the center's convenient location close to downtown and the greater Columbus metro area.
Woodruff Farm Soccer Complex
Sports: soccer
11 field complex features lighting, ample parking and concessions.  Fields suitable for any age group and offers open space and a playground for younger family members.
Cooper Creek Tennis Center
Sports: tennis
The facility has been recognized as the USTA facility of the year and features 30 lighted courts, making it one of the largest public soft-court tennis area in the United States. Once the expansion is completed, the center will have 57 courts in one location, great for players, teams and coaches. They can play their matches, watch their students and support teammates without traveling to multiple sites.
Columbus Ice Rink
Sports: hockey, figure skating
Ice skating groups of 25 or more receive a discount in this expansive skating facility, which welcomes hockey tournaments, ice skating competitions and fun nights out for teams of any sport and seating for more than 700.
Columbus Civic Center
Sports: figure skating, hockey, cheerleading, indoor football
This state-of-the-art and multipurpose sports and entertainment facility welcomes competitions and professional athletes from across the country. The 23,000 feet of floor space and 10,000 seats are perfect for larger competitions, and a flexible floor can accommodate anything from hockey to cheerleading to arena football.  5,000 square feet of hospitality space and concessions are also available.
Columbus Convention and Trade Center
Sports: Multi-use
The Columbus Convention and Trade Center has hosted events such as the Chattahoochee Challenge Gymnastics event in the Ballroom and the American Grappling Federation in the South Hall. The center will host a National Boxing event in November of 2017. This also serves as a great location for banquets.
Getting there
Columbus is 90 minutes south of Atlanta via Interstate 185 and is within 4 hours from Tallahassee, Birmingham, Montgomery, Macon, and Chattanooga. Scenic Highways lead to Columbus and are accessible from all neighboring states, making bus and car caravan trips a breeze. For teams arriving from farther away, the Columbus Airport welcomes Delta flights from Atlanta's Hartsfield-Jackson International Airport.
Summary
Article Name
Columbus, Georgia, a City Rich in History and Amenities is the Place for Your Next Event
Description
Whether it's for one game or an entire tournament, Columbus, Georgia provides all the fields, facilities and places of interest to please your team, no matter the sport.