Diane McGraw: A Life Less Ordinary
For more than 35 years, McGraw has left her mark on the sports and entertainment industries.
When Diane McGraw was a precocious youth contemplating her future, she never envisioned herself carving out a career in the sports industry.
Since entering the professional workforce, McGraw has not only spent an abundance of time promoting sports, she has also been an integral figure in producing major events that have left an impact on this country's sporting landscape.
McGraw, the president of McGraw Productions, a marketing, production and management company specializing in sports, entertainment and tourism marketing, looks back on her humble beginnings with pride and a twinge of amusement.
"I had no plans to get into the sports business at all," McGraw said. "I moved to New York City (from Philadelphia) in my early 20s in pursuit of a career in entertainment industry as an actress."
McGraw began her professional career in 1978 when she was named executive assistant to the president of the New York Board of Directors of the Screen Actors Guild and Astoria Motion Picture Studios/Kaufman Studios in Queens. After being invited to a professional networking event at a tennis club on the East River, she met a tennis pro who said 'Since you work at SAG, you must have contacts and can bring celebrities to our club.' What sounded like a good idea became an even bigger idea when she decided raising money for Astoria Studios to help bring movie production back to New York City would not only be a way to get celebrities to participate in the event, but also come for free.
"I wrote a letter to the New York Department of Commerce requesting permission to use the 'I Love New York' logo," McGraw said. "When they said yes, the I Love NY Pro-Celebrity Tennis Tournament was born and so was my new career producing sports and events."
The tournament was held for five years at the National Tennis Center and Forest Hills Stadium featuring (John) McEnroe, (Vitas) Gerulaitis, (Bjorn) Borg, (Ile) Nastase and a who's who of A-list celebrities.
"I wasn't entirely sure I could pull it off with no past experience in running events, marketing or production, but I was enthusiastic enough to give it a try," McGraw said. "It eventually became so big and one of the top nationally recognized celebrity tennis tournaments in the country. Securing the rights to the 'I Love New York' logo and negotiating a major TV network deal on USA Network was major and one of my proudest accomplishments."
Making Soccer Matter in the U.S.
In 1983, McGraw moved to the Netherlands, where she produced the British Caledonia Airways Tennis Legends Championships in Holland and Germany. "While living in Holland, I met the president of the Amsterdam Ajax soccer club, who jokingly said to me, 'Why don't you bring real football to the U.S.?'"
While the question may have carried a blithe tone, McGraw saw a potential opportunity. When she returned to the United States in 1986, she produced another tennis event, the "Dual of the Aces" featuring Jimmy Connors vs. McEnroe and the North American J29 Sailing Championships in Atlantic City. While those events were impressive, she couldn't shake the thought of bringing a significant international soccer game to America.
"I went to Veterans Stadium (in Philadelphia) and asked the GM if I could rent the stadium for a soccer match between Holland and Brazil. He wouldn't even let me rent the stadium," McGraw said. "He told me no one would come to the game and suggested I go meet with the Athletic Director at Franklin Field (The University of Pennsylvania's stadium for football, track and field) to see if they would host the event."
At that time, the United States was bidding for the 1994 World Cup (a bid America won) and Philadelphia had a strong interest in being one of the host cities. This made city officials receptive to the idea of bringing a major soccer game to the city.
"They had just launched the Philadelphia Sports Congress who said they would support me but couldn't give me any money to host the game," McGraw said. "I then discovered I had to secure a sanction from the U.S. Soccer Federation to bring in any international teams, so I hopped on a train to NYC and met with the U.S. Soccer Federation. Officials at USA Soccer said 'We have a U.S. Men's National Team who never played in front of a crowd before. Can they participate in the match?'"
Due to scheduling conflicts with Holland and Brazil, the soccer federation said they would get the Soviet Union as an opponent and as a result, McGraw produced the first U.S. Men's National Soccer Team exhibition game against the U.S.S.R. The historic matchup, which took place Aug. 25, 1989, at Franklin Field between the United States and Dnepr of the Soviet Top League, was noteworthy because of the event's World Cup implications. A poor attendance turnout would have cast doubt across the world about the United States' ability to host a World Cup. Instead, the event drew a crowd of 43,356, the largest audience to attend a United States soccer game since the 1984 Olympics in Los Angeles. The Americans prevailed 1-0 and with newfound confidence, the team left the next day and beat Trinidad-Tobago to qualify for the 1990 World Cup.
Shortly after the celebrated game, McGraw became the executive director of the Philadelphia Sports Congress. Her designation made her one of the first female executives representing the sports commission industry. While working with the congress, McGraw helped produce another successful soccer game between the United States and Sheffield, England. This matchup took place Aug. 2, 1991, and drew 44,261 fans, further emboldening America's bid to be taken seriously as a World Cup host.
During her time with the Philadelphia Sports Congress, McGraw continued to make an impact on the sporting scene as she hosted and prepared bids for the 1992 National Hockey League All-Star Game; the 1993 Navy-Notre Dame college football game; the 1996 Major League Baseball All-Star Game; the Atlantic 10 men's basketball championships and several U.S. Olympic and NCAA championship events. She was also an integral part of the group that kept the Army-Navy college football game in Philadelphia by creating a citywide festival and annual gala to go along with the matchup.
"I had so much enthusiasm," McGraw said. "I was excited and kept gaining momentum and realized I had a knack for organizing and producing and that my real talent was not in front of the camera, but behind the scenes."
Grammy Awards Come to L.A.
In 1994, McGraw was recruited by the city of Orlando to restructure and lead the Orlando Area Sports Commission. As president, she served on the 1994 World Cup host committee, was chair of the U.S. Olympic Soccer Special Events Committee and worked with Disney, Universal and all the attractions marketing Central Florida as a major sports destination. During this time, she became the first female chair of the National Association of Sports Commissions, which now represents more than 600 cities across the country.
"Other sports commissioners and I realized we had to form a national association of sports commissions," McGraw said. "As sports commissioners, we needed to learn best practices and be able to get a realistic history on the events we were bidding on from previous host cities. In the early days, cities were bidding on everything and we needed to find a more strategic approach to strengthen our bid efforts."
After two years in Orlando, McGraw was recruited by the Mayor of Los Angeles to establish and lead the country's first sports and entertainment commission. One of McGraw's finest moments took place when she helped move the Grammy Awards from New York to the Staples Center in Los Angeles.
"Getting the Grammys into the Staples Center was a big accomplishment," McGraw said. "I have to give some credit to my late husband Tug (former Philadelphia Phillies pitcher Tug McGraw). When I arrived in Los Angeles, I was immediately directed to meet with Michael Greene (the then-head of the National Academy of Recording Arts and Sciences). He had a beef with city officials because someone made a comment to the L.A. Times that the Grammys brought no real economic impact on the city of Los Angeles.
"I went to his office in Santa Monica and for the first 20 to 30 minutes, he ranted about how much he disliked bureaucrats. When he was finished he asked 'McGraw, are you related?' I said 'Yes, my stepson is (country music superstar) Tim McGraw.' He said 'No, I'm talking about Tug, he was my favorite baseball player and I named my dog after him.'"
After that revelation, Greene softened his stance and was willing to listen to what Diane had to say.   Subsequently, it resulted in the Grammy Awards' relocation to the Staples Center as one of its first premiere events since its official opening in 2000. "It's funny, after all that work, to this day I've never even stepped foot in the Staples Center," McGraw said. "I left L.A. before it was built. It's definitely on my bucket list."
In 1998, McGraw took a hiatus from the sports commission industry and launched McGraw and Company with Tug and became his agent and manager. She jokingly boasts she was the highest paid agent in the history of sports because she got 50 percent of everything. She also created and produced the Dare to Dream Experience, a career exploration and mentoring program which introduced high school students to careers behind the scenes in the sports and entertainment industries. Through a grant provided by the U.S. Department of Education and national brands like KFC, Pizza Hut and Subway, the program has impacted more than 3,000 students to date and she is poised to re-launch it again in the Spring of 2018.
According to McGraw, "The motivation for Dare to Dream was to pay it forward because many people helped me along the way in my career and gave me a shot. Now I have the chance to help young people and give them information that will hopefully launch them into future careers."
Two years after Tug's death in 2004, McGraw returned to the industry and became president of the Greater Louisville Sports Commission, where she restructured and managed the fledgling organization by providing the foundation it needed to be recognized as one of the country's top sports destinations.
Under her tenure, Louisville hosted the Ford Ironman race, AVP Pro Beach Volleyball championships, NCAA Regional Track and Field Championships and the U.S. Figure Skating Regional Championships, to name a few. Diane has also served on the Women's Sports Foundation Community Advisory Board, the Southern California U.S. Olympic Committee, the U.S. Field Hockey Federation Board and was recently named an ambassador for the Cal Ripken Sr. Foundation. This past year, McGraw was also the first and only female inducted into the National Association of Sports Commissions inaugural Sports Hall of Fame. Most recently, she became the Executive Director of Travel, Tourism and Film for the Commonwealth of Pennsylvania, representing 11 regions throughout the State of Pennsylvania. She was responsible for overseeing all domestic and international outreach and tourism marketing efforts, as well as marketing the state for major film, TV and commercial production.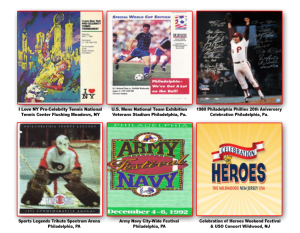 Sharing Life Lessons
With the experiences she has enjoyed and the wisdom she has accrued, McGraw is an ideal candidate to share her memoirs, which she is in the process of writing.
"I want my book to be a lesson. I want to provide an insight into the business and personal side of sports while also encouraging parents not to push their kids into sports at a young age with the goal of becoming a superstar," McGraw said. "The chance of them becoming a professional athlete is very slim and if they have an injury early on and don't have an education to fall back on, life can be tough."
Life can be difficult even if you are one of the blessed few to reach the realm of professional sports, something McGraw saw first-hand thanks to her marriage to Tug.
"I was married to a professional athlete and I witnessed sports from the personal side," McGraw said. "It's not all it's cracked up to be. People don't see the struggles some athletes go through and the day to day problems their families face. In some cases, I witnessed well-known athletes struggling with alcohol and substance abuse and others being taken advantage of and losing their earnings."
McGraw hopes her book will not only provide insight but hopes it will inspire those looking to follow in her footsteps, especially young women who want to enter the industry.
"I believe I got my confidence when I was working in my first job for an executive recruiter in Philadelphia," McGraw said. "I had executives and CEOs come in to interview for jobs with the head of the firm. Part of my responsibility was to review their resumes and pick out the best ones to advance for an interview. I noticed that even CEOs and executives can be just as nervous as a young kid coming out of school. Everyone has anxiety when going on a job interview and have similar insecurities. Am I good enough? Will I say the right thing? I think it's one of the lessons I learned not to be afraid to pursue something or approach anyone with an idea. The worst thing they can say is no.
"I started in a male-dominated industry and one thing I've learned is you have to speak up," McGraw added. "If not, people are going to pass you by and aren't going to ask for your opinion. As I look back, hard work, integrity and resilience have always been a common theme in my career, and now running my own company, it's even more important than ever."
Summary
Article Name
Diane McGraw: A Life Less Ordinary
Description
For more than 35 years, McGraw has left her mark on the sports and entertainment industries. Contact information: Diane McGraw, President, McGraw Productions www.mcgrawproductions.com   diane@mcgrawproductions.com (502) 640-5551
Author
Jason Paha, Sports Planning Guide