Endless Outdoor Sporting Events in Gaston County, NC
With a suburban feel and easy access to the big-city amenities of Charlotte, Gaston County is an ideal location for outdoor sporting events in North Carolina.
Making the Most Out of Outdoor Sporting Events in Gaston County
Planning an out-of-town sporting event is never an easy task; choosing the right location with the proper facilities can be extremely taxing. In Gaston County, there is an abundance of fully-equipped outdoor sporting venues that include amenities such as lighted fields, concession stands, restrooms, playgrounds and bleachers. With beautiful scenery and opportunities for outdoor exploration, Gaston County's local college, parks, lakes, rivers and mountains make it an ideal destination for outdoor sporting events.
Exploring Gaston County and Environs
When planning outdoor sporting events, it's important to keep in mind not only the athletes, but their families and friends as well. While coaches and teams usually have their hands full, there is essentially a lot of downtime for those in the bleachers. When taking a sometimes much needed break from outdoor sporting events, Gaston County has plenty to offer. When the kids are at practice, parents can tour North Carolina's first legal rum distillery at Muddy River Distillery in Belmont. Head eight miles south just along the banks of Lake Wylie to Daniel Stowe Botanical Garden for a relaxing day at this 380-acre property filled with flourishing gardens, iridescent fountains and tropical plants. Bring the kids along to Lineberger Maple Spring Farms in Dallas for strawberry, blackberry and pumpkin picking, or navigate your way through a perplexing cornstalk maze. To dip into some local history, visit the Gaston County Museum, where exhibits include an original 1884 Edison dynamo, the first hydroelectric power generator and a ravishing Congressional Ball gown worn by the Maid of Cotton in 1946. For those seeking an adventurous outdoor excursion, launch into the Catawba River with Lake Wylie Kayak Rentals for a day of flat-water kayaking. Crowders Mountain State Park in Kings Mountain is another great destination for outdoor recreation.
Click the Instant Info Logo to let us connect you with Go Gaston Sports

Brandon Black
Sales and Marketing Manager
Phone: 704-825-4044
Website: www.gogaston.org
---
X Factors
Situated just west of Charlotte, Gaston County has the convenience of a suburb along with the accessibility of a major metropolitan market.
Located on Interstate 85, Gaston is only minutes from both uptown Charlotte and Charlotte Douglas International Airport.
Gaston County is bordered by the Catawba and South Fork Rivers in the east and by the 5,500-acre Crowders Mountain State Park in the west. These beautiful geographical boundaries reflect the outdoors nature of our destination.
A variety of individual and team sports venues from among our multiple mountains, rivers, lakes, city parks, county parks and quaint downtowns.
Our amazing sports facilities are highlighted by the campus of Belmont Abbey College, home of the Crusaders, which fields 27 varsity programs in the NCAA's Division II Conference Carolina and Sims Legion Park in Gastonia, which hosts the Coastal Plain League's Gastonia Grizzlies.
Planner Perspective
It has been a pleasure working with Brandon Black and GO Gaston – Gaston County Travel and Tourism. Brandon has a great insight as to the factors that bring sporting events like The Tarheel Cup and The Western Regional to his county. He is a great resource for anticipating the needs that we as coaches sometimes overlook. Brandon was a tremendous help with our Grant application as the requested sponsorship funds were secured through his efforts and those of the tourism advisory board. Many thanks to Brandon for his guidance.

–Marty Hutchins, Chairman, North Carolina Golf Coaches Association
Gaston County Travel and Tourism is a valued partner in making our community a great place for family fun. Working together with Brandon Black to host a 3v3 Live Soccer Tour event on our campus later this year has strengthened that bond and helped bring a great attraction to Belmont Abbey College and Gaston County.

–Stephan Miss, Director of Athletics, Belmont Abbey College
I worked with Brandon Black during the 2017 Gary Koch Invitational hosted by Auburn University and Kentucky. I had to work remotely during the planning stages of the event with Brandon. I requested that we incorporate live scoring for the 2017 Gary Koch Invitational. Live scoring required several additional volunteers to assist around the golf course. Brandon and the GO Gaston Team provided me with all the resources I needed to run an elite college event. We are excited about returning in 2018.

–Joan Alexander, Director of Golf Operations Men's and Women's Golf, Auburn University
I've had the pleasure of working with Brandon Black this year on planning our March 2018 event in Gaston County. Brandon has not only been prompt in his responses, but he knows all the answers and how best to work through different situations. I think Brandon will go a long way in the Tourism field.

–Larry Clark, Promotions Consultant, Crappie USA
Brandon has been instrumental in assisting Gaston United Soccer Club with expanding our presence and influence in the community. We look forward to strengthening our relationship in the future.

–Jason Bailey, Director of Operations, Gaston United Soccer Club
Gaston County Has Great Locations for Outdoor Sporting Events
Belmont Abbey College
Sports: All
As part of the NCAA's Division II Conference, Belmont Abbey College provides venues for all indoor and outdoor sporting events. Abbey Yard, home to Belmont Abbey baseball, has undergone several renovations and upgrades including a new outfield wall and a field turf ring. Lights have also been recently added, allowing nighttime baseball games. Alumni Field hosts amenities for soccer, lacrosse and field hockey. Recent construction has added new bench areas and an expanded press box. The college offers a softball field with a new brick backstop and netting system, a seven-court tennis center, a strength and conditioning room, and the Wheeler Center, fully equipped with volleyball and basketball courts, wrestling mats, an athletic training room and locker rooms. The campus has several dining halls, and temporary parking passes are available through the campus police.
George Poston Park
Sports: Football, softball, baseball, soccer, volleyball, biking, cross country, fishing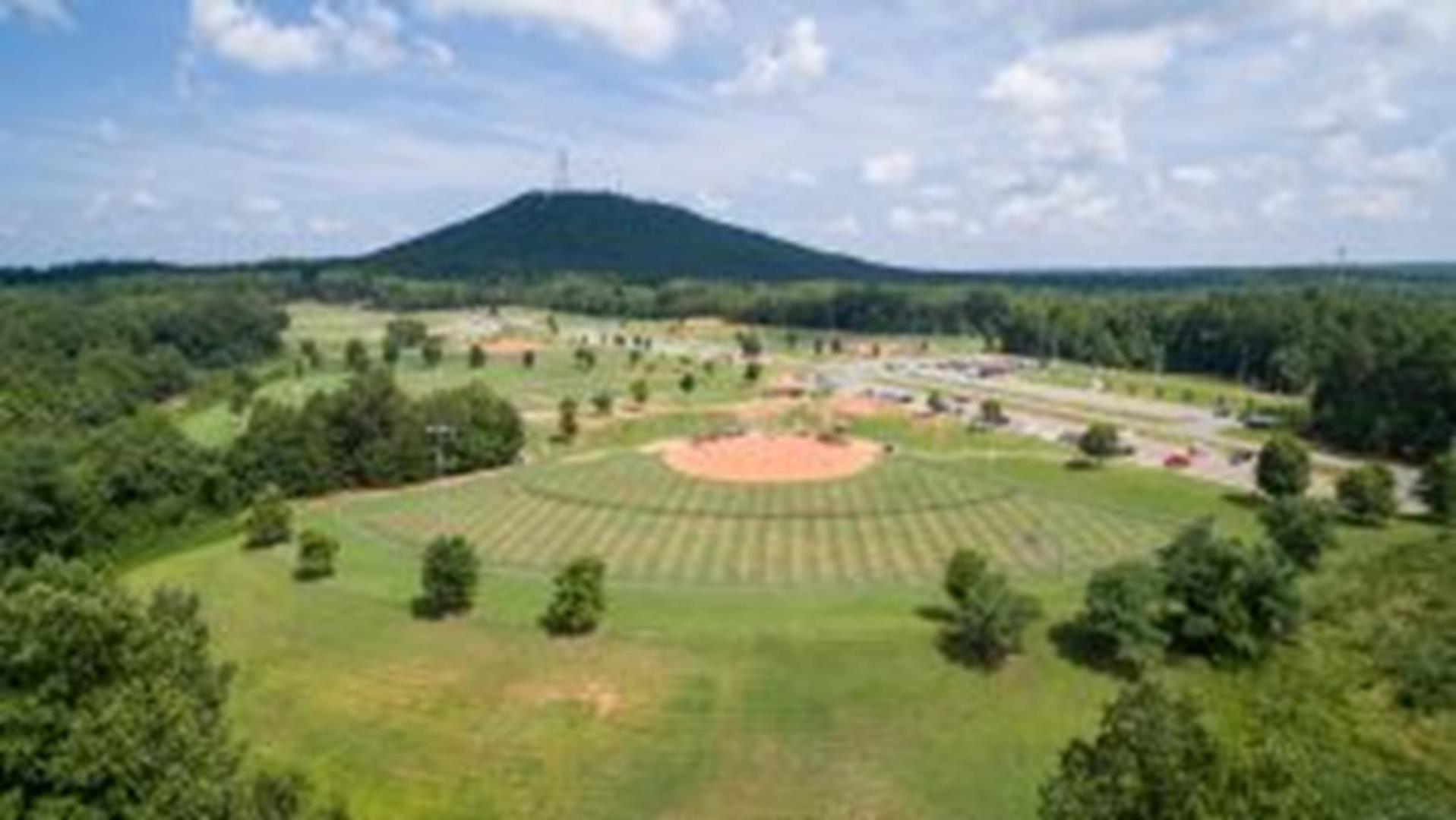 With 100 acres, seven miles of nature and hiking trails and several sports facilities, George Poston Park in Gastonia is a great location for outdoor sporting events. The park features four softball and baseball fields with metal halide lighting for night games, a beach volleyball court and four lighted multi-purpose soccer and football fields, all with groomed hybrid Bermuda grass. There are two picnic facilities with covered shelters, a fishing lake and proposed equestrian trails. Near the picnic shelters is a 10-mile, single-track mountain biking trail. The park has a dog park and playground. Annual events include a wild-catfish fishing tournament and the Stanley Creek Massacre 5k and 10k race.
Martha Rivers Youth Complex
Sports: Football, softball, baseball, soccer, cross country
This 48-acre, collegiate-level park in Gastonia houses four fenced baseball and softball fields and four regulation multi-purpose fields, all equipped with hybrid Tifway Bermuda grass, automatic irrigation systems and metal halide lighting for night games. Also featured are two-story, climate-controlled towers with telephones, enclosed dugouts, electronic scorekeeping equipment and water fountains. The facilities contain aluminum bleachers with 300 seats at each field, concessions and nearby restrooms. Three miles of hiking trails are accessible for cross country runners.
Robinwood Lake
Sports: Basketball, track, floor hockey, swimming, boating, fishing, cross country
Robinwood Lake, now part of the Gaston County Family YMCA in Gastonia, has recently undergone several renovations and upgrades, providing more amenities for indoor and outdoor sporting events. The newly renovated YMCA features an indoor running track and a gymnasium equipped for basketball and floor hockey, while Robinwood Lake offers fishing and boating. The aquatic center includes two pools, one set to 82 degrees for lap swimmers and the other set to 86 degrees for recreational swimmers. Inside the YMCA is a café, locker room and child watch center. Two miles of hiking trails have been added and can be used by cross country runners. Events at the YMCA include the Spencer Mountain 10-mile and 5k race and the Labor Day 5k.
Crowders Mountain State Park
Sports: Basketball, volleyball, biking, cross country, boating, fishing
Located in Kings Mountain, Crowders Mountain's seven-acre manmade lake is an ideal destination for outdoor sporting events, providing opportunities for fishing and canoeing with picnic areas and nearby parking (that is limited on weekends and holidays). Canoes must be rented through the park, but may be suspended depending on current water levels; private boats are prohibited. Trails for cross country and biking range from one to six miles with various difficulty levels. As part of Crowders Mountain, Kings Mountain State Park provides an outdoor basketball and volleyball court. At Kings Mountain, personal kayaks, canoes and non-motorized john boats are permitted for $5/day charge on 13-acre Lake Crawford.
Catawba River
Sports: Water sports, boating, fishing, bowling, tennis, cycling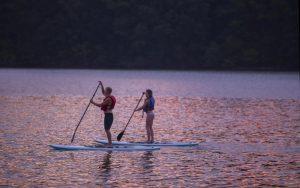 A boater's paradise, the Catawba River spans two states and more than 200 miles with endless opportunities for sports events. Guided canoe and kayak tours are provided, while private boating route suggestions are also available ranging from three to 20 miles with various difficulty levels. With breathtaking views of Catawba River, Tailrace Marina offers pontoon, stand-up paddle board, canoe and kayak rentals. The marina also has showers, restrooms, a pet walking area and picnic areas with seating and BBQ grills. The newly opened Kevin Loftin Riverfront Park in Belmont provides a pier and kayak launch for accessing the Catawba. Riverside Marina in Belmont has access too.
Golf
Gaston County is abundant with golfing opportunities. Gaston Country Club and Cramer Mountain Club are two private clubs which have hosted frequent events. Public golf course options include Catawba Creek Golf Course and Crowders Mountain Golf Course.
Getting to Gaston County
Situated just 15 miles west of Charlotte, Gaston County is centrally located and easily accessible. With three major highways and an international airport just 20 minutes away, your sports team won't have trouble traveling to Gaston County.
By Car: North Carolina's convenient and growing Interstate highway system makes Gaston County easily accessible by car via various major highways. Cities in the Northeast, Midwest and Southwest can reach Gaston by I-40, I-77 and I-85. I-44 offers an important east-west link to Charlotte, just a 20-minute drive to Gaston.
By Air: With more daily flights per capita than any other airport in the nation, Charlotte Douglas International Airport (CLT) flies non-stop to over 130 destinations with over 650 flights per day. CLT hosts major airlines such as Air Canada, Delta Air Lines, Frontier Airlines, JetBlue Airways, Southwest Airlines, United Airlines and ViaAir.
Summary
Article Name
Endless Outdoor Sporting Events in Gaston County, North Carolina
Description
With a suburban feel and easy access to the big-city amenities of Charlotte, Gaston County is an ideal location for outdoor sporting events in North Carolina.