Why Evansville is the Place to Be
Sitting on the southwestern tip of Indiana, Evansville is conveniently situated in the center of the Midwest. This makes it easy to access from cities like St. Louis, Indianapolis, Nashville, Kansas City and Chicago. And while its location is prime, it must also be mentioned that Evansville is flush with fine facilities for sports ranging from baseball and basketball to hockey and lacrosse. Deaconess Sports Park is a haven for softball and baseball. Bosse Field is a baseball stadium, but it is also historic—A League of Their Own was filmed at the site. Then there's the Ford Center, where ice hockey-lovers rejoice at the satisfying aesthetics and exemplary practicality of the complex. These facilities are proof of Evansville's dedication towards sports and hosting major events. When setting up a tournament, planners should look no further than this Midwestern masterpiece.
Things to Do When the Games End
Sure, sports are great in this city. But the game won't last forever, and players, coaches and fans need fun activities for when that final buzzer sounds or the last pitch is thrown. Thankfully, searching for fun in Evansville is quite easy. For the intellectually curious, the Museum of Arts, History and Science might be the perfect choice. One of Indiana's most established cultural institutions, the museum has an immersive planetarium theater and maintains a collection of over 30,000 objects, including decorative arts and anthropological artifacts.
Looking to get a little shopping done instead? Eastland Mall is the lone mall of its type within two hours of Evansville. It boasts a large lineup of retailers, while also offering amenities like a children's play area and a carousel. Then there's Mesker Park Zoo and Botanic Garden, which has more than 700 animals and 186 species from all over the world. Spread over 45 acres, the zoo will be a favorite among kids and adults with its Amazonia rainforest exhibit and Family Garden. With a high-profile shopping mall, a top-notch museum and a host of other attractions, boredom is not an option in Evansville.
Let us connect you with Evansville

---
X-Factors
Excellent sports facilities that are suitable to most all team and individual sporting events.
Sports sales and service division at the Evansville Convention & Visitors Bureau
Affiliated with Evansville's Sports Corp.
Planner Perspective
I cannot say enough good things about the Deaconess Sports Park along with the Staff. Since the first time I meet the staff at the CVB (before the complex was even built) they have had a vision of building one of the nation's top sporting facilities.They have held true to the goal they had set out to reach. The Deaconess Sports Park is a destination that every youth athlete and family should experience. The fields are manicured to a major league level, the experienced staff grooms each field after every game like no others. No matter if you are playing youth baseball or youth softball, this is a facility that will excite the most veteran of players and coaches. When you put that excitement along with the most experienced and customer- friendly staff, you have a winner every time. We here at Team Central hold several events there and without question it is the most well-maintained and -run facility we have ever hosted at. I can truly say they care about our customer as much as we do. It is a pleasure to recommend this facility to our customer because we always know everyone at Deaconess Sports Park will give it everything they have to make it the best experience possible.

– John Grass, Team Central Sports
Evansville's Lineup of First-Class Venues
Deaconess Sports Park
Sports: Softball, baseball
The number one sports facility in Evansville offers the best for softball and baseball teams. The eight field complex houses top amenities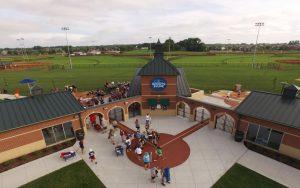 for women's fast-pitch and slow-pitch softball, men's fast-pitch and slow-pitch softball, adult and co-ed softball leagues, and tournaments for boy's baseball for ages 12 and under. The park has eight fields lit with Musco Sports Lighting. Sports teams are completely accommodated with extra-large dugouts, bullpens, batting cages and warm up areas. Visitors will also be pleased with shaded seating, two full-service concession stands and wireless scoreboards. All these amenities and more come together to make this one of the biggest sports facility in Evansville.
Ford Center
Sports: Basketball, hockey, rodeo, boxing, ice skating
Located in the heart of downtown Evansville, the Ford Center is an 11,000- seat multi-purpose arena that serves as the region's epicenter for sports and entertainment. The 290,000-square-foot arena opened in 2011 and is home to the University of Evansville men's basketball team and the professional ice hockey team, the Evansville Thunderbolts. It has hosted a variety events ranging from concerts to the NCAA Division II Men's Basketball Championship, Great Lakes Valley Conference Men's and Women's Basketball Championship, and Small College Basketball Hall of Fame Classic.
Angel Mounds
Sports: Cross country
Angel Mounds is the site of the largest settlement of its time in southwestern Indiana. The town and surrounding settlements were occupied from as early as A.D. 1000 to as late as A.D. 1450 by Native Americans. A great venue for competitive running, Angel Mounds has hosted cross country championships, including the Division II Men's and Women's Cross Country Midwest Regionals, Division II Men's and Women's Cross Country National Championships, and Cross Country Coaches National Youth Championships.
Burdette Park BMX Track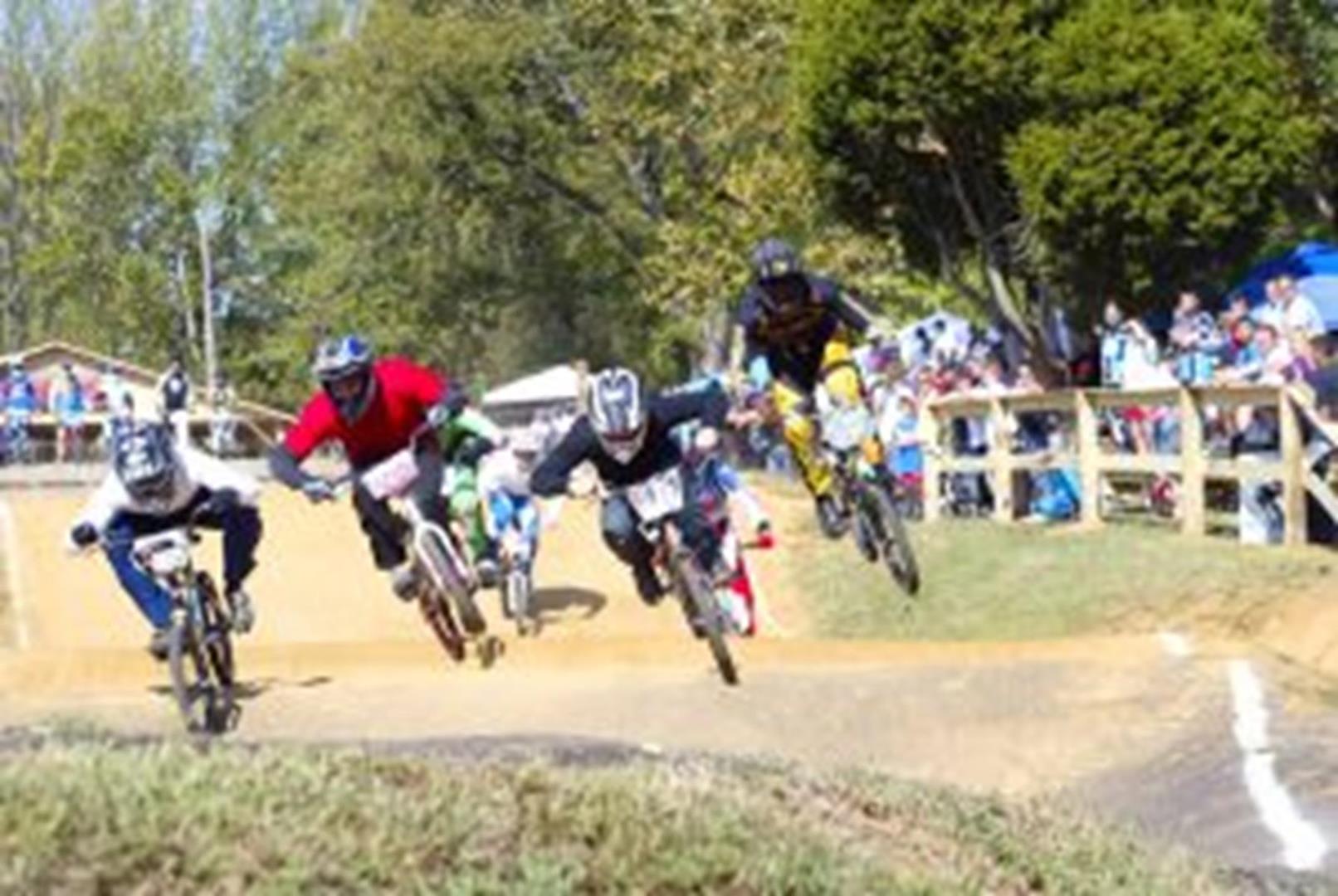 Sports: BMX
Burdette Park BMX is one of the oldest BMX tracks in the country that is still in its original location. Unlike any other BMX track, Burdette is nearly 1,500 feet long with five straights and its famous "S" turn. It is known as one of the fastest downhill tracks around. Burdette Park BMX has hosted the NBL Grand Nationals, more than 20 BMX Nationals and the BMX Pre-Worlds.
Goebel Soccer Complex
Sports: Soccer, lacrosse
Goebel Soccer Complex offers 10 Olympic-size fields – two fescue, seven Bermuda grass and one synthetic turf. Six of the fields are equipped with sports lighting. Events hosted include preliminary rounds of the Indiana Soccer State Cup, Presidents Cup and Challenge Cup.
Getting to Evansville
By Car: Interstate 69 can take you all the way to Indianapolis, while U.S. Route 41 splits the city in half, east-west.
By Air: Evansville Regional Airport offers frequent flights to five major hub cities—Atlanta, Dallas, Detroit, Charlotte and Chicago. American, Delta, Allegiant, United airlines serve the airport. Louisville International Airport and Nashville International Airport are 128 and 158 miles away, respectively.