Foley Awaits Major Sports and Entertainment Venue
The Foley Sports Tourism Complex, making its debut in late May, will include hotels, restaurants, shops and amusements as well state-of-the-art fields and indoor sports facilities.
A new era begins soon for sports enthusiasts who make the trek to the southern Alabama city of Foley.
Nine miles north of the famed Gulf Shores resort area on the Gulf of Mexico, Foley is about to have a new calling card. The Foley Sports Tourism Complex, part of a 500-acre sports and entertainment mega complex created by the City of Foley and the Poarch Band of Creek Indians, will host its first official event on Memorial Day.
The 16 newly created natural grass soccer fields will host the Memorial Day Showdown May 27-30, with more than 80 boys and girls soccer teams from eight different Southeastern states competing at age levels between 8 and 18. The attendance at the competition, including players, coaches and parents, will reach into the thousands.
The sports fields, designed to host lacrosse and American football as well as soccer, are part of a $50 million, 62-acre sports complex that will include top-level amenities surrounding the championship field. That lighted field will be surrounded by stands seating 1,000, a press box that will include spaces for visiting coaches, and concession stands.
By the summer of 2017, the Foley Sports Tourism Complex (FSTC) will be joined by a 90,000-square foot, Event Center for basketball and other indoor sports, as well as an Entertainment District that will include dining, shopping and an amusement park.
The entertainment center, a project separate from the FSTC, will include a name-brand hotel which will become a prime resting spot for coaches, players and family members attending events at the FSTC.
The Memorial Day Showdown will be the first of many soccer tournaments scheduled not just for this year, but for 2017 and beyond.
The FSTC will host the Sunbelt Conference women's soccer tournament in November, which will include three-time defending conference champion University of South Alabama from nearly Mobile. The conference includes schools from New Mexico, Arkansas, Georgia, Louisiana, Idaho, Tennessee, South Carolina and Texas. This will be the first time the tournament is hosted on a neutral site (previous tournaments had been hosted at conference schools) and Foley competed against several other large multi-field facilities for the two-year tournament contract.
The FSTC is also hosting the National Intramural Recreation Sports Association soccer tournament, which brings together club teams from the nation's four-year colleges and universities. Club teams are intramural as opposed to NCAA-level competitions, but club soccer is one of the strongest intramural sports in the nation.
According to Foley Sports Executive Director Don Staley, the NIRSA tournament will "generate approximately 1,500 room nights and more than $2.5 million in economic impact." Foley, a town of just over 14,000, is a historic Southeastern town that hosts guests throughout the year, offering hotels, restaurants and entertainment to visitors for those hours they spend away from the nearby beaches.
The soccer fields are the cornerstone of the outdoor portion of the complex. Located adjacent to the sports fields will be the Foley Events Center, a 90,000-square-foot multi-use indoor facility available for team sports such as basketball and volleyball, as well as cheerleading, dance and gymnastics. The center is also planned to accommodate concerts, conventions and trade shows.
Behind the Foley Events Center will be the Entertainment District. The preliminary site digs are underway with construction set to begin in the summer of 2016 with plans to open in the summer of 2017.
The Entertainment District will have two hotels, including one that is expected to be a suite-style hotel to accommodate families coming to attend sporting events. There will also be retail, dining and entertainment space, as well as a 10-acre amusement park that will include 20 rides.
Foley is celebrating its 100-year centennial in 2016. The tourist-friendly town, which already has more than half a dozen hotels for visiting beach guests, will expand its offerings with the creation of the Foley Sports Tourism Complex.
Summary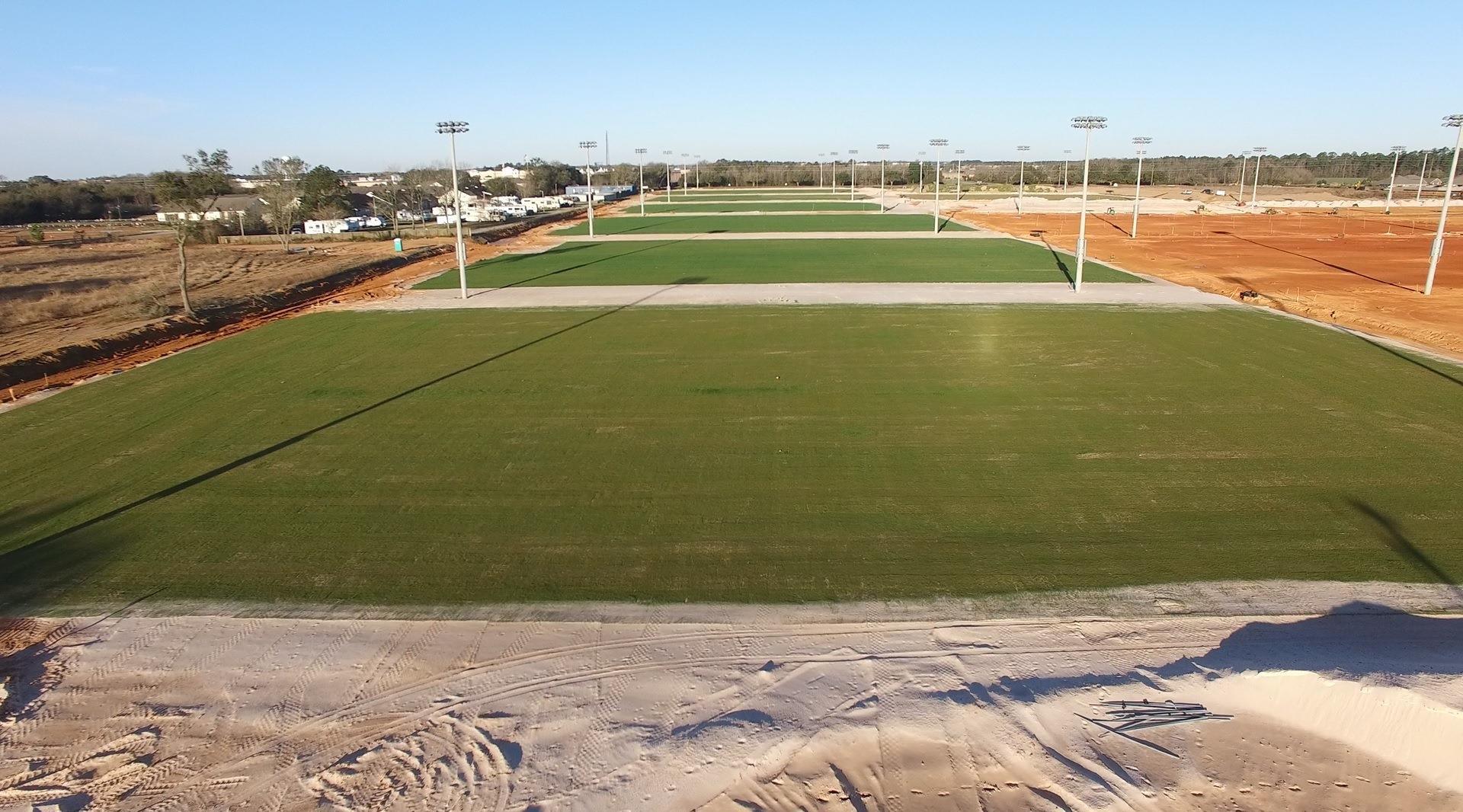 Article Name
Foley Awaits Major Sports and Entertainment Venue
Description
The Foley Sports Tourism Complex, making its debut in late May, will include hotels, restaurants, shops and amusements as well state-of-the-art fields and indoor sports facilities.