Foley Sports Tourism Complex, One Stop Sports Destination
With sports facilities, attractions and accommodations all in one place, Foley Sports Tourism Complex simplifies sporting events for organizers.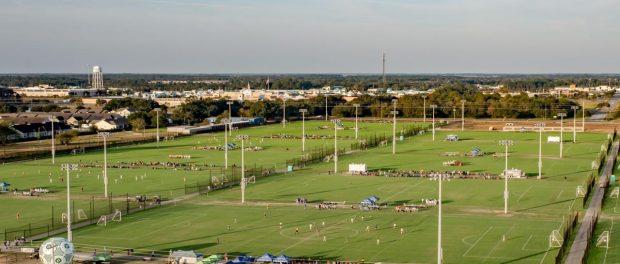 Imagine a tournament where athletes, coaches and their families could enjoy all the action of the games while being only steps from comfortable accommodations, great dining and entertaining attractions. You don't have to dream anymore. Foley Sports Tourism Complex is a reality.
The multi-purpose sports venue, located in Foley, Alabama, was designed with convenience in mind. It offers a complete sporting event experience for tournaments of any- indoor or outdoor. Just steps away from the new OWA complex which features hotels, restaurants, shopping and even an amusement park. What more could you want? How about the beautiful Alabama beaches just a short nine miles away. It's the total package.
Activities and Attractions in Foley
Steeped in genuine Southern charm, the coastal community of Foley serves up a range of great attractions and activities. The new OWA facility is located adjacent to the sports complex. It features a 14-acre lake surrounded by a 400 seat amphitheater, a 150-room Marriott TownePlace Suites hotel, and various retail, dining, and entertainment venues. One of those entertainment options is a brand-new amusement park with 21 rides, including a major roller coaster. Future plans include a water park, a second hotel with conference space, and a luxury RV park.
For those who enjoy nature activities, there's plenty to do on the sandy shores of the Gulf Coast, such as surfing or wave boarding. Or you can explore Foley's 484-acre nature preserve, featuring walking and hiking trails, a canoe/kayak launch and much more.
Peruse the shops and galleries in historic downtown Foley, or find all your shopping needs at Tanger Outlets. After a long day of activities, shopping and attractions, refuel at one of the more than 80 dining options in Foley.
Click the Instant Info Logo to let us connect you with Foley Sports Tourism Complex

---
X-Factors
White sand beaches just nine miles from the complex
16 state-of-the-art fields and a 90,000 sq-ft multi-use event center can accommodate just about any sport you have in mind
A large, family-friendly entertainment destination OWA sits right next door
Planner Perspective
A Brand New Place to Play in Foley
Foley Sports Tourism Complex
Sports: Soccer, lacrosse, football
Opened in May 2016, the outdoor Foley Sports Tourism Complex features 16 state-of-the-art, multi-purpose fields perfect for year-round play. The space is designed for soccer, lacrosse, football and other sports. It also features a championship field with TV-ready lighting and seats for up to 1,000. In addition to the sporting necessities, Foley Sports Tourism Complex will provide visitors with a complete Foley experience with its location adjacent to the family-friendly entertainment development OWA. Teams, coaches and spectators can browse stores, enjoy multiple dining on-site and take a spin on a few thrill rides in the amusement park.
Foley Events Center
Sports: Basketball, volleyball, cheerleading, gymnastics
The Foley Events Center, hosted its first event in September 2017. The 90,000-square-foot, multi-use, indoor facility is located adjacent to complex's 16 fields. It offers more than 50,000 square feet of floor space, providing plenty of room for six basketball courts and 12 volleyball courts, and 12 pickleball courts. It is also designed to host cheerleading, dance and gymnastics meets. Being a multi-use facility, the events center will be able to accommodate banquet space for 2,479 and receptions for 2,600 as well as exhibit/trade show space. A Marriott TownePlace Suites sits within walking distance of the events center.
How do we get to Foley, Alabama?
Located between New Orleans and Panama City, Florida, along the Southern Gulf Coast, Foley is accessible from most major cities off Interstate 10 and Interstate 65. Foley is 30 miles from Pensacola Regional Airport and 50 miles from Mobile Regional Airport, both served by most major airlines. The closest international airport is Louis Armstrong New Orleans International Airport, located three hours away.
The Foley Sports Tourism Complex is situated just off of the Foley Beach Express giving visitors a quick route south to the beaches.
If you're looking for the kind of sports facility that offers great amenities, brand new courts and fields, and super convenient accommodations and attractions, then Foley Sports Tourism Complex is your place. Start planning your sports event in Foley today.
Summary
Article Name
Foley Sports Tourism Complex, One Stop Sports Destination
Description
With sports facilities, attractions and accommodations all in one place, Foley Sports Tourism Complex simplifies sporting events for organizers.
Publisher Name