Why Choose Gwinnett County?
As any good sports planner knows, sporting events are some of the hardest events to organize. The job is often made harder by parents who don't go with the flow and locations that don't communicate and execute plans well. Working with the Gwinnett Sports Commission, you will find everything you need to ensure the success of your event.
Located a mere 30 minutes from Atlanta, Gwinnett County encompasses 16 cities and is home to top-of-the-line sporting facilities. With its year-round warm weather, it is the perfect location for both outdoor and indoor events, and teams will have no trouble finding something to do in its various cities. From restaurants and shopping malls to festivals and concerts, the fun never stops. The Gwinnett Sports Commission is ready to provide all the resources and services necessary—including housing, promotion and volunteers—to guarantee a stress-free trip. With much to see and do in the area, a sporting trip can become a vacation to remember for the whole family.
What Can I Do While I'm There?
One of the best parts about Gwinnett County is that it is an easy driving distance from Atlanta and many other cities. With so many places so close by, there is always something to keep the entire family entertained. Shoppers in the family will love Mall of Georgia, Georgia's largest shopping mall. Attend a Gwinnett Braves game (the Atlanta Braves AAA affiliate) or head down to Aurora Theater to catch a show or concert. Kids can explore one of the towns' local parks and then get competitive at Dave & Busters. Gwinnett also offers a wide variety of restaurants and numerous other attractions including the Infinite Energy Arena, a local concert venue. Gwinnett County is one of the most diverse counties in the Southeast and inspires many intercultural events year-round.
Visitors can also explore the sights of downtown Atlanta. See the fish at the Georgia Aquarium and enjoy a fizzy soda at the World of Coca-Cola. Learn about college football legends at the College Football Hall of Fame, and walk in the footsteps of those who have made history at the Center for Civil and Human Rights. There is no shortage of fun when visiting Gwinnett County and its surrounding areas.
---
X Factors
Social media marketing
Housing services
Grant program available
Welcome bags
Volunteer staff
Discounts to local attractions
Top-of-the-line Facilities
Suwanee Sports Academy
Sports: Basketball, volleyball
The Suwanee Sports Academy has over 100,000 square feet of space, including seven NBA-regulation basketball courts and 11 regulation volleyball courts. Entire national competitions are held here, all under one roof in a clean, safe and climate-controlled environment. This multipurpose facility offers flexibility to any event planner, utilizing a pick-and-choose system of options where a group can tailor-make its configuration (i.e. set-up, concessions or bleachers). With a full range of amenities, professional staff, flexible space and plentiful spectator seating, the Suwanee Sports Academy is an ideal venue for both regional and national competitions.
The Infinite Energy Arena
Sports: Gymnastics, wrestling, basketball, volleyball

The Arena can accommodate groups from 3,500 to 13,000 for a variety of sporting events. The beautifully landscaped environment and state-of-the-art lighting and acoustics guarantee an enjoyable event. The house reduction system allows staff to scale back seating with the touch of a button. The Arena is the Southeast's venue of choice for regional and national events, including the 2010, 2013 and 2014 SEC Women's Basketball Championships; 2012 and 2015 SEC Gymnastics Championships; 2009 NCAA Women's Round I and II national basketball championships; 2012 NCAA Women's Gymnastics Championship; Georgia High School state wrestling and basketball championships, plus numerous other regional competitions.
Infinite Energy Forum
Sports: All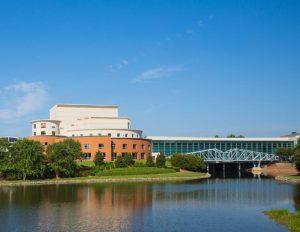 The Gwinnett Center is made up of 50,000 square feet of exhibit space, a 21,600-square-foot Grand Ballroom and 23 versatile meeting rooms that can accommodate small and large groups alike. These rooms come equipped with retractable air walls to give the best value possible by providing unlimited options for the size of the event. The exhibit hall can easily host a variety of sporting events. With three unique partitions, this facility can be configured to accommodate events requiring 10,000 to 50,000 square feet. It also includes a custom sound system and a two-part dimmable fixed and production lighting system.
Gwinnett County Parks & Recreation
Sports: Baseball, softball, soccer, tennis

With over 40 parks located throughout the county, event organizers are sure to be able to find a park that can accommodate their needs. Facilities include swimming pools, tennis courts, disc golf courses and sports fields. Gwinnett County Parks & Recreation was named the nation's top Parks and Recreation department by the National Recreation & Park Association in 2008 and was recently voted the #1 Parks and Recreation Department by GRPA (Georgia Recreation and Park Association). Many of the parks have scenic views of woodlands, lakes and meadows, and several have historic sites and museums.
Coolray Field
Sports: Baseball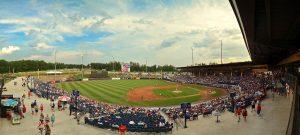 Coolray Field is home to the Atlanta Braves AAA affiliate, the Gwinnett Braves. The stadium has over 10,000 seats and includes a state-of-the-art Diamond Vision screen. It offers full-service catering, multiple bars and restaurants, and a wide variety of visual and audio equipment available. Besides its state-of-the-art baseball field, it also has indoor batting cages that include a viewing area for those watching. Coolray Field has a variety of suites, the smallest of which comfortably holds 25 people, perfect for watching a game or holding an event. There are multiple outdoor decks that are ideal for parties or activities.
How Do I Get To Gwinnett?
The Gwinnett Sports Commission makes sports event planning effortless, so why shouldn't transportation be just as easy? With tons of options, it won't take long to pack your car or book your flight and be on your way to Gwinnett County.
By Car: Gwinnett County is located off of I-85, just 30 minutes north of downtown Atlanta.
By Air: Teams flying into Gwinnett County can choose from the County Airport or the Hartsfield-Jackson Atlanta Airport.