Iowa City/Coralville is one of the country's finest areas if you're a sports fan or someone who just likes to be active. Home to the University of Iowa, this area regularly sees high-pressure sporting events that bring in fans from all over the United States. It's easy to be a fan in Iowa City — but it's just as enjoyable if you're simply someone who likes to have a good time.
There's plenty to do, whether you want to get in a workout at the University Recreation and Wellness Center or you're looking for a peaceful jog on Macbride Trail. The latter is only one feature of a menu of non-sports activities that this location boasts. Visitors will also love the Children's Museum, Hancher Auditorium and the Terry Trueblood Recreation Area. These options give families something to do when they need a break from the action. Then again, the action will be hard to get away from: Iowa City/Coralville is a fantastic place to host a tournament.

Notable Recent/Upcoming Events
UCI Cyclocross World Cup Host (Fall 2016,2017,2018)
United World Wrestling Freestyle Men's World Cup (Spring 2018)
Speedo Winter Junior Nationals (Winter 2017-18)
Run CRANDIC Marathon (Spring 2018 and beyond)
North American Adventure Racing Series Championship (Fall 2017)
CVB/Sports Commissions Services Offered
Volunteer Staff
PR/Media Assistance
Signage
Site Visits
Transportation Assistance
Lodging Services
Grant Programs
Welcome Bags/Gifts
Itinerary Development
Event Planning Assistance
Click on tab to see more information about a specific facility
Kinnick Stadium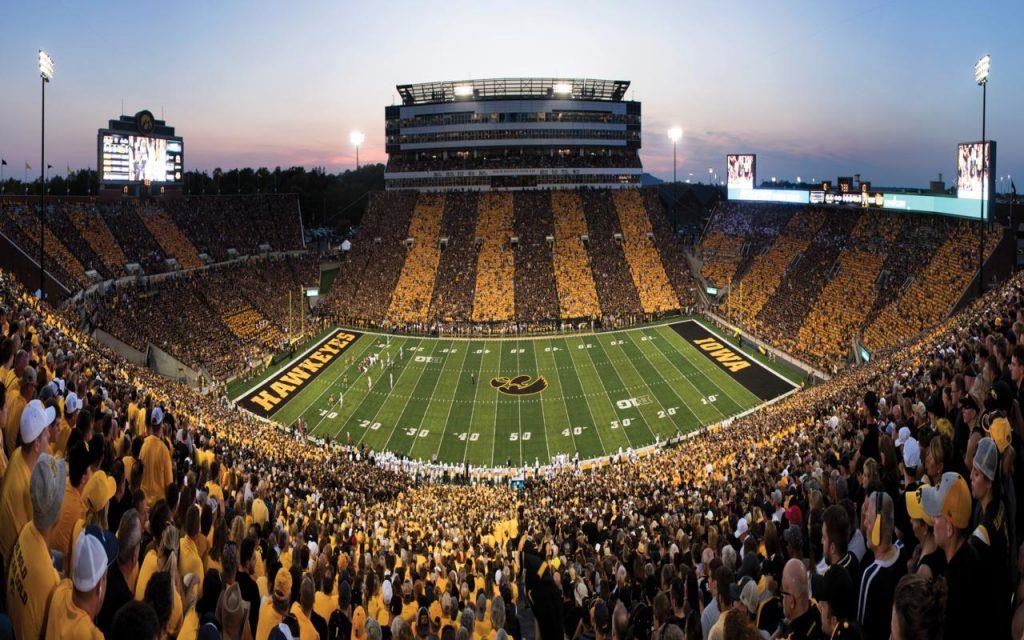 Opened in 1929, this historic college football stadium comes alive every fall, when it plays home to the University of Iowa football team. The stadium can hold up to 70,585 energetic fans and is the only college football stadium named after a Heisman Trophy winner — legendary Hawkeye running back Nile Kinnick won the sport's most prestigious award in 1939.
Sports: Football
Carver-Hawkeye Arena
This 15,400-seat multi-purpose arena is located in the heart of Iowa City and plays home to the University of Iowa men's and women's basketball teams, as well as the university's wrestling, gymnastics, and volleyball teams. Opened in 1983, "Carver" has hosted a number of notable athletic events, including the Big Ten and NCAA wrestling championships, the National Duals, the U.S. Olympic wrestling trials, the UWW World Cup in 2018, and the NCAA Women's Division I Basketball Tournament.
Sports: Men's basketball, women's basketball, wrestling, gymnastics, men's volleyball, women's volleyball
Johnson County Fairgrounds
Run by the Johnson County Agricultural Association, the Johnson County Fairgrounds is a large swath of land — and it's quite popular. The complex is best known for its annual hosting of the Johnson County Fair, which hosts events like the County Fair Queen Contest, the Grandstand Truck/Tractor Pull, the Jones & Company Carnival and the Butterfly House.
Sports: Tractor pull
Iowa Arena and Fieldhouse
The Iowa Arena project has been in the works for a number of years, with city officials and potential funders teasing eager Coralville residents since at least 2015. But after being awarded $12 million in June 2016, the city took off with plans to build a massive arena that is expected to open by early 2020. Though it expects to compete with the larger U.S. Cellular in Cedar Rapids — only a 30-minute drive from Coralville — Iowa Arena is in the works and ready to be embraced by an eager sporting community.
University of Iowa Campus Recreation & Wellness Center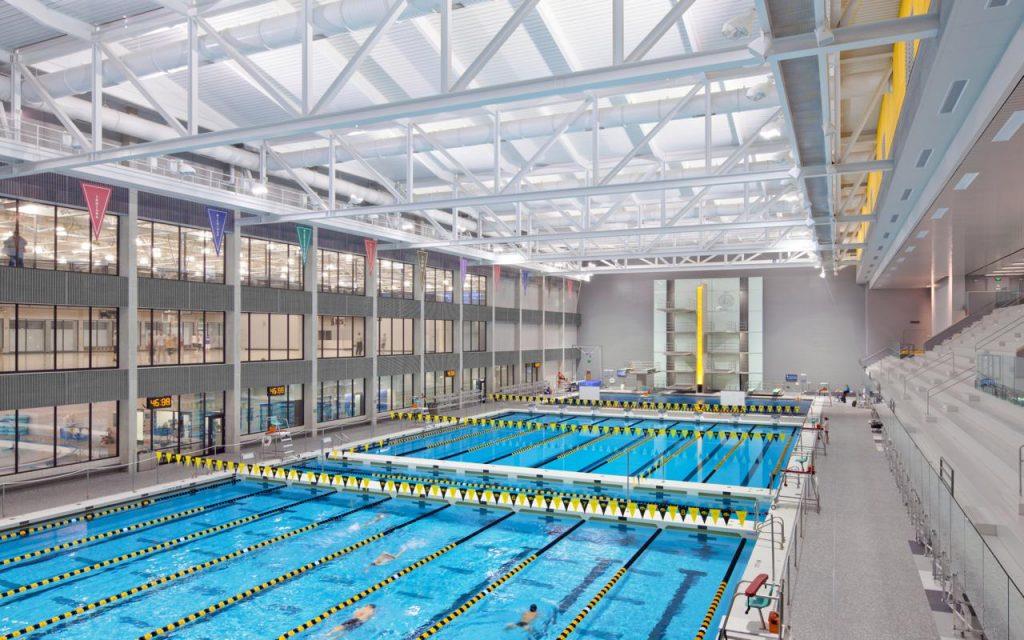 The Campus Recreation & Wellness Center is relatively new (opened in the summer of 2010) and considered by most to be the University of Iowa's most state-of-the-art facility. The venue spans 20,000 square feet, with fitness space stretching over three levels. Other amenities include a 52.5-foot climbing wall, a 50-meter competitive swimming pool, an 18-foot-deep diving well, a leisure pool, a jogging track, two basketball/volleyball courts, and a multi-activity gym. There are also non-athletic features like a café, locker rooms, and a wellness suite. The leisure pool has zero-depth entry, bubble benches, a 25-person spa, a climbing wall, and water basketball.
Sports: Swimming, basketball, volleyball, jogging
Iowa City Kickers Soccer Park
Home to the Iowa City Kickers Soccer Club, this facility covers 108 total acres, including parts of Iowa City, Coralville, North Liberty and surrounding communities. It is open to boys and girls in grades kindergarten through 12th. The Kickers organization has more than 1,500 players in its system, not to mention parent and community volunteer coaches and dedicated board members. Kickers Soccer Park boasts five large fields, 11 medium fields, and six mini fields, making this complex one of the area's finest for hosting a tourney.
Sports: Soccer
University of Iowa Recreation Building
The recreation building serves a variety of recreational and athletic functions, from its role as Iowa football office headquarters to its 65,000 square feet of sparkling open track space. The facility has a 200-meter jogging track, a weight area, tennis courts, and a sauna. Accessible to people with disabilities and boasting parking nearby, this complex is a staple of athletes and exercisers at the University of Iowa.
Sports: Track, tennis
Things to do in Iowa City/Coralville
Taking in a Hawkeye sporting event or venturing to Johnson County Fairgrounds never gets old. The energy of game day at Kinnick Stadium, for example, is hard to match — unless the surrounding area boasts fun activities outside of sports as well. Enter Iowa City/Coralville, where historic museums and natural sites make recreation fun and easy. On a tournament off day, players, coaches, and their families can venture to the award-winning Iowa Children's Museum, where kids are inspired to imagine, create, discover and explore. The museum focuses on helping children learn arts and culture, financial literacy, health, and STEM subjects, with exhibits and programs catered to each subject area.
Looking for something to do at night? Check out Hancher Auditorium, the famed University of Iowa performance hall. This venue hosts Broadway musicals, contemporary dance and classical music shows. Hancher and the Children's Museum will keep guests busy, but there's more to talk about: Terry Trueblood Recreation Area spans 207 acres of riverfront, lake, prairie, and timber. It's the perfect stop for outdoor enthusiasts looking to fish, kayak, hike, or bird-watch. Finally, two more populations are Lake Macbride — a great place to hike and fish — and the Museum of Natural History.
Planner Perspective
The Iowa City/Coralville CVB set up us for a successful event this year and set us up for growth in future years. The CVB gave us the support that smaller sports like table tennis need to succeed with funding, hotel connections, welcome bags and even volunteers. We will work with them every year we host.
2017 Table Tennis Hawkeye Open: Meng-Yu Wang (Director)
With the grant assistance of the Iowa City/Coralville CVB, we were able to create a better brand with a professional look and design. Their community connections boosted our registration – especially in the final few weeks before the event. They assisted in everything from promotion to hotels to funding which really helped our first year event.
Iowa City Gravel: Todd Young (Race Director)
How to Get to Iowa City
By car: Coming from big cities to the east of Iowa City/Coralville, like Chicago, travelers can easily take Interstate-80. I-80 is the east-west option; the north-south highway is Interstate-380, which runs right by Iowa City.
By air: Some local airports include Eastern Iowa Airport (about a 20-minute drive from Iowa City), Quad City International Airport (60 minutes away), and Des Moines International Airport (two-and-a-half hours away). Big cities like Chicago, St. Louis, Minneapolis, and Omaha are about 300 miles from Iowa City.
Contact Information
Company Name: Iowa City/Coralville Area Convention & Visitors Bureau
Sports Sales Manager: Molly Shymansky
Title: Manager of Sports Development
Telephone: 319-337-6592