In one word, magic. That's not to say that your sports event will magically plan itself and go off without a hitch, but it might feel like it. A sports event in Kissimmee puts teams right in the center of the Florida action. The destination offers elite sporting venues amidst top attractions and beautiful scenery, making it an ideal spot for players and spectators. The region boasts great weather, so teams can play here all year long—no matter the sport.
Notable Recent/Upcoming Events
Quidditch Cup (April 8-9, 2017)
FIFPA Power Soccer World Championship (July 5-9, 2017)
NXL Paintball World Cup (November 2-5, 2017)
American Youth Football & Cheer National Championships (December 2-10, 2017)
Prospects Cup (December 18-22, 2017)
FHSAA Wrestling State Championships (March 1-3, 2018)
Tropical 7's Rugby (March 26-31, 2018)
AAU U11 Boys Basketball National Championship (July 9-13, 2018)
GPS Soccer Super Cup (February 22-24, 2019)
CVB/Sports Commissions Services Offered
Volunteer Staff
PR/Media Assistance
Signage
Site Visits
Transportation Assistance
Lodging Services
Grant Programs
Welcome Bags/Gifts
Itinerary Development
Event Planning Assistance
Click on tab to see more information about a specific facility
ESPN Wide World of Sports Complex
Located at Walt Disney World® Resort, the 255-acre ESPN Wide World of Sports Complex hosts more than 100 events each year. This state-of-the-art venue can host nearly every sport, from football and basketball to martial arts and soccer. The facility includes the 9,5000-seat Champion Stadium; two multipurpose arenas – HP Field House and VISA Athletic Center – which offer seating capacity of 6,200; 18 multipurpose fields at Marathon Sports Fields used for soccer, football and lacrosse, and 16 baseball and softball fields; 10 tennis courts at Centre Court Stadium; and a track and field complex. Plus, the complex recently opened The Arena at ESPN Wide World of sports – a one-of-a-kind multipurpose 8,000-seat, 300,000 square-foot arena, one of the largest in the nation designed specifically for cheer and dance events. Enjoy a true "sportcation" with unique solutions including special travel packages, photography, team meal options, customized event merchandise, and post-game celebration in the Disney parks.
Sports: Archery, baseball, basketball, cheerleading, cross country, dance, field hockey, martial arts, soccer, track & field, tennis
Osceola Heritage Park Complex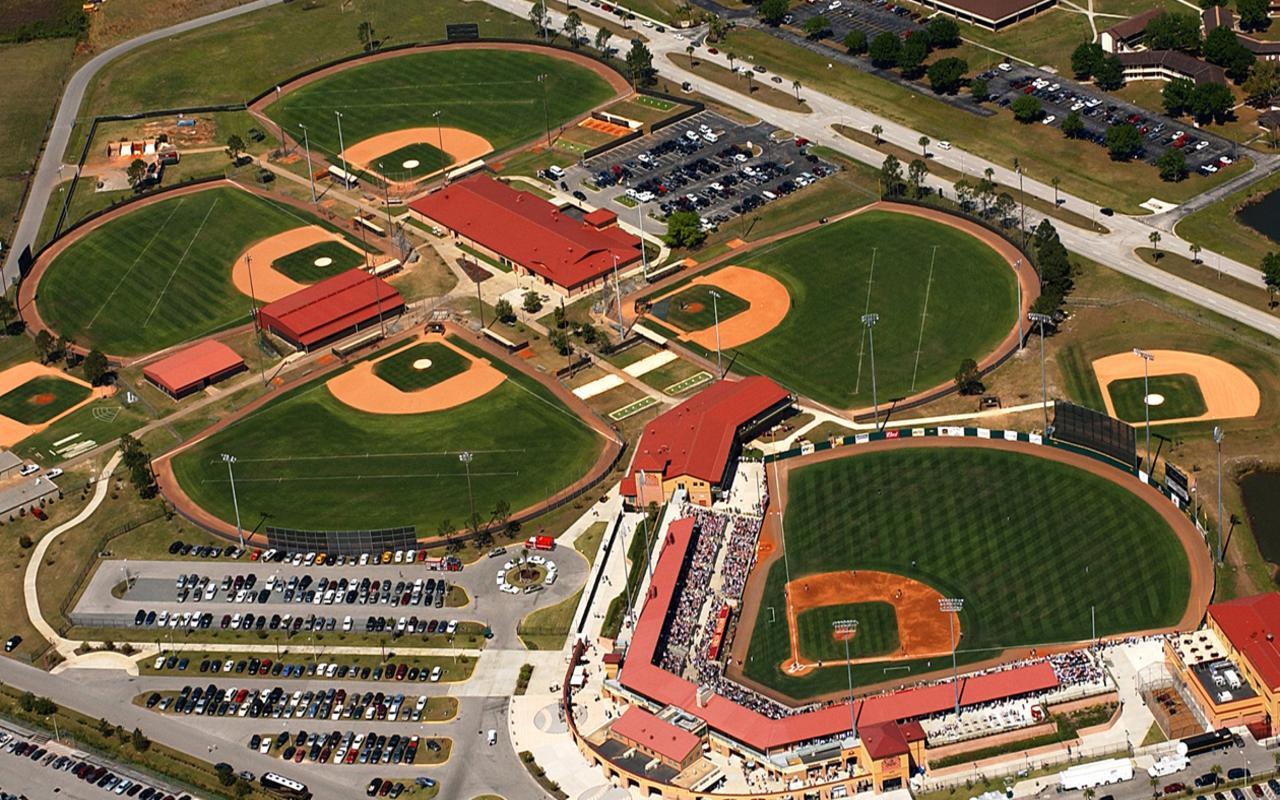 This climate-controlled facility can accommodate a wide range of events due to its expansive layout. Located on an impressive 150 acres, the facility features the 10,500-seat Silver Spurs Arena, 60,000 square-foot Event Center, 3,500 square-foot Heritage Club, and the 5,000-seat Osceola County Stadium, each space unique and flexible to host an assortment of sporting events. The venue has previously hosted the Ram National Circuit Finals Rodeo and AAU Basketball.
Sports: Basketball, BMX, cheerleading, equestrian, football, gymnastics, rodeo, volleyball
Austin-Tindall Sports Complex
The recently-expanded complex features 10 multipurpose fields built to World Cup soccer regulations and three half-sized practice fields. Plus, the facility is home to a new championship stadium with seating capacity for over 3,000 and a clubhouse with meeting space and locker rooms. The venue has previously been home to the American Youth Football and Cheer National Championships and USL Pro Training.
Sports: Cheerleading, field hockey, football, lacrosse, rugby, soccer, Ultimate Frisbee
ChampionsGate Sports Field Complex
These professionally-maintained fields sit adjacent to the AAA Four-Diamond Omni Orlando Resort at ChampionsGate. The facility includes eight regulation fields with electronic scoreboards, a clubhouse with concessions, and flexible bleacher options. The complex has previously hosted the North American Caribbean Rugby Association and Major League Soccer pre-season training.
Sports: Lacrosse, soccer, rugby
Osceola County Softball Complex
As the official eastern training venue for America's Olympic Gold Medal Women's Softball team, the Osceola County Softball Complex is an award-winning facility. The complex features five lighted softball fields built to U.S. Softball regulations, two covered dugouts per field, electronic scoreboards, eight-station batting cages, and 500-seat bleachers per field.
Sports: Softball
Lake Toho
World-renowned for incredible bass fishing, Lake Tohopekaliga, also known as Lake Toho or Big Toho, hosts world-class fishing tournaments throughout the year. The Fishing League Worldwide, Paralyzed Veterans of America Tour, and Bass Southern Open have all been held at this popular destination. The 18,800-acre lake includes a marina, event lawns, pavilions, open stage, and fishing piers, plus parking for up to 200 cars.
Sports: Fishing
Kissimmee Lakefront Park
A grassy waterfront park with walking paths, picnic pavilions and a shaded playground, Kissimmee Lakefront Park remains the region's leading bass fishing hotspot. With a large on-site fishing lake part of Lake Toho, Kissimmee has hosted various premier fishing tournaments, including the 2018 Bassmaster Eastern Opens. In Feb., Fishing League Worldwide (FLW) will be heading to Kissimmee Lakefront Park as part of its 2019 tour. Amenities at Kissimmee include a concession stand, restrooms, on-site grills and a water spray park. Pavilions at the park are ideal for large company picnics, family reunions or holiday celebrations, with seating up to 68 guests.
Sports: Fishing
Things to do in Kissimmee
In Kissimmee, the thrills don't stop on the playing field. This ideal location puts participants and spectators in the heart of Central Florida's popular activities and attractions, and right next door to world-famous theme parks. Just minutes away is Walt Disney World® Resort, Universal Orlando Resort™, SeaWorld® Orlando, and LEGOLAND® Florida Resort.
The excitement continues outside the theme parks with Kissimmee's incredible ecotourism experiences. Kayak through the Florida Everglades at The Paddling Center at Shingle Creek, fly across the water in an airboat at Boggy Creek Airboat Adventures, meet a few alligator friends at Gatorland, and climb through a tree-tops obstacle course at Orlando Tree Trek Adventure Park.
There's also endless possibilities for places to stay in Kissimmee. With 45,000 accommodation options, varying from comfy motels and high-end hotel suites to private villas and luxurious resorts, there's something for everyone – and every budget. Pair these options with our endless sunshine, state-of-the-art sporting facilities, and area attractions, and Kissimmee has everything to make any sports travel experience truly memorable.
Planner Perspective
The International Shuffleboard Association chose Kissimmee, Florida as the host destination for our 35th World Shuffleboard Championship in 2016. The Kissimmee Sports Commission went out of their way to make this a truly memorable and extremely successful event. Immediately following the world championship, our visiting competitors and family members stayed additional days to enjoy the area's various amusement parks, wonderful restaurants, and of course numerous shopping outlets. Fabulous Hosts. Go Kissimmee!
International Shuffleboard Association: Michael R. Zellner (Past President)
"GPS Florida has been delighted to work with Experience Kissimmee to bring our nationally recognized soccer tournament series to the outstanding facilities at ChampionsGate and Austin-Tindall. The field quality at both complexes is unrivaled in Florida and provide a fantastic setting for our events. With both complexes centrally located to a host of hotels and restaurants, the setup is perfect for a high-level tournament experience.
GPS Florida: Graham Munro (General Manager)
How to Get to Kissimmee
As a popular year-round destination, Kissimmee welcomes visitors from around the world. Located just 25 minutes from Orlando International Airport, guests from everywhere have easy-access to accommodations and sporting facilities – plus, for additional flight options, Orlando Sanford International Airport is less than an hour away. This Central Florida destination also proves convenient for driving, as Kissimmee is located just off West U.S. Highway 192, the primary corridor of the area, and is also accessible via the Florida Turnpike.
Contact Information
Company Name: Kissimmee Sports Commission
Sports Sales Manager: John Poole
Title: Executive Director
Telephone: 407-569-4838