LakePoint Sporting Community: The Future of Sports Event Hosting
When a sports event facility has all you ever need right on-site, why would you ever leave? The answer: You wouldn't. And at LakePoint, you don't need to.
Imagine this: You're hosting a sports event or tournament at a world-class sporting facility — we're talking about state-of-the-art fields and courts, top-notch lighting services and cutting-edge weatherproofing technology.
After the games and matches are all done for the day, you, your athletes and your spectators need some food … so you stay on-site and go to a family-style restaurant. And then it's time to head to the hotel … so you head back to your room at one of the three on-site hotels. The next day, you get up and do it all over again, never leaving the friendly confines of your sporting complex.
OK, you can stop imagining it now, and you can go live it at LakePoint Sporting Community in Emerson, Georgia.
A closer look at LakePoint Sporting Community
You never have to leave this place. It's more than 1,300 acres of pure awesomeness nestled into the foothills of the North Georgia Mountains and has everything (yes, everything) you need.
You want sports facilities? LakePoint has venues for baseball, football, softball, basketball, soccer, rugby, lacrosse, gymnastics, cheerleading, wakeboarding, boxing, wrestling … and the list goes on. Whatever sport you want to host, LakePoint likely has a facility for it.
And what facilities they are. The synthetic turf on the eight professional-size baseball fields and three multi-purpose fields can drain up to 22 inches of rain per hour, which means no rainouts—ever. The enormous Champions Center indoor facility has 170,000 square feet and 35-foot-high ceilings housing 12 full basketball courts and 24 volleyball courts. And that's not even mentioning the Terminus WakePark, which is only the largest such park in North America.
You want entertainment? LakePoint Station has you covered, with miniature golf, rock climbing and more. And soon you'll be able to bowl, zipline, swim at a water park, ride a roller coaster or see a movie — all without leaving, of course.
You want food? LakePoint has numerous restaurants and will soon be the home of 50 different dining options, from fast food to sit-down to pizza joints.
LakePoint has also three on-site hotels, including a Hampton Inn, and will have 20 hotel options available when the venue is completely built.
---
State-of-the-Art Facilities
LakePoint Multi-purpose Fields
Sports: Football, soccer, kickball, lacrosse, rugby, Ultimate Frisbee
With three multi-purpose fields, each featuring LED sport lighting and fully digital scoreboards, LakePoint is ready to host your outdoor sports event. The fields are engineered to avoid rainouts, as the synthetic turf can drain 22 inches of rain per hour and can be ready to play on as soon as rain storms cease. The turf is designed to mimic the bounce of a ball off of real dirt and grass, so athletes will appreciate the gameplay.
Perfect Game Complex
Sports: Baseball
There are eight Major League Baseball-size fields in this complex, all surfaced with high-tech synthetic turf that mimics the bounce of the ball off of real dirt and grass. The fields are capable of immediate water drainage, so rainouts simply don't happen, as evidenced by the 8,000+ games played at Perfect Game with zero rainouts. The complex boasts fully digital scoreboards and LED field lighting, and each field has chair-back seats for spectators, as well as batting cages and bullpens for athletes. And if you plan to feature elite talent at your event, scouts will love to watch athletes from state-of-the-art scouting towers that overlook the fields and are equipped with live video feeds from every diamond.
Champions Center
Sports: Basketball, volleyball, cheerleading, gymnastics, boxing, wheelchair basketball, wrestling, dance
At 170,000 square feet, including 125,500 square feet of clear-span floor space, this is the Southeast's premier indoor sporting facility. The Champions Center has room for 24 volleyball courts or 12 basketball courts — and there's a 35-feet-high ceiling for optimal clearance. There are digital scoreboards and a video wall, plus locker rooms, meeting rooms and restrooms. You'll also find a food court, a mezzanine and a courtyard for spectators.
Terminus WakePark
Sports: Wakeboarding, wakeskating, water skiing, kneeboarding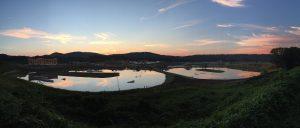 This three-pool wake park is the largest wake park in North America and was voted the No. 1 wake park in the country in 2016. The cables in this park offer opportunities for beginners, intermediate athletes and high-ability riders to get out on the water — without the need of a boat. With two full six-station Sesitec Cable Systems and a System 2.0 lake, as well as an elaborate series of park features and sliders, this is the absolute best place to host your next water sports event.
LakePoint Station
Sports: Miniature golf, rock climbing
Is it for sports or for entertainment? The answer is yes. LakePoint Station features a little bit of everything and a whole lot of fun. There is a pizza restaurant, a rock climbing facility, a 36-hole miniature golf course and even more on the way. LakePoint Station also holds an arcade, a gem mining facility and a laser maze — all encompassed in a train station theme.
Rally Volleyball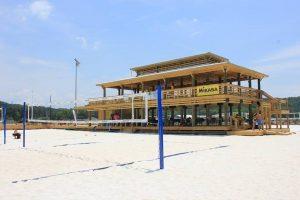 Sports: Volleyball, beach volleyball
Serving up 10 sand courts and a two-story, open-air pavilion, Rally Volleyball is the best place to host your next beach volleyball event. The sand meets professional regulations, there are on-site showers and bathrooms, and the courts are lit with LED sport lighting.
How do I get to LakePoint Sporting Community?
By Car: LakePoint is just 35 minutes north of downtown Atlanta, so make ATL your car's destination and you'll be there in no time. Your best bets will likely be to take I-20, I-85 or I-75 to get close.
By Air: LakePoint is less than 50 miles away from Atlanta's Hartsfield-Jackson International Airport — the world's busiest airport, which accommodates most major airlines.
Summary
Article Name
LakePoint Sporting Community: The Future of Sports Event Hosting
Description
When a sports event facility has all you ever need right on-site, why would you ever leave? The answer: You wouldn't. And at LakePoint, you don't need to.
Author