North Myrtle Beach: A Premier Sporting Destination
Team up with great venues, wide sandy beaches and plenty of family fun. Only in North Myrtle Beach, South Carolina.
Does North Myrtle Beach have the experience to host my event?
Long before the spike in sports travel, visitors were drawn to North Myrtle Beach's beaches and golf courses. With world-class fishing and golf, it just seemed logical that North Myrtle Beach (NMB) would be hosting golf and deep-sea fishing tournaments. Fast-forward 30 years and it is today's planners who are reaping the benefits of the area's extensive tournament knowledge.
From baseball/softball and soccer/lacrosse to basketball, running, swimming, cheerleading, gymnastics, golf and volleyball, North Myrtle Beach has a venue to fit your needs. Looking for a venue to host your unique sport? Call North Myrtle Beach; we're only limited by our imagination. Tie it all together with vacation rentals for every budget, great restaurants and memorable attractions and you can easily see why North Myrtle Beach is a planner's favorite.
What's waiting for my team away from the field, court and pool?
With 10 miles of pristine beaches and all the fun they offer, do we need to look any further? You decide. Located in the southeast corner of the NMB Park and Sports Complex, Go Ape Treetop Adventure spans six acres, includes five zip lines, rope ladders and two Tarzan swings, and finishes crossing a lake. The lake is also home to the newest attraction at the Sports Complex: Shark Wake Park 843. This is a cable wakeboarding park, which is a form of wakeboarding where riders are pulled by a high-tech pulley system instead of a boat. This attraction is fun for beginners up to advanced/pros. The advanced/pro riders can utilize the ramps and rails on the sides of the lake to try new tricks. Shark Wake Park is the brainchild of Greg Norman Jr. and opened, June 17, 2016. The North Myrtle Beach Segway Experience takes riders on a cruise around the NMB Park and Sports Complex, then into the woods for nature and photo ops.
Barefoot Landing is a shopping, dining and entertainment destination and home to Alabama Theatre, Alligator Adventure and House of Blues; it has 15 restaurants. Specialty shops and boutiques offer accessories, apparel, jewelry, shoes and gift items. Belk and Bass Pro Shops anchor nearby Myrtle Beach Mall. Tanger Outlets, with 100 outlets you'll recognize, is just across the highway.
Still looking for more to fill your day? Inlet Point Plantation Stables provides year-round horseback riding on the beach. Maybe watersport options are more your style. Consider parasailing, kite surfing down the beach, kayaking, or inlet or deep-sea fishing. From extreme sports to just relaxing on the water you'll find plenty of options here.
Amongst all the sports action and off the field fun there's a milder side of North Myrtle Beach awaiting visitors. From the point at Cherry Grove to the peaceful Intracoastal Waterway to the majestic marshlands, guests are discovering a quiet, peaceful, relaxing destination. Find a comfortable chair, prop up your feet and listen to the comforting sounds of quiet.
Come hungry and discover the dining delights of NMB. From seafood buffets to grills to raw bars there are more seafood restaurants than you can imagine. As at any beach destination, breakfast is important and NMB is famous for its top breakfast places.
With more than 15,000 vacation rentals, there are plenty of overnight options. Outstanding condominiums and resorts offer oceanfront, waterway and golf course views. Large families, multiple families and groups may prefer a beach home, available in all NMB communities. There are 18 rental companies ready to help you search. More than a dozen flag and family hotels/motels are available from oceanfront to inland.
Click the Instant Info Logo to let us connect you with North Myrtle Beach

---
X Factors
The Official NMB Sports Pass: Exclusive deals and discounts for athletes and families at 50 NMB businesses, including attractions and entertainment, golf and miniature golf, and dining.
Sports Event Accommodations RFP: Assistance with group accommodations at select NMB properties on your behalf.
Site Inspections: Hosting visits to experience venues, accommodations and attractions for your event.
Local Media: Creating and distributing press materials to sports media contacts
Planning Assistance: Working with existing teams and statewide events to promote new initiatives.
Promotional Materials: Complimentary materials for building attendance to your event.
Sports Ambassadors Program: A great group of volunteers that are visible at our different sports venues to welcome participants, parents, coaches and readily able to answer questions about the area, offer suggestions on dining, attractions/entertainment, shopping and The Official NMB Sports Pass.
NMB Chamber of Commerce/CVB: A one-stop shop for assistance with accommodations, dining, attractions/entertainment, shopping, etc.
What do I need to know about North Myrtle Beach venues?
Wyndham Vacation Baseball/Softball Complex at the North Myrtle Beach Park and Sports Complex
Sports: Baseball, Softball

For baseball/softball the complex features four regulation youth baseball/collegiate softball fields and two regulation high school/collegiate baseball fields. The latter can be changed to regulation youth baseball, or collegiate fields. The complex has eight batting tunnels. Umpire rooms, misting fans in each dugout, picnic areas and concessions enhance athlete and family enjoyment. Free live streaming video is on all baseball/softball fields with over 200,000 views to date. Family and friends back home can keep up with all the action.
Wild Wing Cafe Soccer/Lacrosse Complex at the North Myrtle Beach Park and Sports Complex
Sports: Soccer, Lacrosse, Ultimate Frisbee, Cross Country
The complex features eight soccer/lacrosse fields with officials' room. As on the baseball side, there are concessions, picnic areas and playgrounds. The NMB Park and Sports Complex includes a 10-acre meadow, 25-acre lake, walking/bike trails and amphitheater. There's even a three-acre dog park.
Central Park Sports Complex
Sports: Baseball, Softball, Soccer, Lacrosse, Pickleball, Archery
This 20-acre park can host a variety of events. Two multipurpose fields measure 100 by 200 feet, with another at 180 by 300 feet. There are four outdoor pickleball courts. Two youth baseball/softball fields measure 200-225 feet to outfield fences, while one field has 185-200-foot fences. Each has clay infields. The baseball/softball area has five batting cages. The complex also features restroom facilities, concessions, playgrounds and two basketball half-courts.
North Myrtle Beach Aquatic & Fitness Center
Sports: Swimming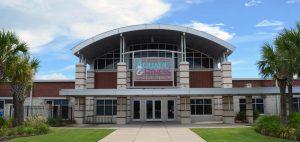 The NMB Aquatic & Fitness Center is a membership-based facility and a favorite of high school regional and Masters Swimming events. A full Colorado timing system and scoreboard keep track of the action on an eight-lane, 25-yard lap pool. The center also offers a three-lane, warm-water therapy pool, sauna, hot tub and 20-foot indoor waterslide.
J. Bryan Floyd Community Center
Sports: Basketball, volleyball, pickleball
This indoor venue features two regulation-style basketball courts that have hosted major events, including the USBA Summer Nationals. Easily transformed, the courts can become six pickleball or four regulation volleyball courts. Full locker rooms, officials' room and meeting rooms are available to planners.
Main Street, North Myrtle Beach
Sports: 5K, 10K, Half Marathon, Beach Volleyball
What's a beach destination without a beach venue? The Main Street location is an ideal start/finish line for half-marathons. Runners, including the DIVA Half-Marathon, are treated to a scenic ocean view route, completing their run in the heart of North Myrtle Beach.
How do I get my team to NMB?
Once you've arrived finding your way locally is a breeze. All sports venues are well marked and easily found. All are within minutes of the Main Street and U.S. Highway 17 intersection. Area accommodations, attractions and restaurants are also effortlessly located.
By Car: Located midway between New York City and Miami, North Myrtle Beach is within a day's drive of most metropolitan areas east of the Mississippi River. Located just slightly more than an hour from the intersection of I-95 and I-20, the trip is even less for travelers coming from the north and west regions.
By Air: Myrtle Beach International Airport has non-stop flights from more than 30 cities in the United States and Canada. Airlines servicing North Myrtle Beach are Allegiant, Delta, Porter (Canada), Spirit, United, American, ViaAir and WestJet (Canada).
Summary
Article Name
North Myrtle Beach: A Premier Sporting Destination
Description
Team up with great venues, wide sandy beaches and plenty of family fun. Only in North Myrtle Beach, South Carolina.