Open Up to Sports Events in Snohomish County
Snohomish County, Washington offers the ideal backdrop for a variety of sporting events—from basketball and ice hockey to triathlons and trail running.
Where Dedication to your Successful Event is Our Badge of Honor
Snohomish County is a sports planner's recreational mecca!  Located next to the waters of Puget Sound and the stunning rock faces of the Cascades, this inviting region with its temperate climate allows for year-round sports activity. The natural landscape encourages a variety of outdoor adventure sports events, from rowing regattas to mountain bike races to trail running races.  Snohomish County also offers a number of top-quality sports facilities for classics like baseball, soccer, basketball, ice hockey, and more. On top of all that, the locals are true sports enthusiasts that welcome athletes from all over the world.  The dedication from Snohomish County will help make your sports tournament a success.
Discover Limitless Fun and Adventure in Snohomish County
When the final whistle blows, Snohomish County waits with dozens of exciting activities for the youth sports teams. Traxx Indoor Raceway is an exhilarating indoor go-kart experience that's great for athletes of all ages. Altitude Trampoline Park is the high-flying jumpin' and playing dodgeball fun for the whole family activity. Take the crew on The Boeing Tour at the Future of Flight Aviation Center & The Boeing Tour, or hiking at Wallace Falls or river rafting on the Stillaguamish River. There is no end to the possibilities.
For the cultural or aviation adventure, head to the Historic Flight Foundation to see vintage aircraft from the late 1920s to the late 1950s; or check out the Schack Art Center, home to artwork by some of the Northwest's most renowned artists.  OPEN UP To Adventure!
Let us connect you with Snohomish County
Tammy Dunn
Sports Development Director
Phone: 888-338-0976 x102
Website: www.snohomish.org/
---
X Factors
Find our what the clients needs are
Act as a liaison for the client to assist with the logistics of the event
Consistent communication with the client
Snohomish County has a variety of activities and attractions for participants and spectators
Create an experience for the attendees
Planner Perspective
In January 2016 the Association of Chief Executives for Sport (ACES) conducted it's Winter Conference hosted by the Snohomish County Sports Commission. The preparation, attention to detail and professionalism of all aspects of those hosting the event, exceeded expectation! Our membership of sport CEO's were impressed with the area, the facilities, the organization, the attentive staff and the community as a whole. You certainly will see more consideration of the Snohomish County sports facilities for events in the near future.

– Stephen D. Ducoff, Association of Chief Executives for Sport
Approximately 22 months ago we began a discussion with Tammy Dunn from the Snohomish County Sports Commission about the possibility of moving our men's and women's basketball championship tournament to Everett, Washington.  Throughout the planning process to the event, Tammy, Aaron and the staff at the SCSC have been thorough, efficient, and more importantly, genuinely concerned about our event.  The environment that they helped create along with Everett Community College, sponsors, volunteers, community, and others, made our championships a top quality event for NWAC student-athletes.  No task was too big to work on, nor too small to let fall through the cracks was the attitude demonstrated by the Snohomish County Sports Commission.

The NWAC has two more years left in Everett, Washington and we know we are in good hands because the Snohomish County Sports Commission sincerely embraced our event and the significance it has for our student-athletes and the community.

– Marco Azurdia, NWAC Executive Director
The Snohomish County Sports Commission was instrumental in the ability of the Harbour Pointe badminton club to host the US Junior Nationals.   Harbour Pointe is a new facility and we were not familiar with Snohomish county at all.  The sports commission helped us establish hotel restaurant and banquet facilities is a very organize method that worked seamlessly with our web page. Without their help we would not have been nearly as organized as we ended up being .  The feedback from the participants has been excellent and we have been awarded another national event this coming spring.

– Geoff Stensland, Harbour Pointe Badminton Club Owner, Tournament Director of USA Badminton 2016 Junior Nationals
Sports Commission's presence in the community and partnerships with local people for our events have created streamlined events from start to finish.

– Renee Carlson, Triple Crown Sports Executive Director of Basketball/WNIT
Snohomish Offers a Sports Venue for Every Game
Harbour Pointe Badminton Club
Sports: Badminton
This brand new facility features 12 international badminton courts, Pro Shop and a lounge area.  Harbour Pointe Badminton Club can accommodate regional, national and international badminton competitions year-round.  Harbour Pointe Badminton Club hosted the 2016 USA Badminton Junior Nationals in July 2016 aand 2017 USA Badminton Junior International Trials in April 2017.
Walt Price Fitness Center at Everett Community College 
Sports: Basketball, cheerleading, gymnastics, volleyball, wrestling, martial arts
This elite sports venue plays host to a range of events, including basketball, cheerleading, gymnastics, volleyball, wrestling and martial arts, among others. The facility has a full-size basketball court with bleachers for 2,200 spectators, as well as a three-lane indoor running track, weight room and 2,382 square-foot multipurpose room.
Skykomish River Park
Sports: Baseball, softball, soccer, ultimate Frisbee
This multipurpose sports complex features four baseball/softball fields and three soccer fields. It can be used for baseball, softball, soccer, ultimate Frisbee and even dog shows. With seating for up to 600 people, Skykomish can accommodate small and mid-size sports tournaments.
Snohomish Aquatic Center
Sports: Swimming, diving
Well-suited (no pun intended) for regional competitions, the Aquatic Center has a 10-lane competition pool with two one-meter diving boards and seating for up to 420 people. It also features a recreation pool, warm-water pool, spray-play area, surf-simulation machine, lazy river and a waterslide—so everyone can have a little fun.
XFINITY Arena at Everett
Sports: Hockey, figure skating, basketball, gymnastics, wrestling, volleyball, rodeo, endurocross
Home to the Everett Silvertips Hockey Club of the Western Hockey League, the XFINITY Arena features two sheets of NHL-sized ice and hosts a variety of events, including hockey, figure skating, basketball, gymnastics, martial arts, wrestling, volleyball, rodeo, endurocross and trade shows. There are 8,300 seats in XFINITY Arena and 250 in XFINITY Community Ice Rink. Edward D. Hansen Conference Center is attached with a 13,000 sq. ft. of meeting space
Evergreen State Fairgrounds
Sports: Equestrian, rodeos, motocross, basketball, wrestling, martial arts, gymnastics, cheerleading, racing
Located in Monroe, the fairgrounds provide a few different venues that host a number of different sports events. There is a 60,000-square-foot indoor equestrian park with seating for 2,700 spectators. It hosts a variety of equestrian events and rodeos. The 33,000 square foot Gary Weikel Events Center has the ability to host basketball, wrestling, martial arts, gymnastics, and cheerleading competitions. Evergreen Speedway is a NASCAR regional race track with 3/8 and 5/8 ovals and a figure-eight track.
Meadowdale Playfields
Sports: Baseball, football, lacrosse, Ultimate Frisbee, soccer, softball
Located in Lynnwood, the Meadowdale Playfields features two lighted turf sports fields and are lined for youth baseball and field sports.  The three lighted infield turf softball fields hosts youth baseball, girls fastpitch and adult softball tournaments.  Additionally, the sports complex includes a concession building, play area, walking trail, restrooms, basketball court and picnic area.
Kasch Park
Sports: Softball, baseball, soccer, Ultimate Frisbee, lacrosse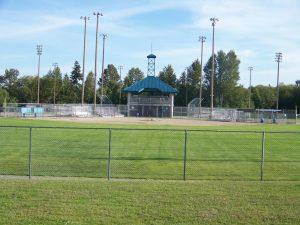 This multipurpose sports complex in Everett includes four softball fields, two baseball fields and three all-weather turf soccer fields. The venue can accommodate up to 600 spectators in the softball/baseball complex. All fields are lighted and can host baseball, softball, soccer, Ultimate Frisbee and lacrosse events.
Lynnwood Convention Center
Sports: Dance, gymnastics, martial arts, board, computer and card competitions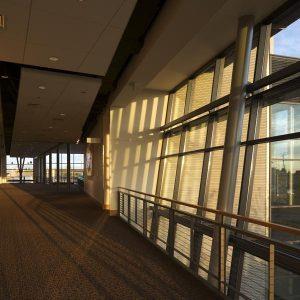 A true jack-of-all-trades, Lynnwood Convention Center has 34,000 square feet that can accommodate all kinds of regional sports tournaments. This facility can host dance shows, gymnastics competitions, martial arts demonstrations and even board and card game contests.
Between Seattle and Canada
Snohomish County is the ideal location for regional, national and international competitions.
By Car: Snohomish County is conveniently located about 25 miles north of downtown Seattle, and a little over 100 miles south of Vancouver, British Columbia, Canada. Interstate 5 and 405 provide easy access for most of the Pacific Northwest.
By Air: The region is served by Seattle-Tacoma International Airport, which is about 40 miles away and offers flights from many major airlines.
Summary
Article Name
Snohomish County is Dedicated to all Sports Events
Description
Snohomish County, Washington offers the ideal backdrop for a variety of sporting events—from basketball and ice hockey to triathlons and golf tournaments.