Peachtree City: Where Athletes Come to Play
A cool mix of recreation and relaxation, Peachtree City is the perfect getaway for your next sporting event.
When it comes to planning a sports event in the U.S., your options are truly endless. So the hardest part may be choosing just where you want to travel. For a temperate climate, gorgeous landscapes, a small-town feel and plenty of entertainment to fill your free time, Peachtree City just outside of Atlanta is the place to be. Here, an active lifestyle meets relaxation and leisure.
The city is no stranger to hosting major sporting events and tournaments, so you can feel at ease knowing your team is in good hands. The Peachtree City CVB looks forward to making your trip seamless, hassle-free, and memorable for athletes and parents alike.
What can we do in Peachtree City?
When you arrive in Peachtree City, don't be surprised if you instantly feel more at ease. A relaxed, cool vibe resonates throughout the city, making this a popular destination for athletes from around the region and the country. The beautiful natural surroundings make for plenty of outdoor adventure opportunities. Have you tried geocaching? Whether you're a seasoned pro or haven't heard of it, Peachtree City is the place to give this a try. There are over 300 hidden "caches" in the immediate area, making it a geocachers paradise as they use GPS devices and coordinates to find these small hidden treasure boxes. Spend more time outside in the Flat Creek Nature Area, a 513-acre wetland inside the city limits that follows along the serene Flat Creek. Stroll along the 1,200-foot boardwalk and take in the views from various lookout points. The lush forest is home to a variety of wildlife and countless tree and plant species.
For a bit of history, head to the Commemorative Air Force Dixie Wing, which was founded to restore and preserve (in flying condition) a full collection of combat aircraft flown by all military services, including planes from other nations.
For outdoor entertainment, look no further than the Frederick Brown Jr. Amphitheater. Surrounded by the natural beauty of Peachtree City, the amphitheater has hosted big names like Hall and Oates, Cheap Trick, the B52s and Blake Shelton. It's sure to be a memorable addition to your trip.
A farmer's market, plenty of live music year-round and a huge variety of festivals add to Peachtree City's profile as a dynamic city full of excitement for visiting athletes and their families.
Click the Instant Info Logo to let us connect you with Peachtree City CVB

---
X Factors
Sports event grant opportunities
Assistance with hotel RFPs
Site inspections
Public relations assistance
Coordination of permitting process and public safety
Coordination with local sports associations for volunteer support
Welcome bags and visitor informatio
Customized bid packets
Maps
Planner Perspective
A Small Town with Big-Time Sports Venues
William L. Davis BMX Track
Sports: BMX biking
This venue has 1,100 feet of track in the standard "M" shape – including a designated space for amateurs and pros. So no matter which level you're at, it's the go-to venue for everything BMX. On top of that, it's unique in that it's one of the few terraced tracks in the U.S. For spectators and hungry athletes, there is a concession stand; additional facilities include a meeting room, registration center, and on-site restrooms.
Home Plate: "The Chuck"
Sports: Baseball, softball
Step up to the plate and look no further than Home Plate, which offers pristine, all- weather fields for baseball and softball, plus 14 batting cages for perfecting that swing. There are also two pitching machines, three outdoor live hitting cages, four pitching mounds and a fitness room. Home Plate is the ideal venue for hosting games our tournaments.
Peachtree City Tennis Center
Sports: Tennis
The city's Tennis Center is home to stunning facilities and caters to groups of all sizes and ages. Besides 24 courts (12 hard, 6 soft and 6 covered), the center has a fully stocked pro shop, a fast-serve racquet and stringing department, and catering for tournaments.
ClubCorp Golf Courses
Sports: Golf
Not one, not two, but three golf courses are yours to choose from in the Peachtree City area. With 27 holes at Flatcreek and 18 at Braelinn and Planterra courses – take your pick. These courses are no stranger to hosting tournaments and catering to large groups, so you can rest assured that you're in good hands. And with the beauty of the region as your backdrop, there is no better place to hit the links.
And There's More
Peachtree City has 90+ miles of multi-use paths, Lake Peachtree, Lake McIntosh, Lake Kedron, Peachtree City Disc Golf Course and a skate park.
How do we get to Peachtree City?
Situated about 35 miles from downtown Atlanta, this quaint town offers the charm of a small community with the benefits of a big city nearby.
By Car: Atlanta is the perfect jumping-off point for traveling to Peachtree City. Routes 74 and 54 are convenient travel options for getting in and out of town.
By Plane: Peachtree City is just 25 miles from Hartsfield-Jackson Atlanta International Airport, America's busiest airport.
Summary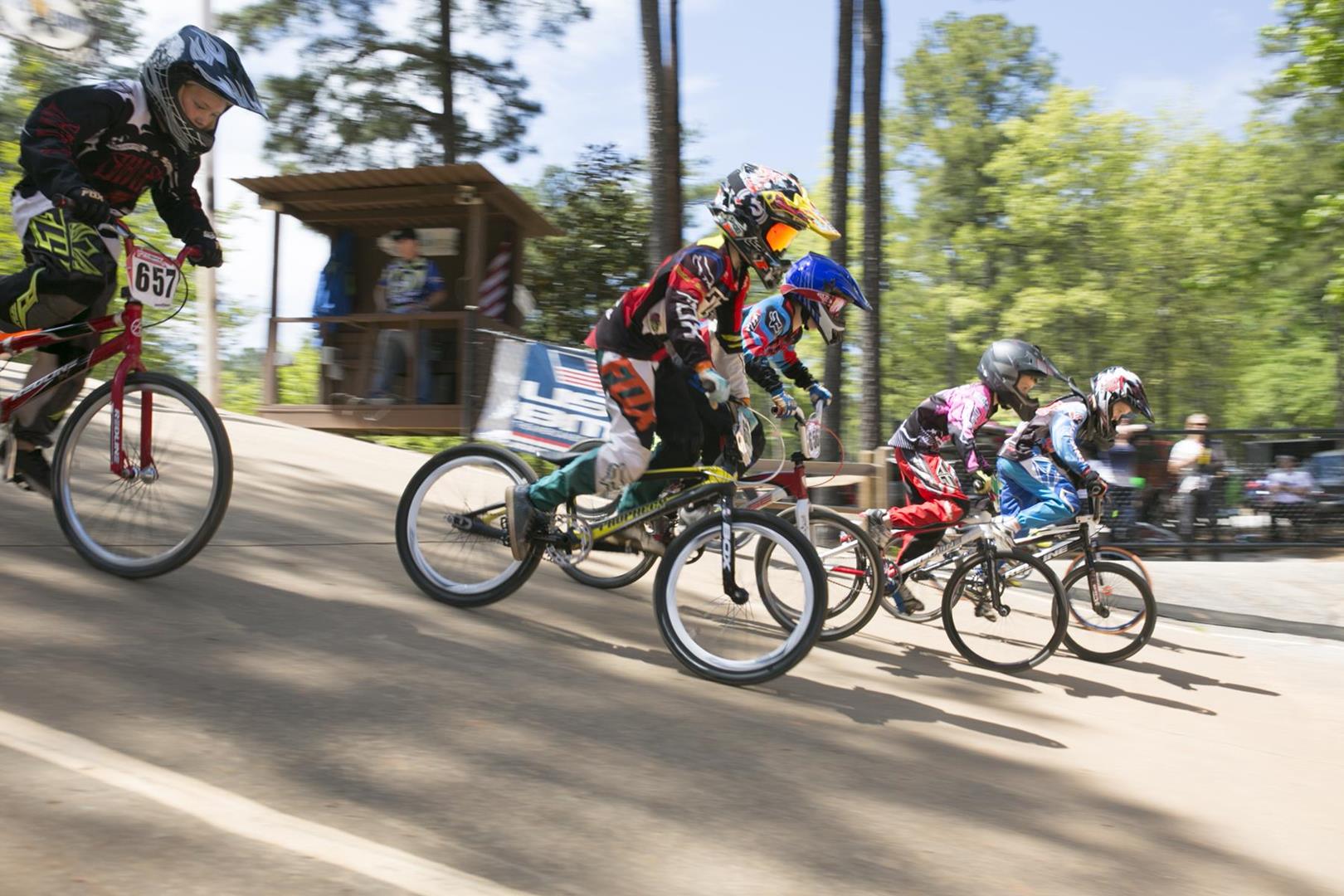 Article Name
Peachtree City: Where Athletes Come to Play
Description
A cool mix of recreation and relaxation, Peachtree City is the perfect getaway for your next sporting event.