Planners Knock Sports Events Through the Uprights in Greenville, NC
Discover the natural beauty, history and top-notch facilities of Pitt County and Greenville, North Carolina, a prime tournament destination.
Why pick Greenville for your next tournament?
A top sports tournament destination doesn't just mean world-class facilities and plentiful accommodation options. It also connotes an excellent dining selection, off-the-field opportunities and, most importantly, a friendly population to address all your tournament planning needs.
Home to East Carolina University, Greenville is a top sports destination that certainly fits the bill of a premier sports destination. The area has established venues such as the Greenville Convention Center Campus and the Aquaventure Aquatics Campus in Winterville, and the plethora of hotel options ensures teams of any sport and budget can comfortably enjoy their Greenville sports experience. Combined with a friendly Greenville-Pitt County Convention & Visitors Bureau staff, the city is ready to welcome you and your athletes.
What is there to do in Greenville after the final buzzer?
Planners must understand the balance of putting together an organized sporting event and finding a destination in which your participants can take home unique gifts and unforgettable experiences. For this, look no further than Greenville.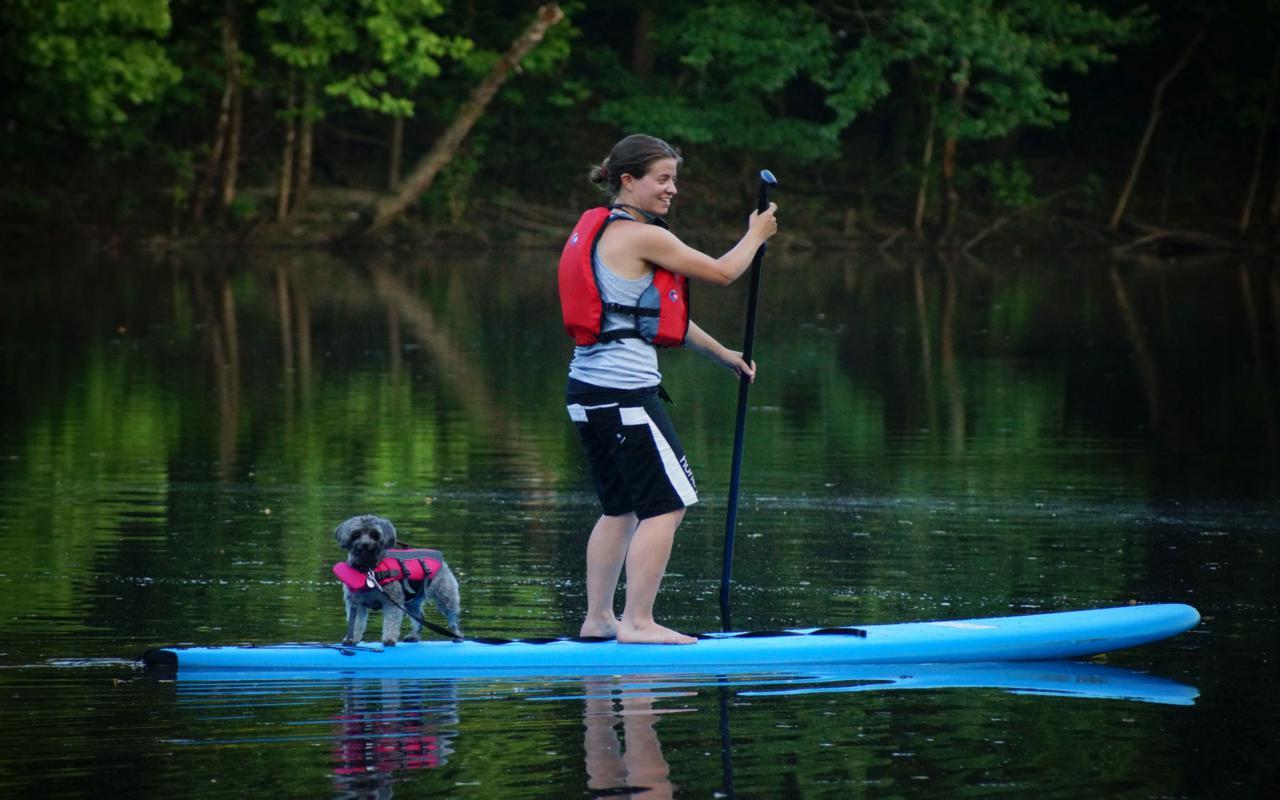 Groups can embark on a float trip down the Tar River with Knee Deep Adventures. This watercraft outfitter will supply your team with a helpful guide and a fleet of kayaks or paddleboards to pass through old growth North Carolina forests. Your group can even try SUP ("standup paddleboard") yoga with a certified instructor from Moxie Yoga. Those interested in watersports can also stop by Cable Paradise Park, a wakeboarding complex that can accommodate experts to beginners. Group rates are offered to teams looking to learn the basics of the sport, and a variety of ramps and runways are available to practice tricks and jumps.
Want to reward your team after a hard-fought victory? Simply Natural Creamery in nearby Hookerton offers delicious ice cream cones and sundaes to groups with a sweet tooth. Your athletes can also embark on a creamery tour that includes a wagon ride, tour of the milking barn and an opportunity to pet baby calves. Coaches and chaperones in your party seeking further culinary discovery can follow the Pitt County Brew & Cue Trail, which highlights the area's legendary barbecue joints and local breweries.
Let us connect you with Greenville-Pitt County CVB

---
X Factors
Centrally located on the East Coast
Access to East Carolina University's Division 1 sports facilities
Dining Discounts on Mobile App and Website
Discounted lodging assistance
Site visits
Sponsorship development
Onsite registration assistance
Volunteer coordination
Local PR/media coverage
Social media marketing
Planner Perspective
I have planned a two-day lacrosse tournament here in Greenville, NC for the past few years with thousands of players, parents, coaches and fans. Since we've started working with Greenville-Pitt County Convention & Visitors Bureau, my life has become so much easier. Gray W. Williams and her staff are incredible and I highly recommend their services.

– Dr. Robert McCarthy, President ECYLL (East Carolina Youth Lacrosse League)/Chairman of PCYL (Pitt County Youth Lacrosse)
It's always a pleasure working with the Greenville, NC CVB because they take an active role in assuring the pieces are in place for success. From community contacts to experience and expertise, the CVB flexes its muscle to help meet your needs.

– James Wilber, National Championships & Competitions Manager, USA Rugby
It is always great working with the people at the Greenville-Pitt County Convention and Visitors' Bureau. They have helped me with hotel discounts and reservations, literature for our participants and their families like maps, etc.  If they do not know the answer to a question, they will research and find the answer for you.

– Darlene Rose, Rose's Gymnastics, USAG North Carolina Xcel Bronze and Xcel Silver Gymnastics State Championships
I had the wonderful opportunity to work with Gray W. Williams and the city of Greenville for our Color Vibe 5k event that took place in March of 2016. Everyone was very easy to work with, very helpful, friendly and on top of things! We had a great experience in Greenville and are already planning on bringing our event back for 2017!

– Daniel Pete, Tournament Director, Color Vibe 5K
What venues does Greenville have to offer?
Aquaventure Aquatics Campus
Sports: Swimming
Just south of Greenville is Winterville, home of the brand new 28,000-square-foot Aquaventure Aquatics Campus, which opened its doors in August of 2016. The fitness center features an eight-lane, 25-yard heated lap pool with depths ranging from 3.5 feet to 5 feet; it is ADA-accessible. Separate men's and women's locker rooms with showers are on site along with classroom space to set up a tournament headquarters and exercise rooms. Wi-Fi is available for guests, and the spacious parking lot is secured, video monitored 24 hours a day. The facility also hosts a wellness campus and the Rum Runners Dive Shop.
East Carolina University Sports Facilities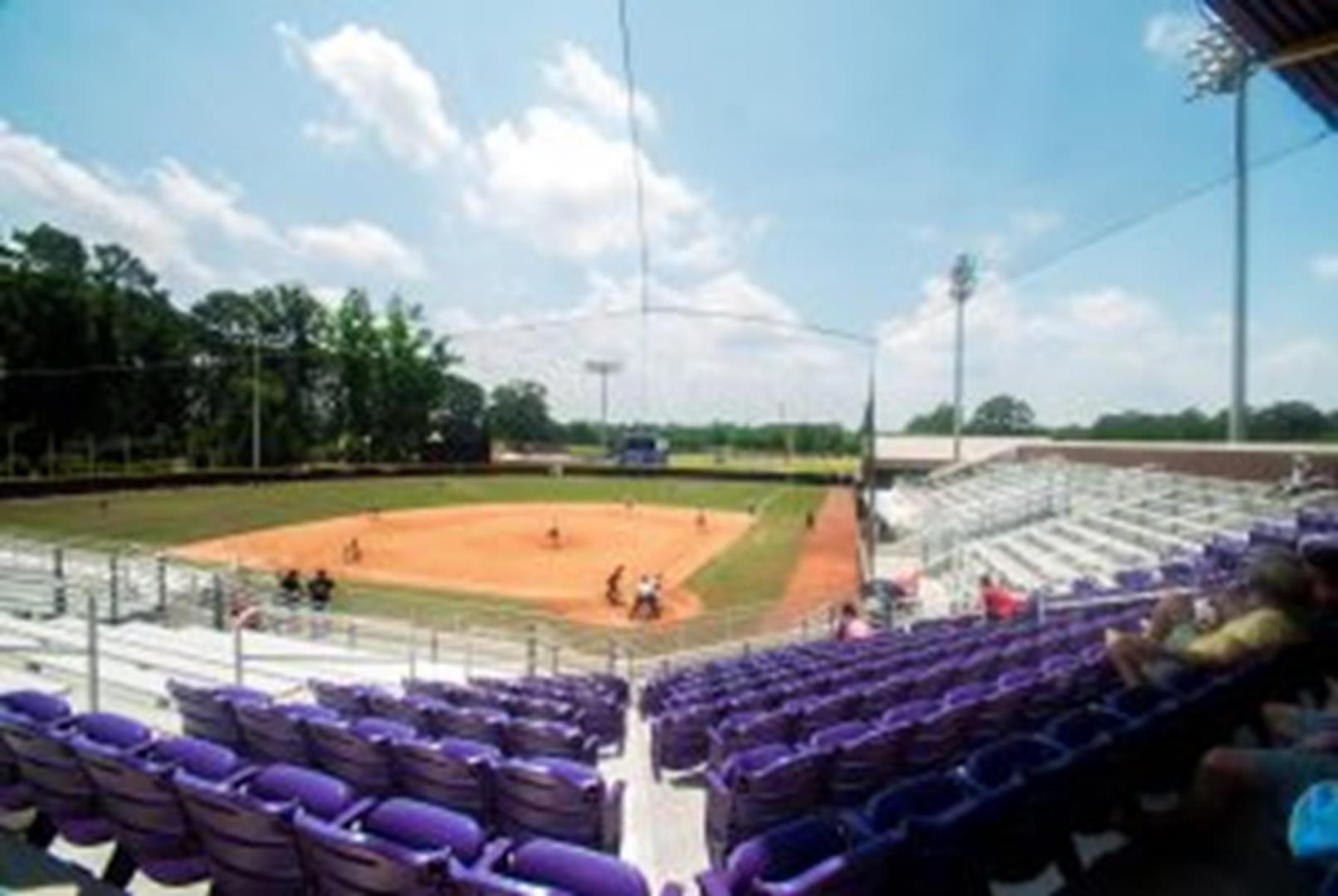 Sports: All
NCAA Division I Eastern Carolina University boasts five facilities capable of hosting events at a top level. Natural-grass Dowdy-Ficklen Stadium, home of the Pirates' football program, seats 50,000, is fully lit and includes an 84-foot-wide, 28-foot-tall, high-definition videoboard. The 5,000-seat Clark-LeClair Stadium, offers both indoor and outdoor batting cages for baseball events. For softball tournaments, the new ECU Softball Stadium seats 1,000 and includes three covered batting cages. ECU Williams Arena at Minges Coliseum hosts both volleyball and basketball, seating 8,000. Johnson Soccer Stadium seats 1,000. All facilities have parking on site along with concession, restrooms and locker rooms.
ECU North Recreational Complex
Sports: Soccer, flag football, lacrosse, Ultimate Frisbee, rugby, disc golf, sand volleyball, cross country
Located 10 minutes away from the ECU campus, eight multi-purpose fields, including one championship field, offer a versatile platform for tournament planners looking to host outdoor events like soccer, flag football, lacrosse and rugby. The NRC's field house offers covered seating, restrooms and ample parking. The beaches on the lake offer the proper site for beach volleyball. Six walking and jogging trails along with a 5K running trail can offer a number of routes for a cross country tournament and the 18-hole disc golf course offers a unique and challenging layout.
Elm Street Park's Stallings Stadium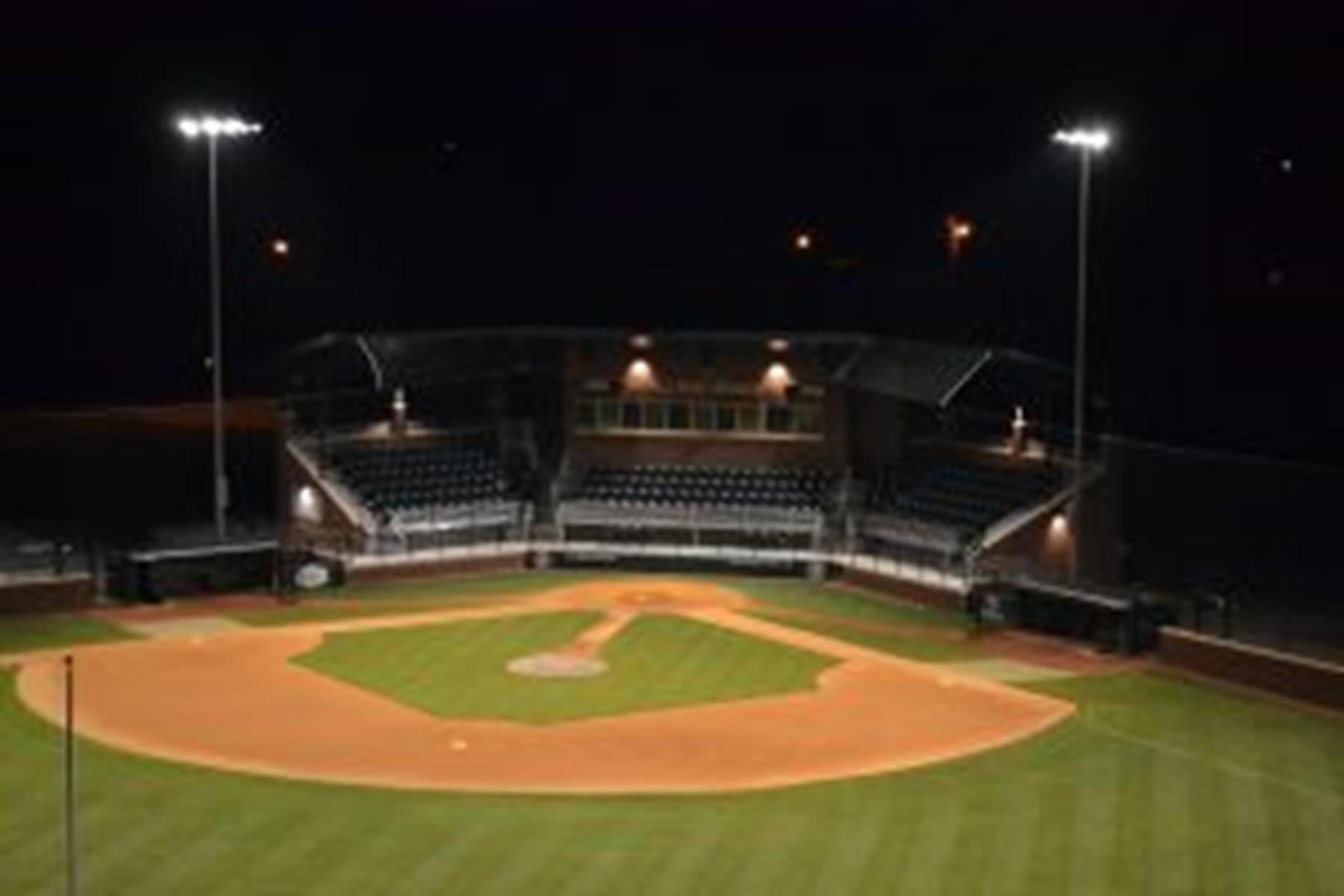 Sports: Baseball, softball, shuffleboard, horseshoes, bocce, tennis
At the eight-acre Elm Street Park, visitors will find Stallings Stadium, home of the local Little League program. The stadium is no stranger to big events, with a modern grandstand behind home plate, concessions, locker rooms and lights for play after dark. A number of events have occurred at Elm Street Park's Stallings Stadium, including the Tournament of State Champions. Also at Elm Street Park's Stallings Stadium are six lighted tennis courts with bleacher seating and courts for horseshoes, bocce and shuffleboard. Ample parking is available inside the park along with access to the Greenville Greenway.
Greenville Convention Center Campus
Sports: Indoor sports
The Greenville Convention Center Campus is a 91,000-square-foot facility offering space for most indoor sports including cheerleading, gymnastics, dance, boxing, taekwondo and weightlifting. Inside you'll find the 57,000-square-foot convention center and its 28,800-square-foot carpeted exhibit hall with 28-foot high ceilings. The venue has full concession, ticket booths and complimentary parking. The ultra-modern, 32-acre campus includes three acres of greenspace and three AAA 3-Diamond hotels. The convention center also includes a multi-bay loading dock with drive-in access, an LED marquee and on-site catering.
Greenville Town Common & Greenway
Sports: Cross country, biking, fishing, boating
Along the banks of the Tar River, the Greenville Town Commons and Greenway is well known for its natural beauty and outdoor performances at its amphitheater. For tournament planners, it offers more than five miles of paved trails, many of which are adjacent to the river, small streams and other natural features. The trails stretch from the East Carolina University campus to the Greenville Town Common, a 20-acre park equipped with boat ramps, fishing piers, kayak access and a multi-purpose room including bathrooms.
River Birch Tennis Complex
Sports: Tennis
Home to local tennis programs, the River Birch Tennis Complex features eight lit courts, ready for competition and striped for both adults and children. The spacious clubhouse provides plenty of room for a tournament headquarters, offering vending machines and restrooms. Located in Greenville's Evans Park, the River Birch Complex has ample parking and bleacher seating available for visitors. The complex is home to the ECU Pirates tennis team and has hosted numerous regional and local tournaments.
Sara Law Softball Complex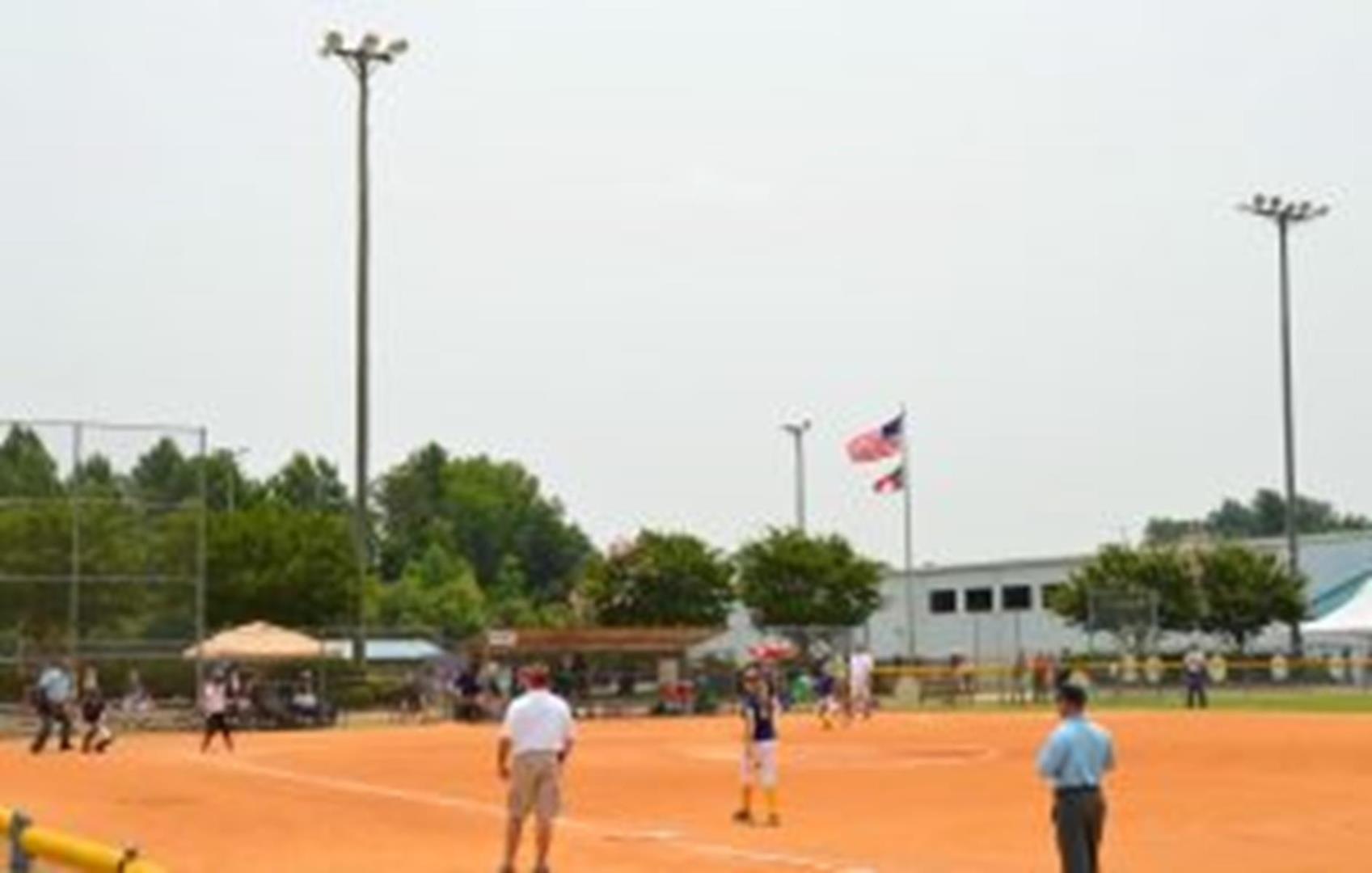 Sports: Softball
Resting on 20 acres of greenspace, Sara Law Softball Complex offers four natural-grass, competition fields and two additional practice fields. The complex is home to the Pitt County Softball League, so it's no stranger to big games. Ample parking is adjacent to the fields, and batting cages are on site as well. Dugouts and bleacher seating are available. The complex also features a concession stand, storage and restroom facilities.
Getting to Greenville
With an international airport nearby and a location near major routes, Greenville is not just an exciting destination, but an accessible one.
By Car: Most major Southeastern metropolitan areas are within a few hours' drive of Greenville, which is accessible from Interstate 95 via Route 264. These cities include Raleigh, Atlanta, Nashville, Jacksonville, Louisville, Richmond, Baltimore, Charlotte and Washington, D.C. U.S.
By Air: Located in the city of Greenville is the Pitt-Greenville Airport, which is served by American Airlines. An hour-and-a-half drive away is Raleigh-Durham International Airport, which is served by Southwest Airlines, Alaska Airlines, Allegiant Airlines, Air Canada, American Airlines, Delta Airlines, Frontier Airlines, JetBlue Airways, United Airlines.
Summary
Article Name
Planners Knock Sports Events Through the Uprights in Greenville, NC
Description
Discover the natural beauty, history and top-notch facilities of Pitt County and Greenville, North Carolina, a prime tournament destination.