With friendly people and picturesque landscapes throughout the four seasons, the Midwest represents a quick answer to the question about where to find the perfect sports event planning option no matter your game or budget. The Quad Cities of Illinois and Iowa, with the amazing beauty of Mississippi River flowing through it, makes for the quintessential setting for your tournament or competition.
The sports venues in Bettendorf, Davenport, Moline, East Moline and Rock Island cover all the bases – and courts and fields – you'll need when staging your upcoming event. But, the Quad Cities offer so much more. Live entertainment along the river, diverse dining options and a charming local shopping experience provide plenty of chances to soak in the best of what the region has to offer.
And, when it comes to accommodations, the Quad Cities offers 5,000 rooms ranging from quaint bed-and-breakfasts to full-service hotels with convention centers, as well as campgrounds and RV parks, to round out your stay.
Let us connect you with Quad Cities CVB

Lyn Hunt
Vice President Sales/CMP
Phone: 800-747-780 ext. 823
Website: www.visitquadcities.com

---
Facilities
BettPlex – Bettendorf, Iowa
Sports: Soccer, football, lacrosse, baseball, softball, volleyball
BettPlex, one of the largest sports complexes in the Midwest covering nearly 77 acres, makes its debut in the summer of 2018 with 280,000-square-feet of indoor and outdoor facilities, not to mention a two-story family entertainment center. Indoors you'll find a full-size turf field suitable for 11-on-11 soccer, football and lacrosse; eight regulation basketball and volleyball courts; batting cages and golf driving range; a physical therapy facility; and food vendors and a bar. Step outside to find four soccer and six turf baseball/softball fields with lights; seven sand volleyball courts; and a multitude of parking. The entertainment center features 32 bowling lanes, dozens of arcade games and space for your banquet or meeting.
Modern Woodmen Park – Davenport, Iowa
Sports: Baseball
Overlooking the Mississippi River, the beautiful Modern Woodmen Park includes everything you'd expect to see from the best in contemporary ballparks. Home to the Midwest League's River Bandits – the Houston Astros Class A minor league affiliate – the park features seating for up to 6,000; 20 luxury suites; a state-of-the-art scoreboard; locker rooms with dugout access; press box; and lights for night games. The ballpark, which has hosted many college and high school baseball tournaments, offers an array of food and drink options with a club lounge, concessions and at its on-site bar and restaurant.
RiverCenter – Davenport, Iowa
Sports: Boxing, basketball, gymnastics, wrestling, billiards, fishing tournament weigh-ins
The multi-use RiverCenter in Davenport provides unlimited potential for hosting your large-scale sporting event with more than 100,000 square feet of space available, an on-site hotel and 1,200 parking spaces for attendees. RiverCenter provides portable bleachers and exceptional lighting to make it perfect for hosting a variety of sports including boxing, basketball, gymnastics and wrestling. It can also be configured to accommodate billiards tournaments, stage set-ups for fishing tournament weigh-ins and as the setting for an outdoors show. The RiverCenter's high ceilings and loading docks provide convenience throughout the facility, while its 35,000-square-foot Great Hall and the 13,500-square-foot Mississippi Hall offer plenty of usable space to meet your needs.
Davenport Soccer Complex – Davenport, Iowa
Sports: Soccer
This 40-acre complex provides a total of eight full-size irrigated grass soccer fields which can be converted into 16 intermediate fields. It offers bleacher seating, concessions, restroom facilities and 200 parking spaces. Whether you're looking to host a tournament, league or camp, the Davenport Soccer Complex provides the right options and setting to make your event a success.
The River's Edge – Davenport, Iowa
Sports: Ice Hockey, figure skating, indoor soccer
Located in downtown Davenport with easy access to hotels and entertainment, The River's Edge boasts two arenas in one facility to host hockey, indoor soccer or figure skating competitions. The World Arena's full-size 100-by-200-foot rink has seating capacity for 300, while U.S. Arena – which can host indoor soccer matches – features 85-by-200-foot dimensions and seating for 500. The River's Edge also offers 10 locker rooms with shower facilities, a full-service skate shop and concession stands. The facility has 80 parking spaces, with additional parking available nearby and along the riverfront.
Davenport Speedway – Davenport, Iowa
Sports: Racing
Ranked in the Top 20 for dirt tracks in the United States, the Davenport Speedway features a half-mile and a quarter-mile track on its 78-acre fairground setting. Fans can pack the stands with covered grandstand seating for 6,000. On-site camping and concessions are available, and parking is always free. Racing at night comes to life under Musco lighting at the Speedway.
Miller Time Bowling – Davenport, Iowa
Sports: Bowling
Miller Time Bowling is a United States Bowling Congress-approved facility with 42 lanes of automatic scoring and audience seating of up to 400. Miller has hosted numerous high-stakes competitions, including the Women's National Tournament. Conveniently connected to the Golden Leaf Convention Center, Miller also offers 50 pool tables (with seating capacity for 200 to watch billiards); 30 dart boards; two sports bars; a restaurant and lounge; a pair of banquet rooms; a public address system; and 825 parking spaces.
Leisure Lanes – Davenport, Iowa
Sports: Bowling
Davenport's second USBC-approved facility is Leisure Lanes with its 24 lanes of automatic scoring and room for 50 spectators. Leisure provides a lounge and snack bar; pro shop; pool tables and dart boards; a PA system; and a banquet room with seating for 50. Parking isn't a problem with 100 spaces available.
iWireless Center – Moline, Ill.
Sports: Multi-use, including basketball, hockey and figure skating
The architecturally beautiful iWireless Center in downtown Moline stands out as the region's prominent multi-purpose arena with a history of hosting big events ranging from sports to concerts – and more. With a seating capacity of 11,000, the 31,000-square-foot arena features a regulation NBA/NCAA basketball-size court; an 85-by-197-foot hockey rink that can also be used for figure skating; and the flexibility to welcome rodeos, arena football, monster trucks and more. The arena's video scoreboards provides replay capabilities to add to the professional presentation of your event. The iWireless Center also has six on-site production offices, four locker rooms with showers and an additional 12,000 square feet of meeting and convention space.
TPC Deere Run – East Moline, Ill.
Sport: Golf
Home of the PGA Tour's John Deere Classic, TPC Deere Run presents a 7,258-yard, Par 71 course that has also hosted the NAIA Golf Championships. Beyond the course itself, Deere Run also gives you access to a full practice area with driving, putting and sand; locker rooms; full dining services; on-course beverage cart; the Midway Grill concession stand after the 9th hole; and parking capacity of 160 spaces.
Green Valley Sports Complex – Moline, Ill.
Sports: Baseball, Softball, Soccer
The Green Valley Sports Complex's multiple soccer field and baseball/softball diamonds make it an ideal place to host tournaments – and the facility is only getting better with recent upgrades to its four concession facilities, restrooms and with a Musco lighting system. The complex and its eight ball fields have been the home to the ISC Men's Fast Pitch World Tournament and ASA national tournaments, among other notable competitions. With 12 soccer fields, five full-size and seven intermediate; bleacher seating for 300; a 900-square foot press facility; and ample parking, Green Valley gives you everything you need to run a high-level tournament.
Campbell Sports Complex – Rock Island, Ill.
Sports: Baseball, Softball
In addition to playing host to numerous ASA competitions and the ISC Men's Fast Pitch World Tournament, the Campbell Sports Complex's four lighted fields can also accommodate youth baseball and softball from the ages 6 and older. The complex provides bleacher seating for 100 at each field, a centrally located concession stand, covered shelter areas and parking for approximately 300 vehicles.
Augustana College/PepsiCo Center – Rock Island, Ill. 
Sports: Multi-use indoor/outdoor, including basketball, volleyball, football and more
Augustana College's scenic setting and multiple facilities, both indoor and outdoor, create seemingly endless possibilities for hosting a wide-range of sporting events in the Rock Island area. The PepsiCo Center offers basketball and volleyball with seating for 750. Head over to the Carver Physical Education Center with its three basketball/volleyball courts; three racquetball courts; indoor pool; and a 3,500-seating capacity. Augustana's outdoor stadium facilities feature a football field; two regulation soccer fields; a 400-meter track and field layout; tennis courts; a softball field; and seating for 4,000.
QCCA Expo Center – Rock Island, Ill.
Sports: Multi-use, including boxing, basketball, gymnastics and more
A large facility with unlimited potential is the best way to describe the QCCA Expo Center and its 60,000-square-foot exhibition hall. The center boasts adaptability to host a wide-range of sports including basketball, boxing, gymnastics, indoor soccer, indoor BMX and roller derby. It's also an ideal location for boating and outdoor shows. Ample parking with 800 spaces is available at the center, which also has a 500-seat, 4,600-square-foot auditorium. Flexible seating options accommodate the size of your event.
X-Factors
The Quad Cities rank as the largest metro area along the Mississippi River between St. Louis and Minneapolis-St. Paul.
Centrally located a 2 ½-hour drive from Chicago and Des Moines along Interstates 80 and 74.
Quad Cities International Airport in Moline offers dozens of daily flights from major destinations around the country.
Each city's parks and recreations department coordinate with the Quad Cities Convention and Visitors Bureau to secure low-cost fields and courses.
The Convention and Vistors Bureau provides a wide variety of services and discounts, as well as public relations and marketing assistance for your event.
In 2018, the 76.6-acre BettPlex will open in Bettendorf with an indoor/outdoor sports complex and family entertainment center.
Activities in the Quad Cities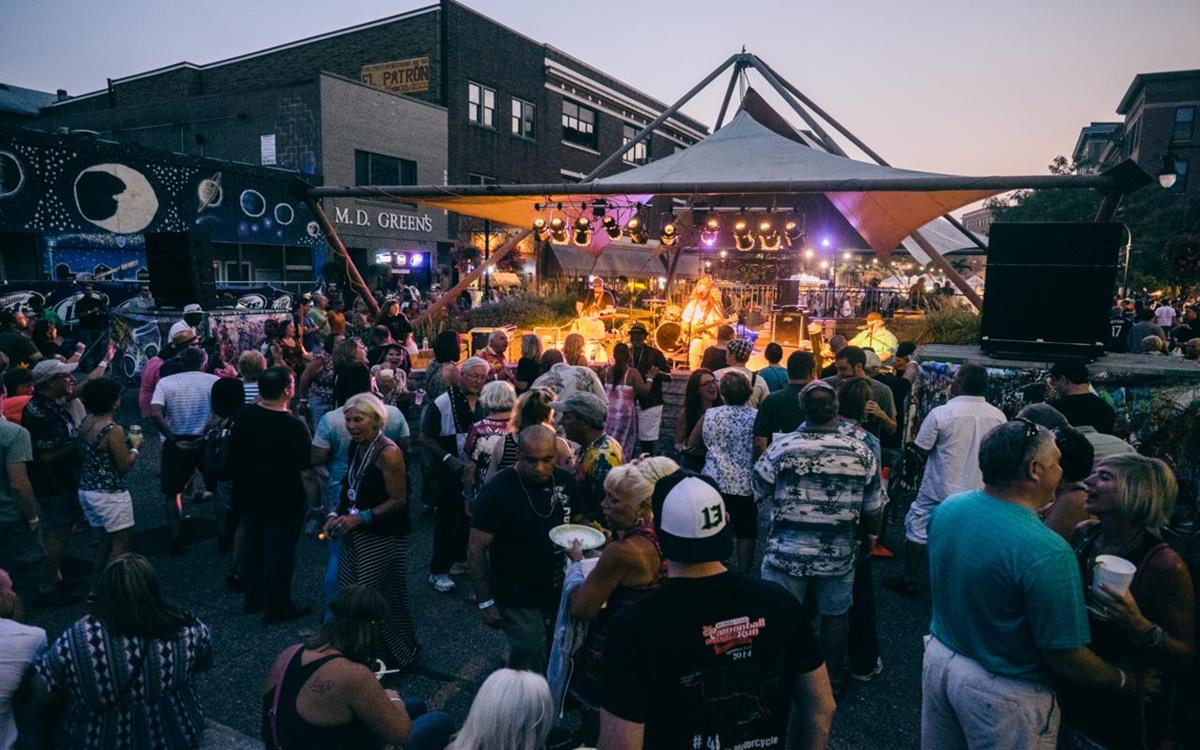 It's one thing to plan a top-notch sporting event or tournament. It's quite another to bring your athletes and their families together at a destination that will have them talking for years to come about the memories they created.
Check out the Family Museum and its bevy of kid-friendly activities or spend a few hours bowling and playing laser tag while you grab a bite of pizza at QC Family Entertainment. The John Deere Pavilion provides a taste of Midwestern essence and a glimpse at farming history.
No matter the season, the Quad Cities gives you plenty of reasons to get outside for some fun on more than 100 miles of biking and hiking trails, at local lakes and pools or on the slopes for skiing or tubing at Ski Snowstar Winter Sports Park.
With a thriving nightlife scene, the 21-and-over crowd can enjoy themselves at one of the area's several casinos, craft breweries or bars and restaurants.
Add in exciting museums and its theatre scene, along with riverfront activities and the Niabi Zoo, and you'll be wondering how much you can fit in before heading home.
How do I get to the Quad Cities?
Centrally located in the heart of the United States along the majestic Mississippi River, the Quad Cities region represents a perfect blend of Midwestern charm, unique local amenities and natural beauty you'll want to visit again and again. The Quad Cities are easily accessible – and connected to one another – by several major interstates and by way of Quad Cities International Airport to make your travel planning as convenient as possible.
By Car: Located on the Illinois-Iowa border, the Quad Cities are less than a day's drive from several major cities, including Chicago, Minneapolis-St. Paul, St. Louis and Madison, Wisconsin. Major Interstates 80 and 74 encircle the area, while Interstate 88 connects to the region from the east.
By Plane: Quad Cities International Airport boasts dozens of daily flights to and from key cities around the country including: Las Vegas, Chicago, Orlando, Dallas and many more. The airport is served by United, American Eagle and Allegiant airlines.
Planner Perspective
The Quad Cities CVB were amazing to work with through the 2017 PDGA Amateur and Junior Disc Golf World Championships. The CVB and their local organizing committee ensured the participants were taken care of during the entire week of competition. Every aspect of the event was handled with careful consideration and professional execution. We look forward to an opportunity to visit the QC again in the future.

–Mike Downes, PDGA Events Coordinator
The Missouri Valley Conference teams and fans loved being in the Quad Cities for the MVC Women's Basketball Tournament. Everything about it is top notch.

–Patty Viverito, Missouri Valley Conference Senior Associate Commissioner
The ABA had not hosted an event in the Quad Cities before and wanted to host it in a place that hadn't gotten the national spotlight before. The hospitality of the many area groups just made the decision that much sweeter. This is absolutely the most organized group we've ever worked with.

–Debra Talley, ABA National Marketing Director
The visitors bureau information tables are awesome and add great value. I overheard more than once from our attendees why other cities hadn't done this in past years. We also thank the CVB's marketing department for the fantastic newspaper and TV coverage this year. The long-time board members would tell me that bowling has never been able to get local media coverage in prior years, and they were astounded. I told them I didn't make the calls, so it had to be the visitors bureau. Thanks so much for everything. I will make sure you get public recognition for all your help so that the general populous understands what you do.

–Kevin Duncalf, USBC Iowa State Bowing Association
The afterglow has started to fade as we have all moved forward to our next events and projects. I personally really enjoyed working with the CVB. You all were able to accommodate and react to about everything we threw at you, and I know it was a lot. After a great experience working with you all, the PDGA will undoubtedly sign on with more CVB groups as our event coordinators move forward.

–Jay Reading, PDGA Pro and participant in 2017 PDGA Amateur and Junior World Championship