Schedule Your Next Sporting Event in Easley, South Carolina
Easley: the quaint little town nestled in the foothills of the mountains ready to host your next successful sports event.
If you've already been to Easley, South Carolina, then you can probably skip this section and go right down to reading about the facilities. That's because you already know that this is the place to host your next sporting event or tournament. But if you haven't been to Easley, well … what have you been waiting for?
Located in the Northwest   corner of South Carolina, just 10 minutes off Interstate 85, our city of 20,000 friendly folks love their sports and hosting The Big League World Series for the past 16 years is just one testament to the passion we have.
Easley is home to 100+ dining destinations that are within 10 minutes of the J.B. Red Owens Sports Complex and 5,000 hotel rooms within 25 miles of our complex.  If you are looking for a quick road trip, Easley is 10 minutes away from downtown Greenville, 20 minutes to Clemson University and just 30 minutes to the Blue Ridge Parkway.
But is there enough to do in Easley?
Yes, there is plenty for athletes and spectators to do in and around Easley between games, matches, sets or days.
Let's start with the Doodle Trail, a 7.5-mile biking, walking and running trail that until 2013 was a working rail line between Easley and nearby Pickens.
Stay outside and continue enjoying the area by hiking, fishing or swimming in and around the Blue Ridge Mountains. Table Rock State Park offers gorgeous views and several area lakes are just waiting for you to touch their cool waters. Enjoy a movie or live band at the downtown Amphitheater.
If you're looking to stay inside, Easley offers plenty of action there too.  You can shop at Academy, Marshalls, Kohls, Boot Barn and many other stores in the Easley Towne Center.  Our four block downtown offers antique shops and several local restaurants that will not disappoint and a Farmers Market on Saturday mornings (seasonal).
If you are hungry, then Easley is the right place for you.  From the award winning Smoking Pig to over 100 more restaurants in Easley, your team will find our dining experience a hit.  After dinner you can enjoy a movie at the Premiere Cinema 8 Movie Theaters.
Click the Instant Info Logo to let us connect you with Sports Easley

---
X Factors
Staff on site throughout event
Social Media Coverage
Signage
Lodging Assistance
Turnkey approach to facilities
Large Volunteer Pool
Turnkey approach to facilities throughout Pickens County
Facilities Bound to Please Your Group
J.B. "Red" Owens Recreational Complex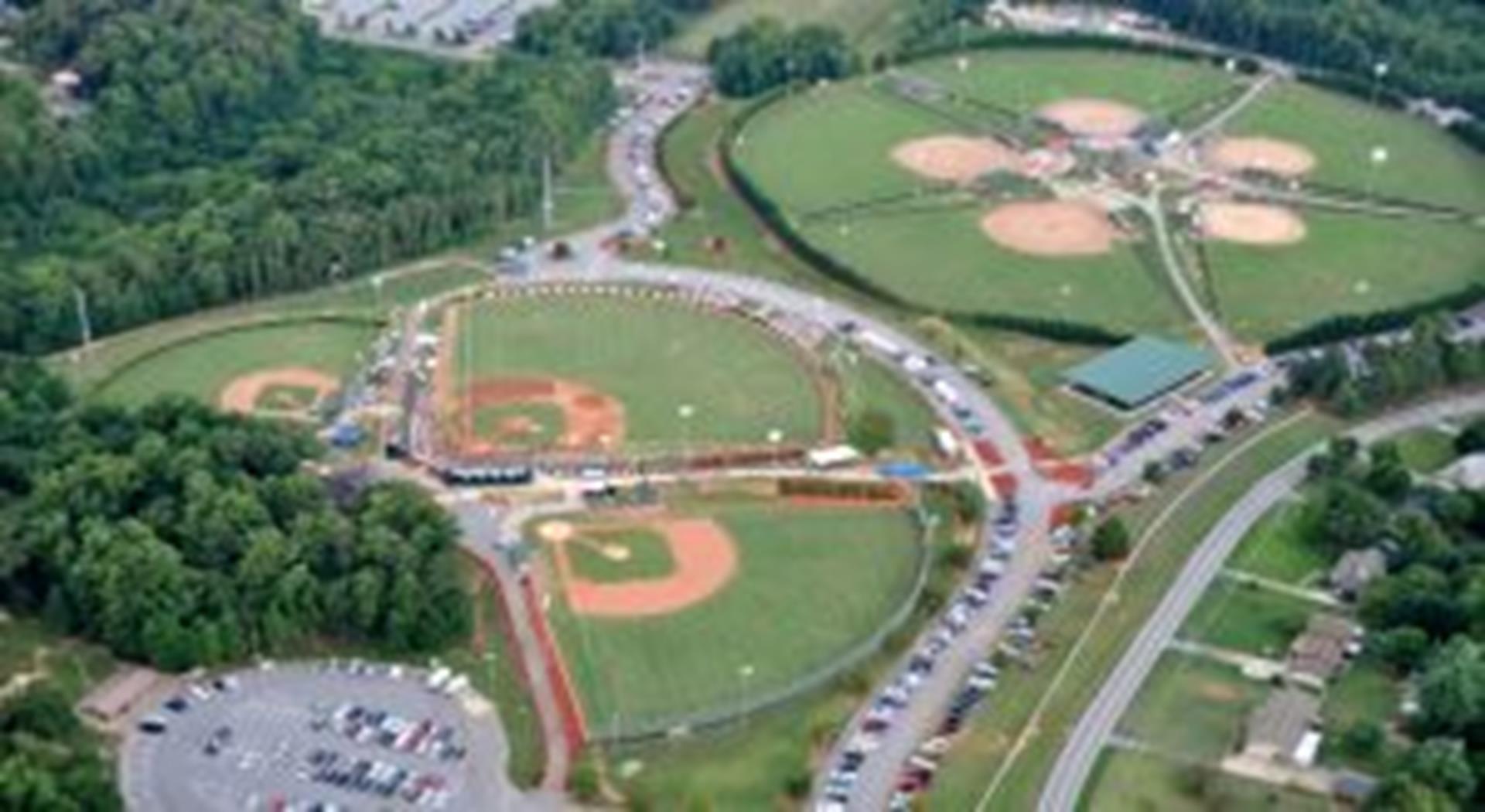 Sports: Baseball, softball, soccer, football, lacrosse, ultimate field sports, disc golf, rugby
No matter what the sport, this 140 acre complex can more than meet your needs.  The complex boasts 8 baseball fields, 5 fast and slow pitch softball fields and a 30,000 square foot covered  batting and pitching facility.  All fields have scoreboards, PA systems, Musco lighting and free WI-Fi to track all the game action.  With ample parking, ten shade structures, restrooms and two fully stocked concession buildings located in close proximity to each field, players and fans alike will truly have an enjoyable experience. Oh, you want more?  The complex just completed hosting the Big League World Series (as seen on ESPN) for the 16th straight year.   With all this and unparralled customer service, it is easy to see why this is one of the premier sports complexes in the south.
For those looking for Rectangular fields, the complex has five lighted fields and one unlighted field to accommodate your next football, soccer, lacrosse or ultimate event.  They have two fully stocked concession buildings along with press boxes conveniently located between the fields.  Surrounding the perimeter of the fields is an 18 hole disc golf course that is tournament ready.
Larry D. Bagwell Gymnasium
Sports: Basketball, volleyball, gymnastics, cheerleading, fencing, trade shows
This 50,000-square-foot facility is ready to host your next indoor event. With three full-size basketball courts and six volleyball courts along with second floor meeting rooms, full service concession, five TVs and free WI-FI, both the athletes and fans are sure to enjoy their visit to the Bagwell gym. The main gym can seat up to 750 people. The other two gyms can seat up to 500 people with additional seating above on the indoor walking track. Events hosted there include USA Gymnastics state meet, Big Shots Basketball, AAU and YBOA State Basketball Championships and many regional volleyball tournaments.
Pickens County Facilities
Sports: Baseball, softball, soccer, lacrosse, football, volleyball, gymnastics, cheerleading, ultimate sports, track and field
Easley along with Pickens County High Schools, offers venues that take a back seat to no-one.  With a county wide inventory of twenty plus gymnasiums, baseball fields and rectangular fields (see Sports Easley Website for complete inventory list and pictures), along with the Facilities at J.B. Red Owens, it is easy to see why they should host your next event.  Moreover, it only takes one phone call to Scott Price, Director of Sports Tourism for the City of Easley to book any or all of these venues.  The School facilities were opened in 2013 and all of the School facilities are within a 25 minute drive from the J.B. Red Owens Complex.
Easley High School
Sports: Baseball, softball, football, track and field, basketball
Adjacent to the J. B. Red Owens Sports Complex sits the Easley High School Campus.  On site facilities include a 6,100 seat football/soccer/lacrosse stadium; eight-lane competition rubberized track with Field Events; 2,000 seat Gymnasium; 900 seat Auditorium; 1 Synthetic Turf Soccer Field. Easley High School is home to arguably the best High School Baseball Field in South Carolina.  All venues are equipped with scoreboards, PA Systems and Press Boxes.
Gettys Middle School/Brice Field
Sports: Football, soccer, lacrosse, basketball, volleyball
Less than two miles from the J.B. Red Owens Sports Complex is the recently remodeled Gettys Middle School.  The Gymnasium sits 750 for basketball or volleyball.  Brice field, home of Easley High School until 2012, has a seating capacity of 5,000 and is located in Historic downtown Easley, just a short walk to many restaurants and shops.
 How do I get to Easley?
Easley is easily gotten to; that's one of its charms. It's located in a bustling area of the South and is close to enough big cities that it's a cinch to get there quickly.
By Car:  Take exit 40 off Interstate 85  and enjoy the mountain scenery as you head toward Easley (Just 10 minutes off the interstate)
By Air: Greenville-Spartanburg International Airport is only about 27 miles away from Easley, with major airlines like Delta, United and Southwest running daily flights in and out.
Summary
Article Name
Schedule Your Next Sporting Event in Easley, South Carolina
Description
Easley: the quaint little town nestled in the foothills of the mountains ready to host your next successful sports event.