Sports Events Go Big in Rhode Island
Don't let its small size fool you, Rhode Island is a big player in the sports scene. When you plan a sports event here, you know you've got the best team in your court.
Planning a sports event isn't easy, and anyone who has done it a few times can attest to that. Even seasoned tournament organizers struggle with finding the best locations, but that struggle can end. Rhode Island is the solution. You might be telling yourself that Rhode Island is too small to handle your event, but don't let its size deter you. Rhode Island offers planners a large selection of elite sports venues that can accommodate events of all sizes. Throw in a range of hotel options and attractions, and you've got the makings for the perfect sports destination.
Let us connect you with Sports Rhode Island

John Gibbons, Justin Parrillo
Executive Director, Sports Coordinator
Phone: 401-456-0240, 401-456-2043
Website: GoSportsRI.com
Twitter: @GoSportsRI
---
Facilities
Dunkin' Donuts Center
Sports: Basketball, volleyball, cheerleading, wrestling, hockey
Lovingly known as the "Dunk," this multi-purpose facility is located in downtown Providence. It was built in 1972 but has undergone a multimillion-dollar renovation. The 31,000-square-foot arena can accommodate 14,000 spectators, with 12,400 seats for a basketball set-up and 11,070 for ice hockey. The arena has played host to events such as the NCAA Division-I Men's Basketball tournament. It features motorcoach parking and has a restaurant on the property for guests and players to enjoy.
Rhode Island Convention Center
Sports: Gymnastics, cheerleading, roller derby, boxing, basketball, volleyball, weightlifting
Located right next to the Dunkin' Donuts Center, the Rhode Island Convention Center offers 167,000 square feet of meeting and event space. The flexible 100,000-square-foot exhibition hall can be adjusted to accommodate a range of different sports events and has played host to many highly coveted tournaments. The building also features 30,000 square feet of pre-function space, perfect for tournament registrations, trade shows and meetings. The convention center has two covered parking garages and skybridge access to the Omni Providence and Providence Place mall.
Providence Career and Technical Academy
Sports: Track, basketball, soccer, cheerleading, wrestling
The Providence Career and Technical Academy opened its doors back in 2009, and its athletic facilities have received high praise over the years as being some of the best in the region. The 60,000-square-foot field house features a 200-meter indoor track, basketball courts and an indoor soccer field. It has played host to several track and field events, basketball tournaments, wrestling and soccer matches, and even the New England Cheerleading Championships. The sports facility can seat approximately 1,800 people.
Brown University
Sports: All
Brown University houses numerous on-campus facilities for its athletics teams as well as for regional and national tournaments. Brown Stadium plays host to football games and seats 20,000 spectators. The university has six turf/live-grass fields that cater to lacrosse and soccer events, while the Pizzitola Sports Center is equipped to handle basketball, volleyball, wrestling and gymnastics, and has bleacher and balcony seating for 2,800. Swimming events can be held at Katherine Moran Coleman Aquatics Center, which features a million-gallon, 56-meter-long pool. It has 22 swimming lanes for short course and eight lanes for long course, two moveable bulkheads, two 1-meter springboards and two 3-meter springboards.
Providence College
Sports: Ice hockey, lacrosse, soccer
Providence College has a number of first-class sports facilities that can accommodate a range of sports events. Schneider Arena, opened in 1973, is home to the Friar's ice hockey team, but also welcomes youth and high school events. The arena underwent a major renovation in 2013, transforming it into one of the finest on-campus establishments in the country. It features new concession stands, locker rooms and training rooms. The arena seats 3,030 spectators. A recent addition to the campus, Chapey Field opened in the spring of 2016 as the home of the men's and women's soccer and men's lacrosse teams. The state-of-the-art facility features seating for over 1,500 fans.
Rhode Island College
Sports: Track, baseball, basketball, soccer, lacrosse
Rhode Island College features a number of indoor and outdoor sports venues. The Varsity Complex plays host to soccer, lacrosse and track & field. Softball and baseball events can be played at the Dayna A. Bazar Memorial Softball Facility and Anchorman Field Baseball Facility. The Murray Center houses a competition floor that can be adjusted to accommodate basketball, volleyball, gymnastics and wrestling events.
University of Rhode Island
Sports: Soccer, baseball, basketball, football, swimming
The University of Rhode Island has an impressive collection of sports facilities. The URI Soccer Complex features new turf and live-grass playing surfaces on nearly 24 playable soccer fields. It has seating for 2,000 spectators. The Bill Beck Baseball Complex features an elite playing field with the same artificial turf that the professional ballparks use. In 2011, an indoor hitting facility was added. The Ryan Center is a multipurpose facility that's home to the URI men's and women's basketball programs. The venue seats 7,800 spectators for basketball. Football matches are played at Meade Stadium, which has seating capacity for over 5,000 fans.
International Tennis Hall of Fame
Sports: Tennis
The International Tennis Hall of Fame, located in Newport, is a historical venue where some of the greatest champions of the sport have played. A variety of tennis tournaments and league events has been held here, with players of all ages and skill levels. The facility features 13 manicured grass tennis courts available for rental.
X-Factors
Working in tandem with the Providence Warwick Convention & Visitors Bureau, a full-service destination marketing organization, the Rhode Island Sports Commission can leverage award-winning expertise and experience, offering a team of experts and a myriad of services, all but ensuring a successful competition, meeting or event. These services include:
Liaison between meeting planner and hotels, event venues and suppliers
Planning and marketing support to help engage attendees, spectators and venues
Coordination of site inspections
Suggestions for entertainment and off-site event facilities
Suggestions for spouse/youth/children's/downtime activities
Suggestions for pre- and post-convention tours and activities
Guide to area off-site venues and meeting facilities
What Activities are in Rhode Island?
In Rhode Island, sports teams will have plenty to keep them busy before, during and after their tournaments. Providence offers a number of great attractions for children and adults, and everyone will find something they enjoy.
Get an introduction to the city on a river tour with Providence River Boat Company, which takes guests on a 45-minute narrated journey through Providence's past and its modern culture. Parents may enjoy a visit to the city's Museum of Natural History and Planetarium or the John Brown House Museum, while children can get hands-on with exhibits at the Providence Children's Museum. Do you love art? You can't miss a trip to the RISD Museum, which houses a collection of more than 100,000 objects ranging from ancient times to the present. The Roger Williams Park Zoo is a perfect spot to bring the team, and their families. They can spend the day walking through the 40-acre zoo, coming face-to-face with zebras, red pandas, moon bears, gibbons and more.
No matter what your tournament attendees are looking for, they'll find it in Rhode Island.
How to get to Rhode Island
Rhode Island's location and size make it easy to reach and even easier to navigate. Situated in the densely populated Northeast, the state and surrounding areas have many large transportation hubs.
By Air: The recently upgraded Green International Airport, located 10 miles from downtown Providence, has over 100 flights daily from multiple major carriers.
By Car: Teams and fans in the East can easily drive to Rhode Island. Providence is conveniently located off Interstate 95 and is within a day's drive of nearly two-thirds of the East Coast states.
By Rail: Providence is located on Amtrak's Northeast Corridor route, which runs from Boston to Washington D.C. The high-speed Acela service can transport passengers from New York to Providence in roughly two-and-a-half hours. The Massachusetts Bay Transportation Authority offers roundtrip rail service from Boston to downtown Providence to the airport.
When it comes time to plan your next sports event, avoid the stress altogether and make Rhode Island your destination of choice. It may be little, but when it comes to sports, there's no bigger player.
Planner Perspective
Our partners in Providence did not let us down and went above and beyond to help make this event a big success and a great send-off for our athletes going to Rio.

–Ron Galimore, Chief Operating Officer, USA Gymnastics
It was a pleasure working with the Providence Warwick Convention & Visitors Bureau for our NFHS Summer Meeting in Providence (June 28-July 2, 2017). After signing the contract in 2013 to host our national conference in Providence, we knew without hesitation the city would be a great fit for our membership. All our meetings took place at the Rhode Island Convention Center and Dunkin' Donuts Arena, making it convenient for attendees staying at the Omni and Hilton Providence hotels. The properties are also in a walkable location for hundreds of dining options and entertainment options. Our attendees were also able to enjoy a WaterFire lighting experience to start the week off with a bang and leave with an experience they'll never forget! The NFHS and its membership is looking forward to their next conference in The Ocean State!

–Mark Koski, CMAA, Director of Sports, Events and Development, National Federation of State High School Associations
Summary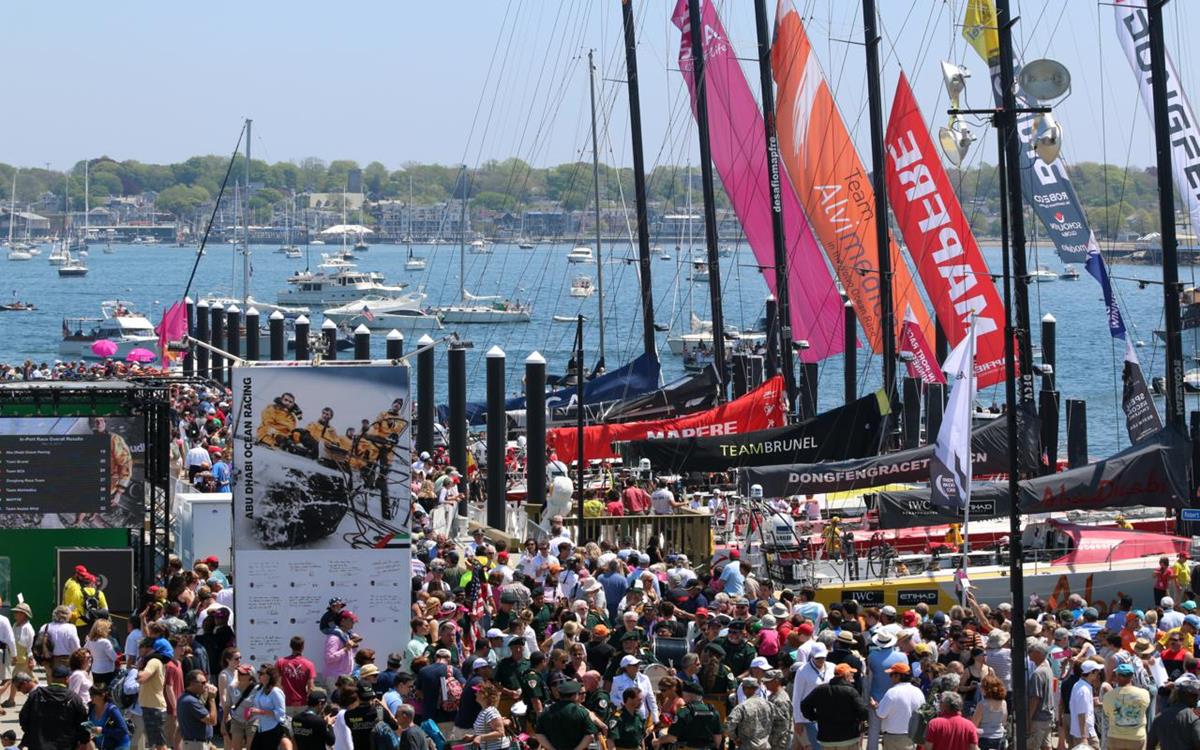 Article Name
Sports Events Go Big in Rhode Island
Description
Don't let its small size fool you, Rhode Island is a big player in the sports scene. When you plan a sports event here, you know you've got the best team in your court.
Author