When planning a sports event we know you have countless options, and may feel the pressure to select the perfect destination that is both fun and offers the ideal selection of venues. When it comes to the whole package, Myrtle Beach, South Carolina delivers. Sun, sand, and sports, this summery destination is a popular year round with visitors and has become a hotspot for athletes with its superb facilities and friendly staff. So head to the shores of the Atlantic and make your next sports trip memorable both on and off the field.
Click the Instant Info Logo to let us connect you with Myrtle Beach

---
Video Overview
What kind of facilities does Myrtle Beach have to offer?
Myrtle Beach Sports Center Sports: Basketball, volleyball, badminton
This three-year-old facility offers 100,000 square feet of indoor courts, as well as a café, retail area and entertainment zone. The complex contains eight basketball courts and 16 volleyball courts, and can be easily configured to accommodate a variety of indoor sports such as badminton.
Myrtle Beach Convention Center
Sports: Cheer, dance
Adjacent to Myrtle Beach Sports Center, this facility consists of 250,000 square feet of flexible space as well as a 30,000-square foot outdoor plaza that's perfect for dance and cheer competitions.
Grand Park Athletic Complex
Sports: Baseball, softball, soccer, lacrosse, football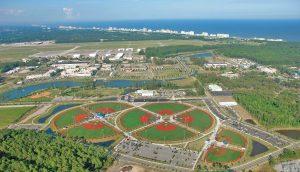 This multi-use complex features seven lighted, full-size baseball fields that can be easily converted to accommodate soccer, lacrosse and football. The facility also offers two natural grass youth baseball fields that also can be converted, as well as three full-size natural turf fields for soccer and lacrosse. Additional amenities include multiple concession locations and a batting cage.
Doug Shaw Memorial Stadium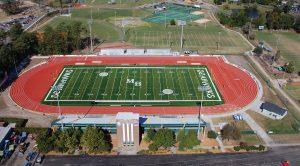 Sports: Track and field, football, lacrosse, soccer
This NCAA-certified track is made of a full pour polyurethane synthetic surface with embedded texture, and is complete with a Daktronics video board and a FieldTurf infield that can accommodate football, soccer and lacrosse. The stadium underwent a $5.4 million renovation in 2017 and now seats 4,500.
Ashley Booth Field
Sports: Football, soccer, lacrosse
Renovated in 2013 and ideally located next to Doug Shaw Stadium, the multi-purpose field is permanently lined for football, soccer and both men's and women's lacrosse. Ashley Booth includes bleacher seating for 300, lights, a press box, concessions and a scoreboard.
Myrtle Beach Recreation Centers (Pepper Geddings, Canal Street and Crabtree Memorial Gymnasium)
Sports: Basketball, swimming
All three centers include one full-size basketball court, but the Pepper Geddings facility also houses a 25-yard, six-lane lap pool complete with a Colorado Timing system.
Ned Donkle Field Complex
Sports: Baseball, softball
This natural turf complex is adjacent to Doug Shaw Memorial Stadium and boasts two adult fields, five youth fields, batting cages, restrooms, concession locations and press boxes.
North Myrtle Beach Park & Sports Complex
Sports: Baseball, softball, soccer, lacrosse
This baseball and softball park consists of four fields with dirt infields and a 225 foot fence, along with two adult softball fields with dirt infields and a 330-380 foot fence that can be used for collegiate baseball games. The soccer and lacrosse complex consists of eight natural-grass regulation fields, four of which are lighted, as well as an official's room and a full service concession stand.
X Factors
Site Visits – We will happily arrange site inspections of the properties and attractions you are considering for your upcoming event.
Visual Aids – Photos depicting the Myrtle Beach area are available upon request. See our Photo Request page for more information
Promotional Collateral – Complimentary promotional and attendance building materials are available to help showcase the Myrtle Beach area to your conference attendee(s)
Planning Assistance – We will provide assistance with, dining, and entertainment information. Our sports services staff is eager to assist or answer questions of any kind in order to make sure your event is a complete success.
Media List – The Bureau will provide convenient media lists for securing local publicity for your events
Liaison with Public Officials – The Bureau will happily contact public officials or other government and civic organizations to assist you in planning your activities
What fun awaits in Myrtle Beach?
When traveling with athletes you'll certainly want to make sure you choose a destination that offers an exciting array of activities to keep everyone entertained even when they're not hard at work on the field or court. The town's namesake, Myrtle Beach, is a great reprieve after a long game or the perfect place to spend an entire day enjoying the warm waters of the Atlantic. Stroll along the boardwalk and promenade, or take a boat tour of the shores. For some indoor water fun, head to Myrtle Waves and ride the rapids and waterslides, perfect for both the thrill seeker and those seeking a more leisurely time. Family Kingdom Amusement Park is another group favorite and a great way to top off a trip.
If your team is interested in checking out a bit of local history, schedule a trip to the Hopsewee Plantation, where you can enjoy traditional English tea and tours of the gorgeous plantation, or take a Segway tour around an old Air Force base. And while Myrtle Beach offers great temps year round, sometimes you may need to get in out of the rain, so head to Coastal Grand Mall, Medieval Times, or the Ripley Museums.
How do I get the teams there?
Myrtle Beach is easily accessible by both car and plane.
By Car: If your teams are interested in driving, Myrtle Beach connects to Highway 51. Cities that are less than eight hours away from Myrtle Beach include Charlotte, North Carolina; Atlanta and Savannah, Georgia; Jacksonville, Florida; and Virginia Beach, Virginia. Highways 501 and 73 run through the Myrtle Beach area.
By Air: Myrtle Beach International Airport is a mere seven minutes from the heart of Myrtle Beach and is serviced by Allegiant, Delta, Spirit and United.
Planner Perspective
When you look at all the customer loyalty and return business we get with our Summer Nationals baseball tournament, you'll understand how enthused we are to be partners with the Myrtle Beach. The event is entering its 13th year, and we also run a successful softball tournament in Myrtle Beach – this success and momentum is all thanks to the supportive relationships we have with city officials, facilities, hotels, restaurants and more. Triple Crown aims to place its high-profile events in places where families can enjoy not just the sport, but also the surrounding area when players are away from the field. Myrtle Beach sets the standard as a "destination" setting, and the proof is in having more than 20 states represented at Summer Nationals year after year. Triple Crown feels respected and appreciated by the Myrtle Beach community, and we look forward to many more years of working side by side.

– John Casale, Triple Crown

Myrtle Beach is such an easy sell to my travel teams that play in our events. The city sells itself! With miles of sandy beach, tons of attractions and plenty of hotels that accommodate any budget, teams simply love coming to play in our tournaments. Parents use our events as a vacation while getting a chance to watch their child play in a national championship. The city facilities are top-notch as well. I highly recommend Myrtle Beach, SC to any event organizer as not only will you not find better amenities and a better location in the country, but more importantly your teams will thank you for hosting your event there and come back year after year.

– John Whitley, National Travel Basketball Association

Myrtle Beach was the second city we went to six years ago when re-establishing our company, Continental Event & Sports Management Group, LLC. Since then the city has been amazing to work with. From the mayor and the council members to the CVB, they all have been incredible partners. This year, once again, our event, the Myrtle Beach Mini Marathon, will be the largest in the six years and now it has become the largest half marathon & 5K in the state. This would not have been possible without the help of the Myrtle Beach CVB.

– Robert Pozo, Continental Event & Sports Management Group, LLC