Top 10 Southern Indoor Sports Facilities for 2018
Region is ripe for indoor and outdoor sports tournaments
The southern portion of the United States features pristine weather and stunning vistas. And while outdoor sports are big business in this region thanks in part to its agreeable climate, the South also boasts an impressive array of indoor sporting facilities. Here are 10 of the finest indoor complexes in the South.
1. Boo Williams Sportsplex (Hampton, Virginia)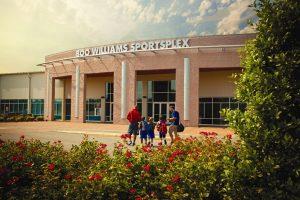 Opened in 2008, the $13.5 million Boo Williams Sportsplex accommodates athletic events such as basketball, indoor field hockey and volleyball. This 135,000-square-foot complex features eight hardwood basketball courts and retractable bleacher seating for 4,000 attendees (6,000 with perimeter seating). The sportsplex also includes 12 volleyball courts, a 200-meter, six-lane indoor track and two training rooms along with 64,000 and 31,000-square-foot playing pavilions. Williams, a native of Hampton, was a high school basketball star who started a high school AAU basketball program in 1982 before becoming the AAU Chairman of boys basketball.
2. Crown Complex (Fayetteville, North Carolina)

This five-venue complex is comprised of a 4,500 seat arena, a 9,200-square-foot ballroom, a 10,880 seat coliseum, an exposition center with 60,000 square feet of space and a 2,440 seat theater. Located directly on business I-95, this $55 million venue offers two buildings designed to host sporting events. The flagship venue of the Crown Complex, the Crown Coliseum, opened in 1997 and can host ice hockey, arena football, high school, college and professional basketball games and tournaments, boxing and rodeos. The multi-purpose Crown Arena can host a wide variety of athletic competitions including wrestling, basketball, cheerleading and soccer tournaments. The arena provides 11,552 square feet of unobstructed space and is host to a tenant roller derby team, the Rogue Rollergirls.
3. Easton-Newberry Sports Complex-Archery of Excellence (Gainesville, Florida)
Located 15 miles west of Gainesville, the Easton-Newberry Sports Complex is made up of 100 acres of multi-sport use and archery-specific property. The 20,000-square foot indoor venue has been designated Community Olympic Development Program status for archery by the United States Olympic Committee and can be used for local, state, regional, national and international competitions. The facility features fiber-optic cable, Internet and video support, meeting space, concession stands and seating for 500. It also includes a dedicated indoor archery range with 20 lanes shooting to 25 meters and an adjoining indoor gym for basketball and volleyball.
4. Foley Events Center (Foley, Alabama)
The Foley Events Center hosted its first competition in 2017 and is a 90,000-square-foot, multi-use indoor facility that is located alongside the Foley Sports Tourism Complex. It offers more than 50,000 square feet of open floor space, providing plenty of room for six basketball courts, 12 volleyball courts and 12 pickleball courts. It is designed to host cheerleading, dance and gymnastics competitions. The events center is also able to accommodate banquet space for 2,479 and receptions for 2,600 as well as exhibit and trade show space. A Marriott TownePlace Suites resides within walking distance of the center while the white sandy beaches of Alabama's Gulf Coast are only seven miles away.
5. Greensboro Coliseum (Greensboro, North Carolina)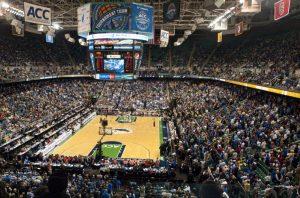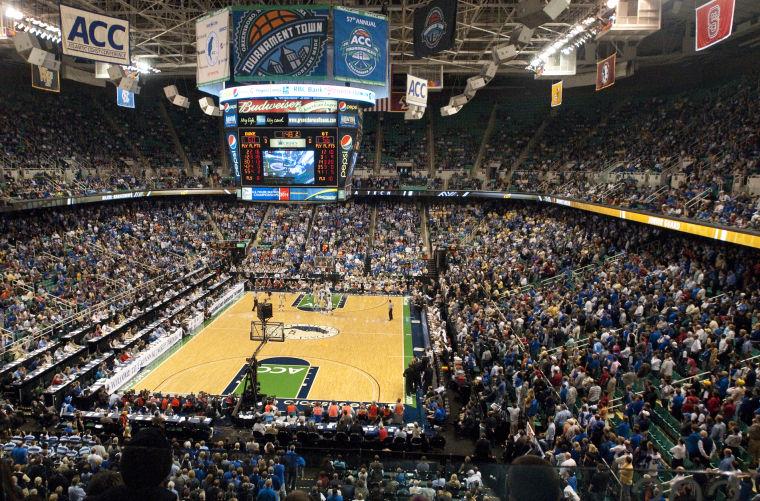 The Greensboro Coliseum Complex is an eight-building facility that offers athletic events, cultural arts, concerts, theater, exhibits, conventions and consumer shows. It is the largest indoor public assembly facility in the region and is one of the most actively booked venues in the country, hosting more than 1,100 events on an annual basis. The centerpiece of this complex is the Greensboro Coliseum, an arena that can seat up to 22,000 but maintains a round-house curtaining system that can automatically reduce the arena seating capacity to as low as 4,500 for a general session. The arena has a distinguished history of hosting Atlantic Coast Conference and NCAA basketball championships and features seven dressing rooms, backstage function space and a 298-seat theater for intimate gatherings or press conferences.
6. LakePoint Champions Center (Emerson, Georgia)
The Champions Center is a 170,000-square-foot facility that contains 12 hardwood basketball courts which convert into 24 volleyball courts, each with digital scoreboards. Opened in 2016, this venue also offers 125,000 square feet of clear-span floor space and a minimum ceiling clearance of 35 feet. It can host sporting tournaments, camps, clinics, championships, corporate events and trade shows and features nine meeting rooms, a food court, a mezzanine and is surrounded by a litany of hotels and restaurants. Located off Interstate 75 in Emerson, just 35 miles north of downtown Atlanta, the center has welcomed more than two million visitors since its inception.
7. Myrtle Beach Sports Center (Myrtle Beach, South Carolina)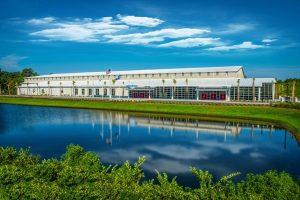 Myrtle Beach Sports Center is a $12.4 million facility that opened in 2015 adjacent to the Myrtle Beach Convention Center. This 100,000-square-foot complex features 72,000 square feet of playable, open court space and has seating for more than 2,000 spectators. It includes eight basketball courts, four NBA-sized courts and 16 volleyball courts and is designed to host court sports, wrestling, gymnastics, table tennis, pickleball and trade shows. The complex also sports a large multi-screen video wall and a café and retail area. Located in the heart of Myrtle Beach, the center is just two blocks from the ocean and steps away from numerous shopping, dining and entertainment options.
8. Norfolk, VA Scope (Norfolk, Virginia)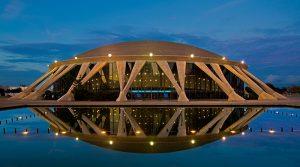 Featuring the world's largest reinforced thin-shell concrete dome, Scope is a beautiful multi-function complex that consists of a 12,000-person arena, a 2,500-person theater and a 10,000-square-foot exhibition hall. Scope is home to the Norfolk Admirals hockey team, the Mid-Eastern Athletic Conference basketball tournament, conventions, concerts and family shows. The arena floor is 25,651-square-feet and seating for exhibition halls have a total of 76,000-square-feet plus five breakout rooms. The arena opened in 1971 at a cost of $35 million ($211 million in 2017 dollars) and has undergone $11 million of renovations since 2003, including the replacement of a center-hung scoreboard with a scoreboard featuring LED video and matrix boards.
9. Rocky Top Sports World (Gatlinburg, Tennessee)
An 80-acre sports campus in the heart of the Smoky Mountains, this 86,000-square-foot indoor facility contains 12 volleyball courts (including five more on site), six basketball courts (with four more on site) and is configurable to three professional and college level basketball courts. Rocky Top can also host sports tournaments for wrestling, martial arts and competitive cheerleading and was awarded the AAU 2018 5th Grade Girls National Basketball Championship. Opened in 2014, Rocky Top sits four miles from Gatlinburg's shopping and entertainment district and has easy access to downtown Gatlinburg via the city's trolley system.
10. Upward Star Center (Spartanburg, South Carolina)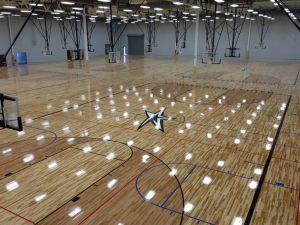 The Upward Star Center debuted in 2014 and features 120,000-square-feet of space for volleyball, golf and baseball. One of South Carolina's premier indoor sports facilities, the complex is home to Upward Sports, the world's largest Christian youth sports league. The venue is equipped with six full-sized basketball courts and 12 regulation indoor volleyball courts as well as batting cages, golf swing analysis, a running track, gym with free weights and cardio machines and studios designed for dance, cheerleading, aerobics and yoga. Upward Sports has also partnered with Spartanburg Regional Health Services to offer strength training, rehab offerings and orthopedic services.
Summary
Article Name
Top 10 Southern Indoor Sports Facilities for 2018
Description
Region is ripe for indoor and outdoor sports tournaments
Author