You're planning a sports tournament. You need somewhere with good weather year round, and you need somewhere with top-notch facilities. You need to keep the parents and family members happy with entertainment options and you need to make sure your players get what they need on the field. It can be a lot of pressure, we know. Take the pressure off and look no further than Mesa, Arizona. Planning a sports tournament in Arizona, specifically in Mesa, is a great idea for the reasons above. But it's so much more than that.
Mesa is located just outside of Phoenix so it's easily accessible both by car and plane. The newly implemented light rail, thanks to the Valley Metro Transit Authority, extends into Mesa and runs through Arizona State University, Tempe and Central Phoenix making it cheaper and easier than ever to take your teams around town. That means it's also cheaper and easier than ever to take them to the fun in the sun that Mesa is known for. There are several affordable and quality hotels in downtown Mesa and they are within walking distance of shopping and dining. From the time you arrive until the time you leave, you will be glad you planned your tournament in Mesa.
Mesa Abounds with Leisure-Time Options
What could there possibly be to do in the middle of the desert? Well, quite a lot actually. Aside from seemingly endless golfing opportunities, Mesa is home to some high-class museums and art centers. The Arizona Museum of Natural History, which displays the history of the Southwest, is located in Mesa, as is the Mesa Arts Center. If you're looking for a little more action, take in a spring training or minor league game at Sloan Park, home of Chicago Cubs spring training, or HoHoKam Stadium, the Oakland Athletics's spring home. Sloan Park is part of Riverview Park, where you can take the team or your family fishing in the lake, or get wet in the spray ground with multiple water shower features. This playground extraordinaire includes a 50-foot-tall climbing tower, a 60-foot-long caterpillar mesh robe climbing structure, multiple playground clusters and shaded picnic areas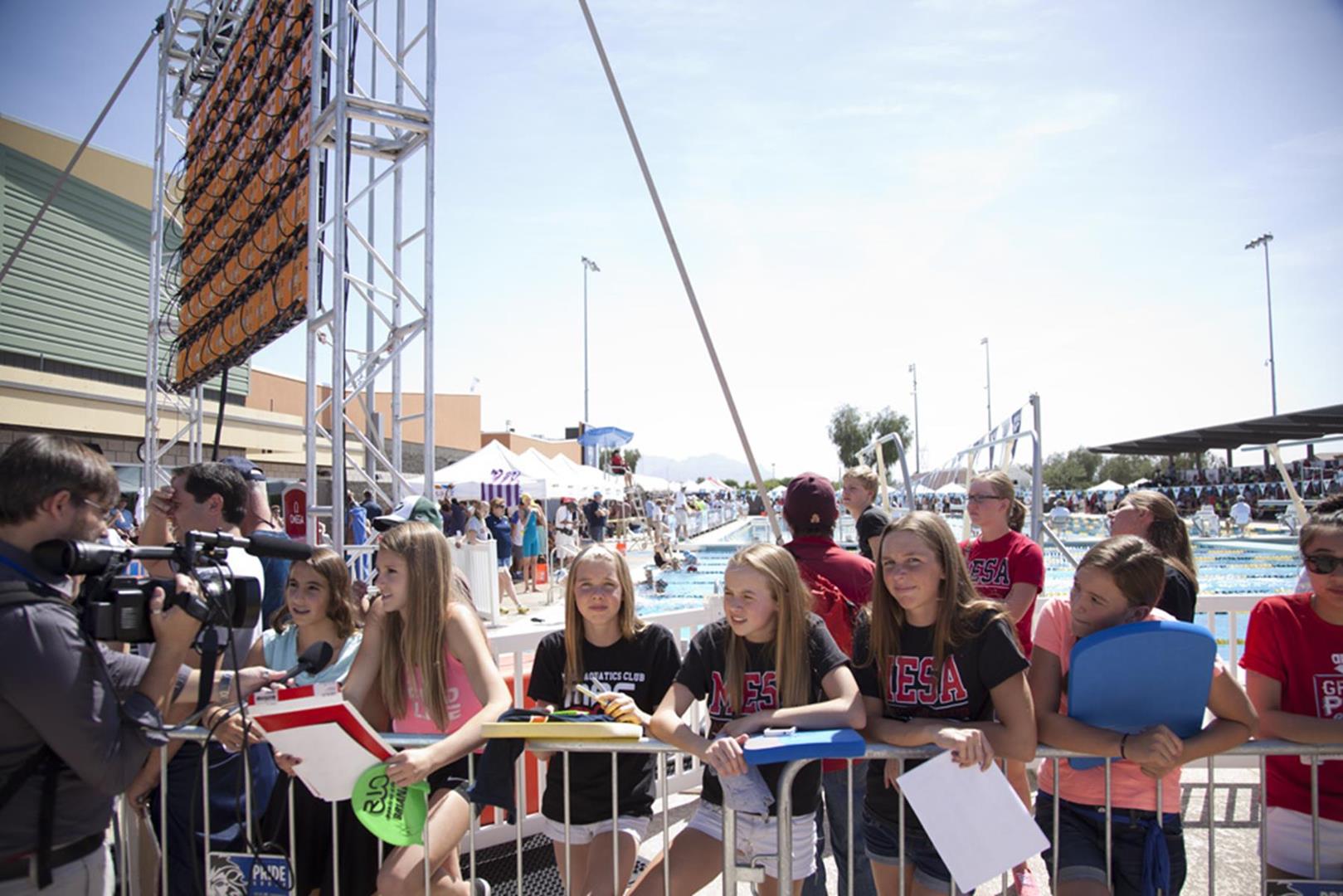 Or you can check out another fan favorite in Mesa – Golfland SunSplash – a water park/mini-golf mecca designed to entertain large groups. If you're looking for more action, then rent a boat and some water skis or a wakeboard and check out the lakes and rivers of Tonto National Forest. This is among the largest five forests in America and has endless adventure and scenic views to entertain any age group. However you want to spend your down time in Mesa, you won't be short on fun.
Mesa's sports product is on the USOC/NGB map. Visit Mesa has hosted events with USA Rugby, USA Swimming, USA Diving, USA Synchro, USA Water Polo, USA Football and US Masters. People are often surprised to hear that Mesa plays such a dynamic role in hosting these high-caliber national events, but it's no surprise as the city's venues and commitment to the sports industry is unmatched. Mesa's in-demand swimming venues have been cast in the international spotlight for hosting hundreds of athletes, including Olympians Michael Phelps and Katie Ledecky, who came to compete in Mesa's pools.
---
X Factors
Recognized destination for all sporting events: amateur, youth, collegiate and professional.
In the greater metropolitan area, Mesa is second in size only to Phoenix
Award-winning sports venues
Diverse hotel selection
Close proximity to two major airports
Sloan Park, the Chicago Cubs' spring training home. Both the stadium and the adjacent Under Armor Performance Center can be utilized by sports teams throughout the year.
Home to Oakland Athletics at a fully-renovated stadium at Hohokam Park
Both the Cubs and A's facilities have hosted the WAC Men's Division I Baseball Championships with record crowds in attendance
Valley Metro Light Rail's extended rail system added 3.1 miles into Downtown Mesa.
Neighbors to the Tonto National Forest
Planner Perspective
Baseball and Aquatic Facilities Reign Supreme
Sloan Stadium/Cubs Park
Sports: Baseball
Don't just watch them on TV, be a part of the action. Either in one of the private event areas along the first and third base terraces or in the sloping grassy outfield lawn, you and your teams can take in the best in the business as they prepare for the MLB season. Sloan Park is the spring training home to the Chicago Cubs, and all spaces and utilities at Sloan Park are available for rent. It has hosted the WAC Baseball Championships, corporate gatherings, small team parties and everything in between. Sloan Park was built in 2014 and seats 15,000 people, making it the biggest spring training facility in baseball.
HoHoKam Stadium
Sports: Baseball
Don't like the Cubs? Not a problem because Hohokam Stadium is just down the road. Hohokam Stadium is named after the indigenous Hohokam tribe that populated the area until the mid-15th century or so. The stadium was renovated just last year and is home to the Oakland Athletics spring training. Your teams will love the fan interaction and instant reply on the massive 12×16 video board – one of the biggest for a stadium of its size. If you're coming in from the Bay Area you'll be glad to see some sights and smells from home since the park features food that is popular in the San Fransisco/Oakland area.
Fitch Park
Sports: Baseball, racquetball
Before players make it to the big leagues, they've got to hone their skills somewhere. Newly renovated Fitch Park serves as a spring training workout facility and as minor league training and player development operations on a year-round basis. Indoor cages and bullpens as well as weight rooms and other workout machines line the walls here. With authentic Oakland A's memorabilia and gear all throughout the facility, your players will be thrilled to visit the place where so many MLB regulars got their start. Who knows, it could be their launching pad one day, too.
Gene Autry Park
Sports: Tennis, baseball, volleyball
Lighted baseball fields and sand volleyball courts offer some variety to this 47-acre park, but make no mistake…it's all about the tennis here. The Mesa Tennis Center at Gene Autry Park has 16 lighted tennis courts, ball machine rentals, locker rooms complete with showers and tennis pros/instructors. Gene Autry Park will be assuming new ownership very soon and with that change comes a new face to the operation. Becky Opoien, who has over 25 years of dedicated tennis experience, has been named the facility manager for the Mesa Tennis Center at Gene Autry Park. The management team would be happy to assist you in programming a tournament.
Red Mountain Baseball/Softball
Sports: Baseball, softball
This place is a sports tournament planner's dream. No frills, just high-quality sports fields with the right amenities.
The softball complex offers four fields, all of which are lighted, have covered dugouts, electronic scoreboards and 300-foot fences. Bleacher seating behind home plate of each field can accommodate up to 500 people total for the complex. Concessions are available and there are 256 parking spots on site – just what you need for a seamless softball tournament.
The baseball complex offers three professionally sized and groomed baseball fields with 90-foot bases and outfield fences that span 340 feet to the corners and 385 to center. Each field has covered dugouts and electronic scoreboards. There are 218 parking spots available as well as concessions and permanent bathrooms.
Red Mountain Soccer Complex
Sports: Soccer, flag football
This massive 22-acre soccer complex features six regulation fields of various sizes. Four of the six fields measure 360' x 225', one field measures 320' x 200' and another 360' x 200'. All six fields are lighted and include berm seating. All fields have permanent goals and include corner flags with your rental, and the complex offers 369 parking spaces. Concessions can be made available for your tournament.
Quail Run Sports Complex
Sports: Soccer, baseball, softball
Located in northeast Mesa, this 17-sports complex sits adjacent to an 18-acre park area for families and pets. The sports complex is complete with four regulation-size soccer fields, two youth baseball fields and two youth softball fields. All baseball/softball fields have 200-foot outfield fences with covered dugouts, electronic scoreboards and bleacher seating behind home plate. All soccer fields are lighted and include berm seating. The complex offers 434 parking spaces, a concession stand and permanent restrooms. The park area has a covered ramada, playgrounds and an off-leash dog park.
Skyline Aquatic Center
Sports: Swimming, diving, water polo
There's probably no better place for a pool than in the desert. This open-air oasis offers an Olympic-sized competition pool with many features desired for swim and dive tournaments. There are 28 regulation lanes, two 1-meter diving boards, two 3-meter diving boards and enough pool space to create two water polo courts if necessary. There is shaded bleacher seating, perfect for parents who don't want to bake in the Arizona sun, and a fast and fun water slide with tumble buckets, perfect for kids who don't want to watch a swim meet all day. Parking and permanent restrooms are on hand.
Kino Aquatic Center
Sports: Swimming, diving, water polo
Kino Aquatic Center offers the same style of amenities and features as the Skyline Aquatic Center – 28 Olympic-sized swim lanes, two 1-meter diving boards, two 3-meter diving boards, water polo capabilities, shaded seating, a water slide and a zero-depth pool entry. Kino Aquatic Center is much closer to the heart of downtown Mesa.
Mesa Community College
Sports: Baseball, basketball, cross country, football, golf, soccer, tennis, track and field, cheerleading, softball, volleyball
This isn't your average community college. Mesa Community College has two campuses in Mesa, and the school has an enrollment of 25,000+ students. Former MCC standouts from all sports can be seen at bigger colleges throughout the nation, but if you've noticed a trend in the facilities…baseball reigns supreme here. The Thunderbirds claimed the 2014 DII National Championship and their field is one of the nicest in the state. MCC's athletic programs are top-notch, so any tournament that is on your mind, can be held here.
Inspire Courts
Sports: Basketball, volleyball
Finally, somewhere to play sports indoors. And this isn't just any old gym. Inspire Courts labels itself as the #1 multi-sport facility in Arizona, and once you see the courts here, you won't be surprised. This 52,000-square-foot facility offers seven hardwood basketball courts (five of which are college regulation size, complete with possession arrows and shot clocks) and seven regulation volleyball courts. Electronic scoreboard and a scorer's table on every court, adjustable height glass backboards, NBA rims, color-coded courts, bleachers, a snack bar, a conference room, hospitality rooms and plenty of parking and restrooms round out this exquisite indoor facility. Tournaments are held almost every month here, so don't hesitate to plan yours.
Mesa Convention Center
Sports: Indoor volleyball, wrestling
The Mesa Convention Center is a full-service event facility conveniently located in the heart of downtown Mesa. The center, set upon 22 acres of mature parkland, features 19,000 square feet of exhibit space and an additional 19,000 square feet of flexible meeting space. Fifteen meeting rooms offer a wide variety of sizes and configurations. Wireless Internet service, full-service catering and complete audio visual services are available on-site, along with a 4,950-seat outdoor amphitheater. The adjacent 275-room Phoenix Marriott Mesa Hotel is newly renovated and makes sleeping room accommodations easy and accessible.  Planning an event at the Mesa Convention Center is fast and easy with the help of on-site professional sales staff and personal event coordinators.
How to Get There
Mesa is in a corner pocket of America. If you're from the Southwest or California, driving is doable. If you're from just about any other part of the country, you're probably going to need to fly in. Which is okay because you have a choice of airports.
By Car: Located a grand total of 28 minutes from downtown Phoenix, Mesa is convenient to the big city. It can also be reached within a six- hour drive from cities like San Diego, Los Angeles, Las Vegas, Tucson and Albuquerque.
By Air: Phoenix-Mesa Gateway Airport and Sky Harbor Phoenix Airport are less than a 30-minute drive to downtown Mesa and receive flights from around the country.