Valley Forge Sports: Never Stop Fighting
A driven team, just outside Philadelphia.
Hard Work. Dedication. Perserverance
Success isn't something that comes easy. It's built on hard work, dedication and perserverance. That's what drives Valley Forge Sports every day.
Valley Forge Sports is built to ensure your event is a success, on and off the field. Our team is dedicated to finding the right facilities to fit your needs, connecting you with the perfect hotel partner and assisting in planning from start to finish.
Whether it's on the court, the field, the pitch or the ice, our fields of battle are prepared to handle every sport and any age group, from youth basketball to high school lacrosse.
And when it's game time, we will work harder than the competition. From before the opening whistle until long after a champion is crowned, our team is ready to assist in any way that we can.
A Destination Like No Other
Off the field, Valley Forge and Montgomery County is a destination built for athletes and their families.
Indulge in a post-game meal at one of our exceptional restaurants. Feel the adrenaline rush of ziplining or indoor skydiving. Enjoy family time at our kid-friendly zoo. Or escape to trails and parks, including the American icon that is Valley Forge National Historical Park.
Explore our world-class shopping. The King of Prussia Mall is the largest retail mall in the country, with stores and restaurants that appeal to participants and their families.
Our Valley Forge Sports Playbook App connects athletes and families to the world outside the stadium, from restaurant recommendations to special offers from local attractions.
Click the Instant Info Logo to let us connect you with Valley Forge

Andy Carl
Sports Sales Manager
Phone: 610-834-7996
Email: acarl@valleyforge.org
Website: ValleyForge.org
---
X Factors
Competitive financial assistance package
Logistical assistance
Customized digital welcome bag for each event
Customized marketing/media plan for each event

More than 63 million people – approximately a quarter of the U.S. population – live within a 5.5-hour drive from Montgomery County.
Planner Perspective
Where can I find some quick facts about the facilities?
Competitive Edge Sports
Sports: Basketball, Volleyball and Futsal
As the mid-Atlantic region's premier basketball destination, Competitive Edge boasts five maple hardwood courts, wireless electronic scoreboards and a 6,000-square-foot SAQ area. The center annually hosts over 10 different junior high and high school-level basketball tournaments. Parking attendants are on site to make sure transportation runs smoothly.
Germantown Academy
Sports: Swimming, Diving, Wrestling, Basketball, Volleyball, Football, Lacrosse, Baseball, Softball, Track & Field, Tennis, Cross Country, Field Hockey, Soccer

In addition to being one of the oldest schools in the entire United States, Germantown is also known for its top-of-the-line athletic facilities. The school offers 12 outdoor tennis courts, three artificial turf fields, six natural grass fields, a cross country course, a softball field and a baseball field. Germantown's Carey Stadium provides track & field athletes with a six-lane track, two long jump and high jump pits, two shot put areas and bi-directional pole vault runways. The stadium seats 900 and has parking for 220 vehicles. Indoors, Germantown offers two gymnasiums with multipurpose wood courts, a six-lane pool and diving platforms, a wrestling room with two competition mats and a 15,000-square-foot field house that contains two basketball courts, three volleyball courts, a rock climbing wall and seating for 2,750.
The Hill School
Sports: Track & Field, Basketball, Volleyball, Tennis, Squash, Wrestling, Water Polo, Ice and Field Hockey, Swimming, Soccer, Lacrosse

Just outside Valley Forge, this boarding school provides an impressive array of sports facilities. Mercer Field House contains an indoor track, long jump, high jump and pole areas, three basketball courts that can be converted to accommodate for volleyball and tennis, and a squash center that houses seven courts. The school also has a wrestling room, a pool that accommodates water polo and swimming, an ice hockey rink and a gymnasium. Outdoors, the school has six lacrosse fields, two softball fields, one football field, two baseball fields and multiple fields for soccer and field hockey. It also offers an outdoor track and 11 tennis courts.
Oaks Center Ice
Sports: Hockey, Figure Skating
As one of the premier ice rinks in the Philadelphia area, Oaks Center is home to three separate ice sheets. Highly successful youth and adult hockey leagues have come out of the center, as well as Center Ice Figure Skating Club.
Greater

Philadelphia Expo Center

Sports: Volleyball

With 40-foot ceilings and 240,000 square feet of uninterrupted space on a single floor, Greater Philadelphia Expo Center is able to host massive tournaments, like regional qualifiers, with ease. Parking is free, and there are over 5,000 spaces available for use. Concession stands, score boards and spectator seating can be easily set up upon request.
Plymouth Whitemarsh High School
Sports: Lacrosse, Soccer, Baseball, Softball, Track & Field, Field Hockey, Tennis, Basketball, Volleyball, Wrestling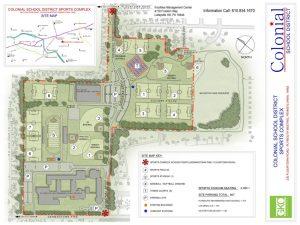 Similar to Hill School and Germantown Academy, Plymouth Whitemarsh is another academic institution that doubles as a home for various athletic competitions. The high school offers three baseball fields, three softball fields, an outdoor track—complete with long jump and high jump pits—and eight multipurpose grass fields. The school also provides an expansive parking area. Indoors, the high school can accommodate basketball, volleyball and wrestling.
United Sports Training Center
Sports: Baseball, Basketball, Volleyball, Field Hockey, Gymnastics, Football, Lacrosse, Soccer, Taekwondo

This sprawling athletic complex combines 60 acres of outdoor sports fields with a 127,000-square-foot indoor facility to provide the perfect environment for athletic tournaments. Indoors, the venue provides two turf fields, a 30-foot-tall rock wall, and indoor rink and a field house that contains multipurpose courts. Outside, the complex offers 11 multipurpose fields, two of which are synthetic and lighted for night play, as well as its Vending Village for concessions. Total parking for the venue is over 1,000 spaces.
Villanova University
Sports: Football, Track & Field, Lacrosse, Field Hockey, Soccer, Softball, Baseball, Swimming, Diving, Tennis, Volleyball, Water Polo

The beautiful college campus is full of athletic facilities and can accommodate almost all major sports. The university has one baseball field, one softball field, eight USTA regulation tennis courts, a 10-lane pool with several diving platforms and one soccer field.
So, how do I get the team there?
Just a mere 18 miles from the very heart of Philadelphia, Valley Forge is easily accessible by air or interstate. Getting to a tournament has never been so efficient.
By Car: For teams interested in driving, Valley Forge is only half an hour northwest of Philadelphia. Other metropolitan hubs under eight hours away include Boston; New York City and Buffalo, New York; Virginia Beach, Virginia; Cleveland; and Washington, D.C. Valley Forge lies just off Interstate 76 (the Pennsylvania Turnpike). Nearby highways include PA-252 and PA-23.
By Air: Philadelphia International Airport (PHL) is just under 40 minutes away from the center of Valley Forge. American Airlines, Delta Air Lines, Frontier Airlines, JetBlue, Southwest Airlines, Spirit Airlines, United Airlines and US Airways all fly in and out of Philadelphia International.
Summary
Article Name
Valley Forge Sports: Never Stop Fighting
Description
Success isn't something that comes easy. It's built on hard work, dedication and perserverance. That's what drives Valley Forge Sports every day.
Publisher Name