Campbell County in Northeast Wyoming is not just a place for sports, it's for exploring, too.
State-of-the-Art Facilities for Any Event
CAM-PLEX
Located on the rolling plains of Northeast Wyoming, Gillette is home to CAM-PLEX. CAM-PLEX, the Cowboy State's premier multi-use facility, encompasses over 1,000 acres of land and features a fine arts theatre, a convention/exhibit hall, two multi-purpose pavilions, a racetrack, rodeo grounds, 1,730 RV sites with 30 and 50 amp hookups and a 21 acre park and picnic area. CAM-PLEX is ideally suited to host events such as conferences and conventions, theatre and dance, trade shows, livestock shows and rodeos. Whatever the size of your next event, CAM-PLEX is proud to provide one of the most versatile, functional and attractive facilities of its kind.  Truly a year-round venue, CAM-PLEX offers tremendous size, many uses and unmatched versatility.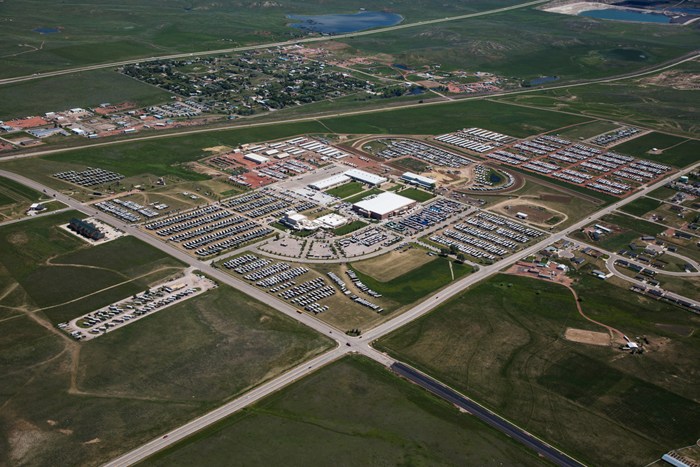 The 42,000-square-foot Central Pavilion offers large spaces and earthen floors, perfect for indoor rodeos and tractor pulls. The 1,600-bleacher-seat East Pavilion has open floor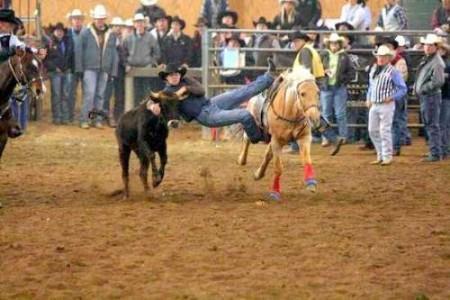 space suitable for many different setups, including equestrian and rodeo events. The outdoor Equestrian Area features a cross country jumping course that spreads over 85 acres of open prairie. The jumps are at five different heights and there is a water complex. CAM-PLEX also offers open exhibition spaces, ideal for trade shows or concerts, in Wyoming Center Frontier Hall and Energy Hall. They also offer spacious private rooms for meetings.
Located within the Wyoming Center, Spirit Hall Ice Arena hosts ice hockey games, ice skating and wrestling. The Wyoming Center can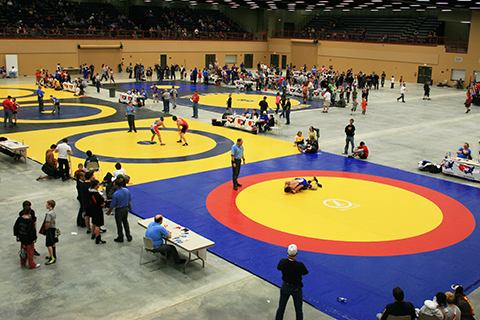 also be used as one large open area for events or divided into three separate halls by moveable, soundproof walls. CAM-PLEX also has a premier performing arts center, The Heritage Center. The 919-seat hall offers everything from school plays and Broadway productions to symphonies and dance performances. Other facilities include an 18-hole disc golf course, Gillette Thunder Speedway and Powder Basin Motocross.
RECREATION CENTER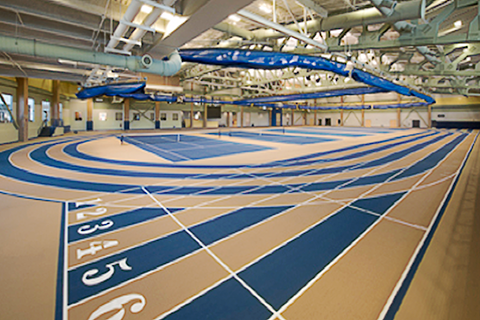 This state-of-the-art center is equipped with a weight room, a climbing wall (designed to resemble Devils Tower National
Monument), three regulation-size gymnasiums, three basketball courts, a six-lane lap pool and a diving platform. It has three exercise rooms, a cardio area, an elevated indoor walking track, five tennis/indoor soccer courts, four courts for racquetball, a lazy river and leisure pool with two waterslides. The center features a 81,000-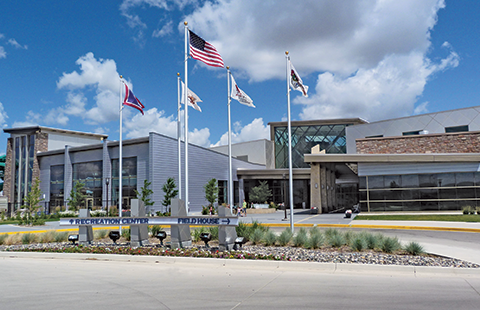 square-foot fieldhouse, which includes a six-lane, 200-meter college-level indoor track worthy of University of Wyoming track & field events. The fieldhouse is complete with bleacher seating and state-of-the-art-track lanes, and can also host basketball, volleyball, tennis (five indoor courts) and wrestling events, with space configurable to host almost any sport.
A Slice of the Old West
Learn about the natural resources that make Gillette and Wright Wyoming famous. Alpha Coal's Eagle Butte Coal Mine Tours in the Powder River Basin showcases one of the nation's largest coal mines and explains how coal is converted into electricity. At Durham Buffalo Ranch, take a tour of the world's largest and oldest working buffalo ranch. More than 3,000 bison roam its 65,000 acres. At the Sage Valley Planetarium, having just been upgraded with advanced technology found in only three other planetariums in the world, you'll be able to see more stars than anywhere else.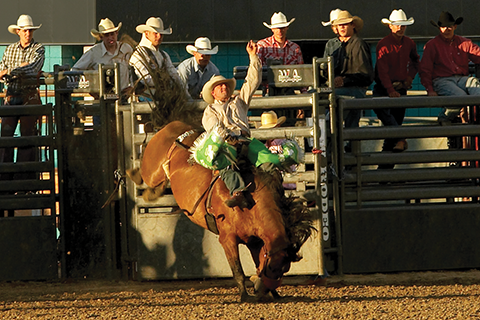 Golfers will enjoy the 7,024-yard, par-72 Bell Nob Golf Course. A trip to Campbell County would not be complete without a trip to Devils Tower National Monument. The nation's first national monument, rising 1,200 feet above the Belle Fourche River, overlooks grasslands and the Ponderosa pine forest. It's approximately five hours from Yellowstone National Park and two-and-a-half hours from Mount Rushmore. In between, visitors will find the unspoiled beauty of Thunder Basin National Grasslands, Bighorn National Forest, and state parks where you can hike and camp to your heart's content.
A plethora of new restaurants have recently opened, from cafes to ice cream, steakhouse to international flair. One local favorite is Adriano's Italian Restaurant. Pho and Bakery 59 is another new eatery in town, and all the fast-food favorites are here, too that compliment vast variety of national chain and locally owned steakhouses, Mexican, Chinese and much more.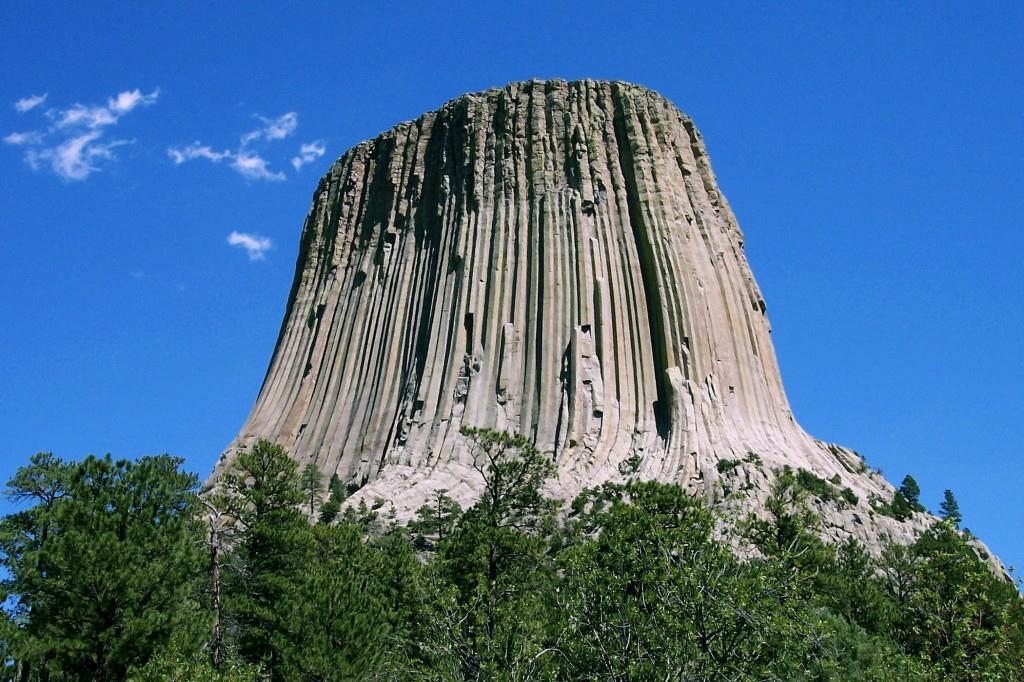 Easily Accessible by Air and Car
Gillette-Campbell County Airport, only a 10- or 15-minute ride from the heart of Gillette, is served by Delta and United. Rapid City Regional Airport, two hours east of Gillette, is served by United, Delta, Allegiant and American. If driving, Gillette is located along I-90 and Highway 5, with Highway 59 connecting to I-25.
Accommodations in Campbell County include familiar national chain hotels. The 86-room Arbuckle Lodge is right across the street from CAM-PLEX. All other hotels are within a four-mile radius of the center. Fitting for an area nestled between national monuments, there are also campgrounds and RV parks.
X-Factors
Ambassador program at Visitor Center
Welcome packets
Local restaurant/retail discounts
GoExploreWyoming App
Visit Gillette-Wright Wyoming on Facebook