Illinois' sports tourism track record, its world-class facilities and an unparalleled drive market with global accessibility have laid the foundation for Sports Illinois to establish itself as an industry expert and thought leader in the travel and tourism industry. Throughout the state, Illinois offers a world-class experience from the moment your spectators arrive and long after your teams step off the field. Choose from more than 1,200 sporting venues, home to everything from PGA tournaments to Olympic Trials to smaller, more intimate events. Furthermore, the state's central location and diverse transportation infrastructure means it's easy to get to the Land of Lincoln from anywhere in the country.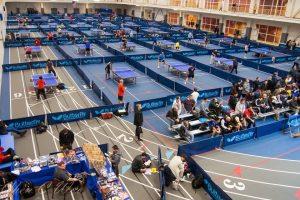 Along with the Illinois Office of Tourism, Sports Illinois comprises of a consortium of Convention and Visitors Bureaus throughout the state that work together to provide resources and support event planners in their efforts to bring sporting events to the state. The legendary ballparks and stadiums of Chicago help make it an iconic global city with world-class attractions, impressive cultural offerings and a storied sports heritage at both the professional and amateur level. However, Chicago is just one of a many offerings that make Illinois the perfect location for your next sporting event. Illinois is home to a variety of state-of-the-art facilities across the state and is committed to giving sports organizations the perfect event that will accommodate all of their constituents, while supporting the local economies of the state.
The State of Illinois has supported sport-related initiatives including sponsorships, marketing/promotion, educational programming, partnered sales missions and more. One such example is the Sports Illinois Huddle. First held in 2009, this conference provides education, networking and business opportunities over three days to Convention and Visitor Bureaus throughout the state as well as interested event rights holders and national governing bodies. Additionally, the Huddle offers opportunities to experience Illinois' iconic professional sports venues. Past visits have been to Wrigley Field, U.S. Cellular Field, Soldier Field and Chicagoland Speedway. Also included are opportunities to meet iconic professional sports athletes such as Hall of Fame Chicago Bear Dan Hampton, Hall of Fame NASCAR driver Dale Jarrett and Hall of Fame Chicago White Sox slugger Frank Thomas, who attended past conferences.
On the amateur side, opportunities exist prior to the conference for local site visits. Sports Illinois positions itself with a state-first frame of mind, with individual communities followed closely behind – a quality that separates it from other competing states. This cohesive and forward thinking vision provides the rights holder a potential multitude of venue options across the state. Jeff Jarnecke, Director of Championships & Alliances for the NCAA, describes his relationship with Sports Illinois as such: "Sports Illinois connotes a trusted, valued and professional partner in the presentation of NCAA championships. From wonderful people to quality facilities, the team at Sports Illinois works tirelessly to ensure each event is successfully executed in a way that leaves participants and fans with engaging experiences and fond memories."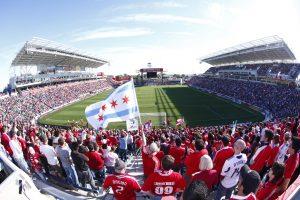 Sports Illinois' practice of sharing leads, experiences and best practices is a paramount advantage to a rights holder interested in securing an event in Illinois. Moreover, many of the local Convention and Visitors Bureaus offer a number of services within their communities to assist in the planning of sporting events such as site selection, securing hotel accommodations, volunteer recruitment, publicity, vendor assistance, identifying sponsors and providing visitor information. When referring to moving into the state's lacrosse market, Robin Baxter, Vice President of Events for NXTsports, Inc., said, "The demographic, coupled with the facilities available throughout the state, the friendliness of the Sports Illinois team, and the easy access and location of Illinois, have enabled us to launch multiple successful events in Illinois."
Sports tourism has a significant economic impact in communities across the state as an investment in the tourism industry by supporting local hotels, restaurants and retail establishments. Through collaborations with the Illinois Council of Convention and Visitors Bureaus, the Land of Lincoln continues to promote itself as a sports tourism destination under the umbrella of Sports Illinois. This collaboration provides premier host sites and services to event rights holders while increasing tourism, improving quality of life and enhancing sports opportunities for all. In the past two years alone, Sports Illinois has contributed about $2.5 million to the state's economy.
Our communities statewide continue to utilize sports tourism for youth opportunities, new events, new tourism destinations, maximizing facility use, building community relationships, as well as strengthening corporate support. As we move forward and stay ahead of the curve, sport tourism will provide continued growth opportunities for Illinois and we want your event to be a part of it.
To learn more about Illinois destinations, to find a sporting facility or to submit an RFP for local expertise, please visit SportsIllinois.com.