Located close to the geographic center of California, Bakersfield is only about four hours driving distance from 90 percent of the state's population and is the ninth-most populous city in California. It's no wonder Bakersfield has all the amenities sports planners are looking for when choosing that ideal event destination, accompanied by a staff that's willing to help with every step of the planning process.
With a renowned public university and a host of parks, an arena and sports complexes, sports planners won't run out of options for choosing a location, and each facility comes fully-equipped with state-of-the-art amenities.
Beyond an incomparable and hard-working staff and world-class sports facilities, Bakersfield has a vibrant nightlife, endless dining options and accommodations suitable to fit even the largest traveling teams.
Notable Recent/Upcoming Events
2019 Boys/Girls State High School Wrestling Championship
2017 Fall Nationals- BMX (September 2017)
2018 Golden State Nationals- BMX (May 2018)
Cali Crowne Soccer Tournament (May 2018)
California Community College Athletic Association State Track and Field Championship (May 2018)
2018 WAC Volleyball Championship
CVB/Sports Commissions Services Offered
Volunteer Staff
PR/Media Assistance
Signage
Site Visits
Transportation Assistance
Lodging Services
Grant Programs
Welcome Bags/Gifts
Itinerary Development
Event Planning Assistance
Click on tab to see more information about a specific facility
Rabobank Arena
Rabobank Arena, Theater and Convention Center is a world-class arena serving a number of hometown Bakersfield teams, games and tournaments, including the Bakersfield Condors American Hockey League team, International Indoor Soccer Exhibitions-Arena, US Army High School Football All-Star Game-Arena and the California Interscholastic Federation High School State Wrestling Championship Tournament. In 2019, it will be the arena's first time to combine the boys and girls State Wrestling Championship. With 17,000 square feet of arena flooring, this facility can seat between 8,751 and 10,400 spectators. Amenities at the facility include handicapped accessible seating, ample parking, assisted listening devices, sign language interpreters, eight locker rooms and various catering and food and beverage options.
Sports: Basketball, hockey, wrestling
The Theater at the Rabobank Theater and Convention Center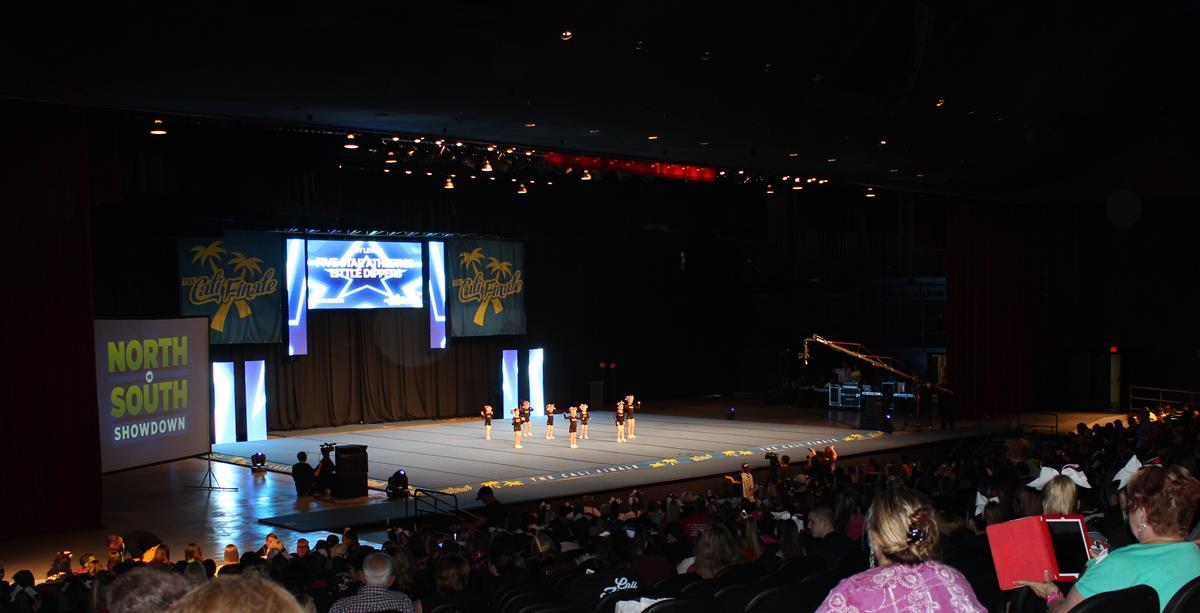 The Theater at the Rabobank Theater and Convention Center is focal point of the complex which also features a 26,000 sq. ft. Exhibit Hall and 14meeting rooms. Providing tremendous flexibility, the Theater has a 140' x 50' stage with a 25 foot ceiling, 46 lines that hold a full set of stage drapery, cyclorama and 20'x 20' rear projection screen. The Theater has 4 star dressing rooms, 4 chorus rooms, various production offices, and VIP rooms. Unloading and loading of equipment is easily achieved, as trucks can drive inside the facility and back-up directly to the stage area. The Theater is perfect for Cheer competitions and has hosted Aloha Spirit Cali Finale, GSSA Championships (cheer)-Theater, JAMZ State Championship (cheer and dance).
Sports: Cheerleading, dance, wrestling
Tarina Homes Sports Complex at Mesa Marin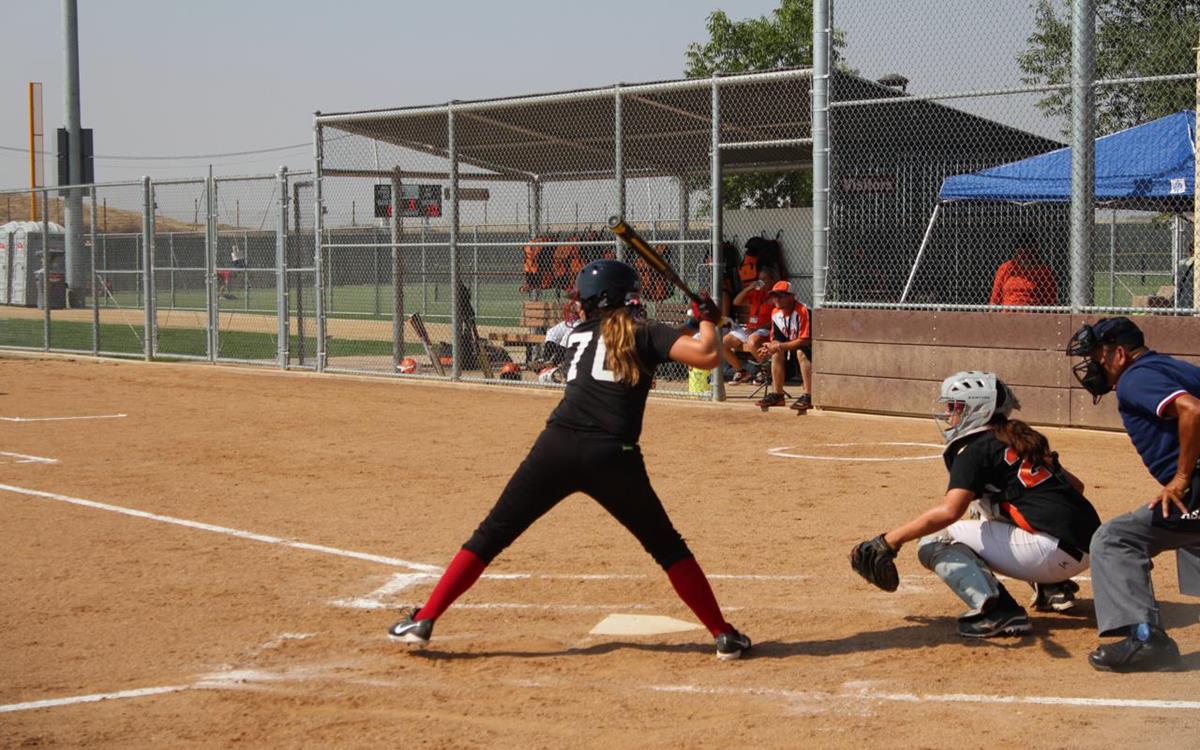 Located on 15 acres, Tarina Home Sports Complex includes four lighted softball fields, a 1,040 square foot prefabricated restroom and concession building, fantastic bleacher seating with a shade structure, landscaping and a parking lot. In May, the complex celebrated its second phase improvements, featuring a playground, spray park, group picnic area, expanded walking paths and a walk bridge from the parking area to the new park area.
Sports: Softball
Kaiser Permanente Sports Village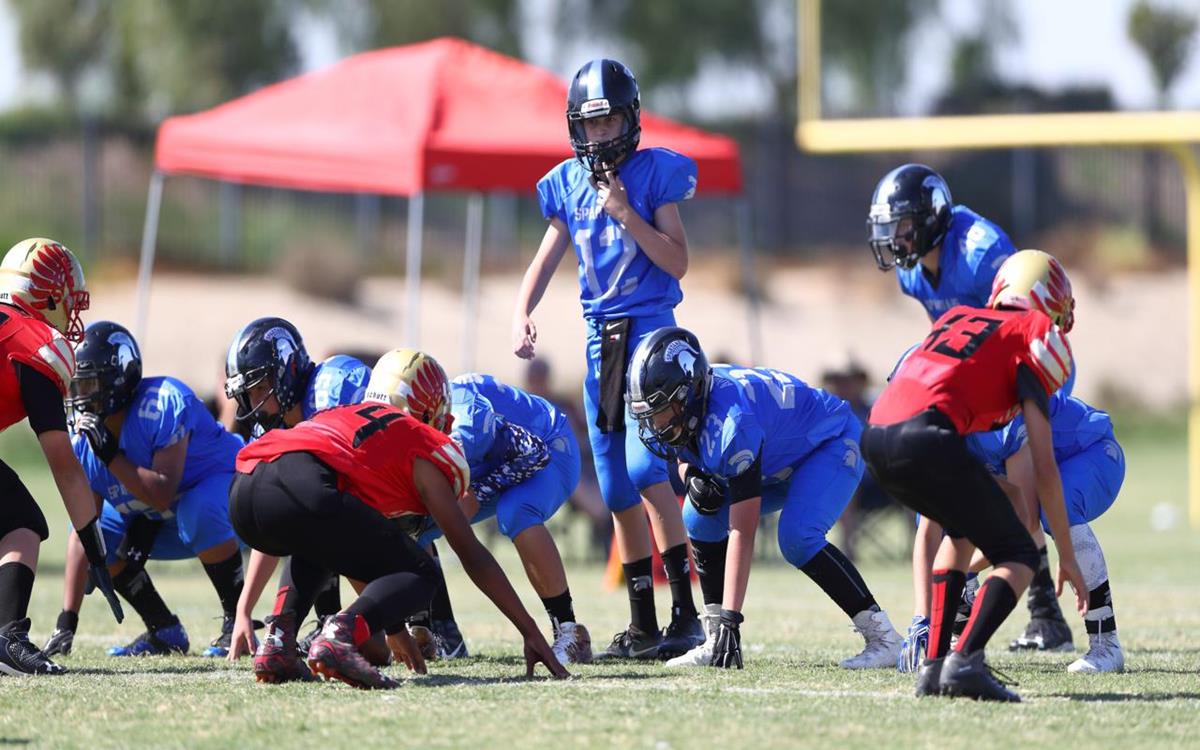 Established in 2011, Kaiser Permanente Sports Village originally opened with eight soccer fields, a concessions stand, restrooms and parking. After completing the second phase of a three-phase project, the facility added four soccer and youth football fields. The final phase of the project was recently completed and features 35 acres of land, picnic areas, more restrooms, walking trails and a playground where parents can bring their younger children while older children are busy participating in games or tournaments. Kaiser Permanente Sports Village has recently hosted the Cali Crown Soccer Tournament that housed more than 150 teams.
Sports: Soccer, football
Kern County Soccer Park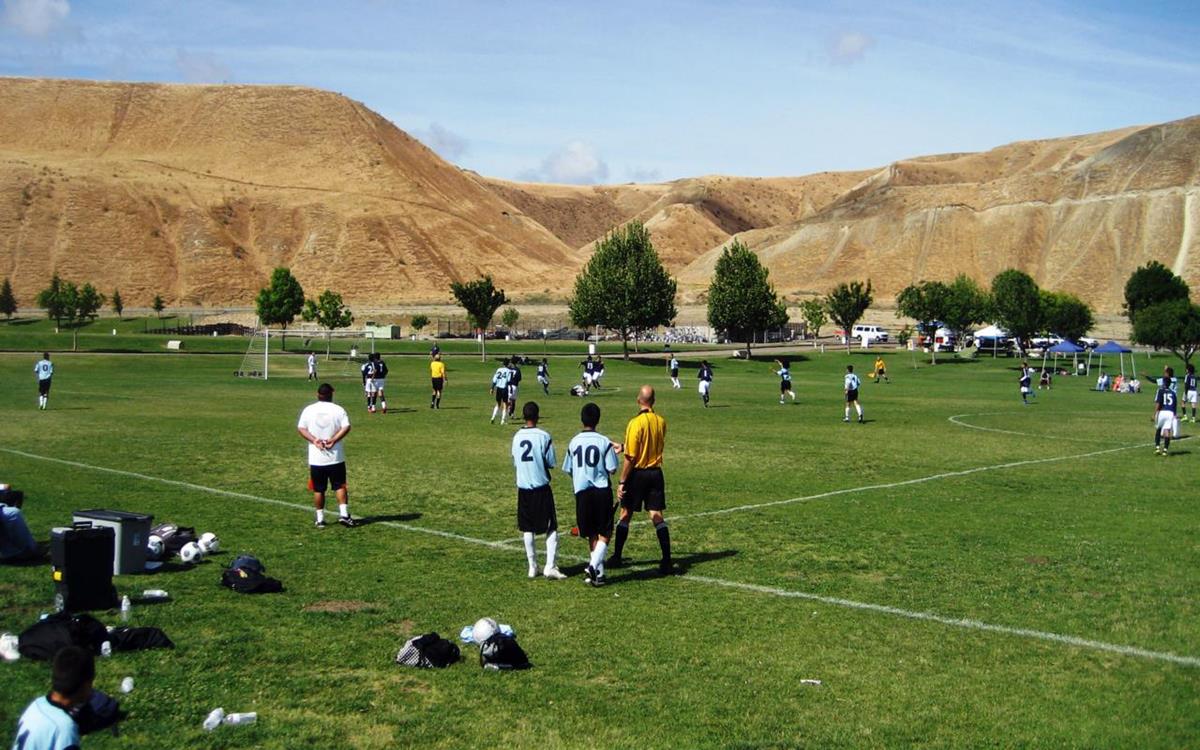 Idyllically situated in the foothills of northeast Bakersfield, Kern County Soccer Park is one of the largest soccer facilities in the state and is the largest facility with lighted fields in San Joaquin Valley. The facility has been home to several successful large tournaments and local club league matches. This world-class complex possesses 25 fields, including 21 regulation size fields—four of which are lighted—and four modified fields. Amenities at the soccer park include parking for over 1,500 vehicles, four restroom and concession facilities and tournament headquarter and refugee buildings, along with on-site telephone, internet and overnight parking services.
Sports: Soccer
California State University, Bakersfield
A public university founded in 1965, California State University, Bakersfield's 375-acre campus is home to an abundance of world-class athletic facilities. CSUB's 44,000-square-foot Icardo Center hosted the 2018 WAC Volleyball Championship and can seat 3,495 spectators. Hardt Field features more than 100,000 square feet of over-seeded hybrid Bermuda grass and has the capacity to seat 900 spectators. The university's John S. Hillman Memorial Aquatic Center includes an eight-lane, 50-meter competition pool with a 10-lane short course and a separate six-lane three-foot deep training pool. Home of the CSUB wrestling team, John Antonio Sports Complex contains an 80-foot practice area, a large team room, cardio room, locker room and shower facilities.
Sports: All
Metro BMX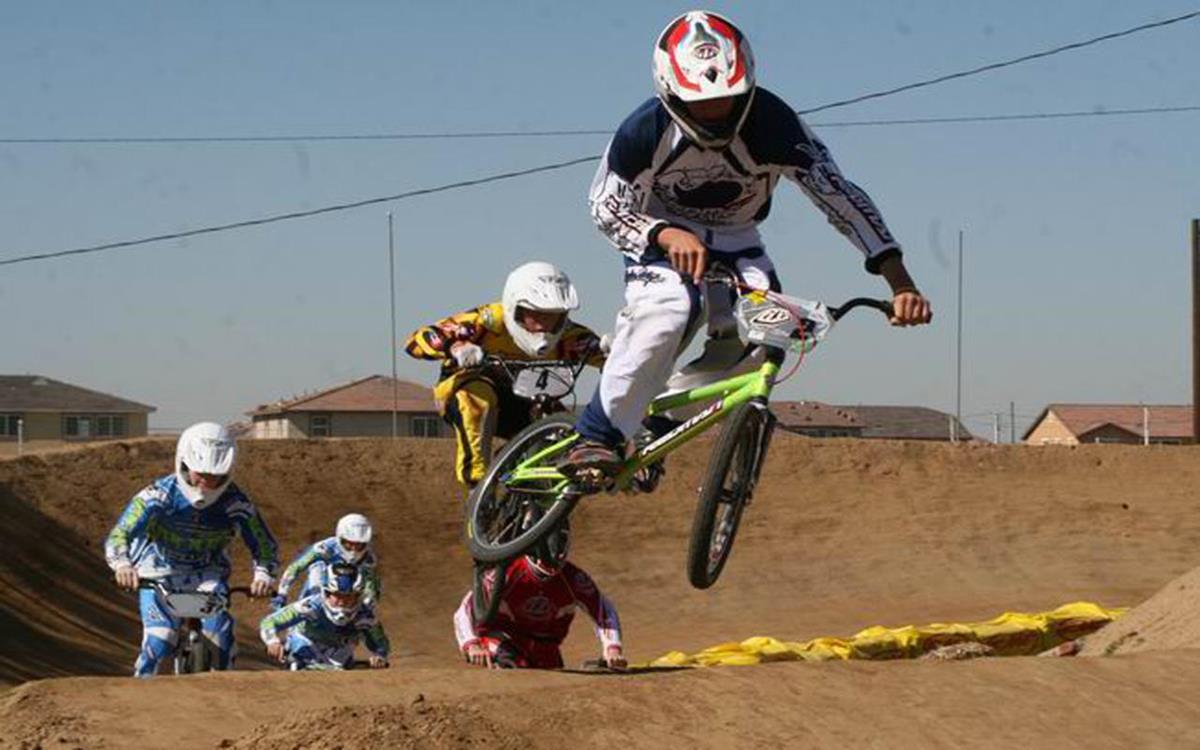 Home to the 2017 Fall Nationals and the 2018 Golden State Nationals, Metro BMX is located at the back of Sam Lynn Ballpark complex next to Kern County Museum. The track is open for practice on Tuesdays and Wednesdays from 6 p.m. to 8 p.m. and for racing on Fridays from 6 p.m. to 7:30 p.m. and Sundays from 6 p.m. to 7 p.m. Open riding is available before and after racing. The facility offers on-site parking.
Sports: BMX racing
Kern County Fairgrounds
A charming Bakersfield setting, Kern County Fairgrounds was originally established in the 1950s to showcase the county's largest annual event. With 168 acres, the fairgrounds are beautifully landscaped with shady trees and feature a spacious carnival lot, grandstand, theater and horse show arenas ideal for dog shows, sports shows and family reunions. The facility's buildings and grounds can accommodate small parties for 50 guests, a square dance for 500 and an outdoor event for more than 3,000 spectators. The grandstand can house 3,700 spectators for rodeos.
Sports: Equestrian, rodeo
Things to do in Bakersfield
When the game is over and players and prospective family members are looking for some exciting activities to indulge in off the courts, Bakersfield offers a variety of fun outdoor and indoor adventures for all ages.
A music hall primarily used for country western concerts, Buck Owens' Crystal Palace was constructed in 1996 by none other than Buck Owens himself. The Buck Owens Museum contains items related to the country star's career that includes 21 No. 1 hits on the Billboard country music charts.
Kids and adults alike will have a ball at Rush Air Sports bouncing on trampolines, partaking in a game of dodgeball, climbing the Rush Wall or rolling around inside a hamster ball.
A unique experience exclusive to Bakersfield lies within its rich Basque heritage thanks to a history of immigration in the region. Traditional Basque family-style dining can be found throughout the city for a truly exceptional culinary experience. The most popular restaurants offering this legendary cuisine are Chalet Basque Restaurant, Wool Growers Restaurant, Noriega's and Benji's French Basque Restaurant.
River's End Rafting, Bakersfield premier white rafting destination, is ideal for adrenaline junkies and thrill seekers. Another adventurous activity is Calm Zoo's Condor Challenge, an only ropes challenge course and outdoor climbing tower.
Planner Perspective
Why Bakersfield? That's easy. It's a perfectly-sized modern city with state-of-the-art facilities, a large inventory of clean, family-oriented hotel rooms, five dozen welcoming restaurants, and a city leadership that values our championships and supports us in every way possible. Bakersfield is a tremendous host.
California Interscholastic Federation: John T
How to Get to Bakersfield
By Car: Bakersfield is located at the crossroads of State Highways 99 and 58, and just 15 minutes east of Interstate 5. Bakersfield is located within a 2-hour drive from Los Angeles, 4-hour drive from San Diego, San Francisco and Las Vegas, and 10-hour drive from Phoenix and Salt Lake City.
By Air: Meadows Field Airport (BFL) provides all-jet commercial air from United and American Airlines and is located just eight miles north of downtown.
Contact Information
Company Name: Visit Bakersfield
Sports Sales Manager: Matt Billingsley
Title: Sales Manager
Telephone: 661-852-7236