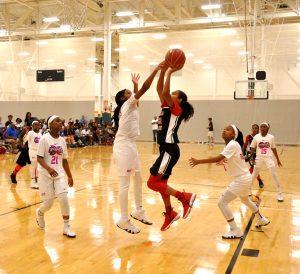 Rocky Top Sports World in Gatlinburg, Tennessee, is a multifaceted facility that comfortably hosts numerous athletic competitions.
Recently, Rocky Top, managed by The Sports Facilities Management, hosted the 2018 Amateur Athletic Union 5th Grade Girls Basketball National Championship tournament.
The venue secured hosting rights in 2015 and were thrilled to welcome 19 states, including California, Minnesota, Maryland, and New York, to the Gatlinburg and Sevier County area.
"Having so many first-time attendees from across the country shows the positive impact Rocky Top Sports World continues to have for Gatlinburg and Sevier County," said Sevier County Mayor Larry Waters.
The event began with the official opening ceremonies inviting 39 teams and their fans into the 86,000-square-foot indoor facility for team parades and guest speakers. Gatlinburg Mayor Mike Werner greeted the guests and was followed with a motivational speech by Carson-Newman University Head Women's Basketball Coach Mike Mincey.
"Mayor Werner and I were glad to be a part of the 2018 opening ceremonies. We welcome each team and their families back to Gatlinburg and look forward to hosting new teams in the future," said Gatlinburg City Manager Cindy Cameron Ogle.
Teams were also treated to a presentation by the Pat Summitt Leadership Group and a special appearance from the Lady Vols Women's Basketball Team.
"To be able to provide this group of wide-eyed, impressionable young athletes the sage advice from Coach Summitt was a thrill," said Kim Blumenthal, president and COO of the Pat Summitt Leadership Group. "We are actively pursuing ways to make education and inspiration a part of future tournaments to come."
When tournament play concluded, the following teams were crowned with top four finishes in the United States:
Division I: 1st Place-Below The Rim 2025 (OK), 2nd Place-Arkansas Mavericks (AR), 3rd Place-Indiana Blaze Onyx (IN), 4th Place-All Ohio Simmons (OH)
Division II: 1st Place-D1 Greyhounds (WV), 2nd Place-Lady Orlando Future Stars (FL), 3rd Place-IGB Novinger 2025 (IN), 4th Place-Los Angeles Flight (CA)
"The AAU National Tournament was a huge success and a first for Rocky Top. Everything went great and thank you to everyone who made it possible," said Werner.
Rocky Top Sports World has also been awarded hosting rights for the upcoming 2019 and 2020 AAU 5th Grade Girls National tournament.