As a cross between tennis and ping pong, the sport of pickleball has gained tremendous popularity in the last few years. Closely following the rules of tennis, the main difference is pickleball requires a paddle and a plastic ball.
With ideal warm weather year-round, Florida has  always attracted snowbirds and retirees.  Invented in 1965, pickleball originally was played mostly by retirees, providing them with a way to get exercise in without straining their body too much on the 20 by 44 foot courts.
Florida has become a paragon for the pickleball community, extending its reach from retirees down to kids of all ages, thanks to its sunny disposition and natural splendor.
East Naples Community Park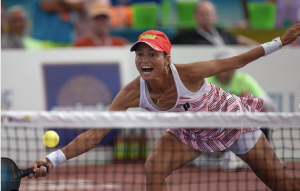 East Naples Community Park houses the Minto U.S. Open Pickleball Championships, the premier pickleball tournament in the world. Pulling 2,000 players from 47 states and 20 countries, this facility remains the pickleball capital of the world. 10,000 spectators came to watch the tournament in 2019, hosted from April 27 through May 4, across the facility's 58 courts.  The high visibility of the Zing Zang Championship Court makes it an ideal spot for the most important matches in a tournament to be played at.
The U.S. Open combines the greatest pickleball players in the world and  the biggest pickleball party in the world on an annual basis. Singles, doubles, and mixed doubles competition allows for a variety of skill levels to play across all age groups. The tournament is televised annually by CBS Sports Network.
Additionally, the East Naples Community Park also features basketball, racquetball, tennis, softball, football, soccer, a roller hockey rink, a skate park, and a three-quarter mile running trail.
Wiregrass Multi-Sports Complex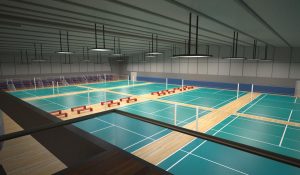 Construction on this $14 million, 98,000 square foot indoor field house began in the spring of 2019. When finished, the state-of-the-art facility will include eight basketball courts, 16 volleyball courts, 16 pickleball courts, two indoor soccer surfaces, two indoor lacrosse surfaces, and much more.
In addition to the multi-sports arena, a 128 room Residence Inn by Marriott will be built on the property to accommodate out-of-town sports teams. An outdoor amphitheater will seat 1,500 people for concerts and performances.
As construction is still underway, there are no current plans for hosting pickleball tournaments. Once the building is complete, it should draw competitors from all over.
Sundial Beach Resort and Spa
Sanibel Island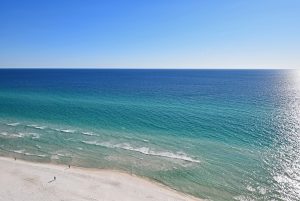 A 12 court pickleball stadium, accessible to resort guests and the public, pairs nicely with Sundial Beach Resort and Spa's panoramic waterfront view of the Gulf of Mexico.
Located on Sanibel Island of the state's southwest Gulf Coast, the pickleball court view is lined with the island's famous beaches.
Plex-cushion courts allow for tournaments to be played throughout the year. The facility hosted the Sundial Spectacular October 25-26. In addition to competitions, lessons and clinics are available complimentary to their guests and for a price with  the public.
If you're looking to improve your skills, they also have open play under the direction of IPTPA certified resident pro Ernesto Enriquez-Socas.
ClearOne Sports Centre
Orlando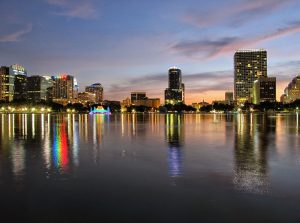 Located just minutes from downtown Orlando, ClearOne Sports Centre opened in 2012. The 27,000 square feet facility was made specifically for badminton, pickleball, and table tennis.
Featuring 13 indoor pickleball courts, the goal of this complex is to offer the best playing experience possible for these three sports.  
The center hosts a variety of tournaments throughout the year for a multitude of skill levels. The 2019 AAU Pickleball Indoor National Championships will be played here from August 22 through 25. 
Jimmy Moore Tennis Complex
Melbourne
The Jimmy Moore Tennis Complex hosted the Battle for the Kids Charity Pickleball Tournament in May of 2019. The event raised money for Camp Sunshine, a retreat program for children with life-threatening illnesses and their families.
With about 200 competitors total, the tournament featured women's and men's doubles, as well as mixed doubles across 12 courts of playing space.
Due to the success and support from the public, there are aspirations for making this an annual event. With daily fees, residents or non-residents can also utilize the courts. Prices vary depending on if you choose a court equipped with lighting or not.