Horse show season is upon us, as dazzling equestrian centers across the country have already begun schedules packed with top-of-the-line events. From Florida up to Rhode Island and all the way to Colorado, stables and farms are getting better and better, modernizing but still managing to maintain that traditional experience. Facilities are changing, focusing less on breeding horses and more on producing shows that make people want to come back.
Here are some of the best equestrian centers in the United States.
Will Rogers Memorial Center
Fort Worth, Texas
When event planners look to organize an equestrian breed and discipline competition, they look for a venue with the appropriate size. They need huge exhibit halls and room for stalls and arenas. Luckily,
Will Rogers Memorial Center
calls Texas home—and everything is bigger in the Lone Star State. This massive site boasts Will Rogers Auditorium, which has 2,856 permanent seats, a proscenium stage and extensive dressing room capacity. The Amon G. Carter Jr. Exhibits Hall consists of the 94,000-square-foot Texas Room and the 18,000-square-foot Round Up Inn ballroom, while the facilities as a whole offer over 2,500 horse stalls, multiple warm-up areas and the famous Will Rogers Coliseum. Due to its size and grandeur, Will Rogers Memorial Center is popular for equestrian and livestock shows—the RSNC World Finals is scheduled for June 13-18, while the North Texas Fair Open Horse Show will take place at the end of August.
Florida Horse Park
Ocala, Florida
Situated right in the middle of the Sunshine State, Florida Horse Park is renowned for holding some of the top equestrian events in the Southeast. The 500-acre park routinely hosts local, national and international competitions in nearly every equine discipline, from polo to dressage to versatility challenges. Opened in 1996, the venue was named a US Equestrian Team official training site 10 years later, and it continues to grow. In 2014, Florida Horse Park opened a 79,500-square-foot arena, where the Southern Junior Rodeo Association holds many of its events. Other recent additions include the welcoming center, built in 2011, and a set of stabling structures, the first of which was completed last year. Often called the Horse Capital of the World,
Marion County
is a hot spot for equestrian shows—and Florida Horse Park is the crown jewel.
Governor James B. Hunt Horse Complex
Raleigh, North Carolina
The Tar Heel State's finest horse facility is housed in its capital. The
J.B. Hunt Horse Complex
was constructed back in 1983 and revamped in 2004, giving it a traditional feel with a little bit of modernity mixed in. The main arena boasts 81,000 square feet of space, a massive show ring, 4,748 permanent seats and available show offices. Beyond the primary showground, there's a covered warm-up area, an outdoor warm-up area, 485 permanent stalls and a PA system. The venue plans to host the State 4-H Horse Show in early July and the Finally Farm Horse Show Series at the beginning of August, among other events throughout the summer.
HITS-on-the-Hudson
Saugerties, New York
HITS, Inc. had its first event in Gainesville, Florida, in 1982, and has since focused on generating top-of-the-line hunter/jumper horse shows. It has also expanded exponentially, with locations in Thermal, California; Ocala, Florida; Culpepper, Virginia and Saugerties, New York, where the company is headquartered. Just an hour from New York City, the complex in Saugerties offers more than just a prime location—14 permanent barns, 1,100 stalls, a dining courtyard and RV sites make this equestrian venue ideal for hosting top events each year. 2016 has already witnessed a number of dressage shows held in Saugerties, while the East Coast Riders Cup is penciled in for August 18-21. Some of HITS's largest competitions take place at the New York site, including the annual HITS Championship in September.
Brownland Farm
Franklin, Tennessee
Now in its 53rd year, the second-oldest facility on this list might just be the most beautiful and historical of them all. Brownland Farm opened in 1963 as a place for Margaret "Sissie" Brown to give riding lessons. But as the demand for horse competitions increased over the years, the farm stepped up its horse show schedule and began doing more than just raising thoroughbreds and offering lessons. A major turning point for the venue occurred in 1997, when Brownland Farm hosted the US Pony Finals, which received acclaim and led to some people calling the complex the friendliest of its kind. In 2016, it will be the location for 10 AA Hunter/Jumper shows, some of the most impressive competitions in the equestrian world.
Fox Lea Farm
Venice, Florida
Located on the coast of Florida, sporting warm weather and pristine beaches, the city of Venice is the perfect vacation destination. Beyond its obvious attractions, the town is also home to Fox Lea Farm, where top horse shows are held every year. The complex has 258 permanent barns, a 30,000-square-foot covered arena, a grass grand prix ring and four sand show rings. It's just three miles from Gulf beaches and right off of Interstate 75—plus, Fox Lea Farm is equipped with a climate-controlled exhibitor lounge area and a café with flat-screen TVs. These features, and many more, prove that the people at Fox Lea are dedicated to putting on great horse shows and providing spectators with the type of Southern hospitality that makes them want to come back every year.
Colorado Horse Farm
Parker, Colorado
Though it's the largest horse park west of the Mississippi and features over 40 events per year, Colorado Horse Farm came close to being destroyed in the fall of 2014, when it went up for sale and was expected to be wiped out and replaced with houses. However, luckily for Douglas County residents and horse-lovers everywhere, Mark Bellissimo, owner of the Winter Equestrian Festival in Florida, bought the property and made it even better. Under the guidance of Bellissimo and his ownership group, Colorado Horse Farm has developed further, boasting 11 competition arenas, 100 boarding stalls, two covered arenas, an RV park and 300 permanent stalls. Key events on the schedule in 2016 include the North American Junior Young Rider Championships on July 27 and Dressage in the Rockies in early August.
Sandy Point Stables
Portsmouth, Rhode Island
The state of Rhode Island may not be known for its imposing size, but the Sandy Point complex certainly is. Spread out over 280 acres, Sandy Point Stables features a 15,000-square-foot riding arena, renovated groom's quarters, a well-known recording studio and an abundance of stalls. The historic building hosts a multitude of events every year, including the Sandy Point Show Series each month. Portsmouth itself is a historical place—thousands of people travel to the town each year to witness Revolutionary War battlefields, such as the site of the Battle of Rhode Island.
Kentucky Horse Park
Lexington, Kentucky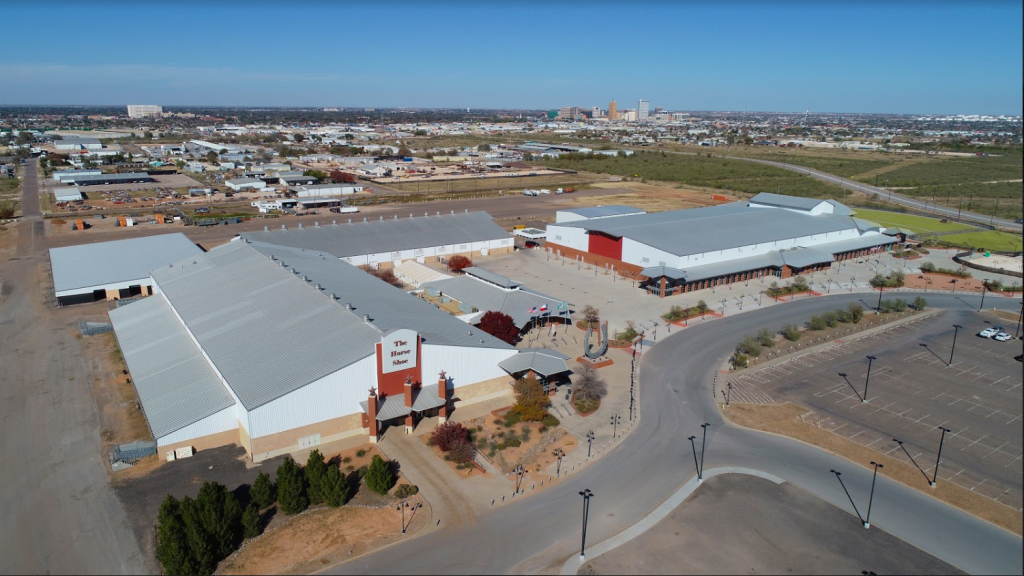 It's hard to think about hosting a horse event without immediately looking to Kentucky. For those who choose to commit to the Bluegrass State, the Kentucky Horse Park is one of their favorites. In addition to being an internationally known competition facility, the 1,200-acre venue calls itself an "equine theme park." Guests can take trail rides through the grounds, visit museums or watch one of the park's 30 breeds give a live equine presentation.
Midland County Horseshoe
Midland, Texas
This multipurpose facility is often used for rodeo events, but has plenty of space to accommodate any equine competition. The main indoor arena seats 1,000 and is easily accessible from the building's pens. An outdoor arena provides an additional option for equine events, and the 17,000-square-foot, open-air terrace is great for meals, trophy presentations or ceremonies.
Ocala Equestrian Complex
Ocala, Florida
Marion County, Florida likes to challenge Lexington for its title as the Horse Capital of the World, especially in the winter months. Equine rights holders often commit to Ocala when the weather gets cold, and then end up making it their year-round event destination. The Ocala Equestrian Complex is a big reason why. The facility has 400 stalls for short- or long-term stabling, three outdoor arenas, one covered arena and one covered warm-up area.
Great Plains Coliseum
Lawton, Oklahoma
The 12,000 square foot main arena at the Great Plains Coliseum has 2,500 stadium seats, a lobby area and two concession stands. The massive Exposition Center across the street takes up 80,000 square feet and has 250 horse stalls. With nothing anchored down in the center of this facility, it can be rearranged and formed to meet the needs of any equine event.
Central States Fairgrounds
Rapid City, South Dakota
Between its 450 horse stalls, the Pennington County Event Center and the outdoor Grandstand Arena, the Central States Fairgrounds is prepared to host even the largest equine events. The event center has almost 50,000 square feet of earthen area for competition and stadium seating for up to 4,400. If you prefer an outdoor event, the arena has a covered grandstand, lights, a sound system and seats 6,000.
Palm Beach International Equestrian Center
Wellington, Florida
The PBIEC's massive campus has 80 acres dedicated to performance rings alone. Beautifully located on a small lake, this venue has 256 stalls and 18 performance arenas, one of which is the largest covered riding surface in the world. The main International Arena features both VIP box seating and general admission seats.
Evergreen State Fairgrounds
Monroe, Washington The Equestrian Indoor Arena is the crown jewel of the Evergreen State Fairgrounds. The 60,000-square-foot facility has a large lobby area, concession stands, an announcing area, ticket booths, a VIP clubroom and seating for 2,700. Outside there is a 4,920-square-foot covered arena and judging area that has bleacher seating for 50. Wash racks and stalls are located nearby.
Louisville Equestrian Center
Louisville, Kentucky
This intimate equestrian venue is set in the rolling hills of Northern Kentucky and is perfect for smaller events. Despite being on only 25 acres, the Louisville Equestrian Center has 78 horse stalls, two indoor arenas, two outdoor arenas and miles of riding trails. Ample parking and convenient proximity to Louisville round out this cozy venue.
New Jersey Equestrian Center
Pomptom Plains, New Jersey
For East Coast-based equine events, the New Jersey Equestrian Center is one of the best. The venue's brand new 66,000-square-foot indoor arena is the largest in the Garden State and has state-of-the-art features like automatic water bins, heated wash racks, in-stable ventilation systems and even a fly control system. Outside there are two arenas, a dressage ring and a track.