The 13th-largest city in the U.S., Fort Worth offers all the luxuries of a big city with the convenience of a small town.
City of Cowboys and Culture doesn't just offer top-notch sports venues. Its subtropical climate provides for year-round play—both in sports and in attractions and entertainment. Experience rich arts and culinary treasures in one of America's most beloved downtowns. Get there easily via car, train or plane—DFW International Airport is minutes away. Ample amenities, Western wonders, easy accessibility and year-round sunshine make Fort Worth a top contender for your next sports event.

Notable Recent/Upcoming Events
NASCAR AAA Texas 500 at Texas Motor Speedway  (November 4)
College Gridiron Showcase at McNair Stadium (January 5-9)
UIL State High School Spirit Championship at Fort Worth Convention Center  (January 17 – 19)
PGA Tour Charles Schwab Challenge at Colonial Country Club (May 23 – 26)
CVB/Sports Commissions Services Offered
Volunteer Staff
PR/Media Assistance
Signage
Site Visits
Transportation Assistance
Mobile Apps
Lodging Services
Grant Programs
Welcome Bags/Gifts
Itinerary Development
Event Planning Assistance
Click on tab to see more information about a specific facility
Dickies Arena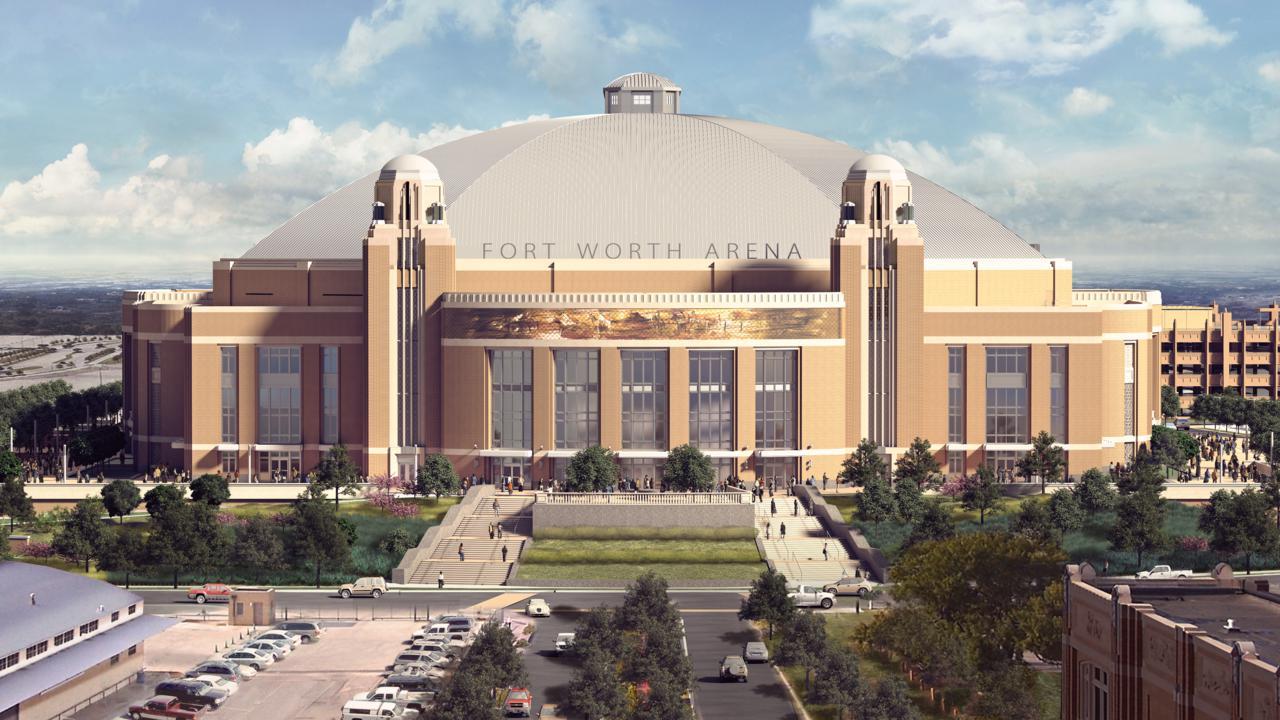 The new, $650 million dollar state of the art multi-purpose Dickies arena, will feature 14,000 seats, two premium clubs spaces, 40 suites, 10 loge boxes and six locker rooms. It will also have more than 100,000 square feet of attached exhibit space along with outdoor green space for fan fests and other enhanced experience opportunities. The arena is set to be completed by November of 2019.
Sports: Indoor events, basketball, hockey, cheer, dance
Fort Worth Convention Center
With more than 250,000 square feet of event space and a 13,000 seat attached multi-purpose arena, the Fort Worth Convention Center is the ideal venue for your event. Located in the heart of Fort Worth's award winning downtown, the FWCC is positioned within blocks of more than 2,500 world class hotel rooms and more than 60 restaurants and retail outlets.
Sports: Indoor events, basketball, volleyball, cheer, dance, wrestling
Game On Sports Complex
This brand new multi-use facility features six hardwood basketball courts that convert into 12 hardwood volleyball courts as well as 8 outdoor beach volleyball courts. The complex also is home to the APEC world class training facility as well several health and wellness partners. Meeting rooms, a full concession area, batting cages and a sports merchandise retail outlet round out this one of a kind facility.
Sports: Indoor events, basketball, volleyball, beach volleyball, gymnastics
City of Fort Worth Park & Recreation
Rolling Hills soccer complex is one of the biggest soccer complexes in America! With 24 outdoor soccer fields (8 lighted), a 12,000 seat stadium and more than 14,000 rooms within 20 minutes, Rolling Hills is a complex you have got to check out! Gateway Park features six lighted softball/baseball fields and 11 outdoor soccer fields – four of which are new turf fields. Covered bleachers & dugouts, concessions and convenient parking make Gateway Park a fan-friendly sports venue your customers will appreciate.
Sports: Soccer, softball, baseball, lacrosse, flag football
Will Rogers Memorial Center
This massive 105-acre multipurpose complex of event facilities and exhibit halls is located in the heart of Fort Worth's Cultural District. The Will Rogers Auditorium features 2,856 permanent seats, a proscenium stage and extensive dressing room capacity. The Amon G. Carter Jr. Exhibits Hall includes the Texas Room with over 94,000 square feet of contiguous exhibit space, the 18,000-square-foot Round Up Inn ballroom and four additional meeting rooms. The Will Rogers Equestrian Center features over 2,500 horse stalls, multiple warmup areas and three show arenas.
Sports: Indoor events, equestrian, livestock shows
Texas Motor Speedway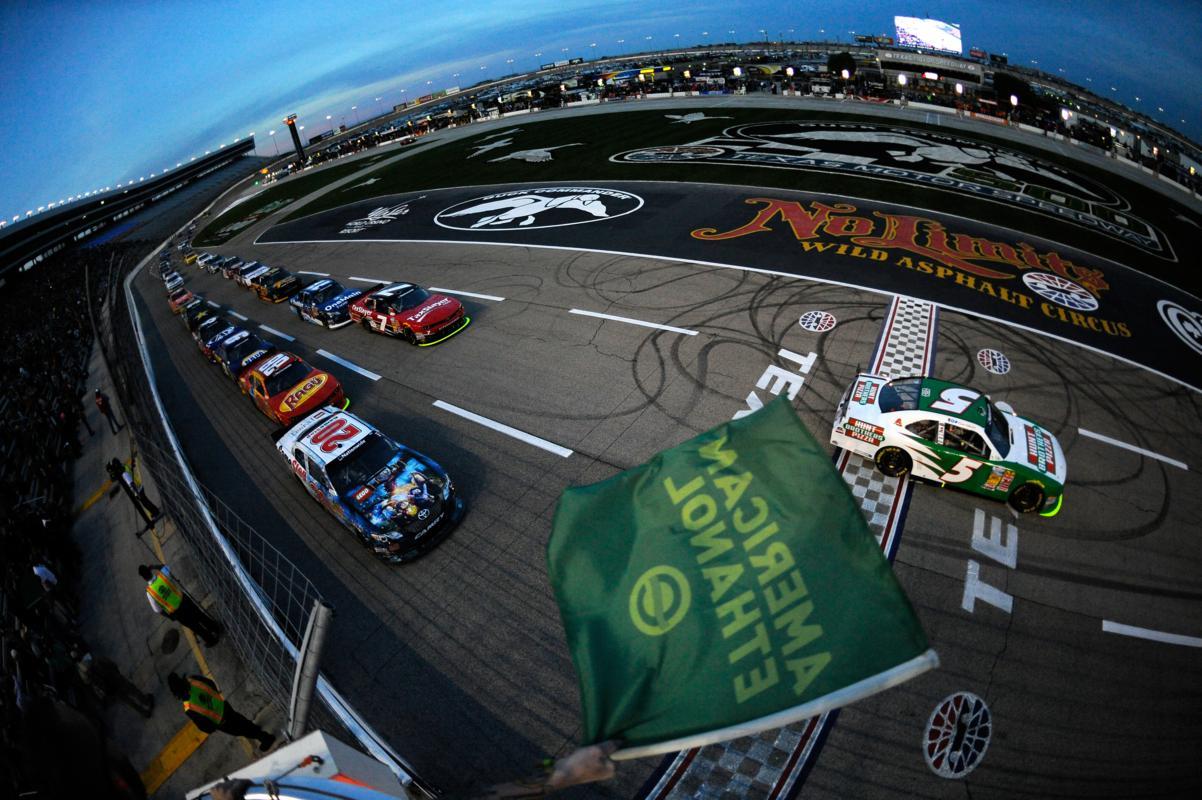 The Texas Motor Speedway is equipped with 1.5 miles of racing surface, over 200,000 seats, multiple racing tracks and has hosted the Monster Energy NASCAR Cup Series and the Verizon IndyCar Series. The facility covers 1,500 acres and has over 6,700 camping spaces. The speedway has multiple buildings that hold media rooms, office space, kitchens, concessions stands and a restaurant. The Infield Road Course has four variations for up to 2.324 miles of track and 40 feet of road width. The Lil' Texas Motor Speedway has one-fifth mile of asphalt surface and 80-foot-wide corners. The last track, the Texas Motor Speedway Dirt Track, has a clay surface, 70-feet-wide straightaway and 80-foot-wide corners.
Sports: Car racing
AT&T Stadium and Globe Life Park
The AT&T Stadium is home to the Dallas Cowboys. The stadium can seat up to 100,000 people and has multiple concession stands, restroom facilities and on-site parking. The stadium is also equipped with a retractable roof for climate control and the field is comprised of artificial turf. AT&T Stadium is home to the Dallas Cowboys History Museum, an art exhibit and multiple restaurants/clubs. Globe Life Park is home to the Texas Rangers. The park is 1,400,000 square feet and can seat 48,114 people. The facility also houses the Texas Rangers Baseball Hall of Fame, a kid's zone, Texas Rangers Youth Ballpark, multiple restaurants and a 12-acre lake. The Texas Rangers Youth Ballpark is a natural grass field and can seat up to 650 people. Both facilities are ideally located 15 minutes from downtown Fort Worth.
Sports: Football, baseball
Amon Carter Football Stadium
The Amon Carter Football Stadium is home to the Texas Christian University football team. In 2010, the stadium was renovated for the first time since 1956, and the renovation included new concessions stands, adding elevations and escalators, new seating areas, upgraded and new restroom facilities, the addition of suites, club seating and lounges on the west side of the field and a new press box. The field is a natural grass field and the stadium can seat up to 45,000 people.
Sports: Football
Friedman Tennis Center
The Friedman Tennis Center is home to 27 fully lighted tennis courts, 22 outdoor courts and five indoor courts. The center can seat up to 1,500 people and is home to a fully stocked pro shop and locker rooms. The outdoor courts are set back from anything else for wind control. The Friedman Tennis Center, home of the Men's and Women's TCU tennis teams, was named one of the top 25 tennis facilities in the country by Tennis Magazine in 1990 and continues to be one the finest facilities in collegiate athletics today.
Sports: Tennis
Schollmaier Arena
The Schollmaier Arena is a 22,000-square-foot state-of-the-art facility that features two NCAA regulation basketball courts and up to six basketball hoops. The facility also has offices space, meeting rooms, locker rooms, a lobby area, a private weight room and glass windows for court viewing. The arena can seat 7,200 people and is home to the Men's and Women's TCU basketball teams. The facility also has a concession stand, a food court and a courtside club lounge.
Sports: Basketball
Things to do in Forth Worth
Enjoy a truly-Texas experience when the final whistle blows. The Fort Worth Cultural District is home to five world-class museums in a beautiful park-like setting, including Kimbell Art Museum—home to the only Michelangelo in the Americas. Stockyards National Historic District hosts the world's only year-round rodeo: the Stockyards Championship Rodeo. Also found here is Billy Bob's Texas—the world's largest Honky-Tonk and the world's only twice-daily cattle drive presented by the Fort Worth Herd. The district is filled with sites from the Old West with Texas-themed shopping and cuisine, rodeos and Western saloons. You'll see legendary structures such as the Livestock Exchange Building and the Stockyards Stationshops and restaurants.
Downtown/Sundance Square is a 35-block shopping, entertainment and dining district featuring 60+ restaurants and retail outlets, three live theaters, an AMC movie theater, art galleries and more.  The newly added Sundance Square Plaza includes water features, 32-foot-tall Teflon umbrellas and the historic Chisholm Trail Mural. Fort Worth is also home to Texas Motor Speedway and BIG HOSS, the world's largest HD video board. Texas Motor Speedway is America's second largest sports and entertainment facility, just 20 miles north of downtown, and is now the only speedway in the country to host every major form of American automobile racing, including NASCAR Sprint Cup racing and Indy style racing. Less than 15 miles from downtown Fort Worth, you can catch a Dallas Cowboys football game at AT&T Stadium, or take in America's favorite pastime with the Texas Rangers at Globe Life Park. To top it all off, Fort Worth has over 15,000+ hotel rooms with a good offering of double/double rooms (including almost 1,400+ in downtown).
Our Commitment
Fort Worth has world-class facilities, one of the biggest airports in the world and an authentic Texas experience that your athletes, coaches and fans will truly enjoy.  Fort Worth is a destination that will deliver for you!
Fort Worth CVB: Jason Sands, CSEE (Director of Sports)
How to Get to Fort Worth
By Car: Sitting at the crossroads of three major interstate highways (I-35, I-20 and I-30), Fort Worth is easily accessible through any mode of transportation.
By Air: Dallas/Fort Worth International Airport (DFW), located 17 miles from Fort Worth, is one of the most convenient airports in the world with an average of 1,900 daily departures and arrivals and service to more than 200 destinations worldwide.
Contact Information
Company Name: Fort Worth CVB
Sports Sales Manager: Jason Sands, CSEE
Title: Director of Sports
Telephone: 817-223-7827