With its diverse landscape, from amazing mountain scenic views to sandy coastal beaches, North Carolina provides a wide range of outdoor activities, sure to fit any visitor's interest. From water sports and extreme sports to hiking, biking and camping, parks and the seashore are perfect for any adventure.
Great Smoky Mountains National Park, straddling the border between North Carolina and Tennessee, is the most visited of all our nation's parks. With more than 800 miles of trails, there are plenty of options for backcountry hiking to camping locations. Frontcountry camping in more developed campsites is very family friendly and there are a half dozen favorite hiking trails, including some parts of the Appalachian Trail.
There are also kid-friendly hikes that are perfect for introducing youth to the outdoors (nps.gov/grsm/index.htm).
Another National Park Service gem located in the mountains of North Carolina is the Blue Ridge Parkway. Known as "America's favorite drive," the parkway provides stunning views of the Blue Ridge Mountains, forests and landscapes. Along the parkway there are an abundance of outdoor activities to experience. Numerous mountain communities are ideal for biking enthusiasts. On the National Registry of Historic Places, Elkins offers biking, hiking and paddling on the Yakin River. Brevard is known as "the land of the waterfalls" and is ideal for biking, hiking, fishing and camping. Asheville is home to one of the state's most visited attractions, Biltmore Estate. Blowing Rock, Hot Springs, Mars Hill and Rutherfordton are each special and well worth a visit (blueridgeheritage.com).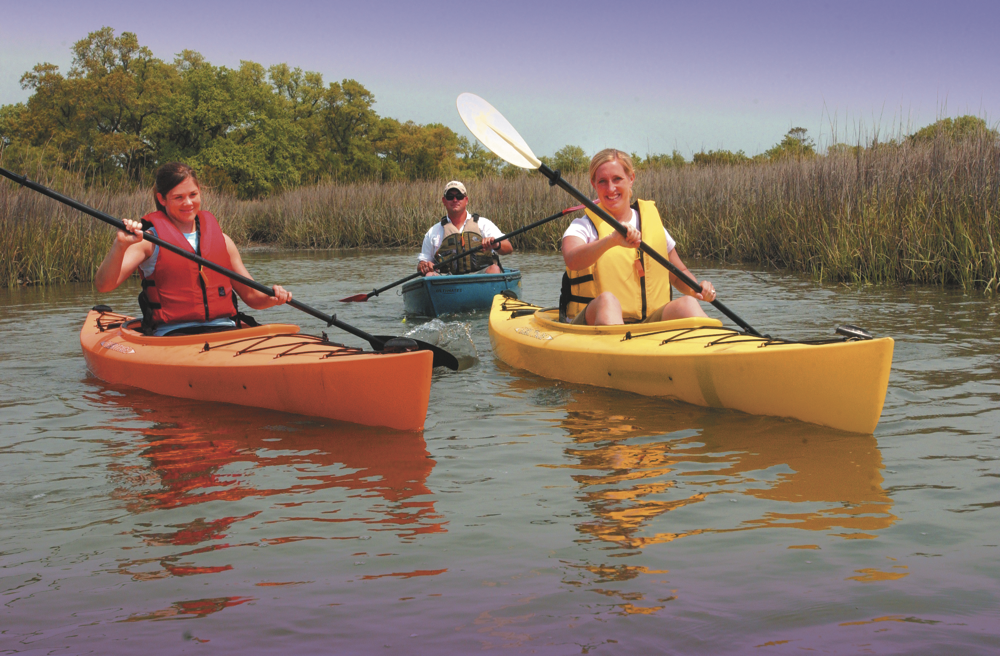 On the coast, the Cape Hatteras National Seashore is abounding with natural beauty and adventure. Climbing one of the park's two lighthouses is a must when visiting. Both the Cape Hatteras Lighthouse and the Bodie Lighthouse are open seasonally. The Cape Hatteras National Seashore has four campgrounds, each with tent, trailer and motor home sites. You really should not get this close to the Atlantic Ocean without casting a line in the surf, from a pier, or offshore by boat. Many different varieties of fish can be taken. The curious may want to explore a barrier island away from the beach and there are three hiking trails available. For visitors into birding and photography, the opportunities are almost endless and the beaches are resplendent. For the wind-sport enthusiasts, there are kite boarding and windsurfing opportunities. Snorkeling is fun on the Pamlico Sound side of the island, while surfing and swimming are still the favorites (nps.gov/caha/index.htm).
Before leaving North Carolina's Outer Banks, there are still a few more outdoor adventures awaiting you at Jockey's Ridge State Park. It's here that you will find the tallest living sand dunes on the Atlantic coast and a premier location for kites. Sand boarding is welcome and a permit is required. The more adventuresome might want to try a hang gliding experience. The views are awesome (ncparks.gov/jockeysridge-state-park).
From the mountains to the piedmont to the coast, North Carolina has 41 state parks. Throughout the system there are opportunities for camping, hiking, fishing, boating and paddling, swimming, rock climbing and picnicking. Regardless of your adventure meter reading, experiencing a state park is a joy (ncparks.gov).