In Mystic Country's backyard among the scenic New England charm, meet your group at Mohegan Sun, a casino entertainment complex and resort. With an $80 million expansive expo and convention center, 1,600 hotel rooms, 275,000 square feet of meeting spaces, 40 restaurants, 35 shops, and three major entertainment venues with seating for between 350 to 10,000, the Mohegan Sun handcrafts legendary event experiences your group won't soon forget.
Under one roof you can dine in celebrity owned-restaurants, catch a Connecticut Sun WNBA game or a New England Black Wolves game, enjoy resort-style amenities–including two Mandara Spas and 18 holes of championship golf—or catch a live concert featuring today's top headliners. Feel the Spirit of Aquai with first-hand, unmatched services and accommodations when you stay at the Mohegan Sun Sky and Earth Tower, Hyatt at Mohegan Sun or the Fairfield Inn & Suites by Marriott Uncasville. Inside the complex, choose from a range of elite venues and spaces ready to host your next event.
Notable Recent/Upcoming Events
Naismith Memorial Basketball Hall of Fame Invitational – held each year in November
WNBA Finals October 6-8, 2019
American Athletic 2019 Women's Basketball Conference- March 5-12, 2019- held each year
Soccer Champions Coaches Clinic February 20-25 2019 – held each year
New England AAU Volleyball Tournament- March 27-30, 2020
CVB/Sports Commissions Services Offered
Event Planning Assistance
Itinerary Development
Mobile Apps
Lodging Services
PR/Media Assistance
Signage
Site Visits
Transportation Assistance
Volunteer Staff
Welcome Bags/Gifts
Click on tab to see more information about a specific facility
Mohegan Sun Arena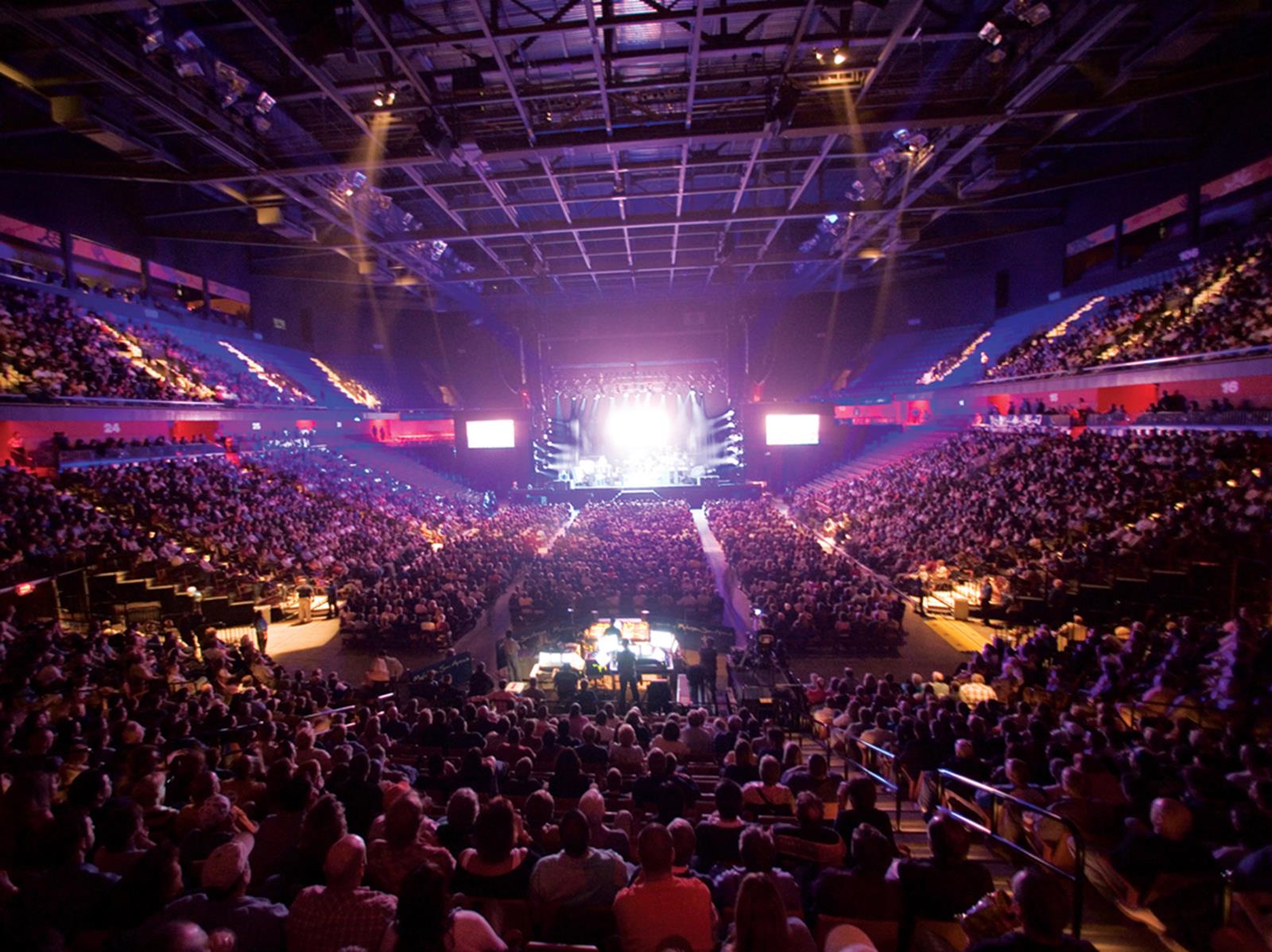 As one of the world's most prestigious arenas, Mohegan Sun Arena brings the sports experience to life in New England. This multipurpose arena has played host to Grammy-award winning performers, championship boxing, MMA matches and professional basketball. Mohegan Sun Arena is the home court for the Connecticut Sun of the WNBA and the New England Black Wolves.
Sports: Basketball, hockey, MMA, multipurpose indoor  
Earth Expo & Convention Center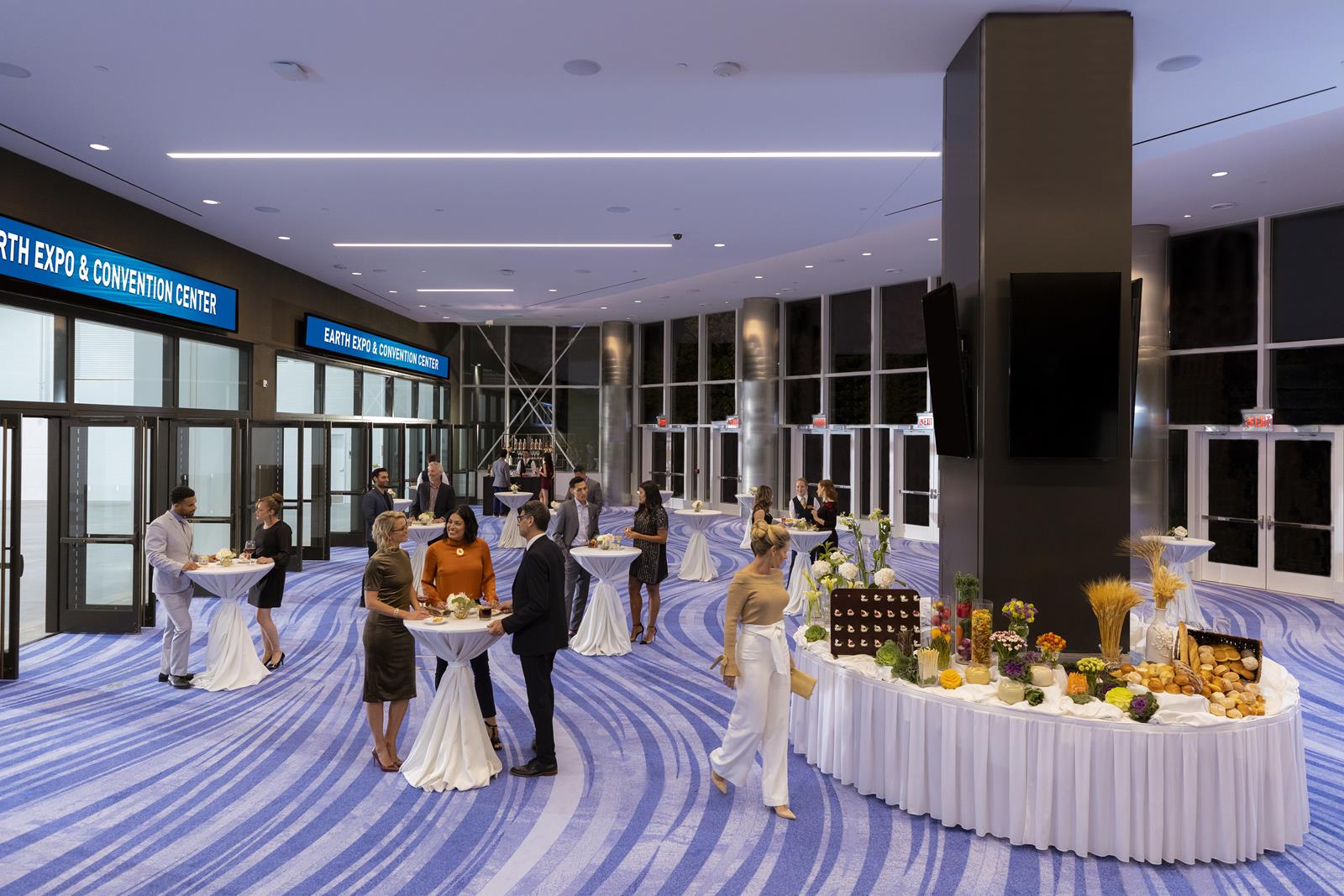 The innovative Earth Expo & Convention Center offers 125,000 square feet of column-free exhibit space, a 20,000-square-foot Earth Ballroom and 15 meeting rooms, making it a premier host for volleyball, basketball and gymnastics tournaments.
Sports: Multipurpose indoor  
Uncas Ballroom and Sky Convention Center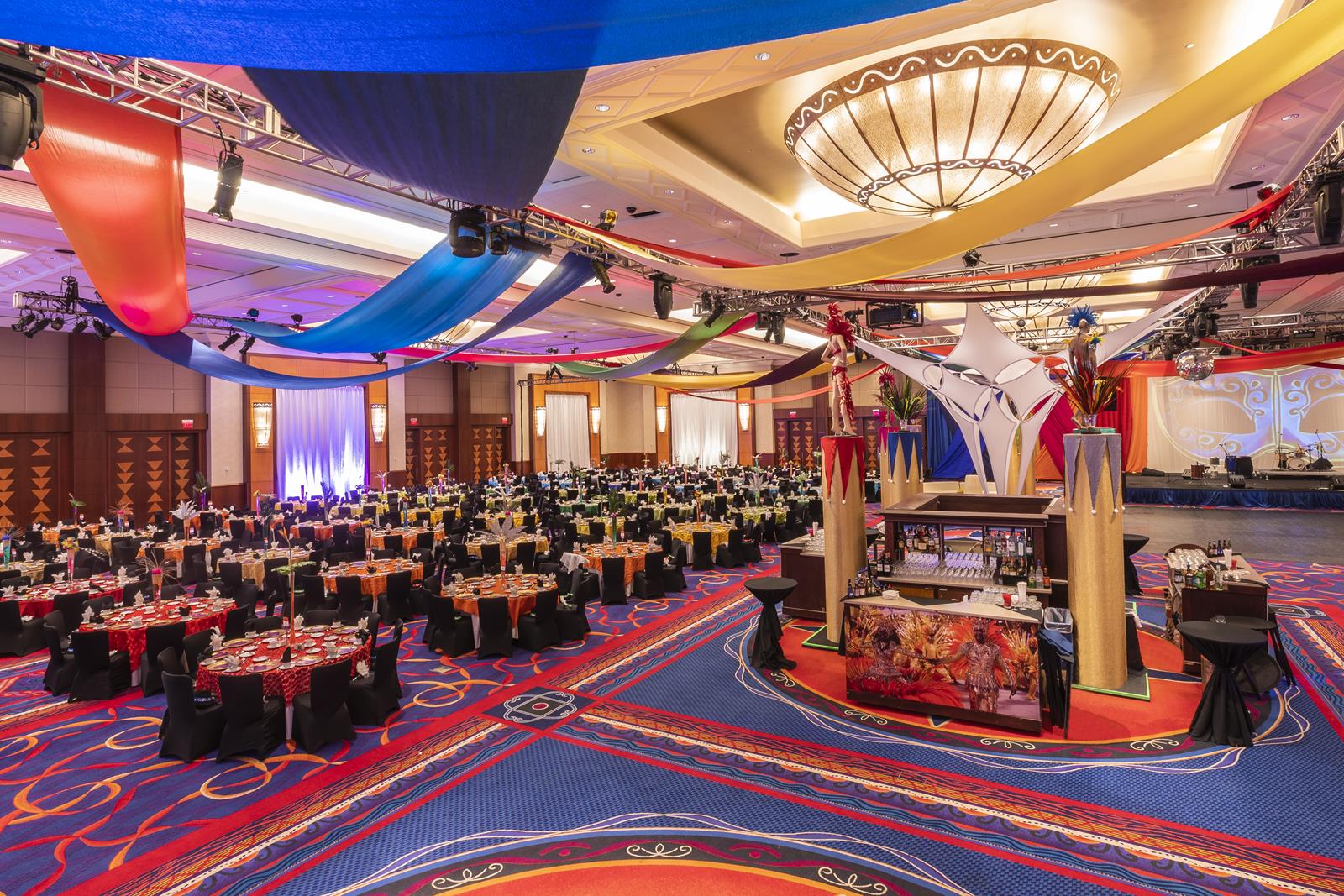 An additional first-rate convention center at Mohegan Sun delivers dynamic settings for events. In the heart of the Sky Convention Center is the Uncas Ballroom. This 37,000-square-foot pillar-less ballroom accommodates up to 5,300 people and features 23-foot ceilings and built-in technology. With 20 added meeting rooms in the center's lobby and 4,922 square feet of contemporary pre-function space, the Sky Center Lobby is ideal for gatherings.
Sports: Multipurpose indoor  
GAME ON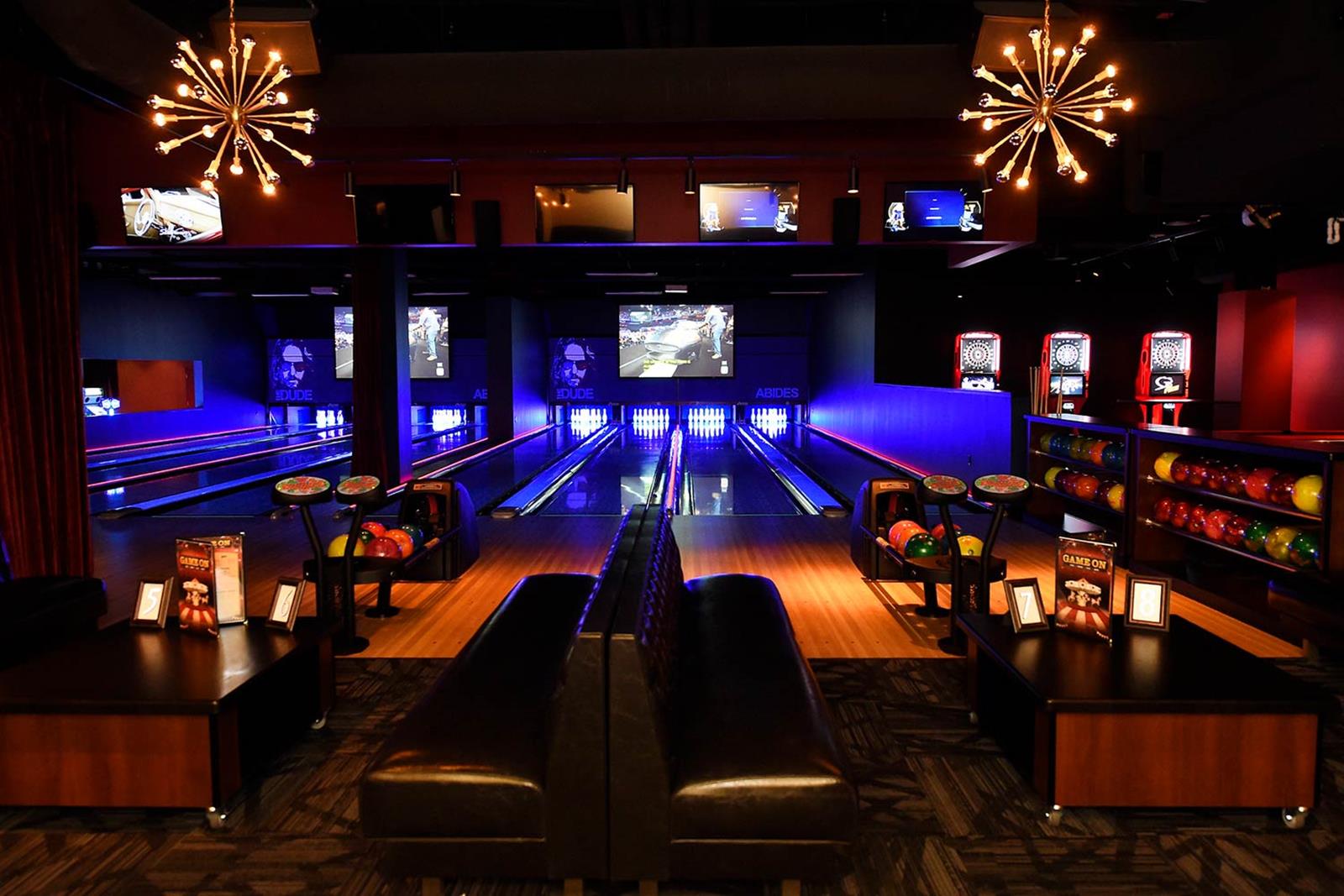 For smaller, social events, GameOn is an exemplary choice. Accommodating up to 850 people, it's perfect for hosting bowling parties and private karaoke. Featuring an interactive restaurant & 65-foot bar with craft beer on tap, an eight-lane bowling alley, 15 hi-definition viewing screens, karaoke, shuffleboard, cornhole, darts, nostalgic and modern arcade games, billiard tables, live entertainment, and more, GameOn ensures the fun is endless.
Sports: Multipurpose indoor  
Vista Lounge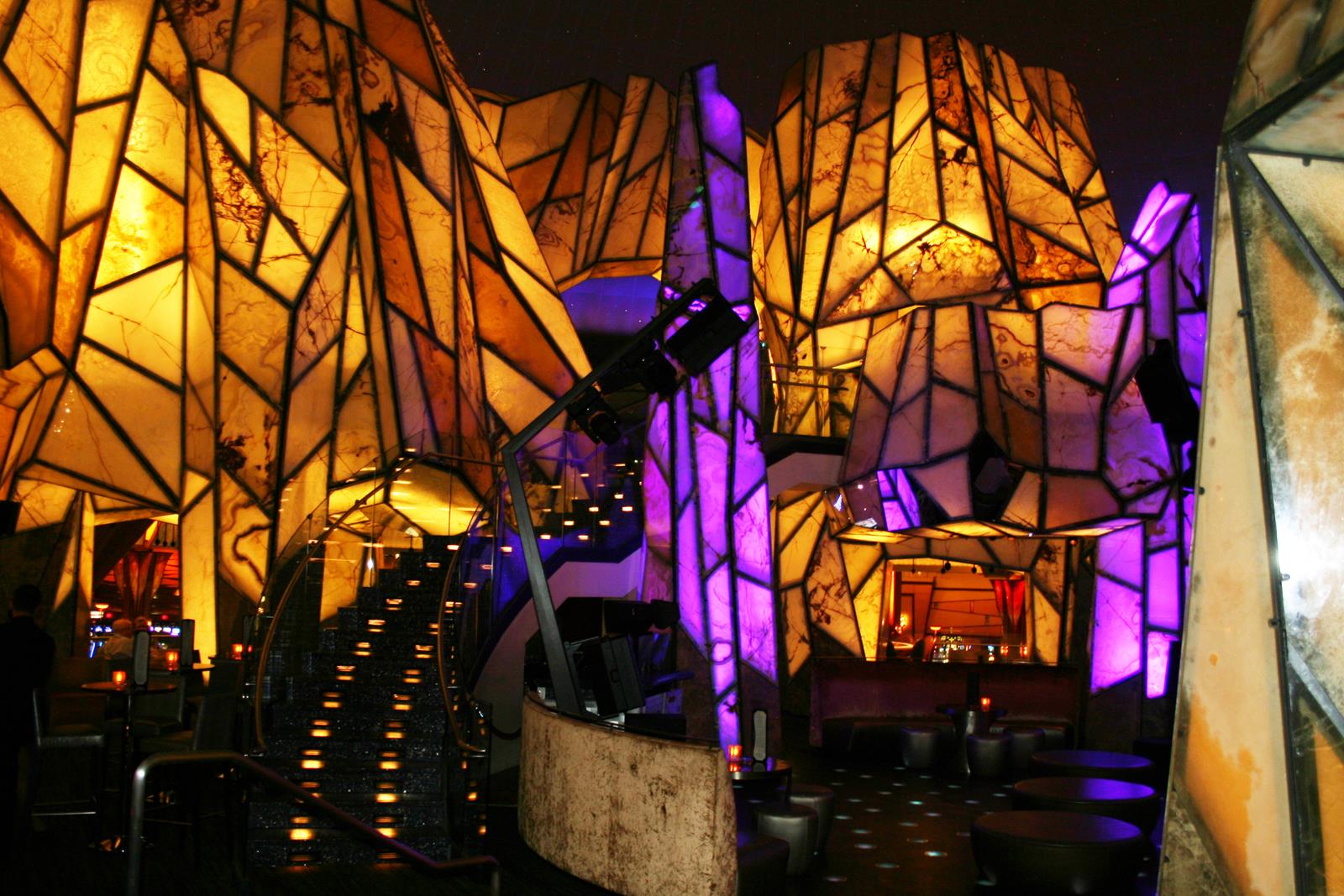 With two-levels, a large dance floor and built-in sound, the Vista Lounge accommodates a high-energy club vibe or a casual reception for up to 300. In an intimate setting, relax under the stars in this indoor solarium with plush coves and enjoy a creative cocktail. Vista Lounge is a great for private parties and can even be custom themed to include your branding.
Cabaret Theatre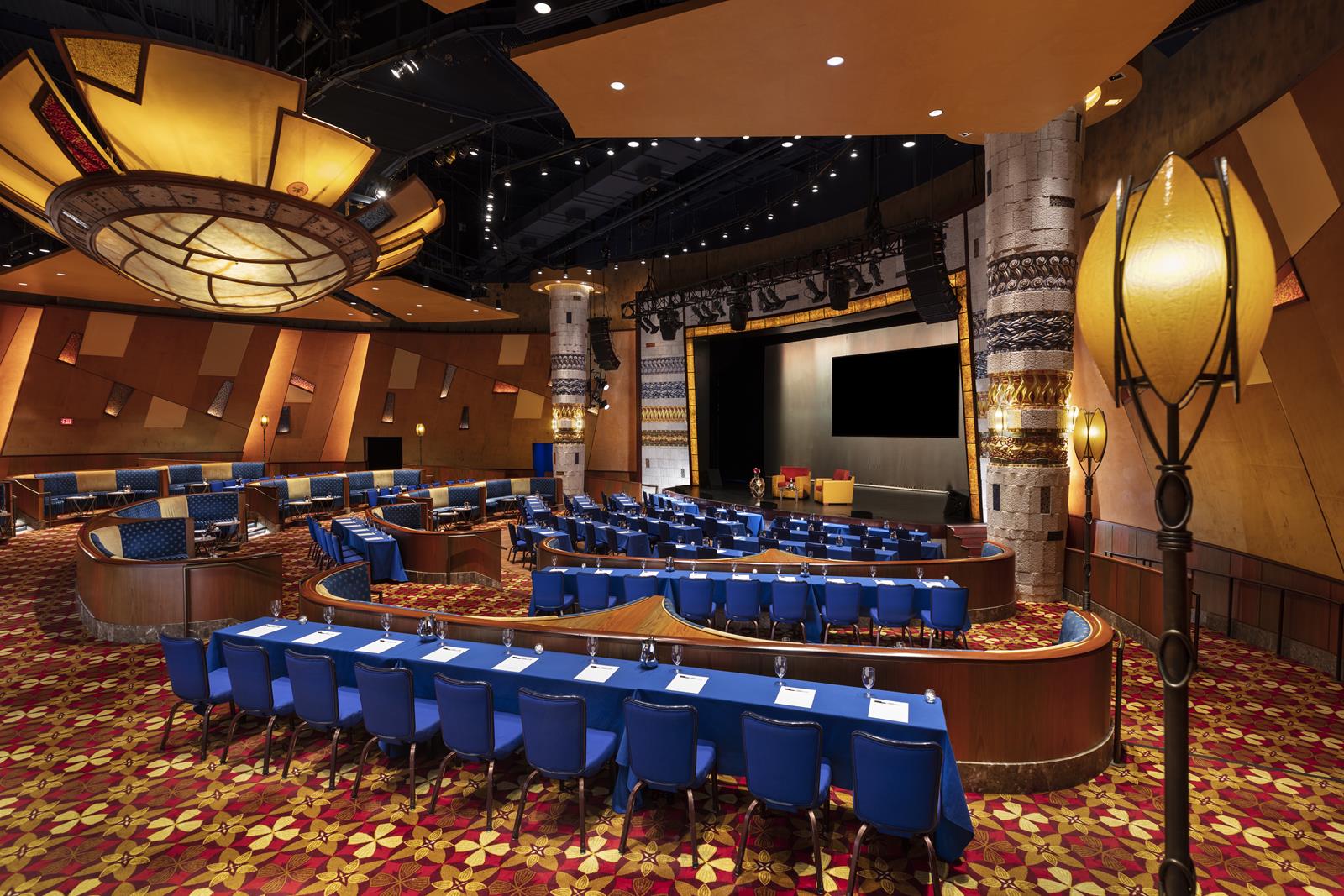 Settle in an intimate atmosphere featuring tiered seating for 400. With a permanent stage visible from every seat in the house, the theatre is the perfect setting for your next meeting or social function. This theatre has played host to world-class performers like Tony Orlando, Port Chuck and Frank Sinatra Jr.
What is There to Do Near Mohegan Sun?
On the grounds of Mohegan Sun, bring your team to GAME ON for a great team bonding experience. GAME ON is a 23,000 square-foot entertainment hub featuring an interactive restaurant and 65-foot bar, an eight-lane bowling alley, 15 hi-definition TVs, karaoke, arcade and tabletop games, shuffleboard, cornhole, darts, live entertainment and more.
In Mystic, Connecticut, Mystic Aquarium is one of only two American facilities housing Steller sea lions, and it has the only beluga whales in New England. The aquarium features special exhibits, including a ray and shark touch pool, an African penguin exhibit, a jelly gallery and the "Jurassic Giants" dinosaur exhibit.
Experience the thrill of the largest multilevel karting track in the world and the fastest in Connecticut at Supercharged. Race in all-electric, zero emission karts across the 110,000-square-foot facility that houses two very diverse multi-level tracks for both the beginner and experienced drivers.
Pulling vintage coaches through the New England towns of Deep River and Chester, the Essex Steam Train and Riverboat takes a round-trip into the heart of the unspoiled Connecticut River Valley. The two and a half hour on-board eco-excursion travels near the tidal wetlands of Pratt Cove and Chester Creek—bountiful, natural habitats for birds.
Located in Westbrook, CT on the Stewart McKinney WildLife Preserve and in Old Lyme, CT on the Great Island Estuary Preserve, Black Hall Outfitters is Southern New England's premier kayaking and paddle boarding destination. Getaway away to quiet beaches, spectacular natural beauty and even to restaurants, cafés and breweries in one of the top spots for paddle boarding, kayaking, fishing, and outdoor marine recreation in the Northeast.
Planner's Perspectives
ESPN

Mohegan Sun has it all under one roof. They are one-stop shopping for creating a fabulous meeting or event. I can't say enough about the wonderful facilities & personnel.
 —  Kelly Lanktree , Assistant Manager – Special Events Marketing
 NASCAR

"The events over the past weekend at Mohegan Sun were two of the most successful events we have had the pleasure of coordinating." "The catering staff did a beautiful job setting up the ballroom for dinner. Presentation Services did an excellent job with the awards show and we enjoyed working with the entire crew."
—  Robert E. Whitley , President
How to Get to Mohegan Sun?
The Mohegan Sun is located directly off Interstate 395, which runs southwest from Boston. If you're flying into the area, Hartford's Bradley International Airport as well as Providence's T.F. Green International Airport are just short drives away.
Contact Information
Company Name: Mohegan Sun 
Sports Sales Manager: Kevin Barosso
Title:Director of Convention Sales
Telephone: 860-862-5309
Email: www.mohegansun.com
Website: https://mohegansun.com/connecticut-sun.html