Growing up in his early childhood home in Dagenham, United Kingdom (U.K.), Jamie "Dirk" Diaz Ruiz would've been hard-pressed to predict a meteoric esports career that includes holding a lead position in the NBA 2K League broadcasting booth since the League's inception.
After U.K. plant closures moved the family to his father's new job location in the States in the early 2000s, Dirk's love for soccer shifted to include esports and basketball in his adopted hometowns in northern Illinois. Moreover, a penchant for public speaking—duly noted by two high school teachers who annually recommended he join the Debate Team—naturally progressed from gaming with his siblings and parents on PlayStation and Nintendo 64, to Call of Duty (COD) competitions, to broadcasting roles for Major League Gaming and preeminent titles like COD, Gears of War, Apex Legends and Fortnite.
As the NBA 2K League continues its offseason preparations for year five in 2022, SPG Interviews caught up with Dirk to discuss what's new in the 2K broadcast booth, why he used to kick soccer balls into basketball hoops, and how his affinity for Dirk Nowitzki continues to shape his dream job.
Sports Planning Guide (SPG): What was it that drew you to the gaming community?
Jamie Diaz Ruiz (JDR): My parents were big gamers back in the Nintendo 64 and the PlayStation 1 days. They used to be into Tomb Raider and Legend of Zelda. Those were the main two games. Funny enough, they deny this now, but I've got my brother and my sister as a witness—they used to stay up until three in the morning playing Zelda like they had to beat the final mission or this part on Tomb Raider, so that's where I started playing. I remember getting my first PlayStation 2, I remember getting Grand Theft Auto III, peaking at my gifts the night before Christmas so I knew what I was getting and writing down a bunch of cheat codes. I thought as soon as I get this I'm going to L1, L2, R1, R2, up, down, left, right, up, down, left, right and get all the weapons and all this other stuff. I had it all planned, but my parents were the reason I got into it.
From a competitive standpoint, that was something that unfolded. I have an older brother who is three years older than me and we had an Xbox 360 and he was competing in Gears of War on game battles. Obviously, little brother always wanted to be like big brother. I never competed in Gears of War because he wouldn't let me, but once Call of Duty rolled around I started competing. I was 13 years old when I first started playing competitively.
SPG: When did you first hear about the NBA 2K League?
JDR: I was working in Arizona when it first got announced. I think it was Strauss Zelnick, who's the CEO of Take-Two, and Adam Silver (commissioner of the NBA) who were on SportsCenter. They were like, 'Hey we are launching this game,' and I remember seeing that and thinking I have to work this. It's video games, it's basketball, and I have such a passion for both of them. Once it got announced, like anybody else, I started doing research immediately about who's in charge, but it was in such early stages that nobody knew. I waited it out and then all the sudden I found out that the now president of the (2K) League has a Twitter. I started DM-ing him every day, nonstop saying I'm a Call of Duty broadcaster, I play NBA 2K a lot, and asking if there were any openings. I probably sent one DM a week and he never responded until finally something gave. He said to send my demo reel to this email and, at the time, I didn't have a demo reel. I got a bunch of clips from Call of Duty and I'm good with Sony Vegas and basic editing, so I threw something together and the person I sent it to was like, 'Yeah, I'm familiar with what you do for Call of Duty.'
SPG: Do you remember the day that the NBA 2K gig became a reality?
JDR: I remember the exact point. I was in Chandler, AZ, in my work truck. My coworker is driving and I'm sitting there and my phone starts to ring and it's the guy I sent the demo reel to. He asked if I had time to talk and I said of course and turned down the radio. I put it on speaker and he said they wanted to offer me the opportunity to come out to the NBA 2K League Draft as an analyst, and I said, 'Sweet, let's do it!' Once I accepted, I freaked. I was in the work truck with my partner and I told him I was going to call off work for the day and ask if he could you drop me off at my apartment. At the time, I didn't have a car. I had never been happier in my life that I was about to work an NBA event.
SPG: How was that inaugural 2K Draft in 2018 from the broadcasting booth?
JDR: Funny thing, when I got there I was working with Swin Cash, who's now in charge of development for the New Orleans Pelicans, and Scott Freshour, who's like the best emcee in all of the NBA who does all of the all-star games, all that stuff. I was with two high level people and I'm not panicking, but I was like, 'Cool, do they know much about 2K?' That was my first question and the answer was no, they know nothing. I asked who's hosting and they said I was. This was four hours before the show I found out that I was analyzing and hosting, and then they hit me with the bomb shell two hours before the Draft that it's going to be on NBA TV. It was a six and half hour-long show and my desk is just cluttered with papers, but luckily I knew a majority of the people there.
Literally, I think everybody hits a life changing point where it's like I made it. That was the main turning point for me because it had so many eyes on. It was the first-ever draft for esports, it's on NBA TV and I had a whole Call of Duty community behind me doing it. And I'm telling you, my phone broke because of how many notifications I was getting—text messages, Twitter notifications, all these huge names in the esports space behind a little esports commentator. Life changing moment and from that point on, the rest is history. As soon as the show was done, they said they wanted me for the season.
SPG: Fast-forward to today, how has the pandemic changed things from an esports broadcasting perspective?
JDR: It was a big scramble for us in the League, but everything came together in about a month. We did everything remote—I was literally in my bedroom with a backdrop. The good thing about video games it doesn't have to be in person. With a good enough internet connection, you can make it happen. But there were so many events that had been planned that had to be shut down, it was tough. Commentating from home stinks. I tell my bosses all the time because there's a lot of tech stuff that goes into it, but you're not getting clear audio all the time. I take off my headset and I hear my AC running. Usually when I take my headset off I'm in an arena, I hear music, I hear fans, I hear people talking. As a broadcaster, you feed off of that noise, energy, so sitting here the past two years it's something I'll never get used to. I used to comment from home all the time when I first got into broadcasting, but when we went back to in-person now it's insane. It's like I forgot what this felt like, but esports is kind of the perfect thing for a global pandemic to be able to hit the ground and bounce back up and get the ball rolling again.
SPG: Can you shed light into how NBA 2K League made for a safe return to live events during last season's 2021 NBA 2K Playoffs?
JDR: It was a vaccinated only event. There were no crowds initially for the playoffs, but for the Finals family and friends, if they are vaccinated, can come through to the event. When you arrived in Dallas, you had to get tested and quarantine for 24 hours until you got your results. You weren't allowed to come into contact with the players in the League. It's a safety precaution to them—you don't want to be the reason this team is able to use a player. The broadcast team stuck together. Overall, from that perspective it made you feel safe and then getting to the event, NBA security is always amazing. They're on top of everything and treat you like royalty in a sense. Getting back in person the way everything was set up, it was flawless execution. They sent us a survey at the end of the year and I don't think that there is anything they could've done better than you've already did.
SPG: You took a shot in 2020 by stepping out of the broadcast booth to enter as a player prospect in the 2020 NBA 2K Draft. While it didn't go as planned, any thoughts about another run at lacing up your virtual kicks?
JDR: I miss the competition aspect. I'm a competitive person, it's hard to take that away. I'm not going to lie, going undrafted kind of killed my passion for playing video games. I have a PlayStation 5, all this stuff, but I don't play video games too much anymore. I'll play 2K at the start of the year to figure out the Xs and Os and figure out how the game works, and then I'm kind of ready for the upcoming season. I find myself watching and enjoying more than playing, which is so weird. I've tried to get back into competing again, but I don't have the killer extinct anymore and I can't force it. I feel if I'm playing with people and I don't have that level of competition and drive that they have, I'm only doing a discredit to them. Every year people ask if I'm going to try out again. Never again, that ship has sailed. They are treating me well from a broadcast perspective, so I have zero desire to go for the Draft again.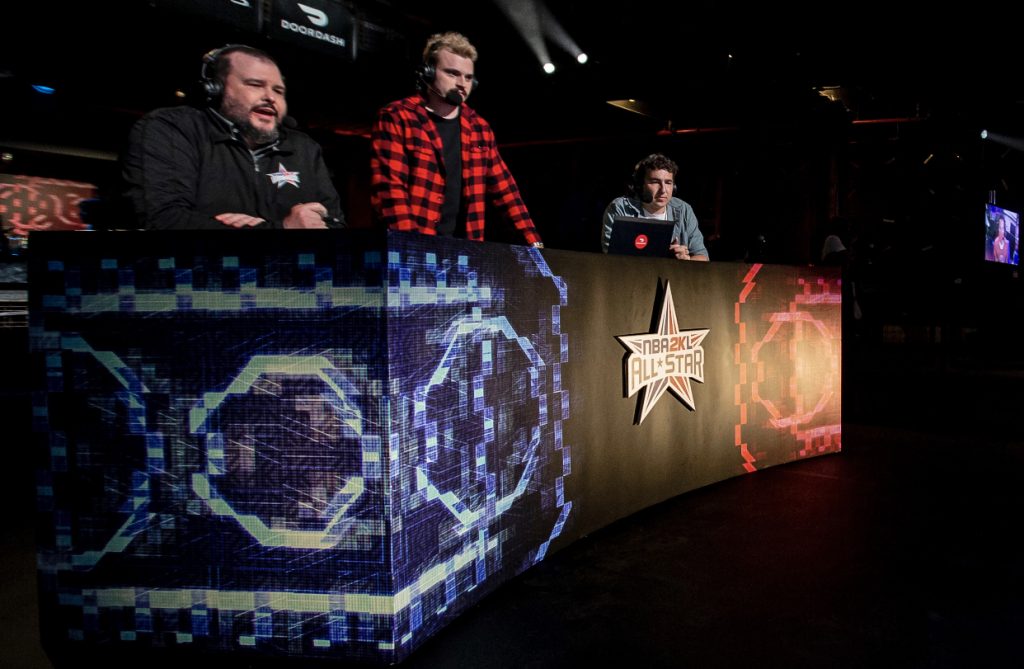 SPG: Who is your favorite player to play as on NBA 2K?
JDR: Dirk Nowitzki. That's where I got my name. My on-air alias and my gamertag is from him. Growing up in England basketball was never a big thing. Before we moved, they installed basketball hoops at a park we played at and we thought it was a soccer game where you had to kick the ball in the basket. We had no idea. Thankfully, there was a guy that just moved to where we were from the U.S. and he knew basketball. I told my parents about it and they ordered Space Jam on eBay. I thought Michael Jordan was an actor, I had no clue who he was but I knew Looney Tunes. When I moved to the U.S., one of my friend's dad had a signed picture of Michael Jordan and I was like that's the actor. My friend laughed and said he's one of the greatest basketball players of all time.
SPG: So why Dirk Nowitzki and the on-air moniker "Dirk"?
JDR: When we first moved to the U.S., one of the first games I watched was the Mavericks versus Suns. And I don't know what it was, but I was like wow this guy's really good. Once I found out basketball is really fun to watch and that Dirk is from Germany and European, he was my favorite player. He won the MVP and I was so happy, and then won the championship and I was even happier. I was such a big fan that my first gamer tag was D2KNowitzki41. My friend who I played 2K and competed with went with K2KBryant24. That was our thing that we had. People call me Dirk anyway because of the D2KNowitski41. Once I started broadcasting I couldn't say, 'What's up guys, it's D2KNowitzki41.' I had to shorten it up and I was like I'll just go with Dirk. And now it's become such a staple to where when I became a citizen—I don't have a middle name—I was thinking of legally putting my middle name as Dirk.
Every single time I play (2K) with the Mavericks I know his moves, I know his release on his jump shot, I know what he's good and bad at. I'll play you one-on-one in the blacktop mode, I'll use Dirk, you use who you want, and I'm going to be good to go. He's the only athlete I want to meet. I have a video of him (Nowitzki) talking to one of my buddies who got drafted by the Mavericks from Germany. He was like, 'My friend Dirk is a commentator for the (2K) League' and he (Nowitzki) asked why my nickname is Dirk. My friend said, 'He's named after you.' He (Nowitzki) turns in the video and says, 'Next time we're in Chicago, I want to meet this guy.' I still DM my buddy about it and, at some point, it's going to happen.
By Nick Povalitis
Main photo courtesy of Jamie Diaz Ruiz