Thirty four sports. Forty-plus VIP ticket holders and more than 70 sponsors, 3,600 athletes from 100 countries and 500,000 visitors over 10 days. These impressive numbers represent a snapshot of what The World Games 2022 will bring to Birmingham, AL, from July 7-17. But these Games mean so much more to Birmingham and its six-county metropolitan statistical area.
Nick Sellers, chief executive officer of World Games 2022, has a front-row seat to seeing how hosting these Games strengthens the community's psyche and its ability to accomplish big things together. A long-time Alabama Power executive who earned his Juris Doctor from Birmingham School of Law, Sellers was appointed CEO of the Games in late 2019 and has since led what's grown to a 70-person staff and local organizing committee.
In this edition of SPG Interviews, Sellers talks about Birmingham's appeal as an international host destination, historic storylines about sportsmanship, and how subjective metrics are projected to pay dividends for the region's future.
Sports Planning Guide (SPG): About five months out from the start of the World Games 2022, what are you and the team working on?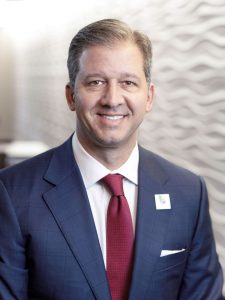 Nick Sellers (NS): As you can imagine, there are a lot of moving pieces. There are 3600 athletes traveling to Birmingham, AL, from over 100 countries. It's going to be, we believe, the largest international multi-sport in the southeast U.S. since the 1996 Olympics—certainly the largest in the state of Alabama. We are moving more and more from planning to the execution part. From an operational standpoint, we're in 15 different venue clusters all relatively close to the city center. Homeland Security has designated these Games a SEAR (Special Event Assessment Rating) 1 security rating—that's the designation they give for a Super Bowl. It's going to create a lot of benefits, but it also creates some challenges. We're creating new transportation loops around our venues and city center where you can park in a more distributed way. We are contracting with Van Wagner, the sports presentation firm that does the Olympics. Everything you are used to seeing in an NBA, NFL game during timeouts—the video screens, fan engagement, the kiss cam, all of those things, Van Wagner is the premier company in the world to do that. All preparations around the venues are underway, the signage, the look and décor. Our paid marketing campaign will start to take off with the road to Birmingham coming out of the Beijing Olympics.
SPG: As the leader of the Birmingham host committee, where are you spending the majority of your time now and how has your role evolved from when you first joined the effort?
NS: The role has remained the same as CEO as the day-to-day staff leader for an incredible team. The way we've chosen to organize this local organizing committee is an amalgamation of loaned executives from key companies and corporate citizens from Birmingham. We've contracted some of the best event management and media marketing firms to be part of our staff, from sponsorship and fulfillment to marketing and PR and operations. The third area is direct employees who we've hired to be part of the organizing committee. We now have over 70 staff on the Birmingham organizing committee.
My role has remained lead cheerleader to help set the vision for what we want this moment to be for our community, our state and our country right now coming out of this pandemic. This takes on even greater meaning as the first major international multi-sport event coming out of the pandemic with full venues again. Neither Tokyo nor Beijing had the full fan experience, but Birmingham, Alabama, will be the first in this quadrennial to offer that opportunity. My job is to set the vision, bring in the right talent, ensure they have the timelines and resources, bring in the community, state and federal partners, and then support the team to make sure they have what they need to execute.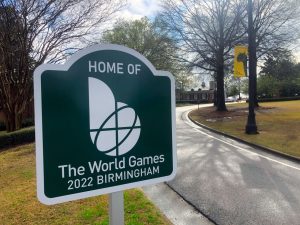 SPG: The first World Games were held in California in 1981, the only time it's been held in the U.S. How long has hosting the World Games been on Birmingham's radar and can you expand a bit on the competitive bid process?
NS: We are creeping up on seven years of preparation. Birmingham competed alongside two finalists—Lima, Peru, and Ufa, Russia. Birmingham won for a variety of reasons. Number one, the World Games is a property that is not very well known in the United States, although it is part of the Olympic movement. They (World Games) saw serious value in bringing the Games back to the U.S., certainly in the lead-up to LA28, the next time the Summer Olympics are in the United States. We've created great connectivity between us and the LA organizing committee. In fact, Casey Wasserman, who's chairman and CEO of LA28, and his company helped us negotiate our domestic broadcast rights deal with CBS and developed our sponsor packages. We also have a great partnership with the USOPC. They are helping us in a variety of ways to support American athletes and the USOPC is treating all athletes the same. This is about promoting international sports in America at a time when this generation may not find international sports as popular as it used to be. The World Games property appeals to the 18-to-30-year-old demo and that's why we call it the new generation of sports. From drone racing, to parkour, and canopy piloting and sport climbing, and beach handball to sports like softball, lacrosse and flag football. These are all sports that could be on the Summer Olympic platform.
And the southeast has a very sports-crazed population base. We like our sports and can get around new sports, and they saw this as an area to reintroduce the World Games brand. For us, it was a chance for Birmingham to be seen more as an international destination, a city that can host major sporting events. We're one of the largest metropolitan areas in the U.S. without a major sports franchise. We see that as a benefit candidly because we are a big-event town, and this is going to help reintroduce Birmingham to a global stage in a very special way.
SPG: Birmingham has put together an impressive array of sustainability and community impact programs. Can you describe what the legacy of the World Games may look like long after July?
NS: In particular, the 1984 LA Games serve as a great roadmap of how an international event like this can propel the city into even greater things. As much as it's about reimaging your city for the rest of the world, it is also equally as important that it builds self-confidence in your community about what you can do when you come together as a region. That's really a major storyline of these Games. We have 37 different municipalities in Jefferson County in and around the city of Birmingham. There has traditionally been challenges and division among those different municipalities and regions, and these World Games have unified our region and our state in a way that maybe has not been seen in modern history. In Birmingham, there was so much of a storyline of connectivity with these athletes. Much like a world-class athlete that has their struggles, setbacks and failures along the way, it's the ones who keep enduring and never give up who have their moment to compete for gold. That's the story of Birmingham. Hosting these Games will give us an enduring legacy of being seen as a new Birmingham, of embracing our diversity, that's realizing that we're better together.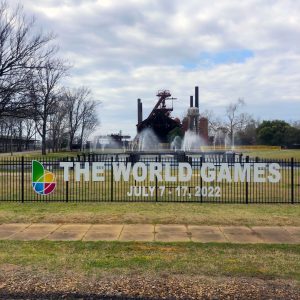 SPG: After the decision was made to postpone the World Games last year, what are some ways that delay benefitted plans in Birmingham?
NS: It wasn't easy. There was a lot of angst about whether or not the (2020) Tokyo Summer Olympics were going to happen. Because we are all interdependent on the Olympic movement, we had to wait to see. The World Games has followed the Summer Olympics by a year since its inception in 1981 and when the Summer Olympics moved, it created a cascading effect for us and many other international sporting events.
Even with all of the challenges, there are many silver linings. First and foremost, we wouldn't have had Protective Stadium as a brand new, 45,000-seat, state-of-the-art open-air stadium in the heart of our downtown entertainment district. We wouldn't have had City Walk BHAM, a beautiful new development that is happening underneath our interstate that is a connector from our entertainment and convention district to our central business district. It will be where the heart of the World Games is for 10 days. We're calling the area the Regions (Bank) World Games Plaza, which has everything from beer gardens to dog parks to skate parks. The year gave us the opportunity for new venues to come online and it gave us more time to promote these Games and bring more sponsors on board.
SPG: What are some storylines we should be aware of leading up to July?
NS: The storylines that underpin these Games are just incredible. The Iroquois Nationals, the founders of the game of lacrosse, are ranked third in the world, but they weren't allowed to compete in the World Games because they were not recognized as a sovereign nation under the rules of the IOC (International Olympic Committee) and, thus, the IWGA (International World Games Association). There was an online global signature campaign calling for the IOC and the IWGA to allow the Iroquois Nationals to take their rightful place. The Birmingham Organizing Committee joined with World Lacrosse, the US Olympic and Paralympic Committee, the Canadian Olympic Committee, and jointly petitioned the IWGA to allow the Iroquois Nationals to be recognized for the purposes of competing. The IWGA agreed and the only challenge was World Lacrosse had already seeded the top eight teams. Yet in an unbelievable display of sportsmanship, the men's Irish lacrosse team voluntarily withdrew from these Games so the Iroquois Nationals can take their rightful place. It's created an incredible bond. The Iroquois Nationals are going to be the Cinderella story—can the inventors of the game of lacrosse capture gold in what was their country first?
Also, eight Olympians who competed on the U.S. women's softball team that lost in the final inning to Japan in Tokyo for the gold medal will be competing here to try to avenge that loss. These are still the top two teams in the world. The U.S. team features seven SEC (Southeastern Conference) ladies, two All-Americans from the University of Alabama, including team captain Haylie McCleny at center field and ace pitcher Montana Fouts.
SPG: Any creative ways your converting spaces into featured venues?
NS: We're taking the old Sloss Furnaces, an old iron and steel plant, and turning it into a competition court for beach handball. We're also building a sport climbing wall and parkour obstacle course there where athletes will jump over cars and sides of walls. And there is breakdancing, one of the four disciplines of DanceSport, all of which will take place at Sloss Furnaces. Think great summer fun and some of the most exciting sports to watch in a very cool venue. And for the inline speedskating competition, we'll build a venue with all the seating right there in the parking lot of the historic Powell Avenue Steam Plant in the heart of the city. The street track will go all around the beautiful Railroad Park.
SPG: Can you share insight about what's in store for the opening and closing celebrations?
NS: Our opening and closing ceremonies are going to knock people's socks off. From some of the biggest names in music, including the iconic country band Alabama, Sara Evans, Jamey Johnson, Tony! Toni! Tone!, Nelly, Yung Bleu, Yolanda Adams, and other big names. They'll all be performing and we'll be releasing a theme song called "Hope of Alabama" with Warner Music. This theme song is going to be very special.
SPG: What is something that you're really proud that the team was able to overcome?
NS: One of the big challenges was harnessing the financial support in this community, state and region for a property that was virtually unknown in the southeast. Ensuring they recognize the connectivity to the Olympic movement, these are the fastest growing and most extreme and emerging sports in the world. We've done an incredible job during a pandemic of securing over 100 sponsors. I'm proud of what we'll continue to do in ensuring this is the safest and smoothest multi-sport, multi-venue event for families to get around to. We are going to deliver something very special when the world is clamoring to reconnect in a special way.
SPG: What are the most important things to consider for a community wishing to pursue and host an event of this scale?
NS: Having a public-private partnership is key. Delivering these Games is a mid-$50 million investment and we made a commitment that roughly 70 percent would come from private dollars and 30 percent from the public. I'm pleased that we're on track to deliver on that. You've got to get the public and private sector recognizing that you got to come together if you're going to deliver on something special. There are true economic benefits for everybody—this is estimated to be a $250 million-plus economic benefit for the community.
SPG: The IWGA president says this will be the best World Games ever. How do you measure "the best Games ever" and what does success mean to Birmingham?
NS: We'll have objective and subjective measurements and data. We have a firm that we jointly hired with the IWGA to do surveys of the athletes, the international federations, all of our constituents. We'll ask the athletes and international federations how we did relative to previous World Games, what we did well and how can we improve. We want that feedback and we want to get better.
Subjectively, it's about the image and raising awareness in a very positive way of what a property like this can mean for a community. One of the biggest measurements that is hard to put a number on is the increased self-confidence and psyche of a community. That won't be reflected for years, but what other events, new businesses, what investments are we able to make if we can at least tie some string back to hosting the World Games. When we entertain a C-suite executive from a major multi-national corporation at the Games, we want that executive to see what Birmingham has to offer as a great community to work, live and play that they chose to invest a major part of their business or maybe even bring the full business to Birmingham. We believe we'll be able to tie it back. Those may be subjective now, but they will pay great dividends down the road.
By Nick Povalitis, Plus Seven Company