Sports Tournaments, Health and Fitness Collide with Sports Medicine at Columbus Community Hospital
The Columbus Fieldhouse, located in the heart of eastern Nebraska, is a more than 11.9-acre sports complex with state-of-the-art features for all ages
Columbus Fieldhouse, Nebraska
Experience "Nebraska nice" in one of the state's newest sports complexes. Located in the county seat of Platte County in eastern Nebraska, the Columbus Fieldhouse is home to a 101,500-square-foot field turf area, a nearly quarter-of-a-mile suspended running track, batting cages, mini putting greens, tennis courts, pickleball courts, basketball courts, volleyball courts and more. Columbus is also home to attractions such as the Pawnee Plunge Water Park, U.S. 30 Speedway and Lake North Park.
Looking for fun activities nearby? Take the plunge at Pawnee Plunge Water Park. Admire a historic bridge or life-size memorial that includes the famous Higgins boats from World War II. Study an artist's interpretation. Travel the Lincoln Highway Scenic & Historic Byway (Hwy. 30). Follow a lakeside trail or wander along the Loup River in search of a meadowlark's call. Enjoy live music, history, a night at the races or specialty shops and great Nebraska steak.
Take time to breathe in all Columbus and Platte County have to offer. From boutique shopping to sipping craft cocktails, breathtaking views in one of our many parks or taking an afternoon to "Plunge" in our region's rich heritage, there is something for everyone.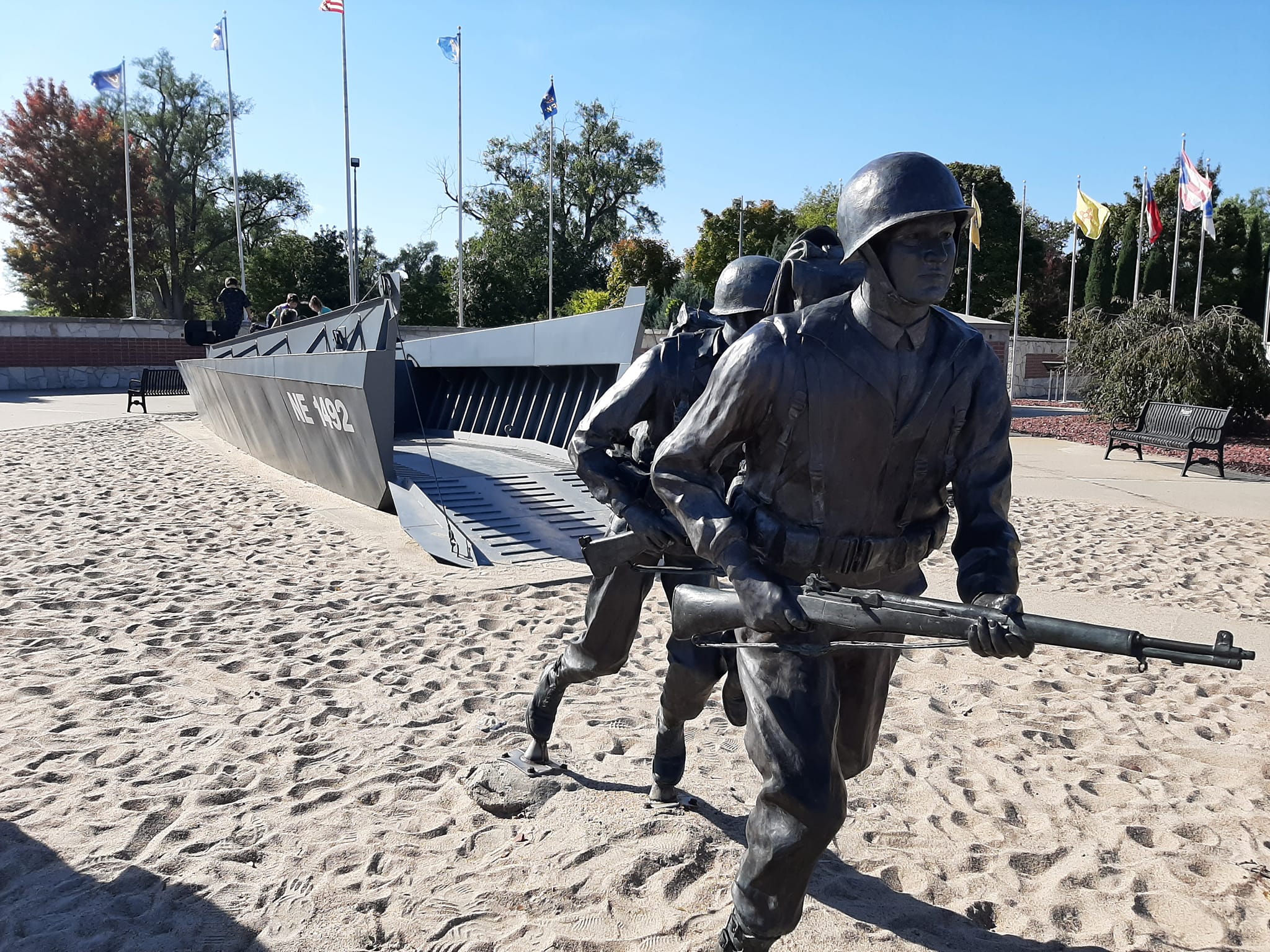 Columbus Fieldhouse Is Your Perfect Sports Facility
Competitive Sports
Host your next event or tournament on the 101,500-square-foot turf area. The fieldhouse features a full-sized soccer and football field with regulation artificial turf, stadium lighting and bleachers. Two full tennis courts are also located in the space, with plenty of room to host a crowd. The tennis courts in conjunction with the  basketball courts can be transformed into the 20 pickleball courts. If turf isn't your target, the facility includes four full-sized basketball and volleyball courts, racquetball, a cycle studio, batting cages, mini putting greens, and spaces for personalized fitness, circuit training and cardio.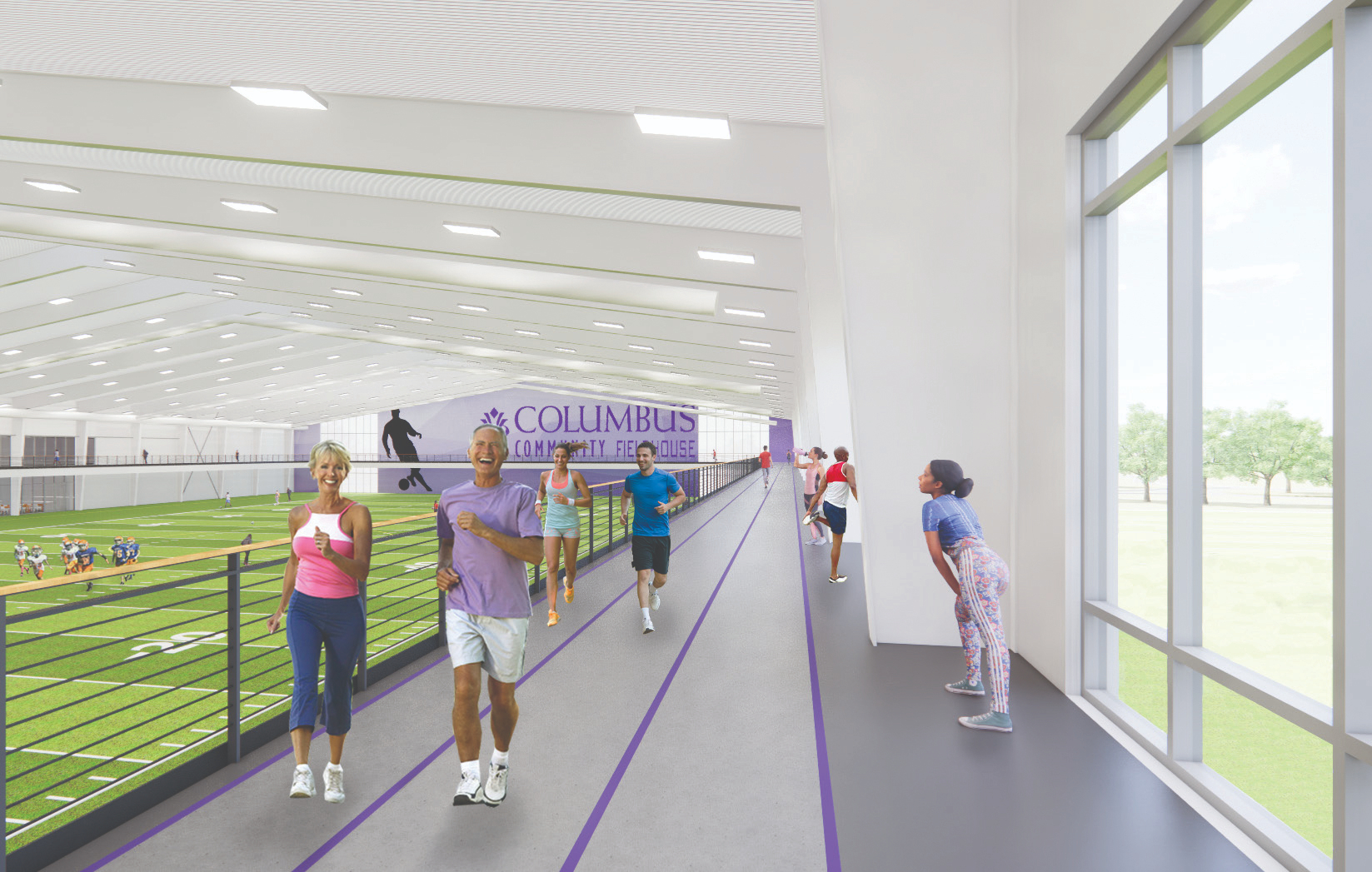 Running Track
The brand-new Columbus Fieldhouse also houses one of the longest suspended tracks in the country — nearly a quarter of a mile long with an overhead view of the field below. The indoor track can provide increased mental toughness during training, no wind resistance, and the ability to train in optimal conditions, even in the winter.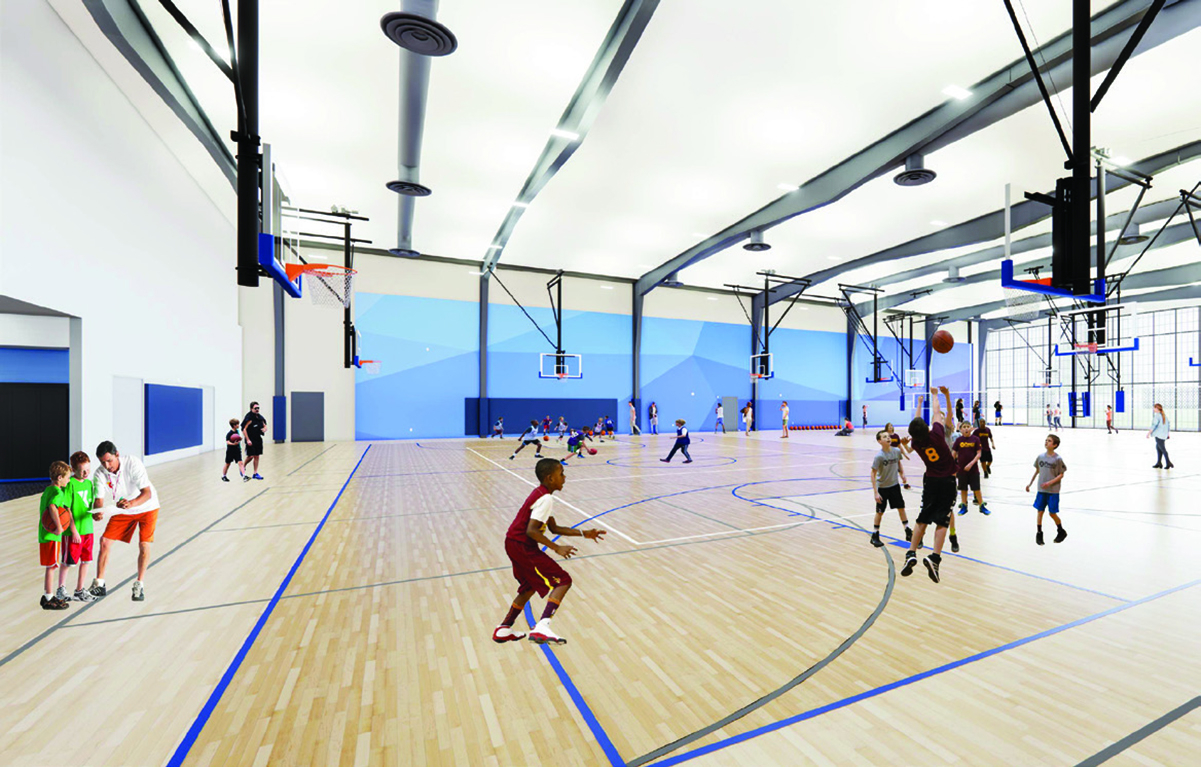 Sports Training
Dedicated to providing sports performance training for various activities, the facility offers athletic trainers and sports enhance-ment experts. Our director of fieldhouse operations and director of performance and training at the fieldhouse will lead the creation and implementation of performance enhancement, strength and conditioning programs. The facility also includes sports simulators for baseball and golf. We know how hard it is to juggle work and life. Those who feel their busy schedule keeps them from spending time at their favorite sport can still train year-round, no matter the weather.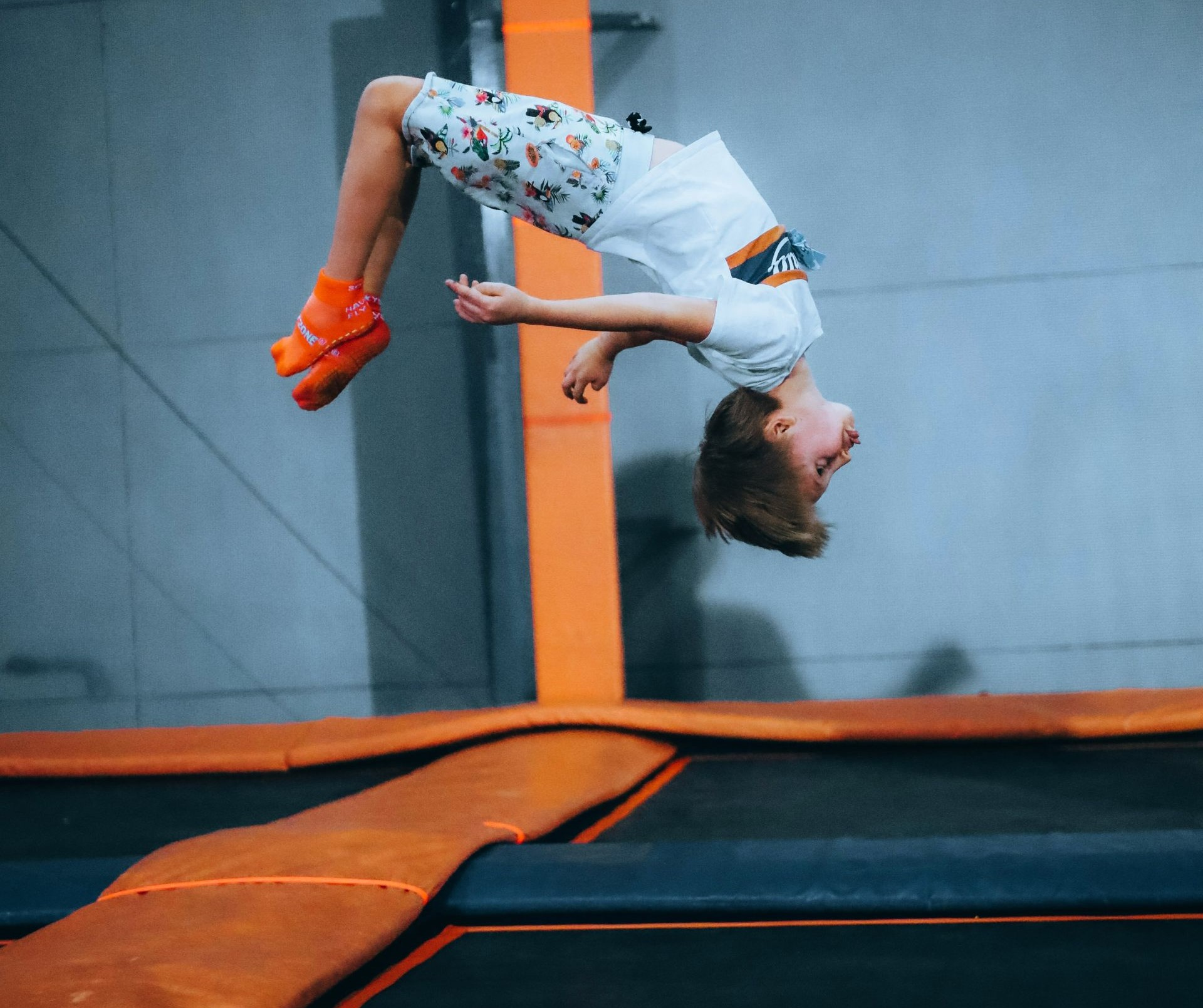 Youth Activity Center
The Columbus Fieldhouse has options for people of all ages, including a youth activity center with a trampoline zone and interactive playground. The smart space understands the behaviors and interactions of people within it. Ceiling-mounted 3D cameras project games and tools on the wall. Synchronized lighting and sound effects add a better immersion in real-time.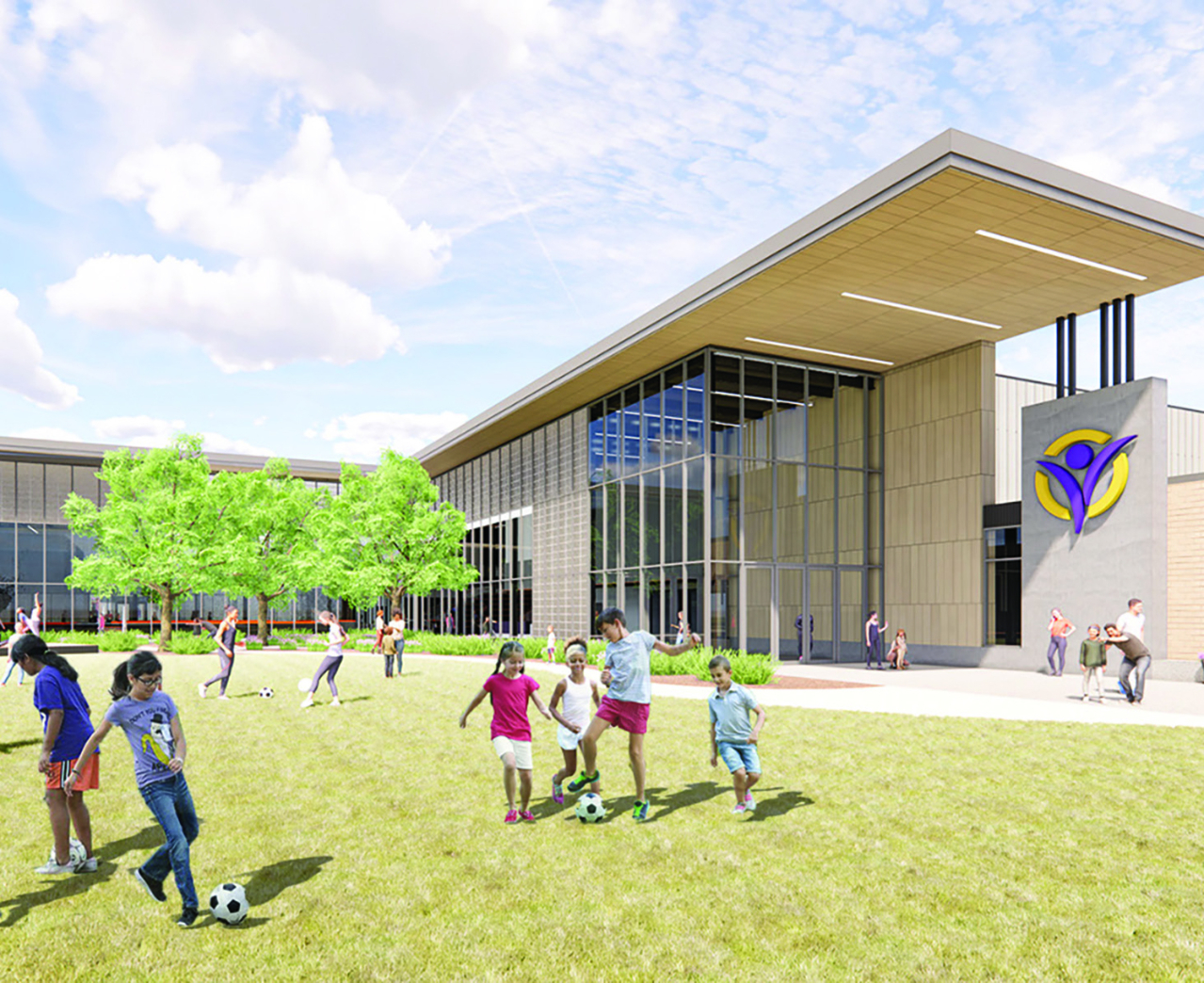 Outdoor Features
Take your cool-down outdoors or relax after a workout. The facility will also feature an outdoor courtyard with a stage for public events. If you are looking for a location that will elevate your event and offer versatile activities for people of all ages, the Columbus Fieldhouse is the place to go.