If you're thinking Des Moines is an unlikely choice for a sports event, think again. This bustling Iowa city is brimming with sports facilities that can accommodate both large and small events. It boasts a range of unique attractions, group-friendly dining options, and affordable accommodations. Basically, all the qualities of a big city, without the crowds or high prices. Plus, you'll meet the authentic, welcoming and passionate locals, who love a good sporting event.
When you choose Des Moines to host your sports event, you'll be pleasantly surprised by everything it has to offer. The team of experts at the Des Moines Area Sports Commission can assist with all your planning needs, promote your event, and provide excellent service to your athletes and their guests. In Des Moines, hosting a sports event is so easy, you'll wonder why you never considered it before.
Notable Recent/Upcoming Events
USA Track and Field Outdoor Championships (June 2018 & 2019)
NCAA Men's Basketball 1st and 2nd Rounds (March 2019)
NAIA Wrestling Championships (March 2018 & 2019)
AAU Junior Olympics Games (Summer 2018)
USA Wrestling Preseason Nationals (October 2018 & 2019)
CVB/Sports Commissions Services Offered
Volunteer Staff
PR/Media Assistance
Signage
Site Visits
Transportation Assistance
Mobile Apps
Lodging Services
Grant Programs
Welcome Bags/Gifts
Itinerary Development
Event Planning Assistance
Click on tab to see more information about a specific facility
Drake Stadium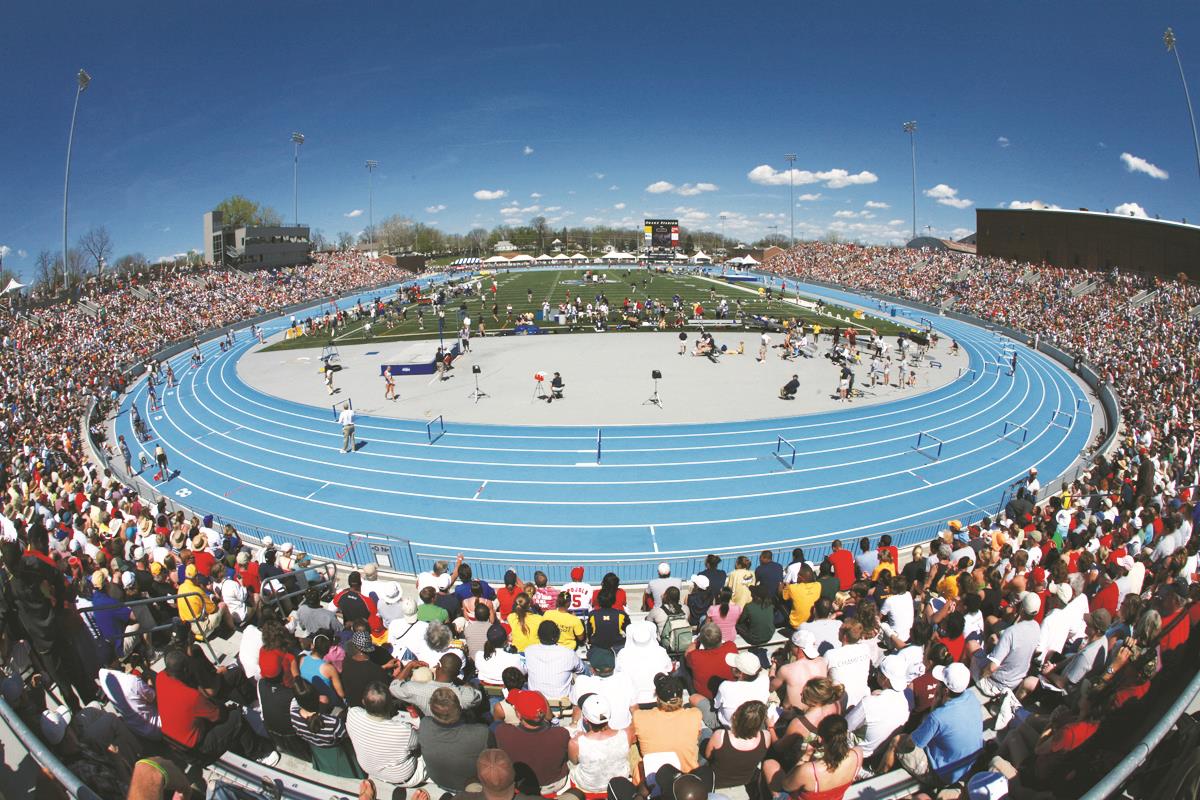 Located on the Drake University campus, Drake Stadium is home to the school's football and track teams. It also hosts the annual Drake Relays. The stadium underwent a renovation a few years ago, changing the track surface to Mondo and widening the lanes from 42 inches to 48 inches. Many major events have been held here, including the USA Track & Field Championships. The stadium has a capacity of 14,557, permanent lights, a digital scoreboard and state of the art artificial turf for soccer and football.
Sports: Football, soccer, track & field
Iowa Events Center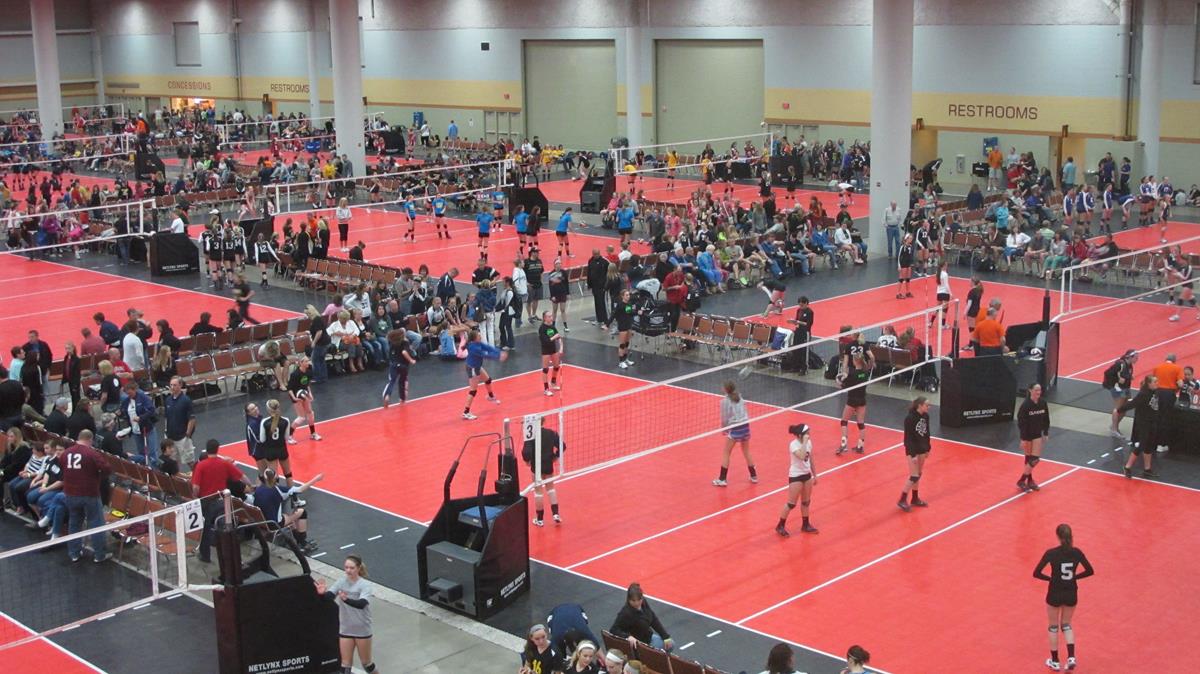 This state-of-the-art multi-purpose complex is located in downtown Des Moines and has hosted events of all kinds. The Iowa Events Center features the Wells Fargo Arena, boasting seating for 17,000 people. It is home to the NBA G-League Iowa Wolves, the AHL's Iowa Wild and the IFL's Iowa Barnstormers. It is also where the Iowa High School State Wrestling and Girls and Boys Basketball Tournaments are held annually.
Sports: Multi-sport, basketball, volleyball, wrestling
Cownie Soccer Complex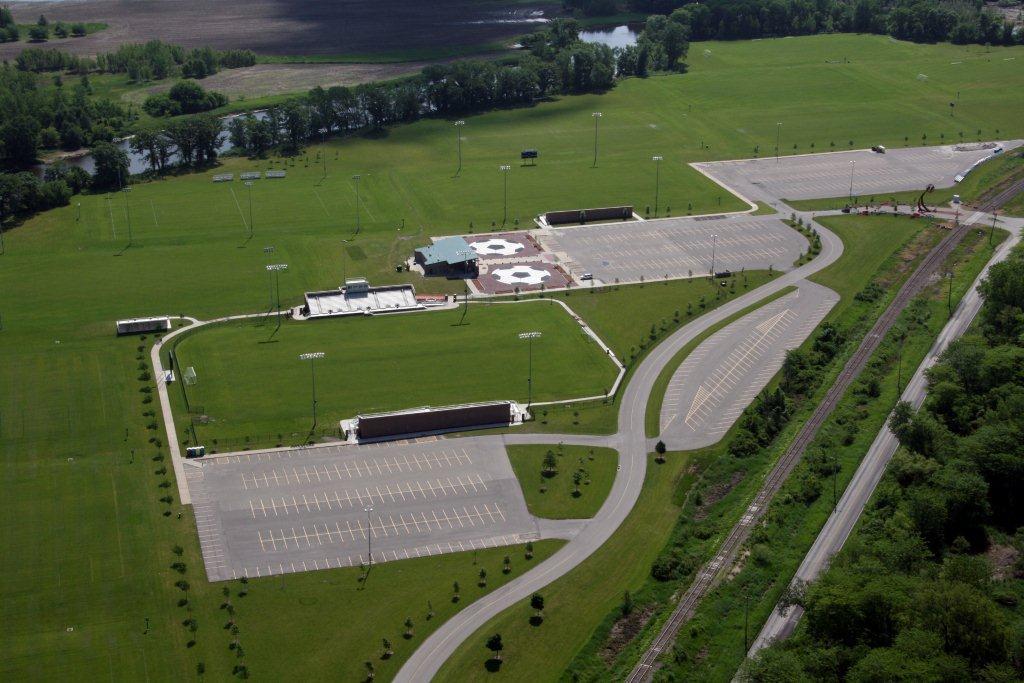 The Cownie Soccer Complex opened back in 1998 and has been a popular venue for soccer events of all sizes. It features 12 professionally maintained full-size soccer fields and a 1,500 square foot concession stand with indoor bathroom facilities. The facility has seating for 2,000 spectators, a paved parking lot and a playground area.
Sports: Soccer
MidAmerican Energy Company Aquatic Center & Prairie Meadows Pool

The latest addition to the Des Moines sports scene, the MidAmerica Energy Company Aquatic Center and Prairie Meadows Pool is the premier place in Iowa to host a swimming competition. The new facility opened at the Wellmark YMCA Downtown. The 50-meter pool is the centerpiece of the venue, as it's the only indoor Olympic-sized swimming pool in Des Moines. It can accommodate eight long course lanes or 19 short course lanes and also includes a 4-lane warmup pool.
Sports: Swimming, water polo
Jacobson Exhibition Center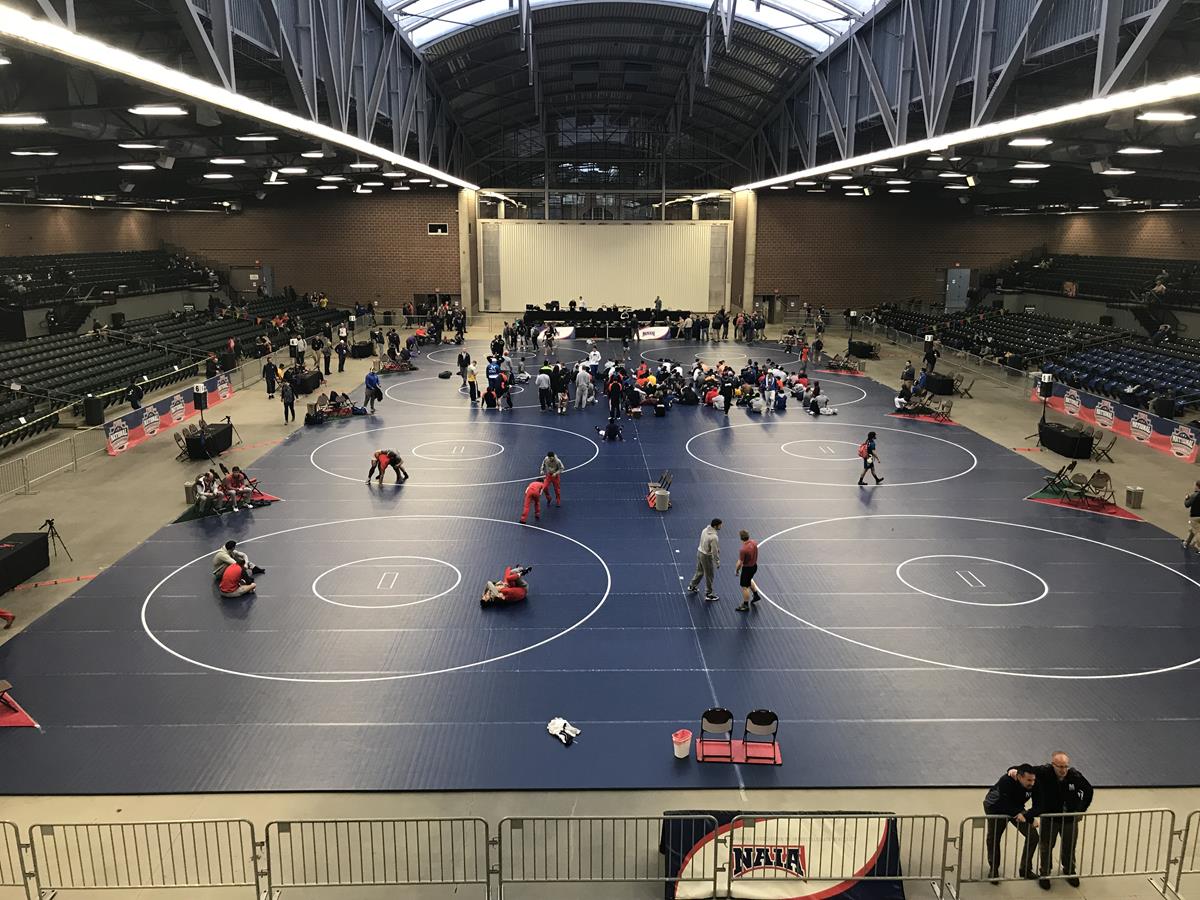 Located on the Iowa State Fairgrounds, the Richard O. Jacobson Exhibition Center is a flexible venue with the ability to host a range of events. The 32,000-square-foot facility is fully climatized and features a show arena, a covered warm-up arena and seating for 3,500 people. The removable turf makes it easy to host indoor field events, as well as volleyball, wrestling, gymnastics, go-kart racing and more.
Sports: Arena football, volleyball, wrestling, rodeo, indoor sports
Prairie Ridge Sports Complex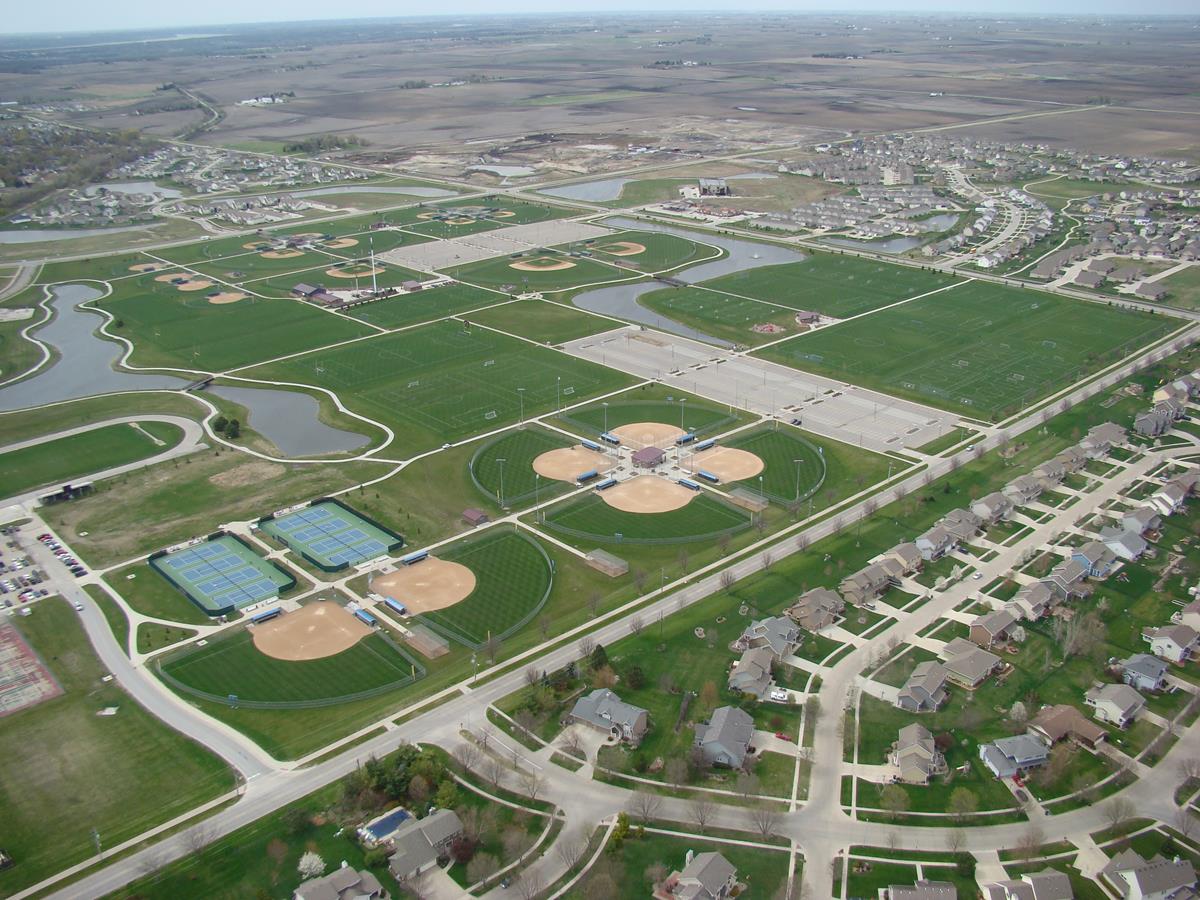 Located in the city of Ankeny, the Prairie Ridge Sports Complex has played host to a variety of athletic events over the years. It features 15 baseball fields, nine soccer fields, six softball fields and five football fields. There are lights on 10 of the baseball and softball fields and four of the soccer fields, perfect for night games. The complex offers four concession stands, 90 acres of turf, walking trails and play equipment, and parking for 1,200 vehicles.
Sports: Baseball, soccer, softball, tennis
Spring Creek Sports Complex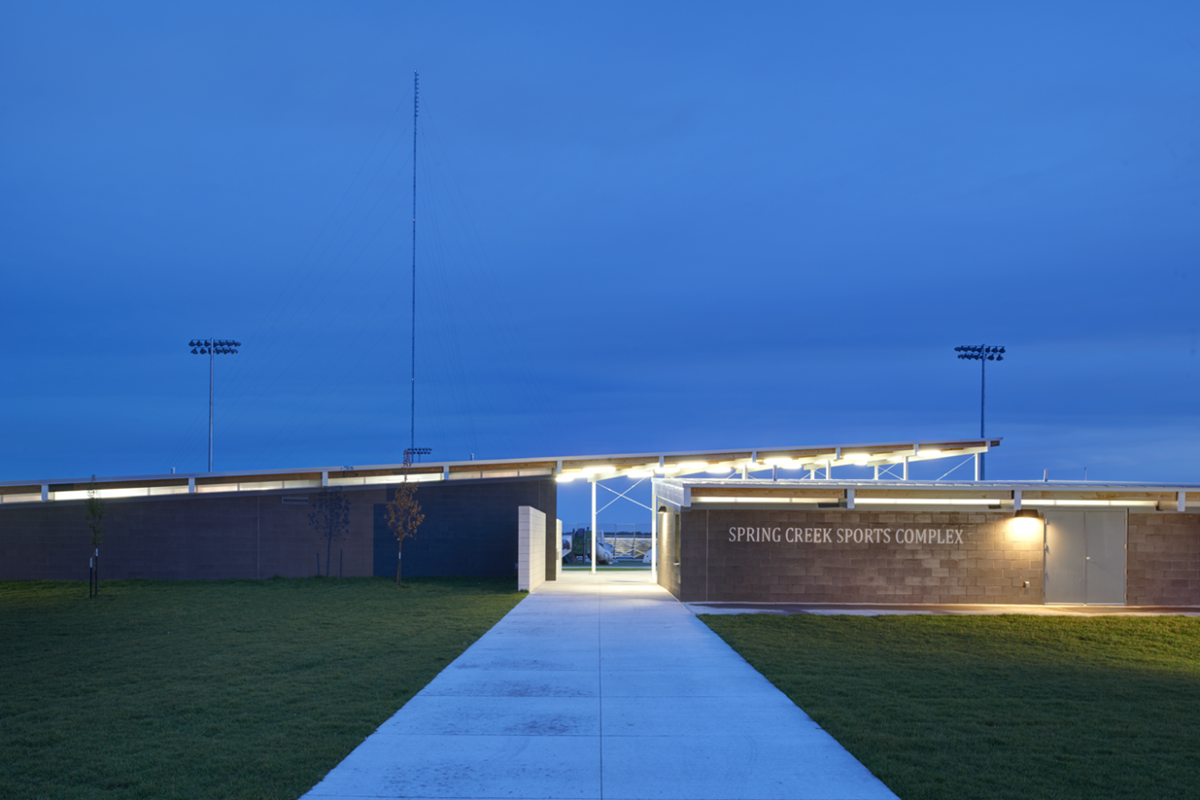 The perfect spot for soccer tournaments – large or small – Spring Creek Sports Complex features 15 fields soccer fields. There are eight irrigated and 6 non-irrigated fields, as well as one synthetic tournament field that can also be used for football games. The complex features restroom facilities, concession stand, playground and parking for 436 vehicles.
Sports: Soccer
Things to do in Des Moines
In between playing in games and cheering on the teams, visitors to Greater Des Moines have plenty of attractions to keep them entertained. Children of all ages will love Adventureland Amusement Park and Adventure Bay Waterpark. They contain more than 100 rides, shows and attractions to suit everyone's fun level. Thrill seekers can scream their lungs out on The Dragon, Iowa's only upside down-double looping roller coaster; or Sidewinder, a ride that combines spinning and swinging. Less adventurous souls can test their driving skills on the Frantic Freeway bumper cars, take a spin on the carousel or float down the Caribbean Cruise lazy river.
Located in downtown Des Moines, the Science Center of Iowa engages and inspires guests through hands-on exhibits and special programs. Visitors can experience live science demonstrations and a 50-foot planetarium. Animal lovers can head over to Blank Park Zoo to see creatures from the tropical rainforests to the plains of Africa to the Australian Outback.
Make a stop at Prairie Meadows Racetrack and Casino and get in on the action with more than 2,000 slot machines, table games and live horse racing from April to October. Or give yourself retail therapy at the Outlets of Des Moines, featuring over 40 stores, including some of the most well-known names in fashion and retail.
Planner Perspective
Catch Des Moines helped to provide a first-class event for all of the tournament participants. From pre-planning through the end of our event, Catch Des Moines helped us facilitate two very successful tournaments for our friends at the NCCAA. No need or detail was too great or small and the attention to detail that the Catch Des Moines staff provided helped ensure a positive experience for each of our visitors. We thoroughly enjoyed the opportunity to work with the Sports Commission on this event and look forward to more opportunities to collaborate with them in the future!
2016 & 2017 NCCAA Men's and Women's Basketball DII National Championships: Brian Fincham (Athletic Director at Faith Baptist Bible College)
The level of professionalism displayed by Ryan and his Team remains paramount, and we would have no hesitation recommending his Staff to anyone considering Des Moines as a Host.
2017 Tim Selinskie US Masters event in Des Moines:  Michael Downes (Professional Disc Golf Association)
How to Get to Des Moines
By Car: Located at the intersections of I-80 and I-35, Des Moines is a day's drive from one-fourth of the U.S. population. These major metropolitan areas are less than five hours away: Minneapolis, Chicago, Omaha and Kansas City.
By Air: For those teams located a little further away, there's the Des Moines International Airport. It has direct flights from 22 destinations, 120 domestic flights each day, and it's located four miles from downtown.
Contact Information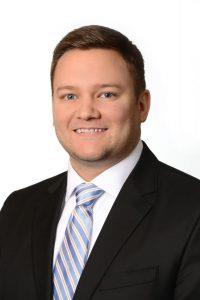 Company Name: Catch Des Moines
Sports Sales Manager: Ryan Vogt, CSEE
Title: National Sales Manager
Telephone: 515-699-3434