Sports planners out East often plan their events bearing many factors in mind. As always, cost is a factor, but so are the time of year, facility space and the various accommodations that their teams need. Those who choose to host their next tournament in Springfield, however, will have no trouble finding the right space and surrounding attractions to keep athletes and their families happy. With the help of the Greater Springfield CVB and Western Massachusetts Sports Commission, every planner is well-equipped to organize and execute any kind of competition, whether it's at the novice or professional level.
In addition to boasting several state-of-the-art facilities, Springfield is the perfect place to embark on historic adventures and partake in local activities, from museum hopping to shopping and skiing.
Notable Recent/Upcoming Events
Northeast Miracle League Tournament (September 7-8, 2019)
Equine Affaire (November 7-10, 2019)
International Volleyball Hall of Fame Enshrinement (November 2019)
Spalding Hoop Hall Classic (January, 16-20, 2020)
Red Sox Winter Weekend (January 17-19, 2020)
Hooplandia 3v3 Basketball Tournament (June 26-28, 2020)
Naismith Memorial Basketball Hall of Fame Enshrinement (September 11, 2020)
CVB/Sports Commissions Services Offered
Volunteer Staff
PR/Media Assistance
Signage
Site Visits
Transportation Assistance
Lodging Services
Grant Programs
Welcome Bags/Gifts
Itinerary Development
Event Planning Assistance
Click on tab to see more information about a specific facility
MassMutual Center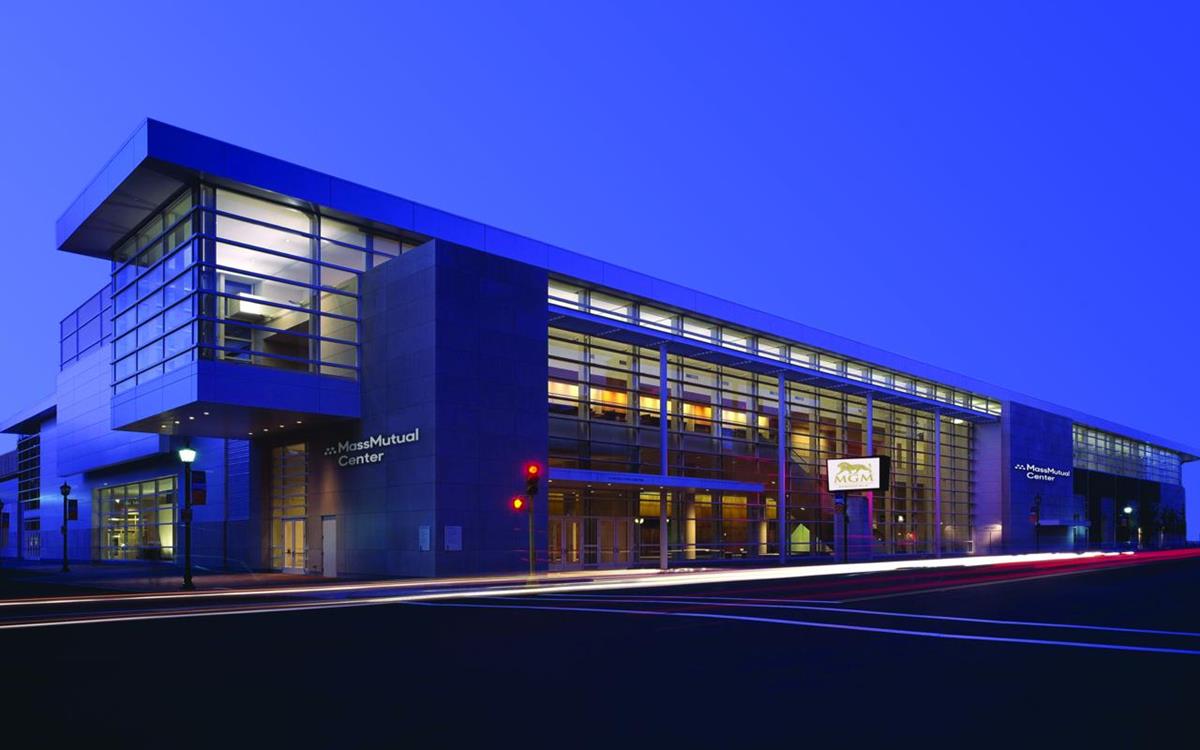 The MassMutual Center, home to the Springfield Thunderbirds, seats 8,000 people and hosts a variety of hockey and basketball tournaments in its modern arena. A 2003 renovation significantly expanded the facility to become Western Massachusetts's largest convention center, with 100,000 square-feet of event space in addition to the arena. Another renovation in 2015 upgraded the arena's technology to add new LED lighting, an 18×4-foot LED video scoreboard and an 85-foot LED board. MassMutual also offers accessible seating and 11 concessions stands during games, such as Center Grille and Chick-Fil-A. More dining options and parking are conveniently located nearby.
Sports: Hockey, basketball
Eastern States Exposition
Famous for its year-round horse shows, the Eastern States Exposition, or Big E, is the ideal facility for riders and their 1,500-pound teammates. Adjacent to the horse show field is a barn equipped with stables and horsemen's supplies. Also known as "New England's Great State fair," the exposition grounds also hosts the country's seventh-largest fair and the East coast's largest agricultural event. Visitors will find a variety of fair food on-site, plus plenty of parking space.
Sports: Equestrianism
Mullins Center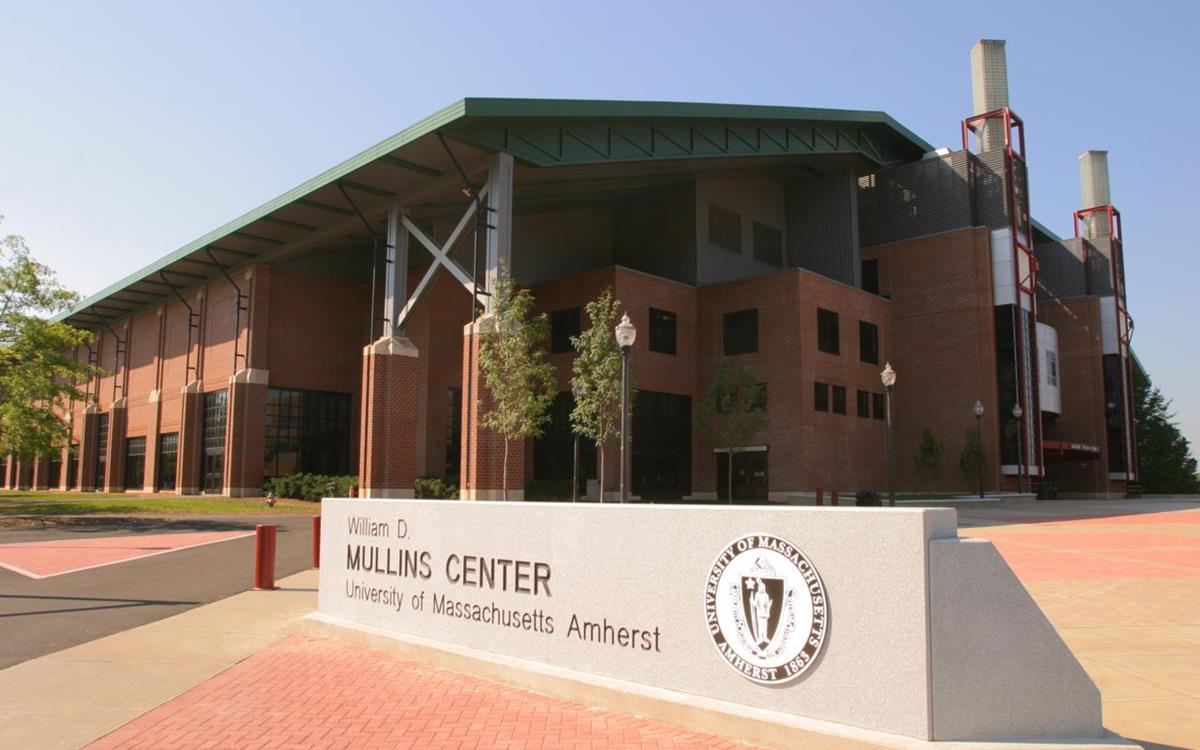 The Mullins Center, located on the University of Massachusetts Amherst campus, provides exceptional spaces for various sports. Inside, planners will find the William D. Mullins Memorial Center, the university's prime sports complex with a basketball court that seats 9,493 people and a 200 x 95-foot hockey rink that seats 8,387. Underground locker rooms accompany these spaces. Neighboring the Memorial Center is an ice rink for novice skating and college-level hockey. The building additionally houses three racquetball courts for recreational and competitive teams. An accessible entrance is available to anyone with special needs.
Sports: Hockey, ice skating, racquetball, basketball
Three County Fairgrounds
Northampton's Three County Fairgrounds is well-equipped to host any equestrian tournament. Planners can rent out an indoor 250 x 150-square-foot arena and warm up ring for horse shows and competitions, as well as up to five horse barns with on-site crews and equipment. Also available are six outdoor rings and grandstand seating for up to 1,800 people. Visitors can find parking and fair grounds concessions nearby.
Sports: Equestrianism
Berkshire East Mountain Resort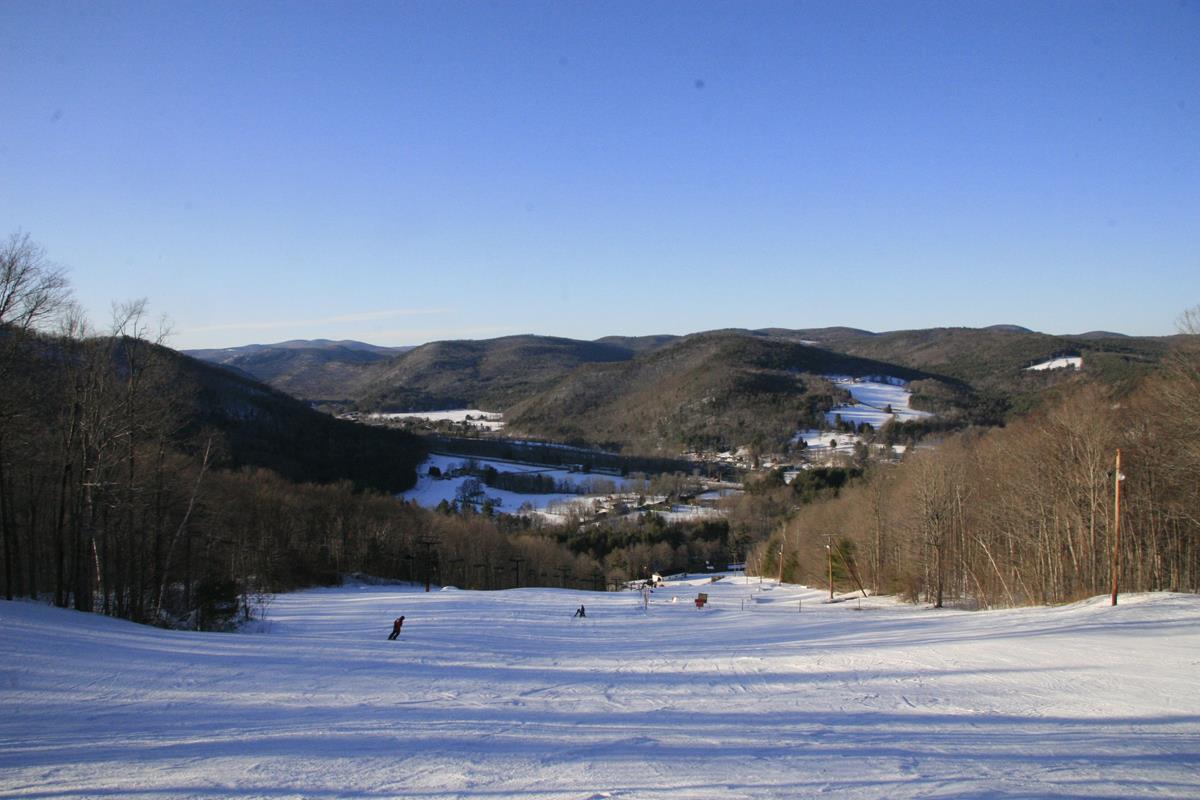 Berkshire East Mountain Resort, soon to claim the Catamount Ski Area, offers a multitude of activities and breathtaking views for athletes during any time of the year. Located on Mount Institute in Charlemont and Hawley, Massachusetts, this alpine ski area sports four runs, five lifts and stretches for 2.5 miles. The resort has undergone several renovations since the 1970s and now, due to renovations in 2011, is the world's first ski location that is entirely powered by renewable energy. Besides skiing, athletes can raft along the Deerfield River or mountain bike on the Mohawk Trail. Visitors can grab a bite to eat from the Crazy Horse Bar and Grill.
Sports: Skiing, Snowboarding, snowmaking, snow tubing, mountain biking, rafting, zip lining
Springfield College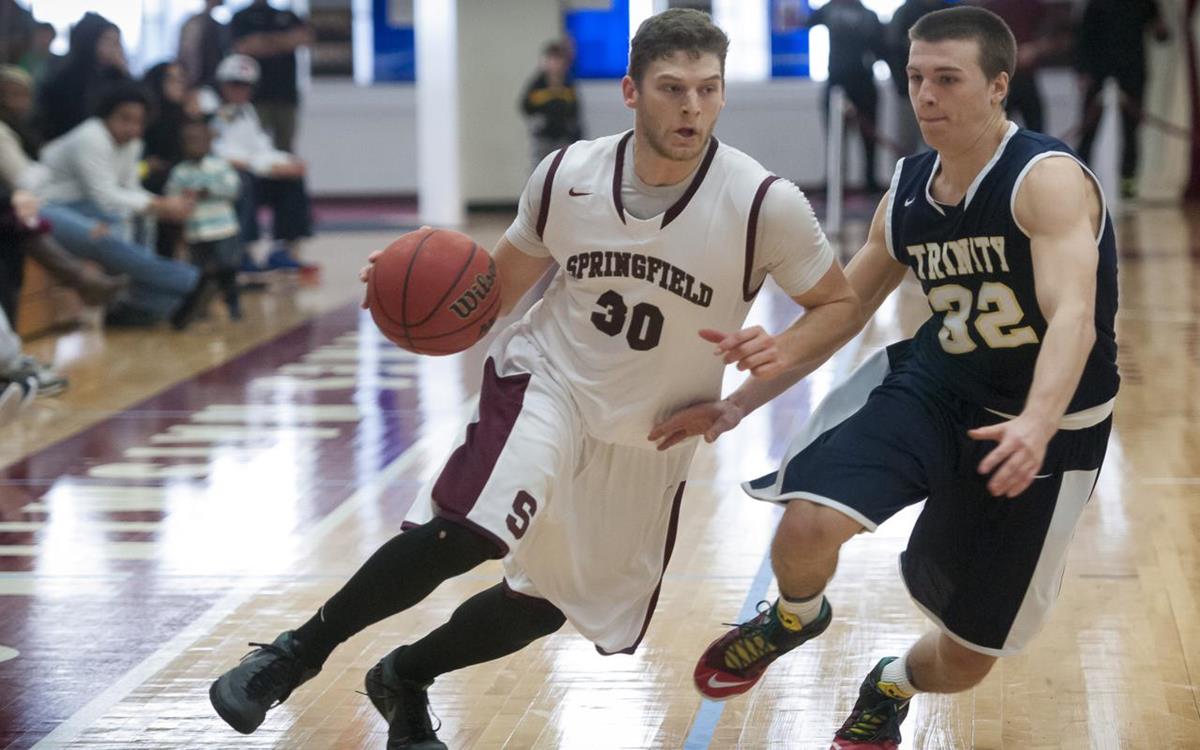 With Springfield College on the list, planners can choose from 10 facilities for their next tournament. Perhaps most popular is the Blake Arena, which seats up to 2,000 people for most indoor sports. Outdoors, visitors will find the gorgeously cut Stagg Field, which seats 3,867, and the Archie Allen Field, upgraded with entirely new equipment and an artificial turf for college baseball teams. Other outdoor fields include Blake Track, Potter Field, Schmid Sports Complex and the Appleton Tennis Courts. The Art Linkletter Natatorium provides an Olympic sized swimming pool, while the Doug Parker Wrestling Room and Kresge Gymnasium provide essential practice grounds for athletes. Visitors are welcome to park on campus.
Sports: Baseball, basketball, cross country, field hockey, football, golf, gymnastics, lacrosse, soccer, softball, swimming & diving, tennis track & field, volleyball, wrestling
UMass Amherst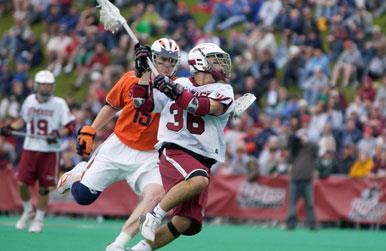 Like Springfield College, UMass Amherst hosts fields and courts equipped with modern technology and spectator stands. UMass shares the William D. Mullins center with Springfield College. The most notable field, however, is the Warren P. McQuirk stadium, seating 17,000 people and preserving historic victories for over 50 years. The newest addition to UMass's facilities is the Football Performance Center, a $34.5 million, 55,000-square-foot sports center filled with training rooms, meeting spaces and three hydro-therapy pools. The campus also sports a 32-year-old swimming pool dedicated to a past head coach, plus nine indoor and outdoor fields and a boathouse that can accommodate up to 72×80-foot boats.
Sports: Baseball, basketball, cross country, field hockey, football, hockey, lacrosse, rowing, soccer, softball, swimming and diving, tennis, track & field
[optin-monster-shortcode id="cc4a0ozxxg7xi9havoix"]
Things to do in Springfield
Springfield's prime sports facilities are coupled with an impressive selection of lodging options. Planners, athletes and families can choose from over 10 hotels, including the MGM Springfield Hotel, TowerSquare Hotel (becoming Marriott Springfield in 2020), Sheraton Springfield Monarch Place Hotel, Hilton Garden Inn Springfield, Hampton Inn & Suites Springfield Downtown, the Holiday Inn Express Springfield Downtown and more.
Luckily for every planner and competitor, there's a lot to do while staying in Springfield. Visitors should look into visiting Six Flags New England for a day of fun on the roller coasters, as well as Springfield's popular museums. The Springfield Museums, for example, allow visitors to access science, history and art museums–five in total—with just one ticket. At the Amazing World of Dr. Seuss, kids can get a behind-the-scenes look at the making of their favorite classics. Visitors will also enjoy Yankee Candle Village, perfect for picking up scented gifts and special souvenirs. The Basketball Hall of Fame pays tribute to past players and inspires budding professionals.  Feeling lucky?  Visit the brand-new MGM Springfield casino for world-class gaming and entertainment in the heart of downtown Springfield.
Planner Perspective
The WMSC provided the MAAC with a small town atmosphere with big city amenities.
Metro Atlantic Athletic Conference: Rich Ensor (Commissioner)
The quality venues, community support and attractions in the area have made the Bay State Games one of the largest and most respected events in the country.
Bay State Games: Kevin Cummings (Executive Director)
The WMSC really helped us take our event to the next level. They really made our competition special and unique.
Daggett Gymnastics & Olympic Gold Medalist: Tim Daggett
How to Get to Springfield
Located at the center of New England in the Pioneer Valley, Springfield houses diverse landscapes, beautiful hotels and a sizable number of college campuses, all of which are conveniently less than 20 miles away from Bradley International Airport.
By Car: Whether by car or bus, most visitors are able to reach Springfield at the intersection of I-90 and I-91.
By Train: Amtrak services are available to anyone who wishes to visit Springfield and Massachusetts's other major cities, including Boston, Worcester and Cambridge.
By Air: Springfield is most easily accessed from the Bradley International Airport, just 18 miles away. Visitors have to option to fly with Aer Lingus, Air Canada, American Airlines, Delta, JetBlue, Southwest Airlines, Spirit and United Airlines.
Contact Information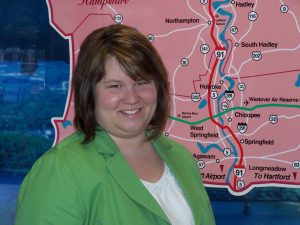 Company Name: Western Mass Sports Commission
Sports Sales Manager: Alicia Szenda
Title: Director of Sales
Telephone: 413-755-1346