Dedicated facilities and programs help push the esports industry forward
Collegiate sports and sports clubs have been an integral part of building cognitive skills and sportsmanship. Esports not only foster the same types of growth but also creativity, communication and collaborative skills, among others, along with arguably a stronger sense of inclusion. Esports is truly for everyone, no matter their skill level, and a core reason many universities are reporting that their esports clubs have the highest participation numbers by comparison to others available.
Along with a variety of programs for students to enter fields such as graphic and interactive media design and software engineering, by building a strong community, universities have not only been able to establish clubs with high participation rates but also create dedicated esports spaces. Esports facilities in particular serve as grounds for varsity team players for competitions and practices.
Our list of esports facilities is certainly not all encompassing, but rather a glimpse at some of the amazing things universities esports have to offer, ranging from those with established reputations to others just getting their feet wet. These facilities range in size and the number of PCs, consoles and other tech on offer, but regardless of the details the important takeaway is that students have a place to learn, grow and call their own.
Bloomington, Illinois
Notably one of the top-ranked esports programs in the United States, it's no surprise IWU also has a top- tier esports facility with dedicated spaces with the students in mind. The Coliseum is the star of the show with six PCs dedicated to top competitive teams in a semi-soundproof environment for tournaments and practices.
Along with the Coliseum, two additional play spaces have 24 PC stations apiece, bringing the total to 54 within the single facility. This number of PCs does include those within the student office or the HyperX Broadcasting Studio, the latter of which is dedicated to streaming live events and other forms of content creation. HyperX actively serves as a point of involvement for other aspects of esports.
These spaces don't just include the competitive and leisurely gaming spaces, but also places to get comfortable and move away from competitive play. Along with a lounge where students can watch live events on television as a community, there's also a space specifically dedicated to stepping away for food, rehydration and other forms of mental stimulation. This space is particularly important for competitors to avoid exhaustion or strain.
Oxford, Ohio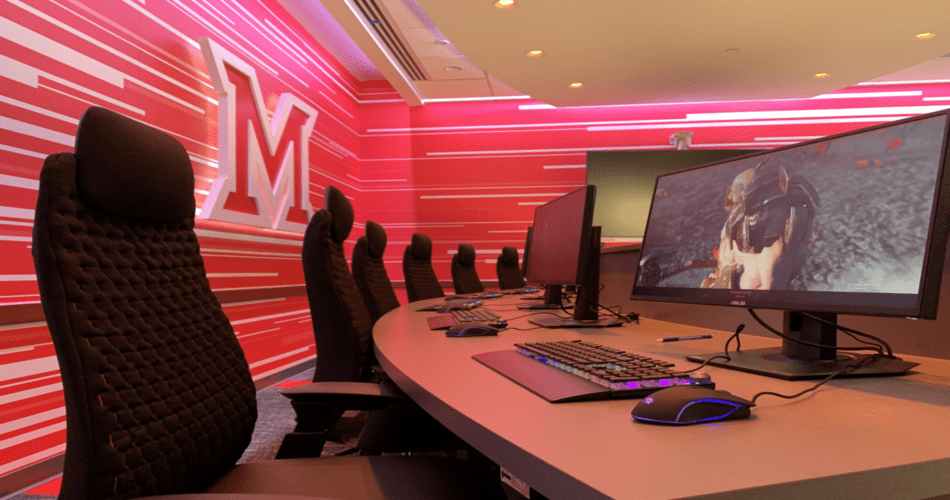 Miami University is renowned for its varsity esports team—the first-ever D1 varsity esports program in the United States and recognized by Best Colleges as the top-ranked program of its kind in the county. Along with esports scholarships for players, the University offers a Master of Esports Management program for further career advancements in the field.
The University has three esports facilities across the campus supported by ggCircuit. The Armstrong Esports Lounge and the Thunder Room are available for students, regardless of skill level or competitive interests, with a large selection of games. Both spaces can also be utilized for meetings, tryouts, practices and tournaments.
The main Armstrong Esports Arena is the largest of the bunch and is dedicated to matches and competitive play for the varsity team. PC setups range by facility, but all three options utilize top-tier tech.
DeKalb, Illinois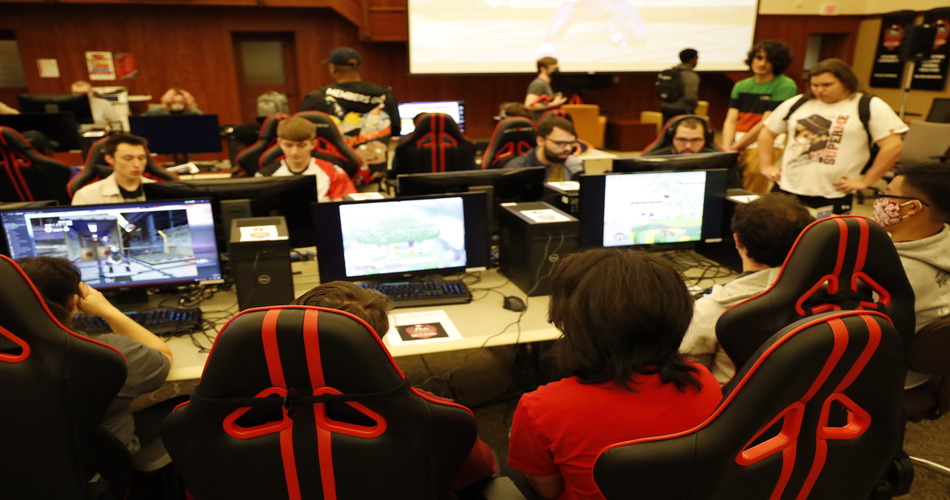 Established in 2018, NIU's esports program has been the University's fastest growing student organization for several years. In March 2022, NIU officially opened its new Esports Arena, located in the University's signature building, Altgeld Hall. Opening in 1899, Altgeld Hall is the oldest building on the NIU campus, and the current Esports Arena originally served as the school's first gymnasium, so there's plenty of history meets modernity here to appreciate.
NIU Esports Arena has 12 varsity gaming PCs reserved for team members only, as well as 30 gaming PCs for open play by anyone, each with a top-of-the-line gaming chair. There are eight console gaming stations and a virtual reality room with Oculus Rift, all for open play. Coaches and staff have plenty on offer, with a broadcast room, offices and conference rooms.
The NIU Esports Arena not only hosts gaming events and collegiate competitions, but it also has hosted a number of high school esports competitions. NIU and the NIU Esports Arena was recently awarded the bid to host future Illinois High School Esports Association (IHSEA) state competitions starting in Fall 2023.
Hammond, Indiana / Westville, Indiana
PNW has quickly grown since starting its esports program in 2020, opening dedicated arenas at two campus locations in November 2022. While each arena has 30 PCs for play, the Hammond facility is more geared towards competitions. The Westville facility has community in mind, with multiuse for holding meetings, events for park districts, middle schools and high schools, or events for other PNW groups.
The University makes use of both spaces to market to their student body by hosting gaming tournaments, having students help with running the club and varsity team as social media managers and broadcasting through streaming on Twitch, among other things.
PNW has also been going out to local high schools and middle schools since establishing their program, not only for recruiting but to bring education about esports. Examples of their outreach include going to career days at elementary schools and providing presentations on their varsity teams and what their program has to offer.
Akron, Ohio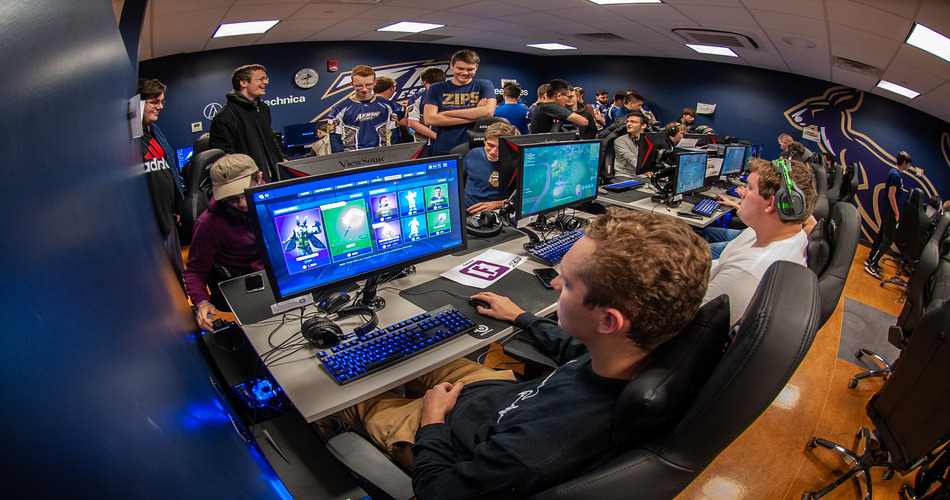 Since 2018, the University of Akron has been home to Akron Esports and its three different gaming facilities on campus. The three facilities total over 6,500 square feet of gaming space with 92 top-of-the- line PCs, console stations, viewing lounges and VR setups. UA's facilities also house eight different varsity teams, over 60 club teams and a total of 2,500 students across its different programs.
UA has an esports pedigree as it is among the first 50 universities to compete at a varsity level, with competition in multiple games from Overwatch to Rocket League. The University also offers scholarships and is always recruiting students in other fields such as engineering, computer science and health and wellness, among others, to assist in developing spaces, designing materials and training and nutrition.
The University's esports program also helps students get into multiple areas of the video gaming world, with courses and certificates in game design and esports business.
Irvine, California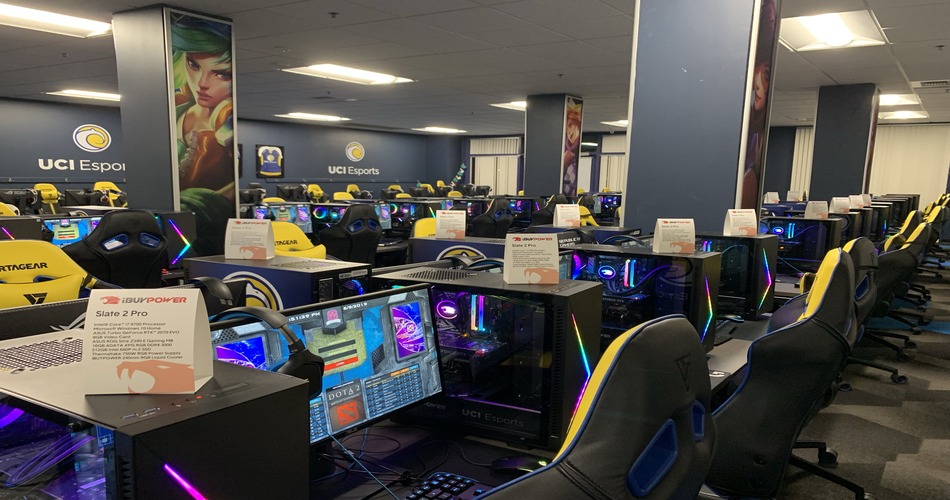 Opening its doors in 2016, the UCI Esports Arena is the first of its kind on a college campus. Located on the Student Center Terrace, the 3,500-square-foot space has 36 top-of-the-line iBUYPOWER PCs, a broadcast station and a Console & Community Corner where virtual reality is demoed and campus clubs and organizations can host events and meetings.
UCI's esports program is centered on five important aspects: competition, developing a community environment, research and academics, careers and entertainment. The program actively supports recreational and elite gamers, bringing together play and academics. In addition to competition, UCI trains and hires students to broadcast live events on Twitch, providing live play-by-play commentary, while other students focus on working the camera or other forms of content creation.
Career building is one of the pinnacles of the University's esports program, where students learn game design and create live streams. When it comes to community, UCI also boasts one of the most prominent and experienced student organizations on campus, where students are given the resources, space and mentorship they need to flourish.
Fredericksburg, Virginia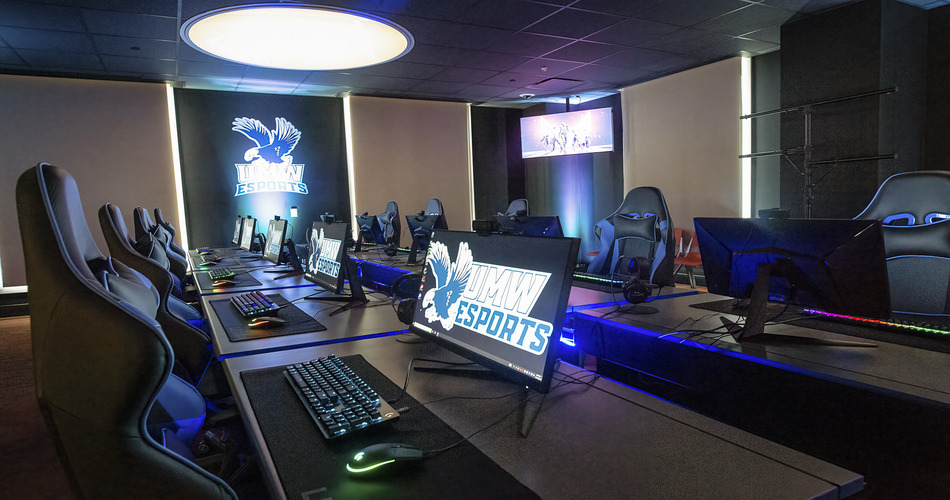 UMW Stafford's brand-new esports arena, housed within the Cedric Rucker University Center, features 10 competitive PCs armed with Intel Core i7 processors and GTX 3070s. A DMX light system surrounds the PCs, giving the experience of playing under in person tournament conditions, even during practice. The arena also has a dedicated broadcast and content creation station where the student-led broadcast team live streams the competitive teams' matches weekly.
The University's esports program was formed in Spring 2022 and is subdivided into two levels of participation. On the casual side, students can use the arena during its open hours, audition to be involved with the broadcast team and attend monthly gaming events. Competitive student-athletes have a traditional 8-week season of play through the National Association of Collegiate Esports containing everything from a designated practice schedule, weekly scrimmages and gameplay review and analysis.
The arena is also utilized during the summer at UMW Stafford, hosting a wide range of summer camps, off-season tournament participation and recruiting events.
Greensboro, North Carolina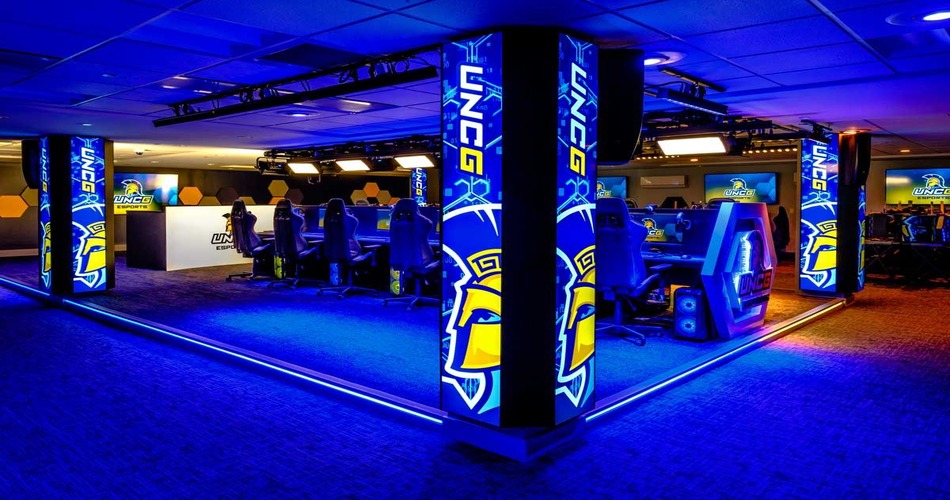 Debuting in the spring of 2022, UNCG's esports arena provides students with 3,600 square feet of space to engage both socially and academically. The arena provides 48 gaming PCs, built with AMD Ryzen 7 3700X CPUs and high-end NVIDIA GeForce RTX 2060 Super GPUs for optimal play and competition. In addition to the high number of PCs, there are also three console stations equipped with multiple titles, as well as an Oculus Quest 2 VR headset.
Establishing an inclusive program, UNCG not only offers students the chance to play both competitively and leisurely, but also be a part of other aspects of esports. The program introduces students to other industries revolved around esports, such as event planning and broadcast production. This range provides multiple outlets of creativity while being part of building the campus' esports community.
Along with developing the University's esports club, UNCG also focuses on health and wellbeing by maintaining the motto "Live Well. Game Well." This is promoted through encouraging good sleep hygiene, nutrition and hydration, mental health awareness and non-strenuous physical activity for a better overall lifestyle and ability to focus on competition.
Grand Forks, North Dakota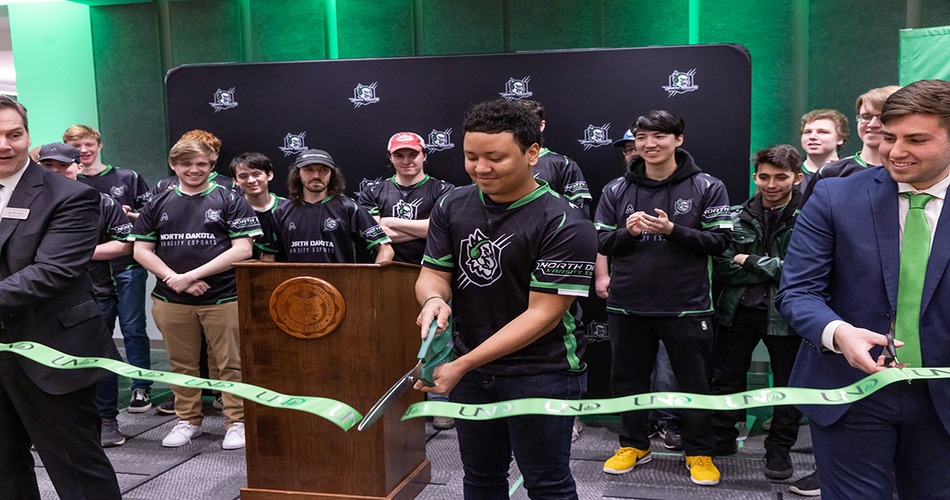 UND offers a unique atmosphere to support high-level competitive opportunities for players through its newly constructed competition and practice facility. Opened in 2023, UND's esports space provides varsity athletes with a cutting-edge home arena and practice facilities, which includes 42 high-end gaming PCs, a players' lounge, nutrition station and lockers, broadcast room and more.
The UND Varsity Esports program competes in seven different titles, with each title consisting of three teams of different skill levels so student-athletes can compete no matter what level they are at. The University offers both online and in-person (LAN) competition tournaments and leagues, and both hosts and travels to LAN tournaments to provide students the opportunity to engage with other esports collegiate players from across the country.
The university's esports major focuses on helping students gain the necessary skills needed to succeed, whether it be in esports or another field, along with both on-and off-campus internship opportunities for hands-on experience.
Eugene, Oregon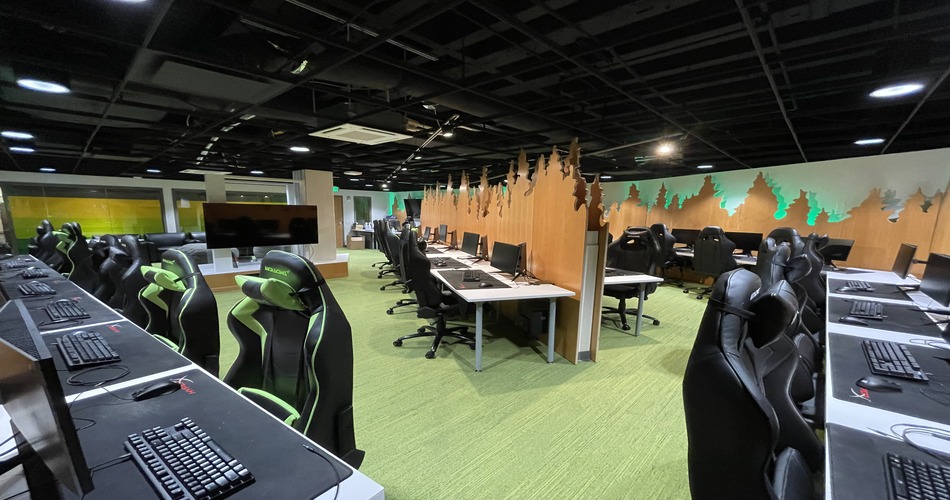 UO places its esports origins back in 2012 with a League of Legends club, which quickly blossomed into an official campus club in 2017 dedicated to competitive play across multiple titles. Overwhelming interest and participation sparked the program to debut a 12,000-square-foot esports lounge within the Erb Memorial Union building in 2020, offering 25 high-end PCs, PlayStations, Xbox consoles and Nintendo Switches.
With nearly 10 percent of UO's student population involved in the program in some way, it's no surprise that the college also opened a dedicated Esports and Games Research Lab. The lab brings in members from across the University to research the development and institutionalization of esports and other forms of gaming on college campuses.
The college offers career opportunities in the esports and gaming fields, from internships with local businesses to esports jobs and stipend opportunities, among others. The esports program also focuses on community, believing that a sense of belonging is a core tenant of their educational process.
Waukesha, Wisconsin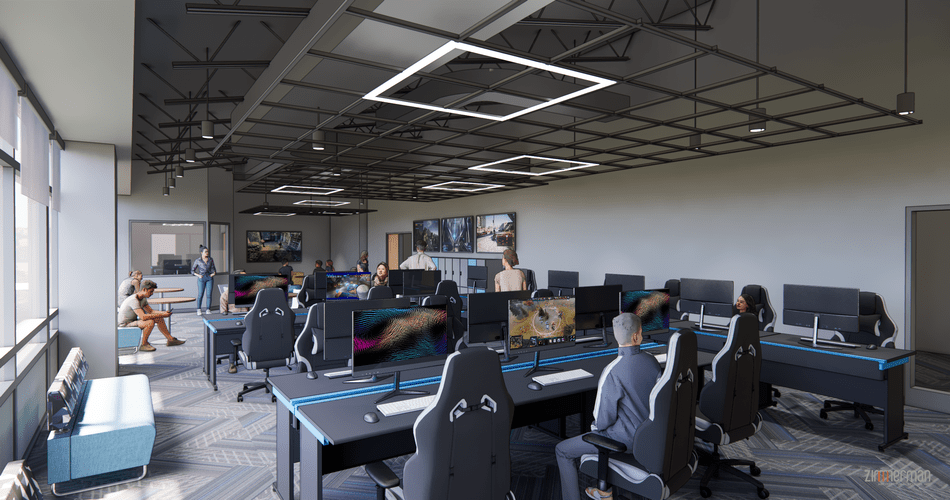 WCTC may be new to the collegiate esports world but the folks hard at work there are going all in. The college will be opening an 1,800-square-foot esports center, which is in the final stages of construction and scheduled to be completed prior to the start of the 2023-24 academic year.
The center will house sophisticated gaming equipment, including 18 gaming stations, along with one casting station–all utilizing Alienware Aurora R15 PCs that will be liquid cooled and equipped with RTX 4080 GPU and Intel i5 13600KF CPU. The center will be used primarily for teams, but there are plans to branch out for recreational use, summer camps and tournaments.
Specific academic areas of WCTC will develop curriculum which utilize the physical space, such as classes focusing on IT data, security and marketing.
"We believe that this area will provide our current students with an opportunity to engage in a campus activity that fosters new relationships, which are essential to student retention," said Jon Koch, dean of the School of Business at WCTC. "We also know that esports is one of the fastest-growing collegiate sports in the United States, and many future students are making enrollment decisions based on the ability to participate."