Enjoy the Great Outdoors and Top-Notch Sports Venues in Evansville
This idyllic city is filled with fascinating sports history, state-of-the-art facilities and endless entertainment and educational experiences 
There's always something to do in beautiful Evansville. This city has more than 300 locally owned and operated non-chain restaurants and food trucks, many of them serving you from local farms. Sports fans will appreciate Evansville's history, as it is home to historic Bosse Field, the first municipally owned sports stadium in the nation and the third-oldest ballpark still in regular use for professional baseball.
Looking for fun activities nearby? Burdette Park provides a recreational and educational environment consisting of approximately 170 acres of wooded hills. It also features an outdoor aquatic center and BMX track. Wesselman Woods provides environmental education and outdoor recreation experiences designed to awaken the senses and enrich the lives of visitors.
At Mesker Park Zoo and Botanic Garden, players, families and spectators can explore this 45-acre zoo situated on rolling hills and featuring over 700 animals from around the globe. Visitors can gaze upon thousands of exotic and regional botanic species as well as animals. 
Listed on the National Register of Historic Places, the USS Landing Ship Tank 325 is a fully operational amphibious vessel designed to land-battle ready tanks, troops and supplies directly onto enemy shores. The ship offers hour-long, guided tours for groups and sports teams.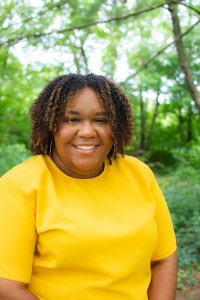 L'Oreal Mitchell
Telephone: 812-598-8186
Website: www.visitevansville.com
Get a Planner's Perspective
Don't just take our word for it, hear what these planners had to say.
"The new turf and other renovations to Deaconess Sports Park really helps tournament directors market and sell their events. Rising costs in fuel and other supplies make teams want to be confident, when they sign up for tournaments, that they will be playing regardless of rain and other mild weather conditions. I am hopeful that in 2023, I will be able to bring a couple of new, major events to the Evansville area that could boost revenue for the entire city."
— Tim Foster, State Director, Indiana USSSA (United States Specialty Sports Association)
Find Your Perfect Evansville Facility
Deaconess Sports Park

Sports Covered: Baseball, softball
Deaconess Sports Park is an eight-field complex ideal for girls, women's and men's fast-pitch and slow-pitch softball, adult and co-ed softball league play, and boys baseball for 13 and under tournaments. These state-of-the-art fields recently underwent a $3m renovation which included installation of turf infields and improved irrigation across all playing grounds, allowing for fewer rainouts and longer playing seasons. Additionally, the park features batting cages, shaded spectator seating, brick-covered dugouts, bullpens, team warm-up areas and a Wi-Fi tower for live streaming games. For family members and spectators, the park offers a nine-foot wide, mile-long walking path, two playgrounds, a spray park, amphitheater and a large common area.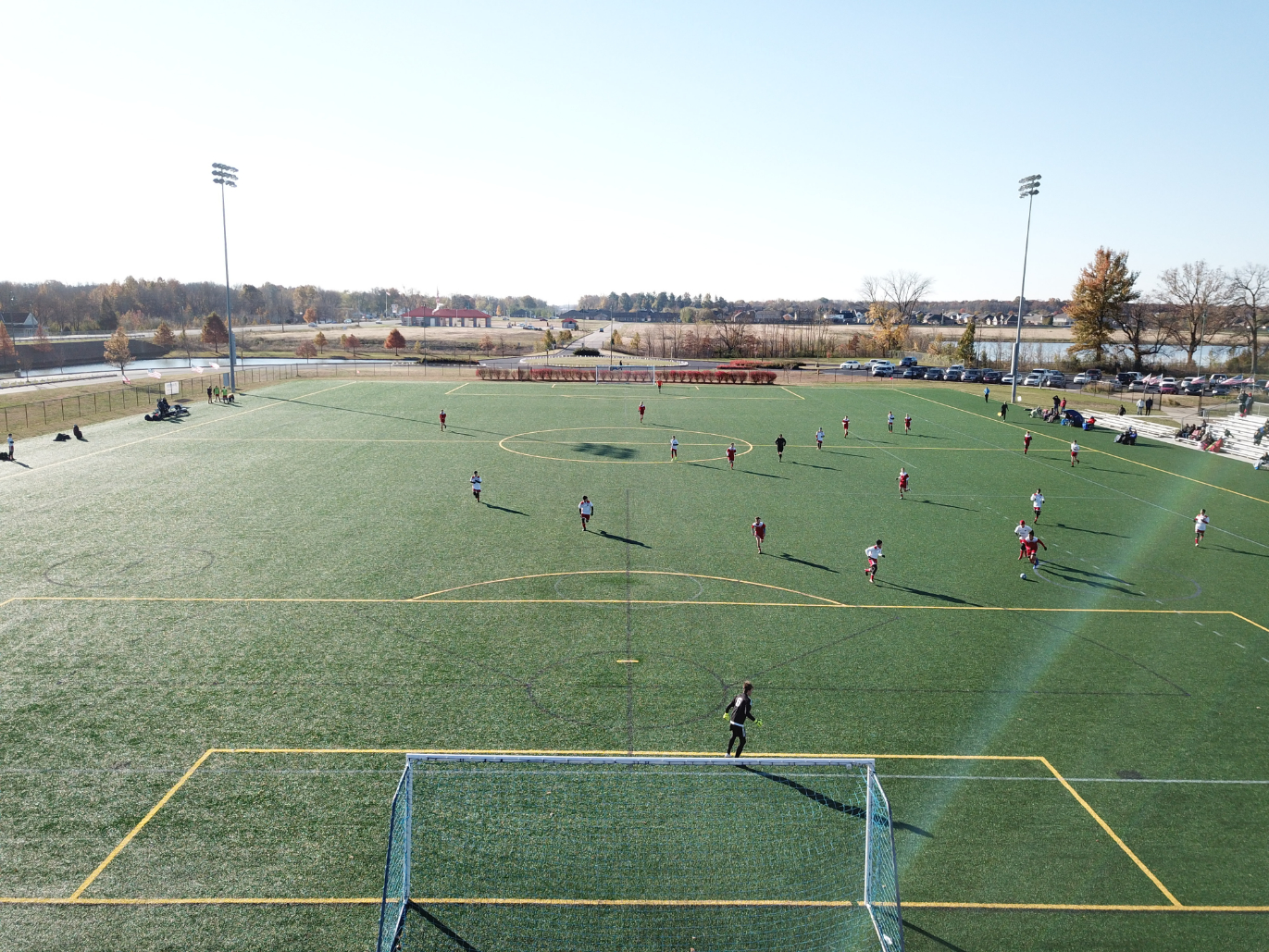 Goebel Soccer Complex
Sports Covered: Field hockey, lacrosse, soccer
A multi-purpose sports facility designed to serve local and regional tournaments and the community at large, Goebel Soccer Complex completed a $2.3 million renovation in 2019. The complex covers 70 acres with 10 different playing fields, including two fescue fields, seven Olympic-size irrigated Bermuda grass fields and one Olympic-size AstroPlay synthetic turf, six of which are lighted. Amenities at this top-notch sports facility are concessions, a training room, on-site restrooms, a visitor's center, office and ATM machine. Events at Goebel Soccer Complex include the Veterans Invitational Tournament; the facility also hosts several other soccer and lacrosse events throughout the year.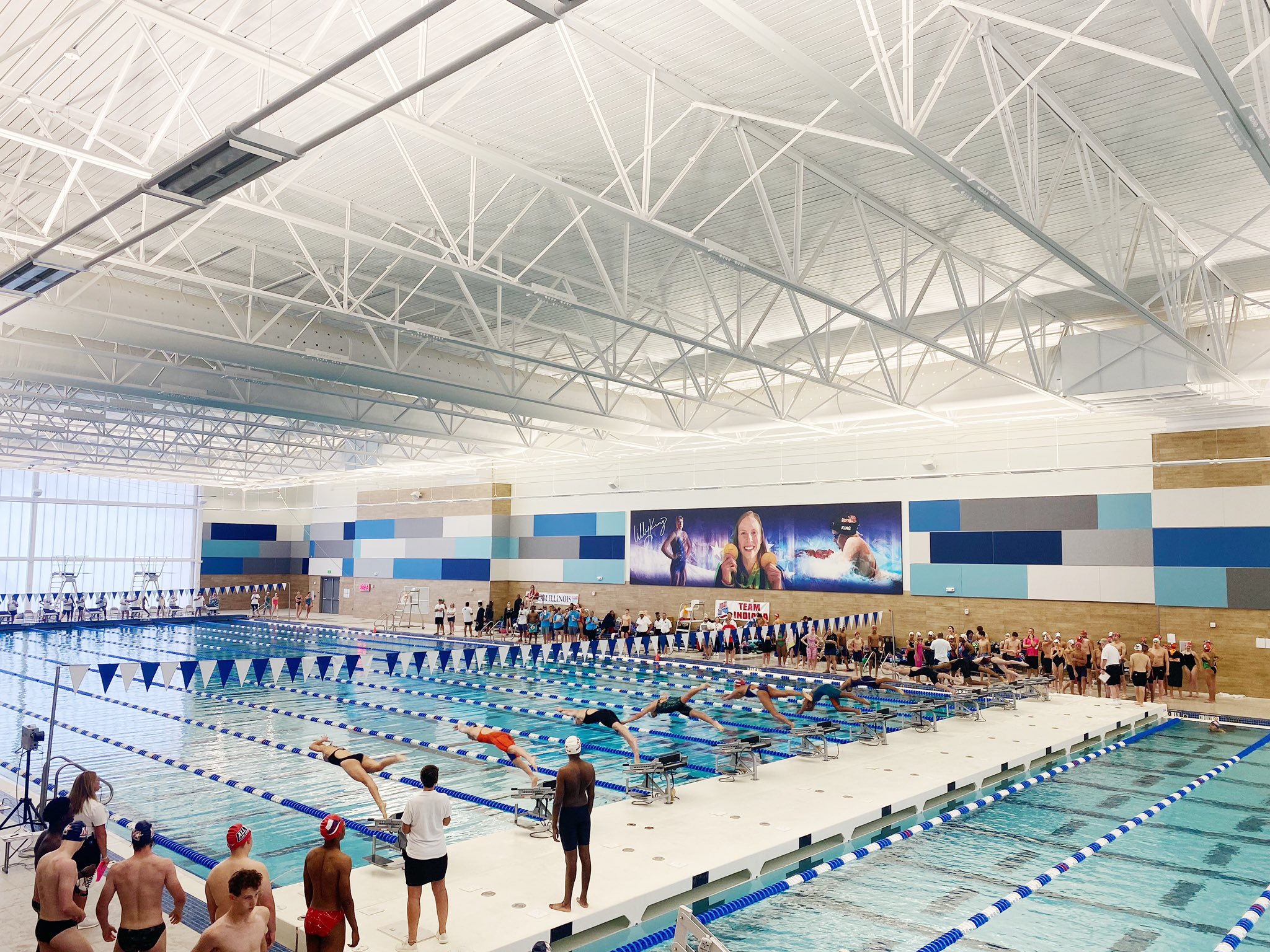 Deaconess Aquatic Center
Sports Covered: Swimming
Evansville's newest city pool and recreation center, Deaconess Aquatic Center features an outdoor splash pad, a recreation pool, a 50-meter competitive pool and a separated diving well. It has four separate locker rooms for both participants and officials and has relay touch pads and a timing system. It contains just under 1,000 seats for spectators. These seats are a level higher than pool level for optimal viewing.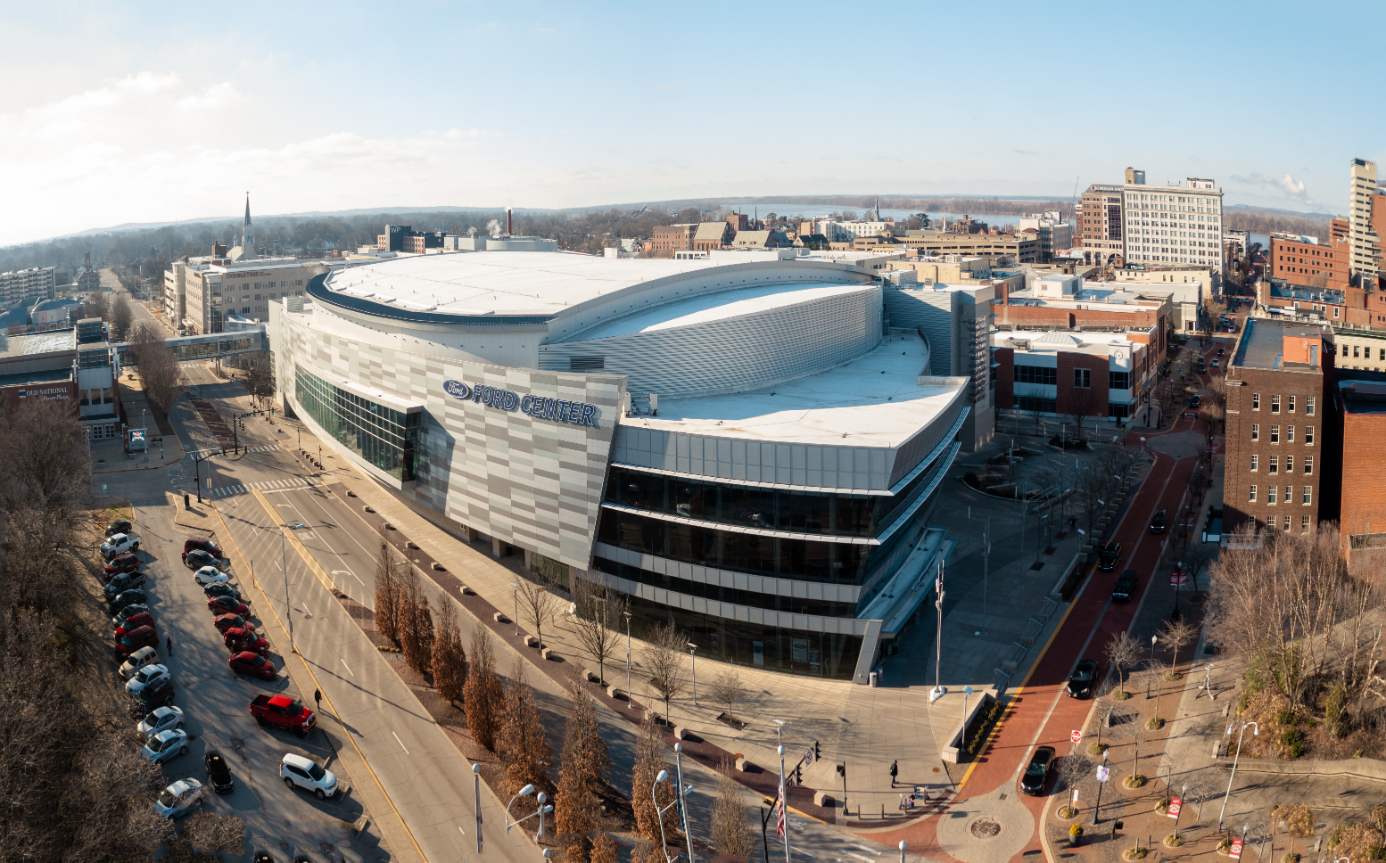 Ford Center Arena
Sports Covered: Basketball, hockey, figure skating
As the region's center for sports and entertainment, Ford Center Arena is a stunning and exciting multi-purpose facility with 290,000 square feet and the capacity to seat 11,000 spectators. With 20,000 square feet of usable space, the arena can be modified for basketball, hockey, concerts, conventions, rodeos, expos and any other event imaginable. Home of the NCAA Division I University of Evansville Aces men's basketball team and the SPHL Evansville Thunderbolts hockey team, Ford Center Arena has all the necessary amenities a sports facility needs, including wheelchair accessible seating, men's, women's and family restrooms and concessions.