Contrary to popular belief, the Prairie State is home to many topographical features and a wealth of natural wonders
Like most of the Midwest region, Illinois' topography is best marked by prairies and flatlands. While not the state's capital, Chicago is its epicenter for culture, food, finance and trade. With such a natural draw to the state, a quick trip outside of Chicagoland reveals that there's so much more to the state than just one of the world's best cities.
Venture out to Illinois' great outdoors and discover for yourself the natural beauty that permeates the countryside, home to 73 state parks, six state forests and one national forest. From the Driftless Area in northwestern Illinois—an region of unglaciated terrain with higher altitude than the rest of the state—to the natural prairie land where bison and elk roam, there's a surprise around every corner of the Prairie State.
Whether you're searching for exotic birds of prey, a wooded trail to hike or run along, or winding rivers and glistening lakes for boating and fishing, Illinois has the perfect place to go for outdoor adventures. Here are some locales across the state that will make great backdrops and excursions to your tournaments.
Castle Rock State Park
Due west of Chicago lies Castle Rock State Park, which covers 2,000 acres of Ogle County on the banks of the Rock River. Established in 1921, the park is named after its signature highlight, a bluff of exposed sandstone with exposed areas of white quartz as well as limonite. The bluff itself offers hikers scenic views of the river and surrounding countryside. The park is a favorite among kayakers and canoers, while families will love the ability to bring a picnic and enjoy a nice day outdoors.
Ferne Clyffe State
With an abundance of unusual rock formations and rare plant species, Ferne Clyffe State Park creates an atmosphere that transports you back to the Jurassic period. Located in southern Illinois, Ferne Clyffe provides visitors with a large number of hiking trails to explore, including the 2.1 mile Waterfall Trail. The Lake Trail as well as the Big Rocky Hollow Trail are also local favorites, though the surrounding woods and leafy vistas throughout the park provide a nice way to catch some fresh air and take in a day exploring the great outdoors.
Giant City State Park
As part of the greater Shawnee National Forest, Giant City State Park provides eight hiking trails open to the public from dusk to dawn all year, as well as an additional two trails closed during shotgun deer season.
The Red Cedar Backpacking trail is the park's longest, coming in at 12 miles of rugged terrain, while the park also permits rock climbing and rappelling at heights topping out around 100 feet in the area around the Devil's Stand table bluff. Hunting is available in select areas of the park, as is fishing, provided you have the correct licenses.
Midewin National Tallgrass Prairie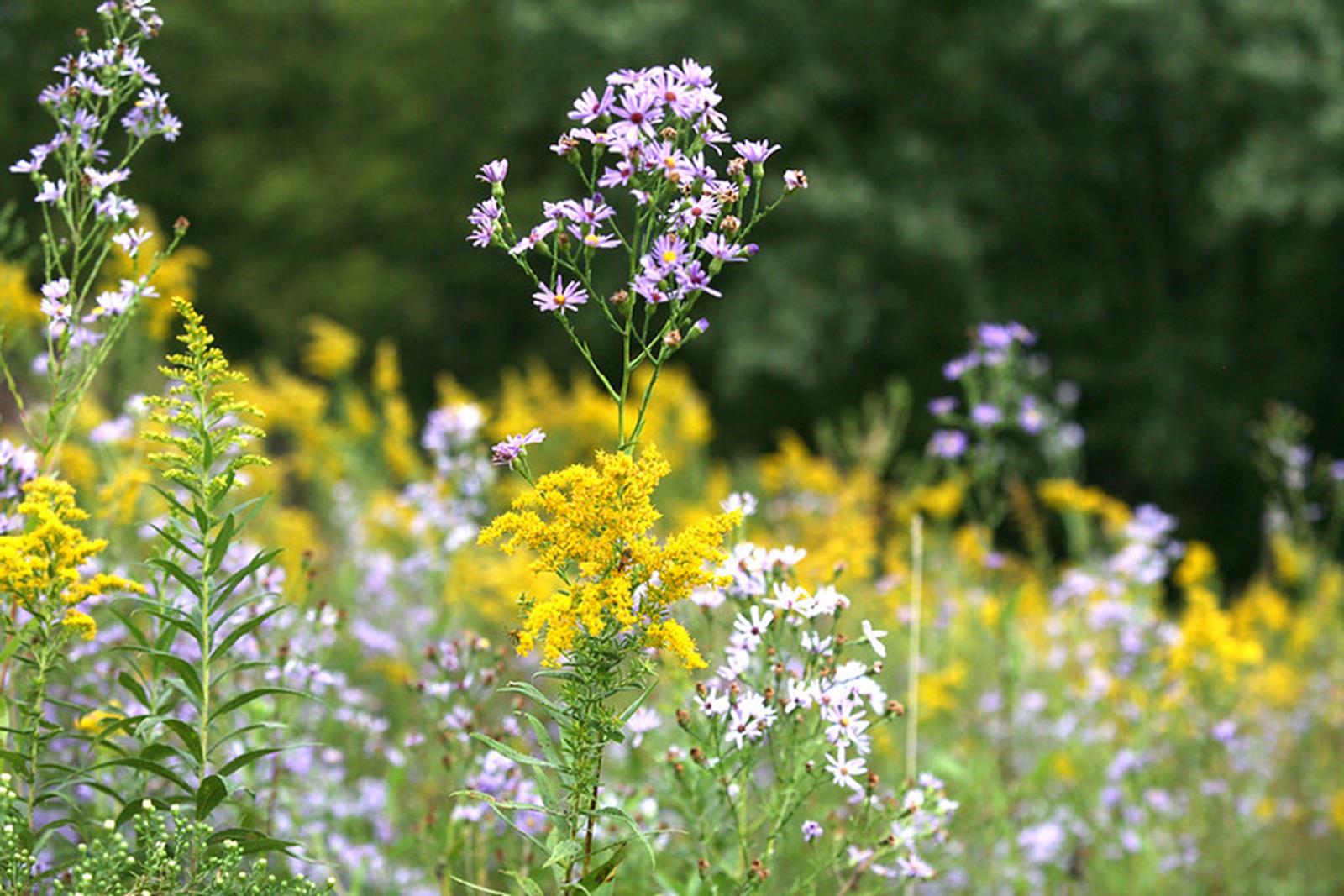 Established in 1966 as the country's first designated tallgrass prairie, Midewin National is a testament to a bygone era. Despite being nicknamed the 'Prairie State', hardly any of Illinois' native prairie land remains, so the complex ecology of the 20,000 acres of farmland here has been preserved. Of that allotment, nearly 9,000 acres and 33 miles of trails are open to the public, where bison watching is a hot commodity after the species was reintroduced to the preserve in 2015. The size of the preserve has helped many endangered or sensitive species survive in a variety of habitats.
Mississippi Palisades State Park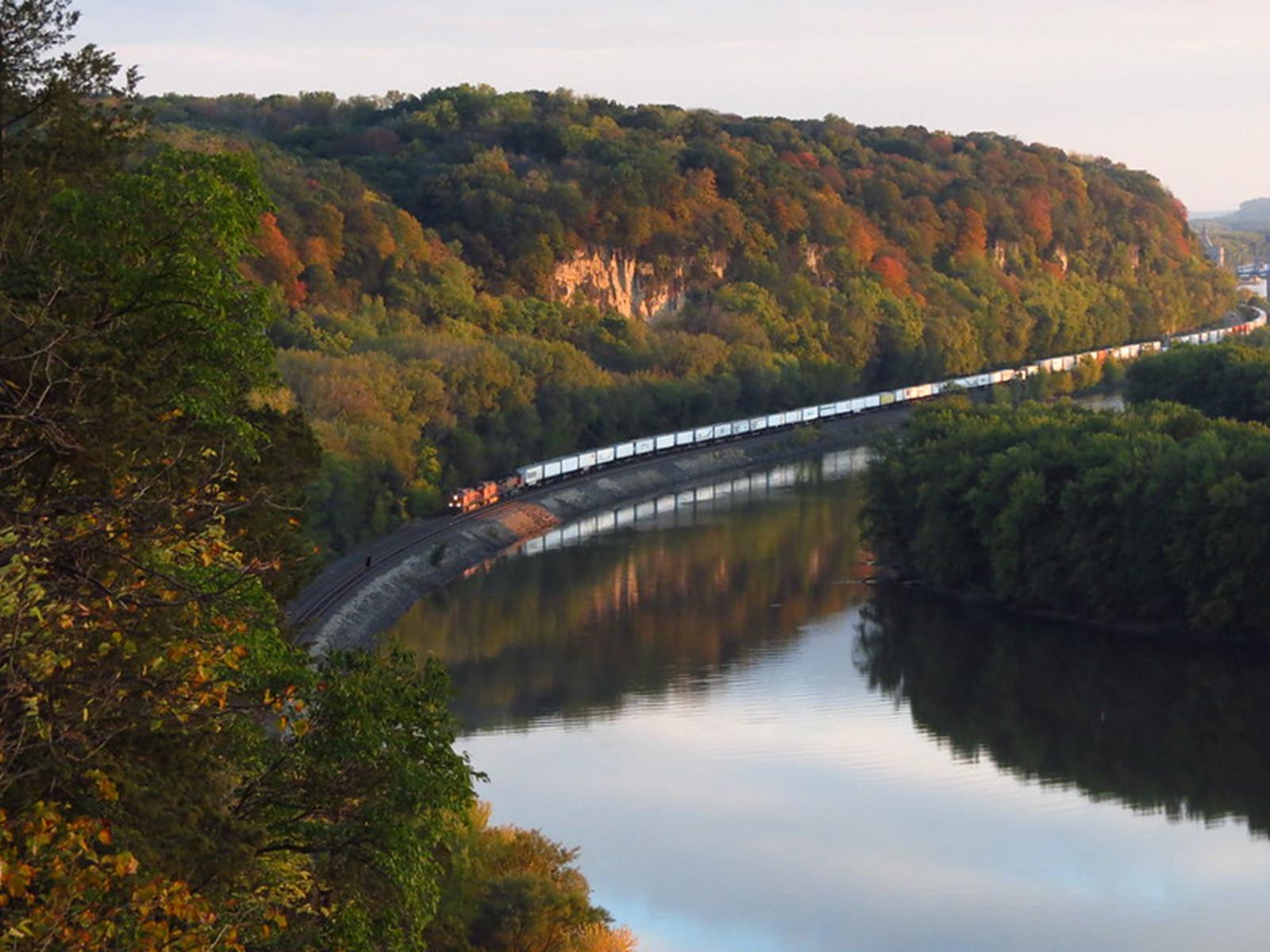 With the banks of the Mississippi River between northwestern Illinois and northeastern Iowa serving as a scenic backdrop, this state park is also a national natural landmark. Lofty stone cliffs can be seen from the river, as well as a series of sink holes and limestone caves. Erosion has masterfully carved out unique rock formations, including the Twin Sisters, which resembles a pair of sisters atop the bluffs. Autumn in this park brings a gorgeous change of scenery, with the park's wooded ravines and cliffs awash in the splendid assortments of fall.
Pere Marquette State Park
Nature lovers will revel in the beauty found at Pere Marquette State Park, where its wealth of activities provides something for everyone to do. Limestone formations in designated climbing areas provide an opportunity for rock climbing and rappelling, while hiking, biking and horseback riding trails are available for those who'd like to stay on the ground. Bluegill, carp, catfish, drum, largemouth bass and white bass all populate the Illinois and Mississippi rivers, while the Family Fishing Fair in June is held annually. Bird watchers can spot bald eagles lining the tree tops along the Illinois River from December to March.
Starved Rock State Park
Spectacular natural features are visible at Starved Rock State Park all year long, though the springtime is arguably the best. A bevy of waterfalls cascade through the park's impressive canyons and are on best behavior in the spring months after heavy rainfall. Wind along a series of trails and keep your eyes peeled for deer, colorful birds, squirrels, rabbits and bald eagles. Spring sees the return of colorful wildflowers to the forest floor, while fall brings out all the colors of the spectrum, making for an excellent backdrop to your picture-taking needs.
Shawnee National Forest
Located in the Ozark and Shawnee Hills of Southern Illinois, Shawnee National Forest is a massive area encompassing 280,000 acres of federally managed lands, including seven wilderness areas. Garden of the Gods Wilderness features unusual sandstone formations and lookout points, as well as 5.5 miles of interconnecting trails. Peculiar rock formations have been given appropriate titles, such as Camel Rock, Mushroom Rock and Anvil Rock. Diverse wildlife can be found within Heron Pond, while Pomona Bridge is a natural land bridge, and kids and adults alike fill find joy in Cave in Rock and its majestic scenery along the Ohio River.
White Pines Forest State Park
Originally known as White Pine Woods, this park finally earned state park designation in 1927. Dolomite rock formations and freshwater streams populate a scenic area filled with moss-covered cliffs, trailing vines and fantastical trees. Wildflowers like bloodroot, blue-eyed grass, spring beauty and hepatica populate the grounds, while visitors can drive over concrete fords that span the creeks.