The "Main Street of America" now and always is an enshrinement to the American auto legacy
In the early 20th century, the innovation and mass implementation of the automobile took America by storm. From 1910 to 1920 the number of registered vehicles grew from nearly 200,000 to 17 million, with the increase in cars demanding newer, better roadways and systems. From those humble roots rose the behemoth that dominated the American thoroughfare: Route 66, the "Main Street of America".
Few journeys in the Midwest can rival a road trip that retraces the path of our nation's most storied highway. From the Lake Michigan shoreline of Chicago to the Mississippi River in Southern Illinois, museums, retro diners, doses of kitsch and other nods to yesteryear drive tourism on Route 66, fueling nostalgia for the heyday of automobile travel and a yearning for simpler times. It's all about the romance of the open road.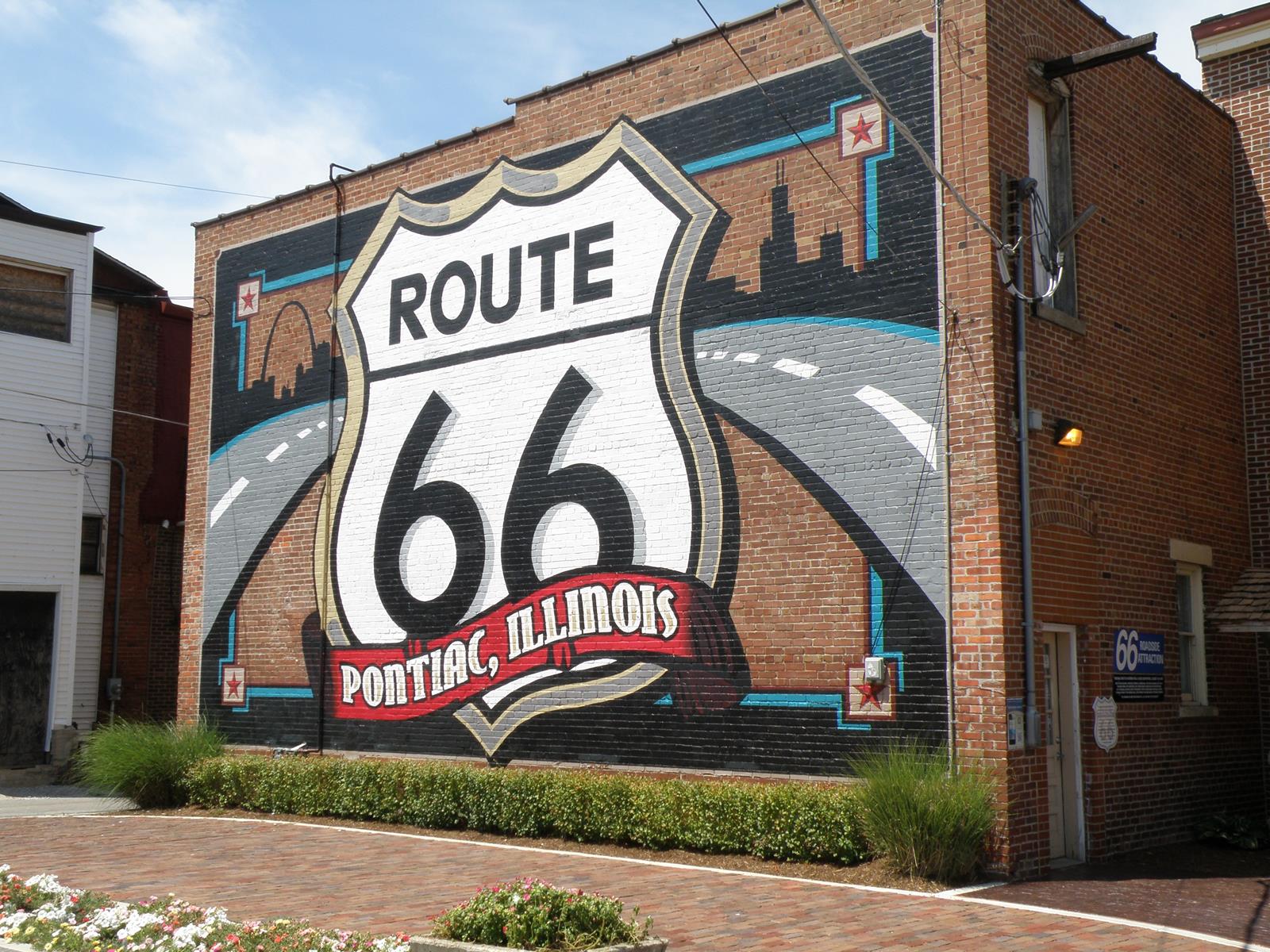 Nicknamed the "Mother Road" in John Steinbeck's classic 1939 novel The Grapes of Wrath, U.S. Route 66 was the magic carpet to dreams in the mid-20th century. Symbolizing freedom and mobility, it attracted vacationers, adventurers, hippies and those searching for a better life. Forming a linear community that spanned more than 2,000 miles through eight states, from Illinois to California, the concrete corridor became enshrined in popular culture—in music, art, films and television shows as well as literature—during its lifetime (1926-1977). Everyone knows the song refrain "Get Your Kicks on Route 66."
Cozy motels, mom-and-pop cafes, filling stations, neon signs and roadside oddities were all part of its mystique in its heyday, but reminders of Route 66 can be found in a number of Illinois communities, thanks to tourism offices and dedicated individuals who have put time, money and passion into preserving the highway's heritage and keeping its spirit alive. As many original landmarks have vanished over the years, surviving treasures loom all the more special.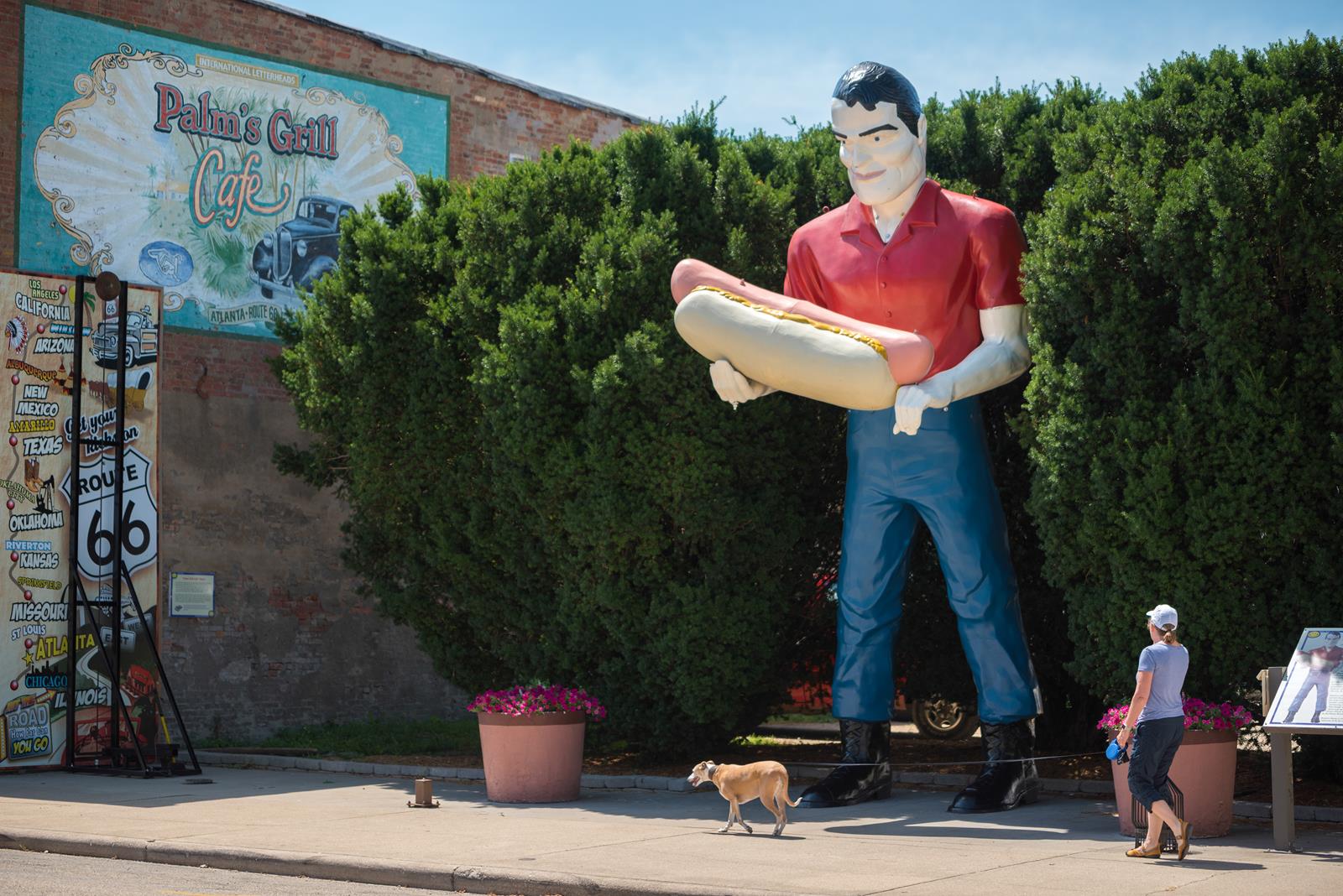 Historic Route 66 signs can be spotted traversing the stretch of road from Chicago to St. Louis, and it is there that the history of the automobile and Illinois' legacy of the drive has been best preserved.
About one hour outside of Chicago, the city of Joliet trades on its Route 66 heritage. Start your exploration at Route 66 Park on Broadway, once a leg of the famed roadway. Browse the park's informational kiosks and enjoy a cold treat at Rich & Creamy. Atop the store are statues of Jake and Elwood Blues, characters in The Blues Brothers movie, which included scenes filmed at the Old Joliet Prison, visible from the hilltop park.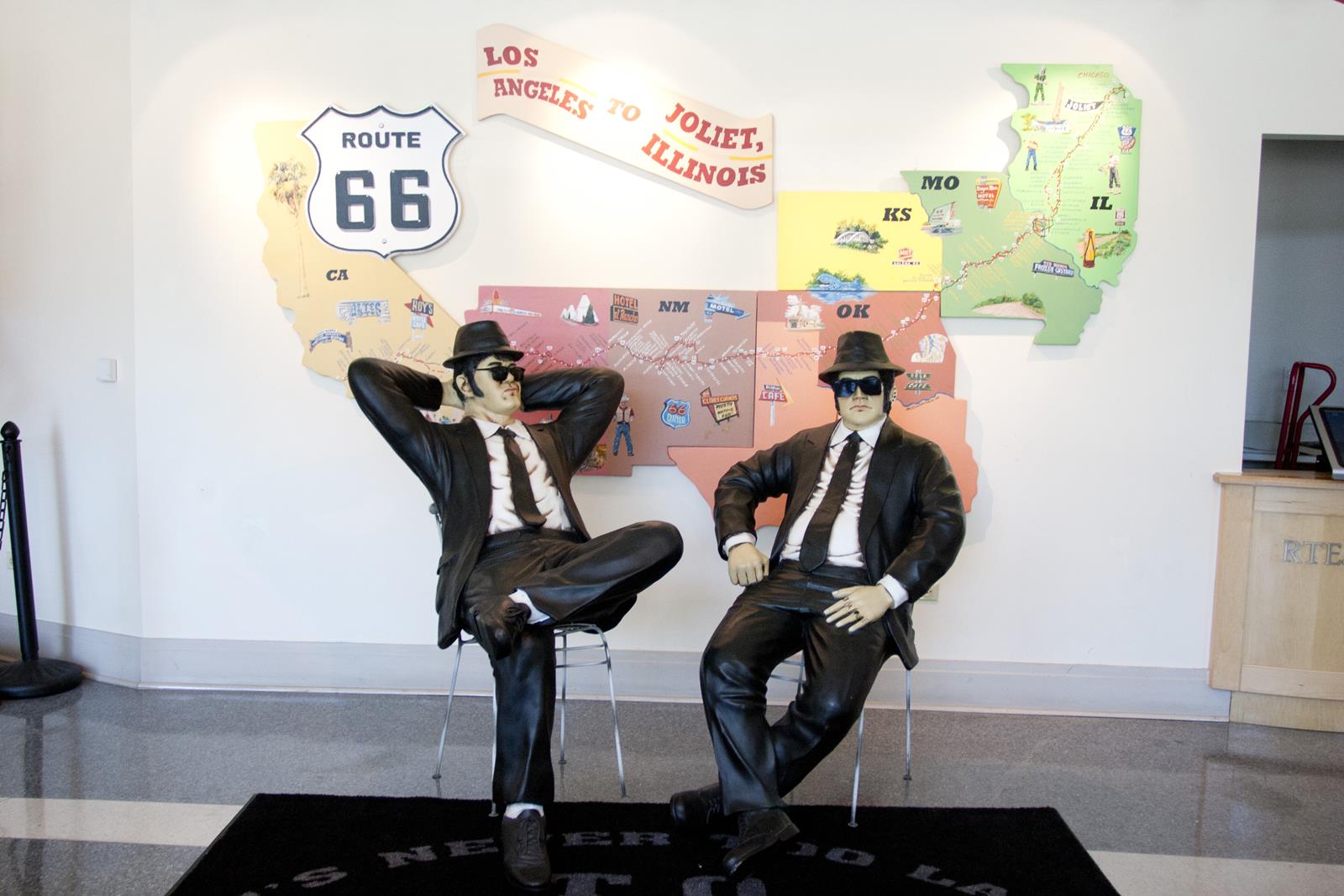 Joliet is also Illinois' racing epicenter, where fans can sate their need for speed at the Chicagoland Speedway and Route 66 Raceway, located adjacent to each other. Chicagoland Speedway features a 1.5 mile tri-oval speedway and regularly hosts NASCAR events, including the opening event of the NASCAR Cup Series playoffs. The venue sees major events in the Monster Energy NASCAR Cup Series, NASCAR Infinity Series and the NASCAR Gander Outdoors Truck Series as well.
Route 66 Raceway hosts several drag racing events, including the National Hot Rod Association (NHRA), where winners are chosen in Funny Car, Top Fuel, Pro Stock and Pro Stock Motorcycle competitive events. The unbelievable speeds are amplified by the roar of the crowd, with seating for 30,000 available.
In Pontiac, Mother Road enthusiasts flock to the free-admission Illinois Route 66 Hall of Fame and Museum, a repository of memorabilia celebrating the people and businesses that served motorists on the historic highway. Its largest item of interest is the Volkswagen minivan used by itinerant hippie-era artist Bob Waldmire for traveling up and down 66. His 1972 VW was the model for the character Fillmore in the Pixar/Disney film Cars. Outdoors, museum visitors pose for photos in front of the giant Route 66 shield mural emblazoning the back wall of the 1900 building, once Pontiac's city hall and fire department.
Buildings in downtown Pontiac are decorated with 23 other artistdesigned murals, including four that recall Route 66, one a sunset scene showing a bright yellow late '50s Chevy. Classic car buffs will find much to their liking at the Pontiac-Oakland Automobile Museum, a shiny showroom displaying vintage Pontiac-brand cars and some of the Pontiac Buggy Company's high-end Oakland models produced in the late 1920s and early '30s. Exhibits include a big oil can collection, old gas pumps, model car kits and promotional items mirroring the brand's namesake, Chief Pontiac, a fabled warrior who fought the British in the Great Lakes region.
For a taste of the good old days just southwest of Bloomington-Normal on I-55, visit Dixie Truck Stop, which opened in 1928 and sold sandwiches to Route 66 travelers. Today it's a full-fledged restaurant with plenty of seating for groups and a decor evoking early car culture.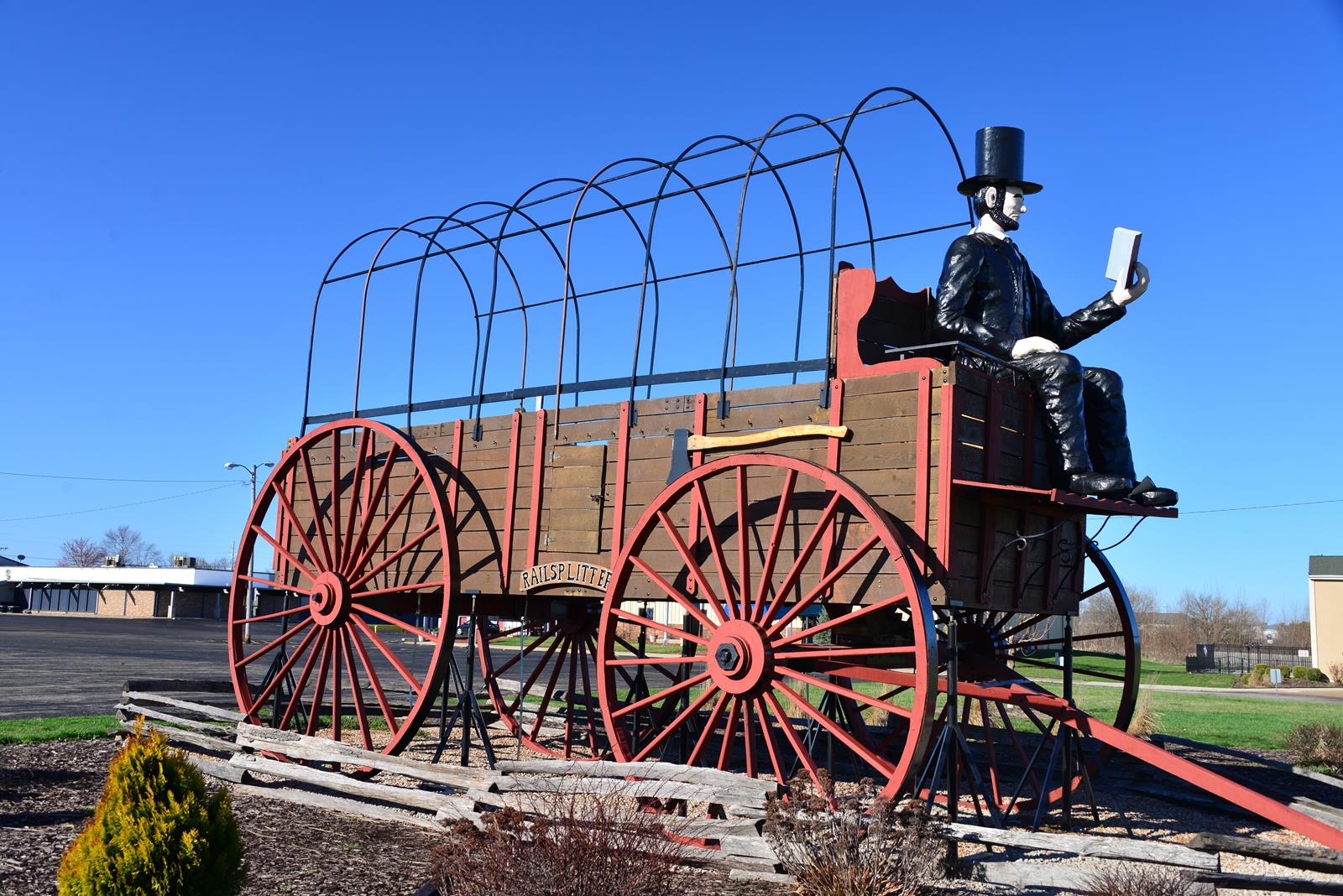 In the spirit of quirky attractions, Railsplitter Covered Wagon in Lincoln, recognized by the Guinness Book of World Records as the world's largest covered wagon, sits on Old Route 66 in front of the Best Western Lincoln Inn. Measuring 40 feet long, 12 feet wide and 25 feet tall and surrounded by a split-rail fence, it features a seated Abraham Lincoln fiberglass figure reading a law book.
Route 66 in Springfield has several sites that recall the highway's golden era. The newest magnet delivering kicks on 66 is Motorheads Bar & Grill, a retro-style restaurant that opened in summer of 2018. A shrine to all things automotive, the cavernous space is festooned with old grilles, license plates, vintage advertising signs and lots of Route 66 shields. There are even whole cars and motorcycles on display under the soaring ceiling, which once sheltered a Stuckey's, one in the chain of roadside stores famous for their pecan log rolls and teal blue roofs.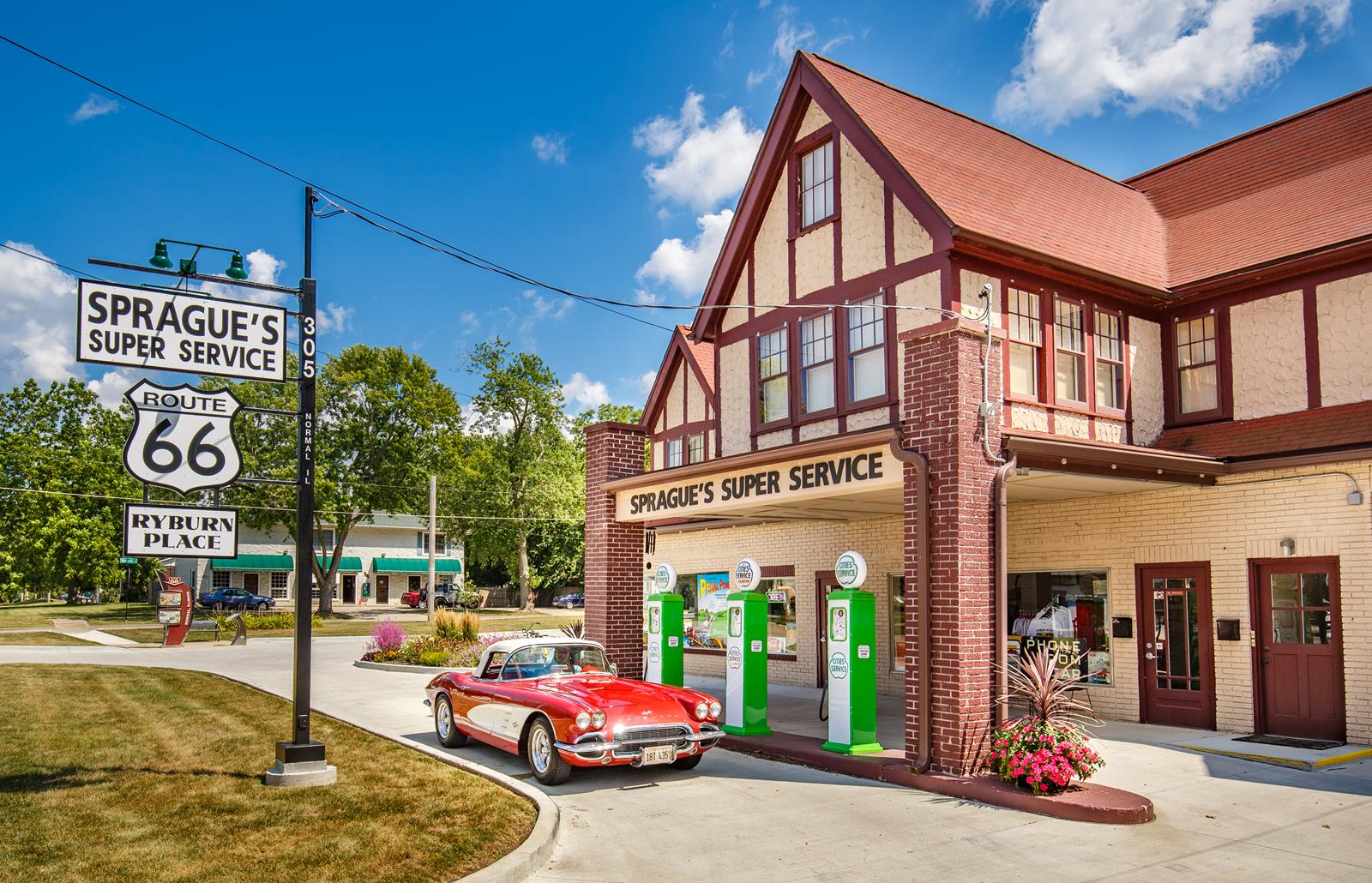 A separate museum building has a party room ideal for groups and brims with Route 66 artifacts, many from the collection of the late Bill Shea, a Springfield icon who operated a gas station-museum. Motorheads serves up hearty fare like patty melts, pizza and Horseshoes, the latter a Springfield specialty of Texas toast and choice of meat smothered in French fries and cheese sauce.
Guarding the eastern entrance to Wilmington stands the 30-foot-tall Gemini Giant, the guardian of the Launching Pad drive-in restaurant. Named after the Gemini space program, the Giant holds a silver rocket ship in his hands, with a welding mask covering its face. The statue weighs an incredible 438 pounds of fiberglass, without counting the rocket ship or concrete base. For out-of-this-world burgers and shakes, head into the Launching Pad, where a slice of Americana is available with every meal. Chicago Style hot dogs, pulled pork and Italian beef sandwiches, meatball subs and classic ice cream desserts will sate your palate.
There are many more stops along the country's most prominent roadway, all begging to be explored. For more information about planning your next trip, visit enjoyillinois.com.