Awash in natural beauty, the Hoosier State is a marvel from coast to ridge
As one of eight states to make up the Great Lakes Region, Indiana is a multifaceted state which benefits from unique topography in every region. As Lake Michigan's southern border, northwest Indiana features various ridges and sand dunes, some reaching almost 200 feet in height. Southern Indiana is characterized by valleys and rugged terrain, where bedrock is exposed at the surface level, yielding caves, caverns and quarries. The Central Lowlands and Interior Low Plateaus feature prominently across the Hoosier State as well, where till plains make up most of the northern and central regions. Whether you're looking for a hike, bike, swim, leisurely nature walk or the perfect photo, Indiana is the place to go for those who love outdoor adventures, including those with an urban flair. Here are some locales across the state that will make great backdrops and excursions to your tournaments.
Brown County State Park
Located around 20 miles due east of Bloomington, the largest state park in the state features an exceptional array of colors in the fall. Nicknamed the "Little Smokies" with a resemblance to the Great Smoky Mountains, nearly 20 miles of tree-lined roads and scenic vistas overlook miles of uninterrupted forest in the park. With 16,000 acres of rugged terrain, hiking and mountain biking trails, a saddle barn for guided horse rides, and a summer pool there's adventure around every turn.
Cataract Falls
Collectively and by volume, Cataract Falls is the largest waterfall in the Hoosier State. Located just 35 miles from Terre Haute, visitors will find two sets of cascading waterfalls which drop 86 feet down upon Mill Creek, yielding great views of the falls from above and below. Further exploration of the area will reveal a covered bridge and the ruins of an old mill near the upper Falls. While Cataract Falls make for a perfect picnic destination in the summer, adventuring in the winter is worth it, too, where visitors can walk a path underneath the frozen falls to get an up close experience.
Indiana Dunes National Lakeshore
Located in Porter County and fewer than five miles north of Portage, the country's 61st national park draws millions of visitors each year to the South Shore of Lake Michigan. World class beaches along 15 miles of coastline and 70 miles of hiking trails across the Dunes are the main calling cards here, though bird watchers, paddlers and fishers will have plenty of fun as well. Since the dunes wind through marshland and forest as well there's something to look out for everywhere. Walkers and runners can challenge themselves with The 3 Dune Challenge, a 1.5 mile challenge trail with 552 vertical feet to climb where the rewards are the breathtaking views of an epic landscape.
Ohio River Greenway
Following the banks of the Ohio River and giving safe, green recreational rive access to the historic riverside towns of Jeffersonville, Clarksville and New Albany, the Greenway gives excellent views of the nearby Louisville skyline, as well as of the riverfront. When completed, this 12.5-mile pathway will be open for walkers, joggers and bike riders, while users can picnic along any of the established Greenway project green spaces, trials and paved pathways.
Potato Creek State Park
Located just southwest of South Bend, Potato Creek offers a number of outdoor initiatives, perfect for every season. From camping along the beach to ice fishing in the winter on the 327-acre Worster Lake, there's plenty to explore across this park's mature woodlands, restored prairies and diverse wetlands. Home to protected wildlife, the National Audobon Society and Birdlife International have designated the park an Important Bird Area.
Promenade Park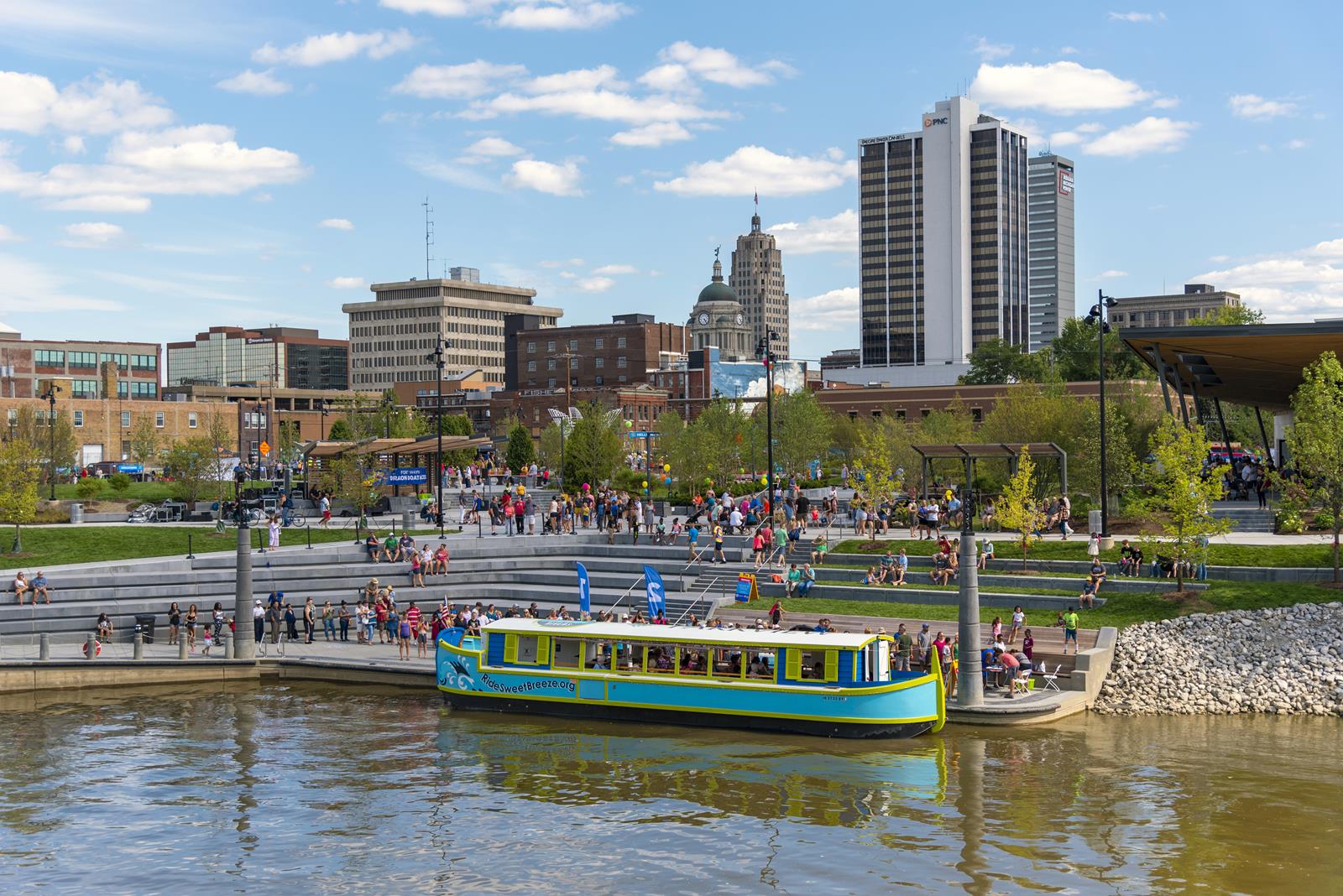 Promenade Park connects Fort Wayne's three rivers to its thriving urban core in the heart of downtown. This innovative riverfront park features 4.2 acres of experiential elements, including a treetop canopy trail, interactive water feature, accessible playground, dining and beer gardens, and more. As the Midwest's newest attraction, Promenade Park is a major destination for recreation, arts, and culture.
Prophetstown State Park
Commemorating the Native American village founded by the famous Shawnee warrior Tecumseh, Indiana's newest state park covers a diverse mix of landscapes including wildflower prairies, wetlands and forests. The best way to experience this natural wonder is on four distinct hiking trails, which offer views of the Wabash River and preserved prairies. Visitors can enjoy living history exhibits such as a replicated Shawnee village and 1920s homestead that offers cooking and canning classes. The park's aquatic center features a tube slide, lazy river and zero-depth pool, while the visitors center houses interactive exhibits and scheduled animal encounters.
Strawtown Koteewi Park
Located northeast of Indianapolis and Grand Park, Strawtown Koteewi Park is the largest and most scenic park throughout Hamilton County. Stretching along three miles of the White River, the park exhibits a rich biodiversity throughout its woodlands, wetlands and prairie. Canoeing, boating, fishing, nature trails for hiking or cycling, equestrian trails, an archery center and more can be found throughout the park, which encompasses more than 800 acres.
Turkey Run State Park
Indulge in Indiana's natural beauty with a visit to Turkey Run State Park, located about 35 miles north of Terre Haute. Hiking and bridle trails are abundant through a landscape defined by deep canyons resting in the shadows of sandstone cliffs. Walking through the park's ravines offer a walk through time, where sandstone gorges date back 300 to 600 million years. Turkey Run also houses many historic sites, including Lieber Cabin, Log Church, the Lusk Home and Narrows Covered Bridge.