NCAA men's basketball tournament will be held entirely in the Hoosier State
An unprecedented year has led to an unprecedented NCAA Tournament … again.
Last March, as a pandemic sidelined the globe, the NCAA opted to cancel both its men's and women's basketball tournaments in an effort to help control the spread of COVID-19. It was the first time the men's or women's basketball tournaments had been canceled. Previously, the men's tournament unfolded every year since its inception in 1939 and the women's tourney took place each year since 1982.
This time around, with the virus still prevalent across the country, the NCAA has taken another unheard-of step. The state of Indiana will host the entire 2021 men's basketball championship with the majority of the tournament's 67 games taking place in multiple venues in Indianapolis. Additional games will be played in Bloomington, Indiana and West Lafayette, Indiana. Typically, both the men's and women's tournaments are played in venues across the country, but with COVID-19 still rampant, the NCAA decided to hold its tournaments in a single location. Selection Sunday is still scheduled for March 14 and the Final Four is expected to be held April 3 and April 5 at Lucas Oil Stadium in Indianapolis. The NCAA Division II (Evansville) and Division III (Fort Wayne) men's basketball tournaments will also be held in Indiana. The NCAA women's tournament will take place in the San Antonio region of Texas.
"This is a historic moment for NCAA members and the state of Indiana," NCAA President Mark Emmert said. "We have worked tirelessly to reimagine a tournament structure that maintains our unique championship opportunity for college athletes. The reality of today's announcement was possible thanks to the tremendous leadership of our membership, local authorities and staff."
Indiana is primed for the challenge
Indianapolis was previously scheduled to host the Final Four from April 3-5 at Lucas Oil Stadium. Now, however, the city finds itself planning a much larger event on a scale never before seen in the college basketball realm.
"It's a once-in-a-lifetime moment," said Ryan Vaughn, president of Indiana Sports Corp. "In your mind, you're going from hosting three very important games to 68 teams. You're thinking about one venue and you're suddenly in six. The logistics of transportation and staging team arrival and where they are practicing, there's just innumerable complications that you have to work through. And we're all doing it through the lens of athletes' and coaches' safety.
"There's a lot of reasons why we are a natural fit for the tournament," Vaughn said. "We have a great connected downtown (in Indianapolis) and we have a lot of world-class venues that are very accessible. We also have a great experience with hosting games. I think we've hosted more tournament games than just about any city in the country."
Amid the backdrop of COVID-19 and its variants, Vaughn, the Indiana Sports Corp and the NCAA all realize how paramount testing will be. The NCAA is partnering with a local health provider to administer COVID-19 testing within the controlled environment for players, coaching staffs, administrators and officials.
"The key is to build the environmental safeguards to make sure everyone enters the controlled environment virus-free and just having a high degree of fidelity to your established safety protocols," Vaughn said. "We have to make a lot of decisions around the ancillary events. There's usually a tip-off tailgate and a Fanfest and music festivals and those that are executed are going to have to be rethought and some of them can't responsibly be done. You can't maintain the integrity of the convention center where the Fanfest will be if you also have a Fanfest inside. We have to rethink a lot of that."
A unique moment for a basketball hotbed
The tournament will be hosted by Ball State, Butler, the Horizon League, Indiana, Indiana University-Purdue University Indianapolis and Purdue, which are lending their facilities and staffs to assist with tournament operations. The Indiana Convention Center will be used as a practice facility, with multiple courts set up inside the venue. Games will be played on two courts inside Lucas Oil Stadium, as well as Bankers Life Fieldhouse, Hinkle Fieldhouse, Indiana Farmers Coliseum, Mackey Arena in West Lafayette and Simon Skjodt Assembly Hall in Bloomington. Only one game at a time will be played at Lucas Oil Stadium.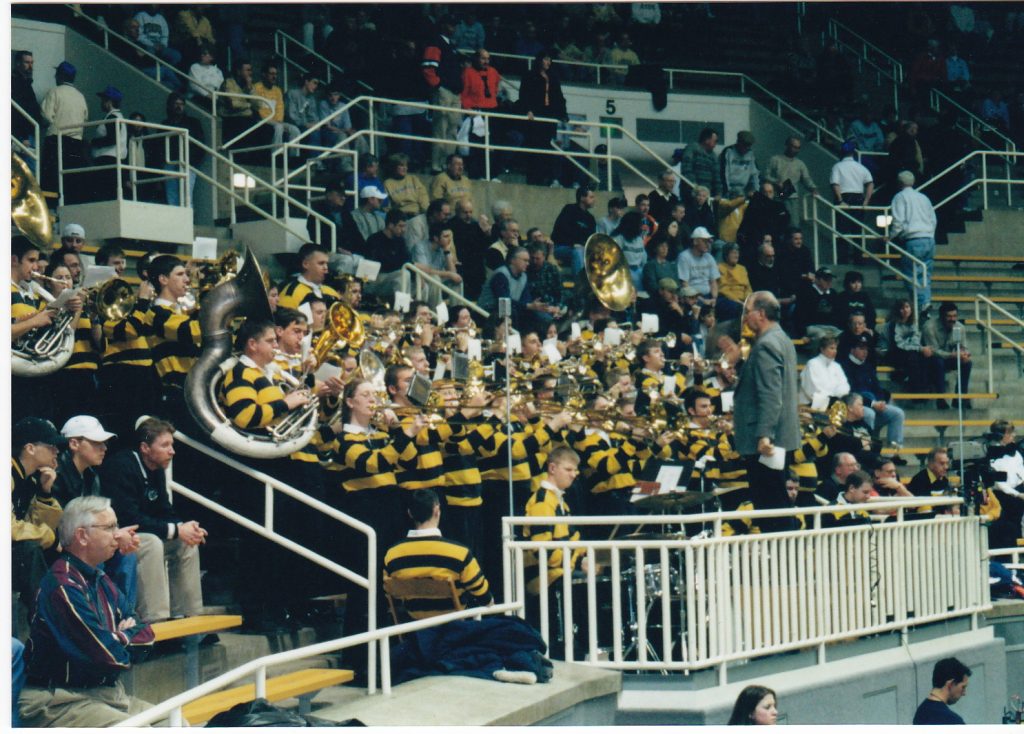 "It's been a very interesting year, certainly for all of us, just trying to navigate collegiate sports has been a real challenge," Vaughn said. "Athletes flying all over the country, playing different kinds of sports with different protocols and conferences with different ways of thinking about things. The NCAA, I think, has made the right decision to standardize that approach to March Madness.
"It should be a really unique moment for us. We are a historic organization, we've been around since 1979 and we've hosted many major events," Vaughn added. "We've hosted the Pan Am Games in 1987, a variety of Final Fours, the Super Bowl in 2012, this is that moment for us. We're all very excited about it. It's unfortunate it's happening because of what's taking place across the country but there's not much we can do about that other than continue to be vigilant around safety precautions.
"We're planning to seize the moment."
---
by Jason Paha