With a hall-of-fame resume and sports facilities, Knoxville shines as a haven for sports tournaments planners
Thanks to recent events including the USA Cycling National Championships, the TYR Pro Swim Series and Bassmaster Classic, Knoxville is recognized as a premier city for hosting a variety of sporting events. A key component to Knoxville's success is the selection of venues, anchored by the Knoxville Convention Center (KCC). Thanks to sports court flooring and systems purchased by the Visit Knoxville Sports Commission, KCC also has an impressive list of youth basketball and volleyball tournaments.
Knoxville provides athletes and fans alike with outstanding visitor experiences. Many sporting venues are located within walking distance of the city's vibrant downtown as well as the University of Tennessee campus. Downtown offers a mind-boggling number of restaurants and a variety of attractions and entertainment.
Notable Recent/Upcoming Events
2019 AAU Cross Country National Championships; Dec 7; Victor Ashe Park
2020 TYR Pro Swim Series; Jan 16-19; University of Tennessee Allan Jones Aquatic Center
2020 NAIA Swimming & Diving National Championships; Mar 4-7; University of Tennessee Allan Jones Aquatic Center
2020 USA Cycling Pro Road National Championships; June 18-21; downtown Knoxville
2020 AAU 7th Grade Girls National Basketball Championships; June 26-29-; Knoxville Convention Center
CVB/Sports Commissions Services Offered
Volunteer Staff
PR/Media Assistance
Signage
Site Visits
Mobile Apps
Lodging Services
Welcome Bags/Gifts
Itinerary Development
Event Planning Assistance
Basketball/volleyball floors, goals and net systems
Click on tab to see more information about a specific facility
Knoxville Convention Center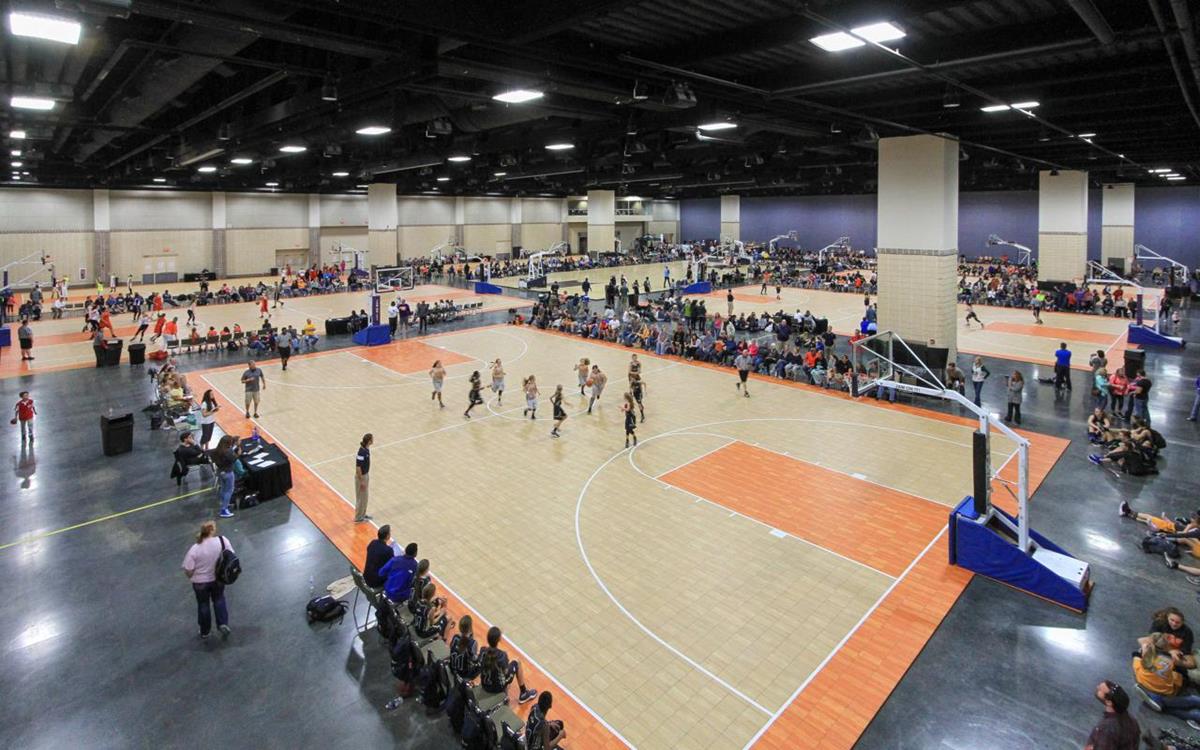 With a staff that offers the highest level of customer service, the Knoxville Convention Center captures its visitors with a 500,000 square-foot facility that can accommodate appropriate sporting events upon request. Established in 2002, the Convention Center is located between the urban core of the city and the University of Tennessee, inviting guests to explore Knoxville's vibrant downtown which includes a variety of hotels, authentic restaurants, award-winning festivals, live entertainment and shops in a community dedicated to Southern hospitality.
Sports: Cheerleading, gymnastics, volleyball, basketball, dog shows, Junior Olympics
Allan Jones Aquatic Center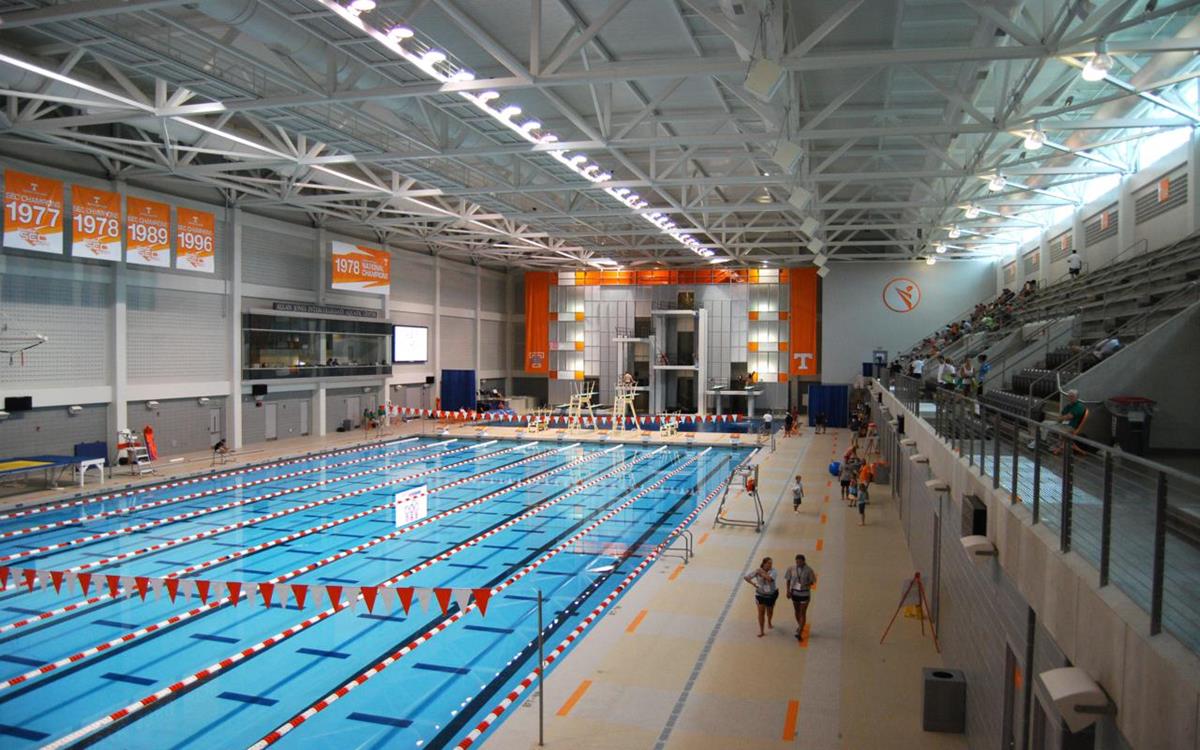 Completed in 2008 at a cost of more than $24 million, the Allan Jones Intercollegiate Aquatic Center is one of the nation's premier facilities for swimming and diving. Located on the campus of the University of Tennessee, the Aquatic Center offers two 50-meter pools, two indoor diving wells and an outdoor 50-meter pool with its own diving well. The state-of-the-art facility boasts a full-size 50-meter competition pool, a separate competition diving well, a strength training center, sports medicine facility and a high-tech timing room.
Sports: Swimming, diving
Knoxville Civic Auditorium and Coliseum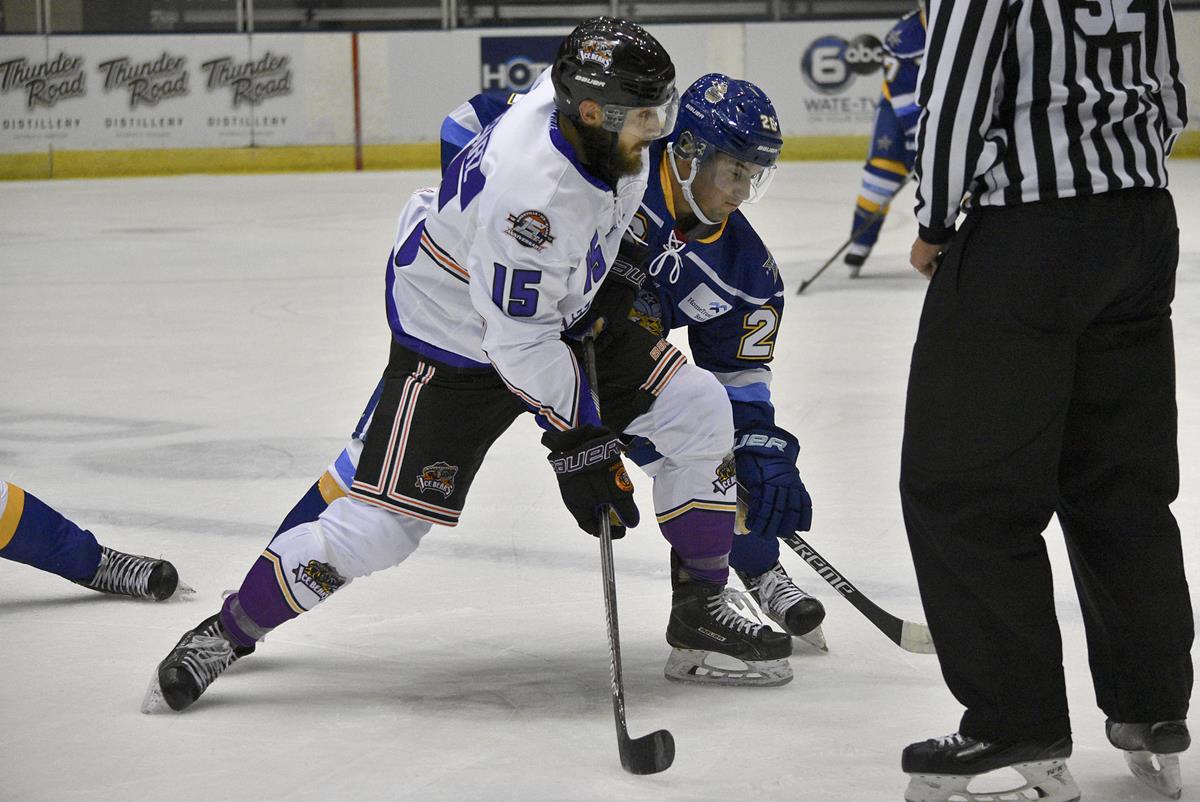 A companion to Knoxville's 500,000 square-foot Convention Center, the 22,000 square-foot exhibit space offers a ballroom, performance lawn and a 2,500-capacity auditorium that is a premier host for theater, circuses, concerts and sporting events. The Auditorium & Coliseum plays host to the four-time Southern Professional Hockey League champion, Knoxville Ice Bears.
Sports: Hockey and various other sports
Thompson Boling Arena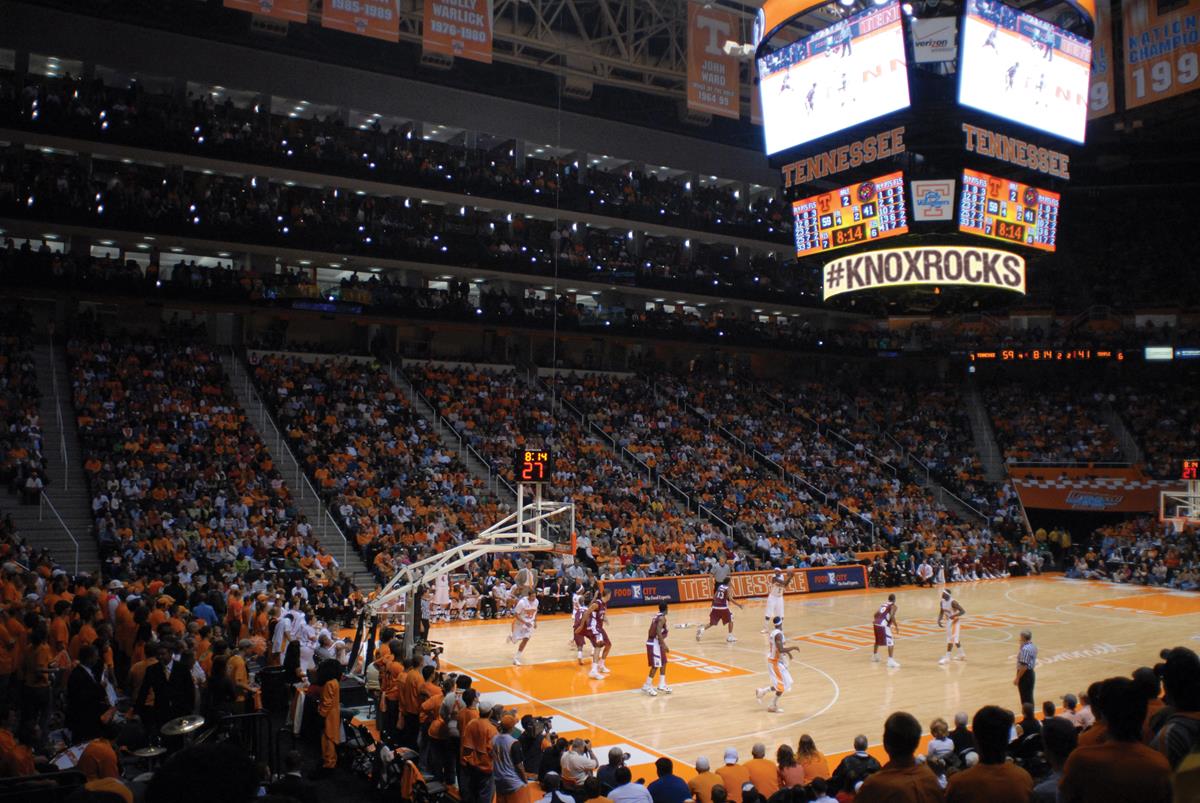 Opening its doors in 1987, the Thompson-Boling Arena acts as a multipurpose arena located on the campus of the University of Tennessee. The arena plays host to the university's men's and women's volleyball and basketball teams with a seating capacity of nearly 22,000. The basketball court is named, "The Summit" after the record holding eight-time NCAA champion, Pat Summitt.
Sports: Basketball, volleyball
Volunteer Landing Park
With opportunities for public transportation and over 220 available parking spaces, the 12.5-acre park allows visitors to explore the Tennessee River at Volunteer Landing while providing chances at fishing and paddling. Children may enjoy splash pads that are open throughout the summer months while walkers, runners and cyclists alike can benefit from the winding path of the Neyland Greenway, which saddles the river.
Sports: Fishing, biking, boating, paddleboard
World's Fair Exhibition Hall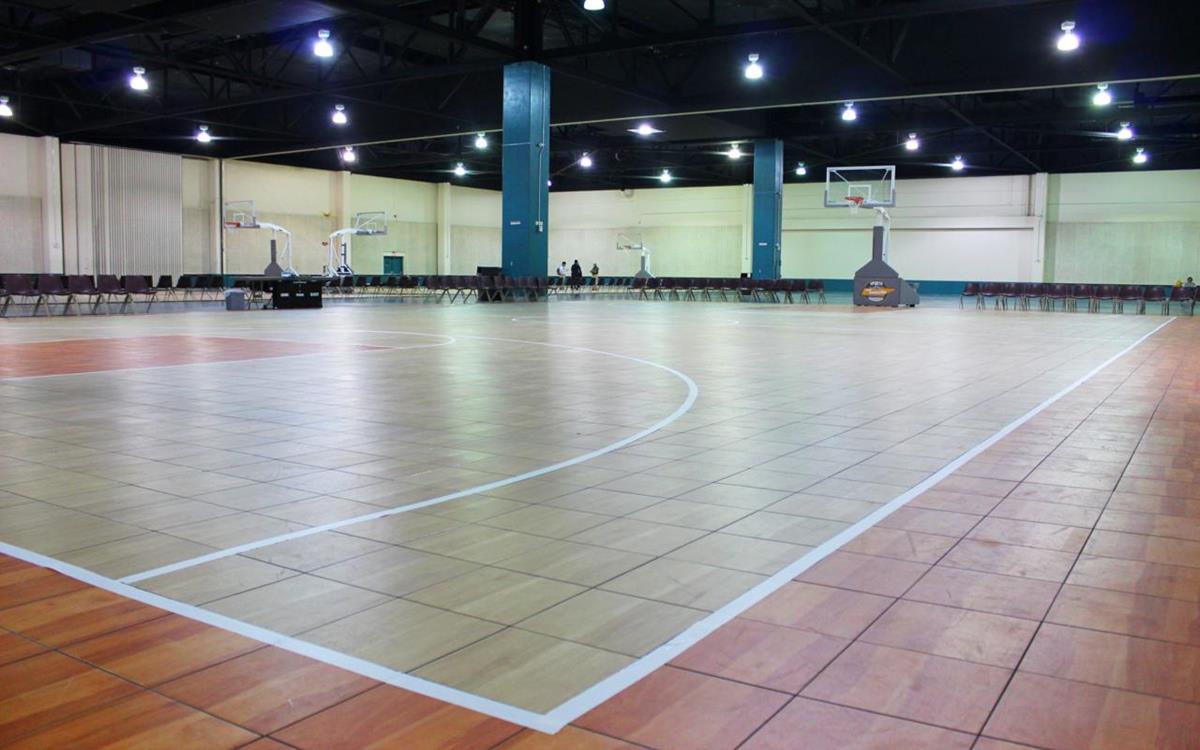 Neighboring the Holiday Inn downtown, the nearly 70,000-square-foot facility first served as the Technology and Lifestyle Pavilion as part of the 1982 World's Fair. Now the hall—which subdivides up to three varying sizes for accommodation—acts as an ideal site for public shows, exhibitions, sporting events, meetings and more.
Sports: Basketball, bowling, cheerleading, gymnastics, Junior Olympics
Baker Creek Preserve
A prime destination for outdoor adventures, the 100-acre Baker Creek Preserve is located three miles from downtown Knoxville and is family friendly for everyone. The area offers convenient parking, a kid's adventure play area with natural interactive features, a kid's bicycle pump track and loop, as well as easy multiuse trails. The hills, valleys and meadowland along Baker Creek features 7.3 miles of natural surface trails for beginners and for experts.
Sports: Mountain biking, hiking, running
[optin-monster-shortcode id="soroipfrq1e2srraagf1″]
Things to do in Knoxville
Develop an intimate feel of the area by visiting Knoxville's Urban Wilderness. As a recreational, cultural and historic preservation, the wilderness integrates 1,000-forested acres along downtown's south waterfront. Enjoy hiking, biking, climbing, paddling or allow the natural scenery to encapsulate you in the heart of Knoxville.
Climb to new heights at Navitat Knoxville, a tree-based adventure park with six trails designed to thrill, inspire and educate. Test your strength and balance throughout the trials as well as take in the backdrop accompanied with our zip lines.
Zoo's never go out of style. Visit Zoo Knoxville – the home to about 800 animals. Take a camel ride, catch the Zoo Choo train, or enjoy a night safari among several attractions Zoo Knoxville vaunts that continues to incentivize visitors to come back.
Stop at Maple Hall in the heart of downtown Knoxville for a boutique 11-lane bowling alley. Equipped with leather couches, a full bar, relaxing lounge areas and no shortage of high-definition TV's, you and your mates can bowl in luxury. Above the lanes features a cocktail lounge, life-sized board games as well as game night classics, full bar with top-shelf alcohol, and a patio.
Allow the atmosphere to influence your night by taking in all of what downtown Knoxville has to offer. Check out Market Square, Historic Gay Street and the Old City as you enjoy the city's go-to destination for dining, entertainment, shopping, festivals and more.
Planner Perspective
"Knoxville was an outstanding host of our annual meeting, Sports ETA Symposium. We set an all-time attendance record and topped just over 1,000 attendees. The easy drive to Knoxville and reasonable hotel rates accounted for our attendance record. Our attendees also recognized Knoxville as a top host; we received an unprecedented amount of feedback in our post-event survey about how much people enjoyed Knoxville. The southern hospitality is undeniable, and, from a meeting planner perspective, the customer service and event support were a huge plus. Kudos to the entire Visit Knoxville Sports Commission team for helping us stage an amazing event!"
NASC: Elizabeth Young, Vice President
"Everyone at VK was amazing. We have never worked with a team so willing to help. The entire team in Knoxville went above and beyond to insure we had a great time. Our needs before, during and after the event were more than satisfied. Everyone at Visit Knoxville made us feel like friends, and not just clients."
B.A.S.S.: Eric Lopez, Director of Event Operations
"On behalf of our entire Tournament Team thanks so much for all your hard work to make the 2019 Bassmaster Classic a record setting success. The crowds were off the charts especially at take offs and the Expo. A ton of coordination takes place to make an event like the Classic safe and successful… thanks to you, all of our needs were met."
B.A.S.S.: Trip Weldon, Tournament Director
"Long lines of fans waiting to enter Thompson-Boling Arena were similar to game days when the University of Tennessee Volunteers have played some of their biggest rivals there. The Classic Outdoors Expo presented by DICK'S Sporting Goods was packed from the moment Gov. Bill Lee cut the ribbon to open the show, and it continued with capacity crowds through the weekend."
B.A.S.S.: Chase Anderson, Director, a native of Knoxville
"The city is made for bike racing, with the river and the hills. Visit Knoxville hit the ball out of the park."
USA Cycling: Derek Bouchard-Hall, former President & CEO
"The 2018 AAU Cross Country National Championship were tremendously successful. The number of athletes that participated was near record numbers and we had teams from throughout the US, Puerto Rico, Bermuda and Canada that competed. Visit Knoxville Sports Commission was an amazing host for this event. They helped us to achieve our goal of increasing the number of participants as well as helping us to provide a superior level of competitive opportunities. With Knoxville being centrally located for our members and the excellent hospitality that we received last year, we have decided to return to Knoxville for the 2019 AAU Cross Country National Championship."
AAU Track & Field: Charles Oliver, National Chairman
How to Get to Knoxville
Knoxville is located at the intersection of I-75 and I-40, just minutes from I-81 – within a day's drive of nearly half the U.S. population. McGhee Tyson Airport (TYS) is located just 12 miles from downtown Knoxville offering 120 daily flights to more than 20 non-stop destinations including Chicago, Dallas, D.C., New York and Denver.
Contact Information
Company Name: Visit Knoxville Sports Commission
Sports Sales Manager: Chad Culver
Title: Senior Director
Telephone: 865-342-9117
Email: cculver@knoxville.org
Website: Visitknoxville.com/sports