Great restaurants, attractions, amazing sports complexes and plenty of sunshine… what more can a person ask for?
There are plenty of reasons to visit Orlando North and the Seminole County area outside of its close proximity to world famous theme parks like Walt Disney World and Universal Studios. There are also a slew of fabulous athletic facilities around the destination, making it a great place to host a sports tournament. Baseball players and coaches won't want to miss the awe-inspiring, 100+ acre Boombah Sports Complex of Seminole County, and will be enthralled with a visit to historic Sanford Memorial Stadium. Softball enthusiasts will be equally mesmerized with two prime venues: Boombah-Soldiers Creek Park and Seminole County Softball Complex. The former boasts six lighted fields, while the latter has five fields and a three-story operations center. Beyond baseball and softball, Orlando North Seminole County also has facilities for sports like football, soccer, lacrosse, tennis and watersports. Sylvan Lake Park is perfect for avid tennis players, while Sanlando Park hosts multiple tennis tournaments every year including the NCAA Men's and Woman's Division II National Championships The 40-acre  Orlando City Youth Soccer Complex is another spectacular stop for those who love the sport of soccer.
CVB/Sports Commissions Services Offered
Volunteer Staff
PR/Media Assistance
Signage
Site Visits
Transportation Assistance
Lodging Services
Grant Programs
Welcome Bags/Gifts
Itinerary Development
Event Planning Assistance
Click on tab to see more information about a specific facility
Boombah Sports Complex at Seminole County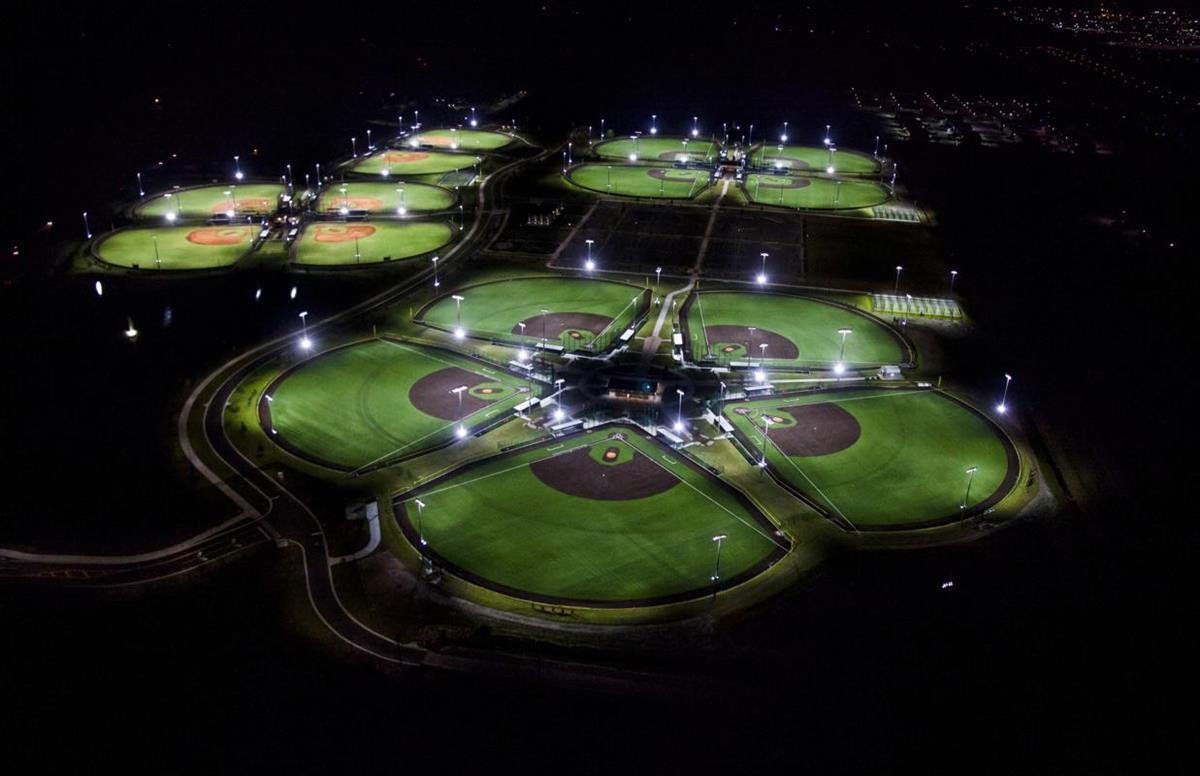 Boombah Sports Complex is the cream of the crop when it comes to American baseball facilities. Boombah Sports Complex spans 100 acres and boasts 3 batting cages, 15 playing fields, bullpen space and state-of-the-art LED lighting. Nine of the fields consist of artificial turf, while the other six are natural grass. The fences vary is distance from 315 to 385 feet, making this venue perfect for tourneys geared towards just about any age group. The complex also has more than 900 parking spaces, a 1.2-mile recreational trail, three concession stands and a playground. Complete with shaded bleachers, the complex is a perfect spot to relax and watch a great sports event.
Sports: Baseball, softball, soccer, lacrosse
Boombah-Soldiers Creek Park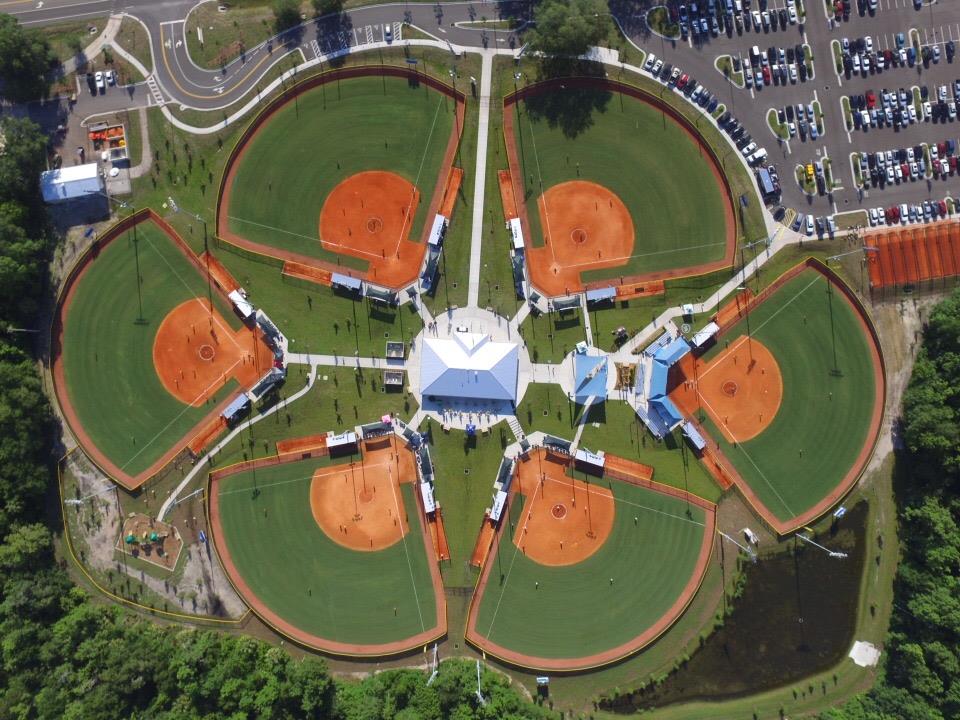 Boombah-Soldiers Creek Park offers six lighted athletic fields, all of which are natural turf and have 220-foot fences. All the fields are build and designed to meet NCAA softball regulations. One field is designated as the Stadium Field, and boasts increased capacity and is used for championship games. Some popular amenities include an indoor meeting space, a playground, walking paths, and an eight-lane batting cage, ensuring players can practice as much as they would like.
Sports: Softball, youth baseball
Seminole County Softball Complex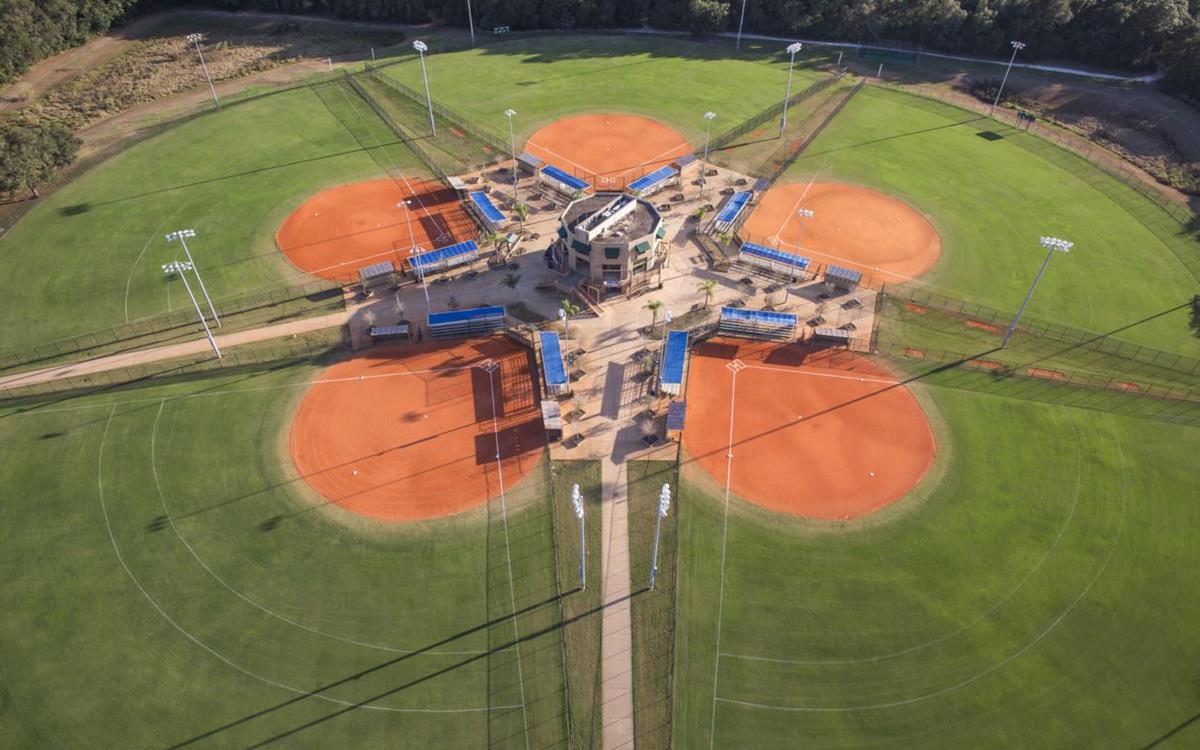 Those looking to host a softball tournament in the Orlando area should look no further than Seminole County Softball Complex. It has five lighted fields with 305-foot fences and covered dugouts. Players and coaches love the water fountains and ice machines in the dugouts and the venue also features an 8,000-square-foot operations center. Complete with over 500 parking spaces, wi-fi availability, electronic scoreboards, and a PA system, Seminole County Softball Complex is an ideal locale for softball fans.
Sports: Softball
Sanford Memorial Stadium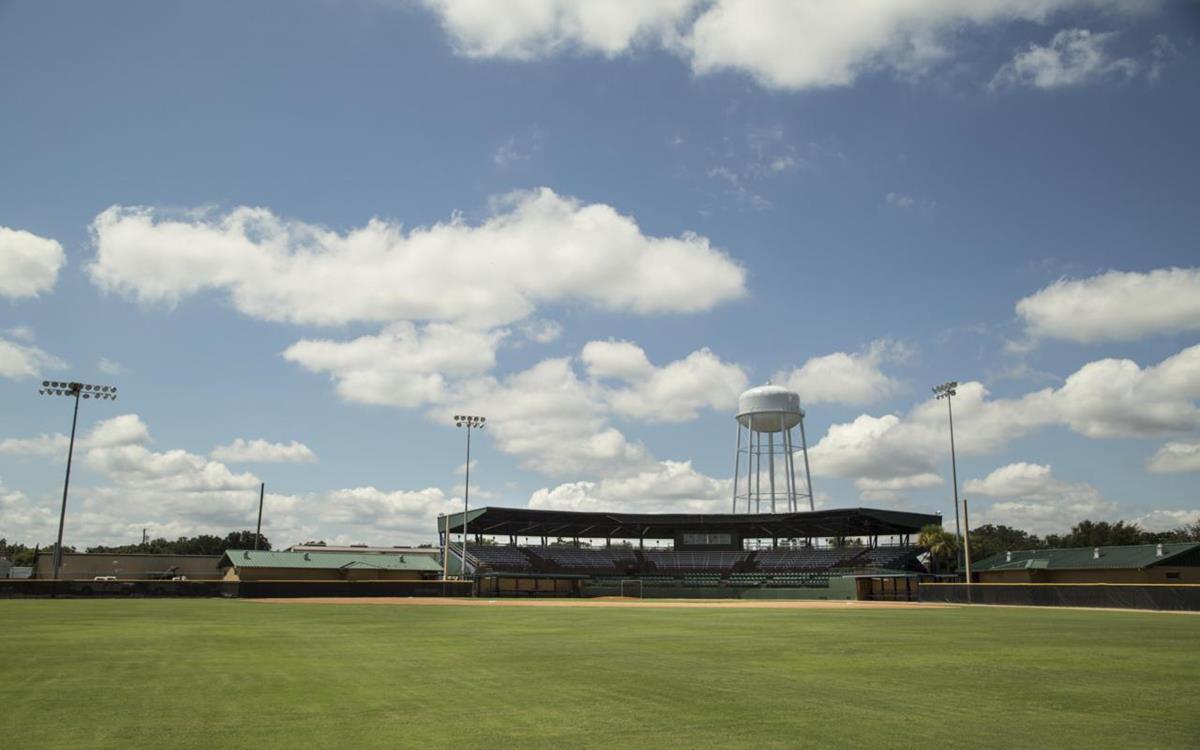 This recently-renovated, 2,000-seat stadium once hosted the likes of Babe Ruth, Jackie Robinson and Willie Mays. Built in 1951, it was once home to the New York Giants and the Boston Braves, certifying its importance in baseball history. Extensive renovations were made to the stadium in 2001, including major improvements to the grandstands, a new arc design roof, and new clubhouses for both teams. The Sanford Memorial Stadium staff has done a great job of maintaining its historical image as a host to many of baseball's most storied players.
Sports: Baseball
Sylvan Lake Park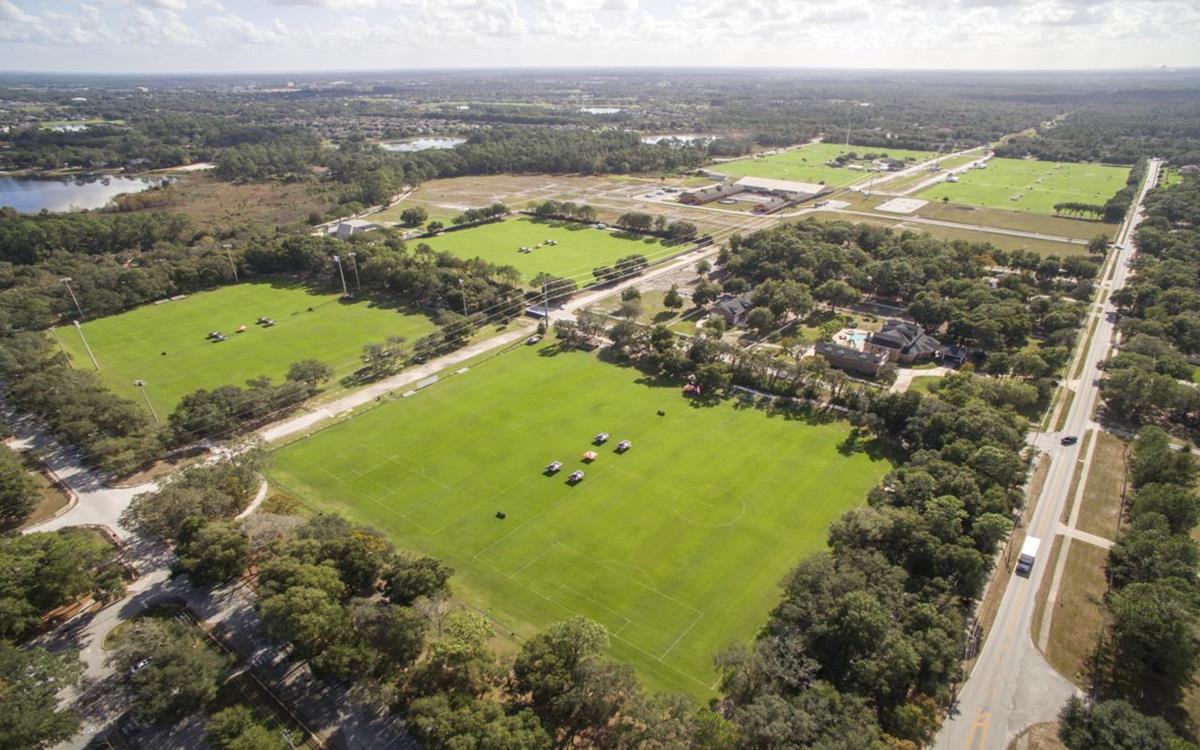 Sylvan Lake Park is a go-to venue, especially when it comes to tennis and soccer. The complex boasts 11 tennis courts and six international-dimension soccer fields, four of which are equipped with lights. There are also locker rooms and 15,000 square feet of training space, ensuring that players will always have room to practice. Home to the Professional Soccer Club Orlando City Lions of Major League Soccer, this multi-purpose facility should be near the top of any event director's list.
Sports: Soccer, tennis, football
Sanlando Park
Sanlando Park is massive and flexible in terms of the sports it services. There are 25 hard-surface tennis courts, one of which is equipped with a tennis ball system. Sanlando also has eight four-wall, outdoor racquetball courts, two basketball courts, a sand volleyball court and four Wallyball courts. A visitor's biggest dilemma could be choosing what sport to play. Sanlando's amenities are perfect for families as it features a jogging trail, three pavilions, wi-fi availability, and a playground area.
Sports: Tennis, volleyball, racquetball, basketball, Wallyball
Orlando City Youth Soccer Complex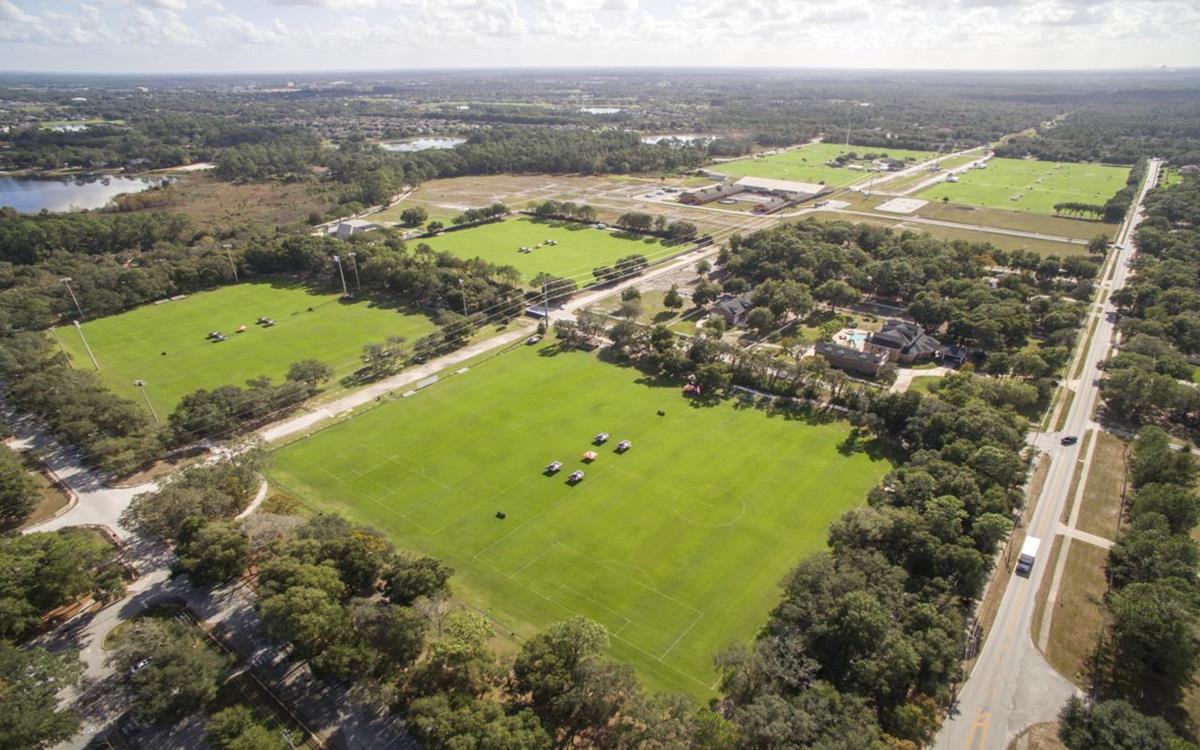 Orlando City Youth Soccer Complex is the home of Orlando City Youth Soccer. It is a sprawling 40-acre facility located in Markham Woods, just north of Orlando and has 11 full size soccer fields. The complex hosts multiple elite youth tournaments, and acts as an alternative training venue for the professional teams. It is also the site for PDL and ECNL.
Sports: Soccer
Things to do in Orlando North
Orlando North offers endless opportunities for nature and outdoor activities, special events, arts and culture, nightlife and entertainment.
Those visiting Wekiva Island can rent canoes, kayaks or paddleboards and spend a day floating down the picturesque Wekiva River. The river hosts an annual art festival and gallery with the chance to get an up-close look at artists while they work.
Idyllically situated just 24 miles from Orlando and 36 miles from Daytona Beach, Sanford is a quaint town blessed with Southern charm. Downtown Sanford is teeming with boutique shops and nationally recognized eateries, such as Hollerbach's Willow Tree Cafe, a renowned German restaurant serving schnitzel, bratwurst and other German classics.
Black Hammock Adventures attracts visitors with top-notch airboat rides. When embarking on an airboat ride, guests can expect to stop at the Live Gator Exhibit, do some souvenir shopping at the gift shop, enjoy a meal at the facility's restaurant or have a cocktail at the Lazy Gator Bar. Black Hammock has live music and entertainment every weekend, and those who reserve an airboat ride online will receive a free picture with a baby gator.
Zoom Air Adventure Park invites guests to enjoy nature from a new perspective on their zip-lining adventures. The park's Upland Course features 30 game elements and four zip lines. For younger explorers, the Kids' Course practices safety by having children secured to a lifeline with their parents walking on the ground beside them, a safe and exciting option for young group members.
Central Florida Zoo & Botanical Gardens in North Orlando has been an accredited member of the Association of Zoos and Aquariums since 2011. Featuring over 400 animals, the zoo includes some of the rarest and most endangered species on the planet.
Planner Perspective
Central Florida USSSA gives the highest recommendation for Seminole County.   We host numerous events throughout the year, ranging from qualifiers to state/national events.  Their professionalism and work ethic are top notch, thus surpassing their competitors.  They are in constant communication with us from the planning stage to the finalization of every event which in return eliminates errors/confusion.  Their fields and facilities are maintained to the highest degree by their highly trained staff. We look forward to our continued partnership.
Girls Fastpitch: Tonya Waters (USSSA State Director)
The ECNL is excited to continue the strong relationship with Orlando North Seminole County Sports and the Central Florida Sports Commission.  Over the past 8 years the ECNL has grown as a league, helping to develop elite female players both on and off the field, and we could not have done it without the overwhelming support received from the various Sports Commissions and Visitors Bureaus across the country.  Seminole County, in particular, has been a longstanding partner to the league, and offers top-notch customer service and event support to ensure our experience is seamless.  The ECNL could not ask for a better staff to align with as we continue our mission to Raise The Game, and support the infrastructure of a forward thinking community that invests in the beautiful game that brings us all together.
Elite Clubs: Jen Winnagle (National League Commissioner)
How to Get to Orlando North
By Car: Interstates 4 cuts right through Orlando, running from Daytona to Tampa. Interstates 75 and 95 are also major routes that take you around the state, while Florida's Turnpike goes north-south through Orlando.
By Air: Located right in Orlando North, Orlando Sanford International Airport offers a range of domestic and international flights in the backyard of your final sports destination. 
Contact Information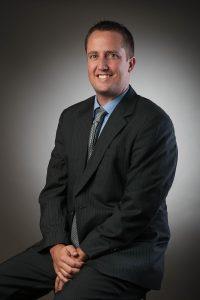 Company Name: Orlando North Seminole County Sports
Sports Sales Manager: Danny Trosset
Title: Director of Sports Tourism
Telephone: 407-665-2902