As Participation Grows Exponentially, Picklers Ready for Political, Stadium & Olympic Arenas
It's been 57 years since pickleball was fated into existence in a congressman's backyard on Bainbridge Island, just across Puget Sound to the west of Seattle, WA. Now, as much as the purpose is driving the fastest growing sport in America in 2022, pickleball's progression may eternally be rooted in happenstance.
Kate Van Gent, a Stockton, CA, transplant who calls the Seattle metro area home, didn't play sports growing up but quickly became addicted to pickleball in July 2020 when the pandemic shut down her Pilates studio. The next summer, Van Gent participated in a three-day camp to improve her game when her pickleball trajectory changed at the end of day one of the clinic.
"I came home completely exhausted on Monday, July 26 (2021). I still had my nametag on that said Kate and Senator John Lovick was walking down my driveway as I was driving up," says Van Gent, a USA Pickleball ambassador in Mill Creek, WA. "I rolled down the window and said, 'I'm so sorry I'm tired, I've been playing pickleball for five hours.' And he said, 'That's interesting because Chuck Wright and I are working on a bill to make pickleball the official state sport, and we're looking for a representative to represent the pickleball community as neither of us plays and we don't know anyone who plays.'"
Van Gent agreed to be that representative and joined forces with Lovick and Wright, a columnist for the Mill Creek Beacon. Three days later, Van Gent had successfully recruited a committee of like-minded pickleball enthusiasts and players for an impromptu meeting at Wright's house. And nine months later, the committee's dream birthed a reality on March 28, 2022, when governor Jay Inslee signed legislation establishing pickleball as the official state sport of Washington.
The bill's signing may have been a long time coming for the Pacific Northwest, yet it's also indicative of present-day investment in the game. In 2019, the Association of Pickleball Professionals (APP) and the Professional Pickleball Association (PPA) were formed to help amplify the professionalization of the sport. Similar efforts continued last year with the development of Major League Pickleball (MLP), featuring teams owned by the likes of Gary Vaynerchuk. And in January 2022, sports and entertainment entrepreneur Tom Dundon—chairman of Dundon Capital Partners and sole owner of the Carolina Hurricanes of the National Hockey League (NHL)—made waves with the acquisition of the PPA and Pickleball Central's retail business and event platform.
Why all the big-league hype? As an extension of the last decade, the pandemic helped push a half million new players onto the court to help perpetuate pickleball's pronounced growth. Since 2014, participation has doubled, rising to 4.8 million people in 2021 thanks in part to the sport's ease of accessibility for players of all ages and experiences. Moreover, 17 percent of players are 65 and older, nearly 33 percent are 25 or younger, the court is about 1/3 the size of a tennis court, and games are typically played in doubles to collectively make it attractive for the best athletes or casual fans.
"You're in closer proximity and it encourages friendships and comradery and it's usually played with four people. You tend to get a group going that becomes like family and you form strong bonds," says Van Gent, who likens the Bainbridge Island area as the Fifth Avenue of pickleball. "It's not just for people who are healthy and hale. The disabled community can play, people who are not that athletic can play it, and grandparents can play it with their grandchildren. It's a sport that reaches across all spectrums, everybody."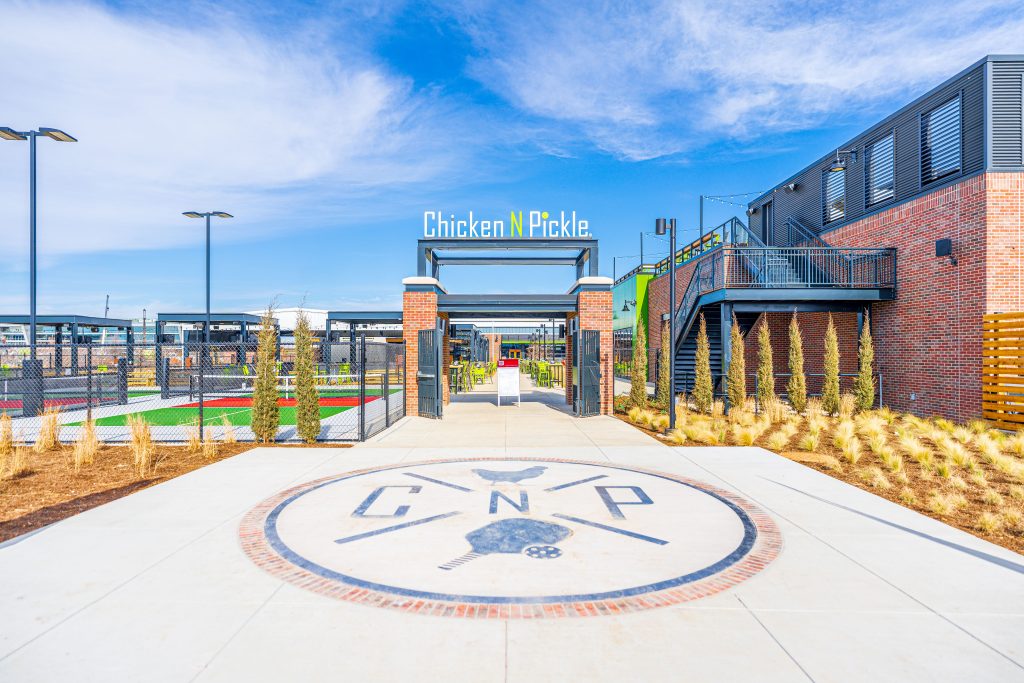 As Washington state pushes its endemic pickleball story to advocates and investors with the goals of expediting new facility investment and economic development—Spokane is set to welcome 900 players and hundreds of thousands of dollars in economic impact when it hosts the USA Pickleball Pacific Northwest Regional Championship for the first time on July 5-10, 2022—its counterparts in pickleball hotspots like Florida, Utah and Arizona have become go-to places for some of the most prestigious events. In fact, the latter is home to the 320-acre Bell Bank Park in Mesa, AZ, a mega multi-sport complex that debuted in January 2022 and includes 41 pickleball courts as part of its city-sized footprint. The results are pouring in, as the facility has already inked deals to host multiple national APP and PPA tournaments.
Pickleball remains in lockstep with the growth of sports tourism, yet the sport's strong following of casual, local players augment interest even further. Established in 2016, Kansas City, MO-based Chicken N Pickle is to pickleball what Top Golf is to golf—a food and beverage experiential brand where casual fans and elite competitors coexist and socialize in a sports and entertainment context.
"We believed fairly early on during our honeymoon period that we had something special," recalls Garrett Stutz, who works on development and expansion at Chicken N Pickle. "Not only was the popularity of pickleball on the rise, but so was the demand for what we had created. The 'eatertainment' guest experience is one that includes both dining and activities, and our teams do it exceptionally well."
Chicken N Pickle's six locations are in Missouri, Kansas, Texas and Oklahoma, and each draw more than 700,000 annual visitors. The chain's success has led to recent work with renowned design firm Populous in refreshing the brand style and architecture, prioritizing a town square design model that spotlights community and the brand's farmstead roots. And there are three more locations scheduled to open this year amidst a healthy economic development mix of high population density targeting, public-private partnership, and the game's accompanying buzz.
"One of the coolest things we see on our property is people on the pickleball court who meet each other who would never meet in any other facets of life," says Kelli Alldredge, Chicken N Pickle's senior vice president of engagement and president of the company's Foundation. "It brings people together and it's such a neutralizing sport. Anyone can play. No one's alike or coming from a similar background and we're all coming together for pickleball. That's the secret behind the boom of the sport."
While its viral reach has sparked dialogue about pickleball's potential inclusion as a demonstration sport at the 2028 Los Angeles Summer Olympics, Alldredge adds a primary goal of Chicken N Pickle's is to get guests off devices, underscoring the significance of a 'low-tech, high-touch' philosophy—an old-school approach that, as a continuum of pickleball, is also applicable to the recent legislative win in Washington.
It was Wright who posed a question to Lovick about why pickleball is not the official state sport, piquing the Senator's interest, followed by Lovick and Van Gent's serendipitous driveway meeting. Unbeknownst to the three of them, these casual conversations helped lay a foundation for 38 USA Pickleball ambassadors in Washington state, led by Van Gent, to quickly organize and lobby state representatives, senators and committee members on behalf of pickleball state pride.
"It got voted on 15 minutes before our time was going to expire at 5 p.m. on a Friday—the bill got voted on at 4:45 p.m. and I was playing pickleball at the time," says Van Gent of the pickleball lobby's full-court press. "For one week, it was sitting in the rules committee and we contacted as many people as we could. There are 27 people on the committee and we contacted most of them by phone or email asking them to pull it out of rules committee and allow it to go to floor for a vote."
The bill's signing represents a full-circle moment for the sport, while the randomness of its inception mirrors that of the game itself. It was longtime congressman Joel Pritchard and businessman Bill Bell who returned home from playing golf one day in 1965 to find Pritchard's family in a state of boredom, leading to a backyard riff on badminton and ping pong with a perforated plastic ball. About a week later, Barney McCallum was introduced to the newfound game at Pritchard's house, forming a trio that began working on rules for a game with the whole family in mind.
And unbeknownst to this backyard trifecta, a Bainbridge Island legacy was born.
"We wanted to honor the founding fathers, and we thought it was about time after 57 years that they get recognition for the incredible work that they did," says Van Gent of Pritchard, Bell and McCallum. "The sport was invented on Bainbridge Island, but it's played worldwide—it's played on seven continents and that's pretty amazing. It's one of the few sports that can be played in Antarctica. Those are some of the reasons we felt it was so important."
By Nick Povalitis