The Power of Multiple Destinations with a Sports Event in the Quad Cities
With versatile venues, an accessible location located on the Mississippi River and affordable amenities, the Quad Cities regional destination is the ideal location for a sports event.
QUAD CITIES, Illinois & Iowa
Made up of multiple destinations to provide a combined power of sports tourism, the Quad Cities feature versatile facilities for all sports and events. Modern, state-of-the-art facilities like TBK Bank Sports Complex continue to dominate and expand to meet demand, while classic stadiums like Modern Woodmen Park bring a different vibe for amazing experiences along the Mississippi River.
Located at the intersection of Interstates 74, 80 and 88, the Quad Cities represent the largest metropolitan area on the Mississippi River between Minneapolis and St. Louis. Nestled in the states of Illinois and Iowa, the Quad Cities have everything sports planners, athletes and families want from pro and semi-pro sports like the Steamwheelers and Storm to youth and amateur facilities galore.
Looking for fun activities nearby? Explore Quad City Museums, family entertainment, river cruises, outdoor adventures, and live music venues. QC Ale Trail is popular among craft beer enthusiasts. Quad Cities brewing history goes back as far as 1847 when the first brewery opened in Rock Island, Illinois. Today, new crafters have hit the market to create a scene that is vibrant and continues to grow to all corners of our bi-state region. Blaze a trail through the QC Ale Trail. Head to a baseball game right along the Mississippi River at Modern Woodmen Park and watch the High-A affiliate of the Kansas City Royals go to bat. Catch a hockey game with the Quad City Storm or Arena Football with the Quad City Steamwheelers.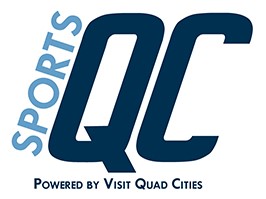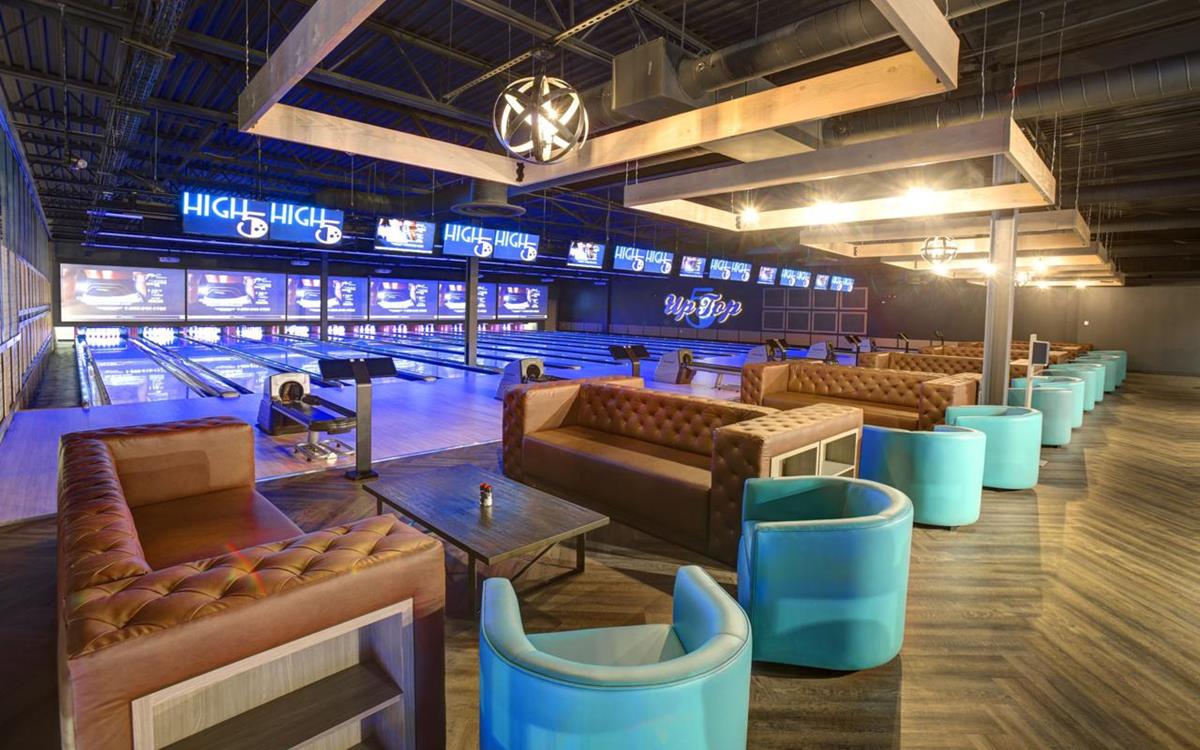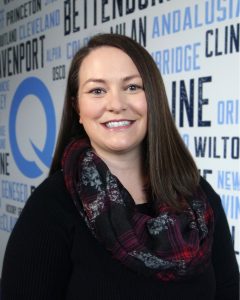 JOAN KRANOVICH
Vice President of Business Growth & Director, Sports QC
Telephone:  800-747-7800 ext. 831
Get a Planner's Perspective
Don't just take our word for it, hear what these planners had to say.
"Working with the Sports QC team was a very enjoyable experience for me. In hosting our NAIA Men's Golf National Championship, the QC team was on top of everything. They are a great team to work with and really care about the events they are a partner in, which shows through their work.​"
— Anthony Goetz, Championship Events Manager, NAIA
Find Your Perfect Quad Cities Facility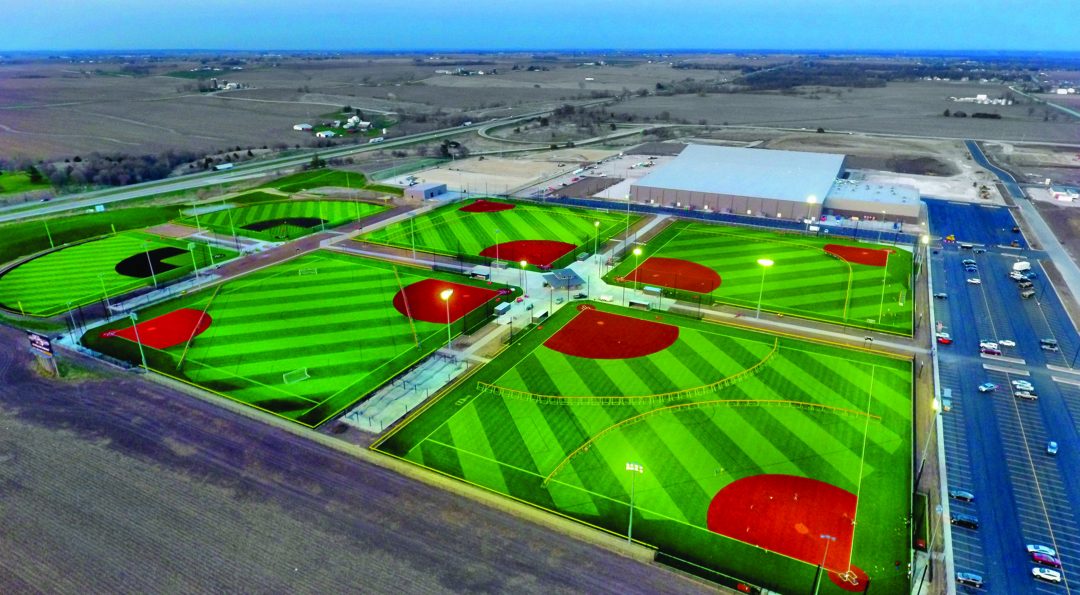 TBK BANK SPORTS COMPLEX
Sports Covered: Soccer, baseball, softball, basketball, volleyball, football, lacrosse, tumbling, gymnastics, cheer & dance, wrestling, bowling
Conveniently located off I-80 in Bettendorf, Iowa, the TBK Bank Sports Complex is a state-of-the-art, multi-use facility that serves a range of sports events. The 75-acre, 280,000-square-foot indoor complex and its accompanying outdoor sports venue can accommodate all kinds of events and tournaments. The indoor facility features a turf 11 v 11 soccer, football or lacrosse field, eight regulation-sized basketball and volleyball courts, four sand volleyball courts along with a team training area, fitness center, batting cages, and food vendors. Outside, athletes will find two lighted turf soccer fields, 10 lighted turf baseball/softball fields, and five sand volleyball courts. There are also concessions and 1,571 parking spaces. The family entertainment center has a full-service restaurant, 32 bowling lanes, 65 arcade games, two escape rooms, virtual reality, golf simulator, a sports bar and restaurant, banquet and meeting space and a two-story laser tag game. In addition, there is an in-house physical therapy center. Level II Fitness, a full-service, high-end fitness center provides members a top-level fitness experience and has the finest in trainers and equipment. The complex is a great place to host events from big to small.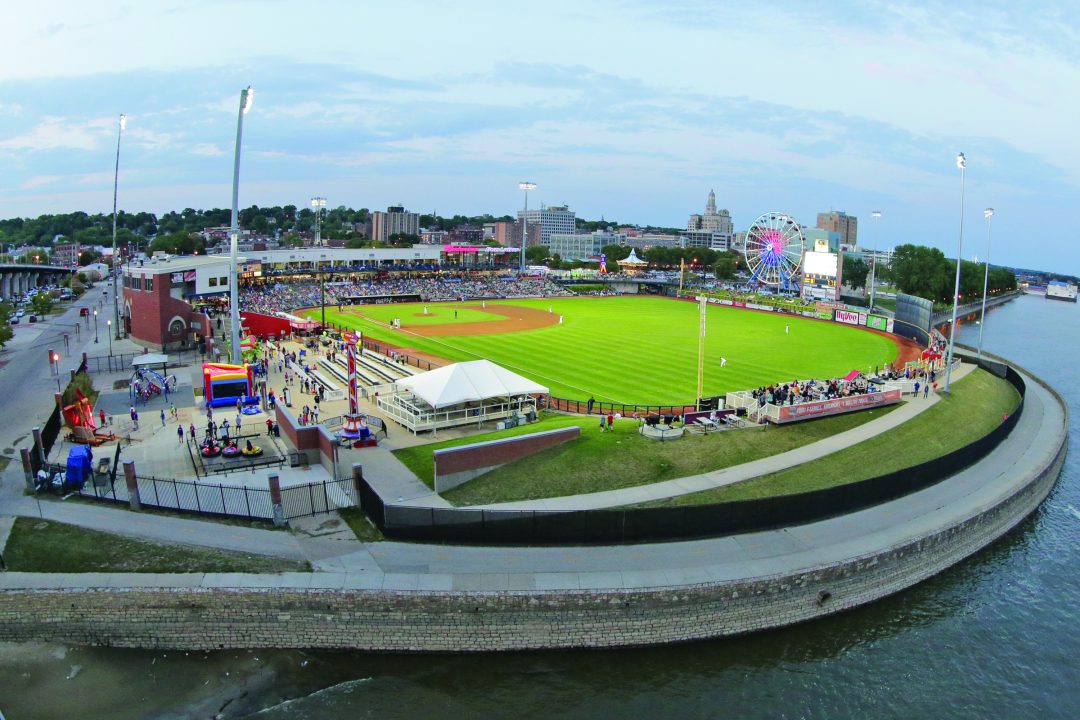 MODERN WOODMEN PARK
Sports Covered:  Baseball, softball 
Located in Davenport, Iowa, Modern Woodmen Park sits right on the banks of the Mississippi River. The stadium is home to the Quad Cities River Bandits, a High-A affiliate of the Kansas City Royals. The ballpark has also played host to many collegiate and high school tournaments and events. The facility features 4,000 permanent seats and 2,000 additional seats on the grass and in the picnic area. There is versatile meeting and event space with spectacular views. Families can also enjoy a variety of amusement rides at the park including a Ferris wheel, the Genesis Kidz Koaster, the River Rocker and a Carousel.

ST. AMBROSE UNIVERSITY
Sports Covered: Track and Field, soccer, volleyball, football, baseball, softball, cheer, dance
St. Ambrose University features an 80,000-square-foot Wellness Center with a 56,000-square-foot field house. Sports events have use of a 200-meter, six-lane track, pole vault areas, long and triple jump pits and four basketball/volley ball courts. The Lee Lohman Arena has a Collegiate regulation size basketball court with seating for 2,000. St. Vincent Athletic Campus features a full-size field for football, soccer, and lacrosse. Two synthetic turf all-purpose fields with spectator seating, press box, and concessions are also part of the St. Vincent Athletic Campus. St. Ambrose University is located close to shopping, dining, hotels, and entertainment.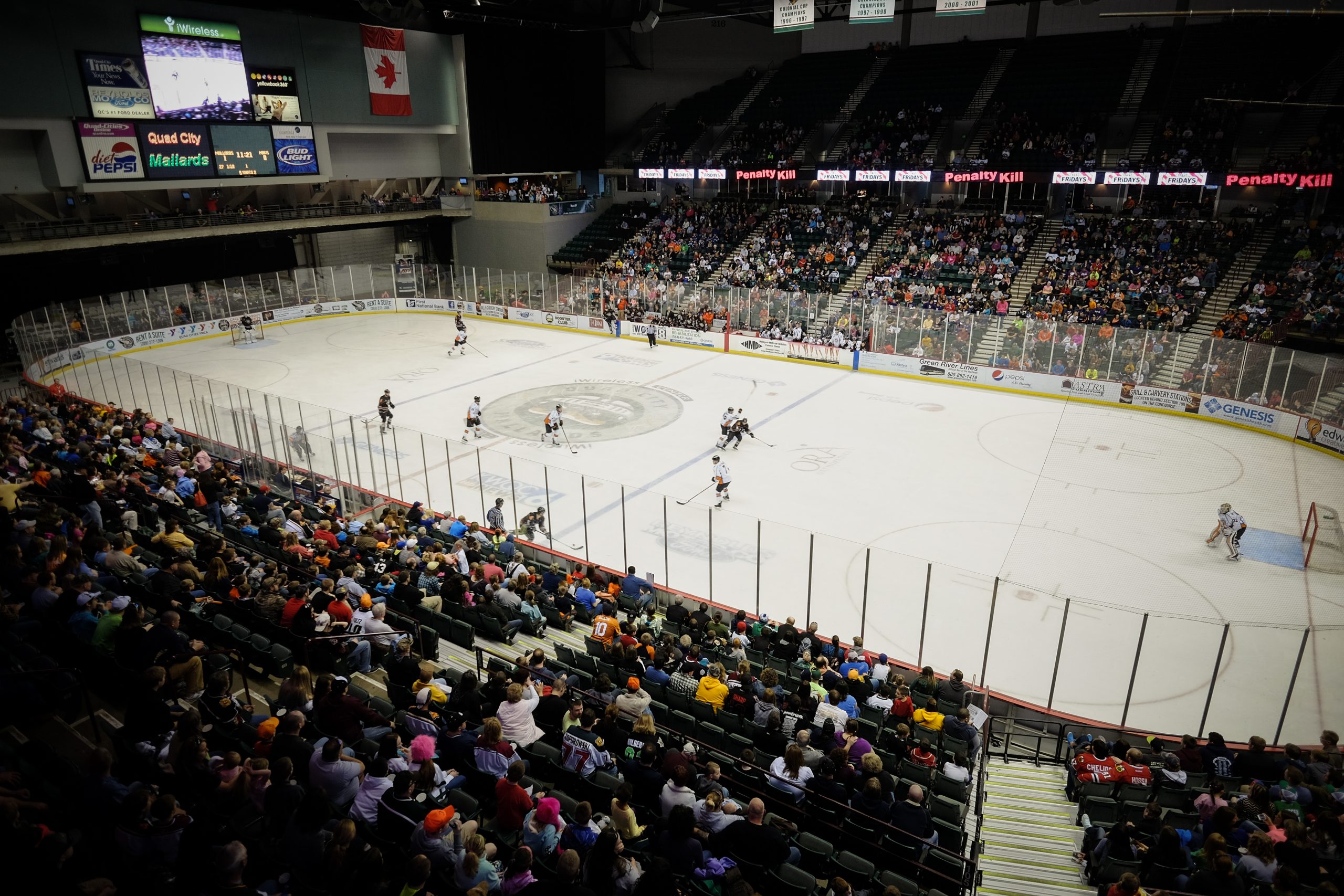 VIBRANT ARENA AT THE MARK
Sports Covered: Basketball, ice hockey, figure skating, gymnastics, rodeos, boxing, volleyball, cheer & dance, wrestling, weightlifting
This 31,000-plus square-foot arena in downtown Moline features seating for 12,000+ offers ample parking, four locker rooms, six production room offices and a conference center. It also has 20,000 square feet of meeting room space and an 11,000-square- foot lobby. Vibrant Arena contains a regulation size court, full size hockey and figure skating rink, luxury suites, automatic video scoreboards with replay capabilities and PA system. The facility is home to the Missouri Valley Conference Women's Basketball Championship, the revived Quad City Steamwheelers of the Indoor Football League and the Quad City Storm, an SPHL team. The arena has earned numerous architectural industry awards and has hosted NCAA Division I college basketball games (including the Mid-Continent Conference men's basketball tournament from 1996 to 1999) and several NHL and NBA exhibition contests. The arena seats up to 12,000 for end-stage concerts along with center-stage concerts. The seating capacity for theater shows is 3,000 and ampitheater shows can reach 6,000.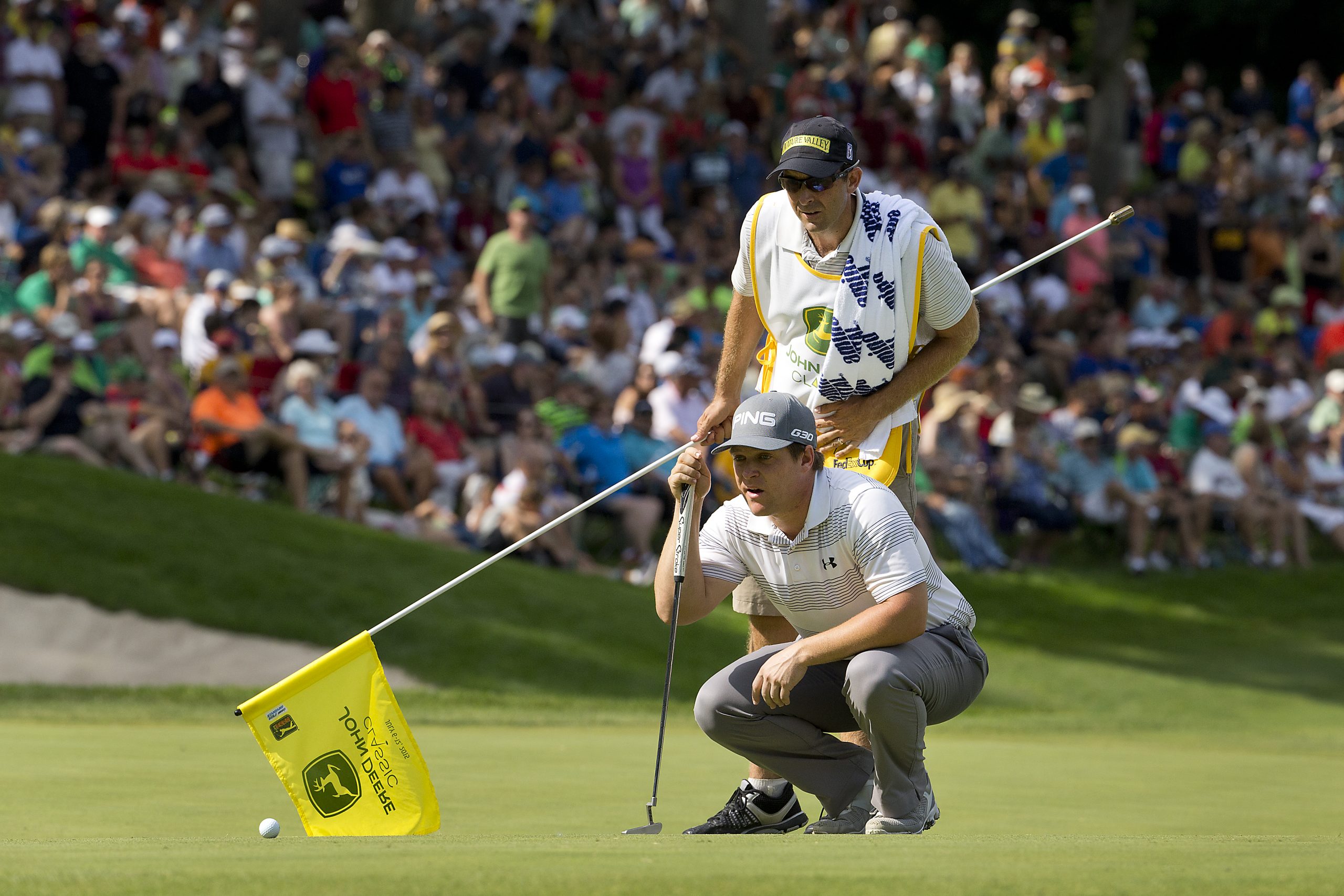 TPC DEERE RUN​
Sports Covered: Golf
A nationally ranked golf destination located in Silvis, Illinois, TPC Deere Run golf course is home to the John Deere Classic on the PGA TOUR, NAIA Golf Championships, CCIW Men's Golf Championship and the Hurricane Junior Golf Tour. The 18-hole course is a beautiful 7,258-yard, Par-71 course, and features a full practice green, 14,000-square-foot clubhouse, dining services, pro shop, locker rooms and 160 parking spaces. TPC Deere Run's golf course was built on the site of a former Arabian horse farm and its design masterfully preserved the natural, rolling landscape along the Rock River, creating a championship golf course beautifully framed by oak trees and accented by small ponds and deep ravines. At this premier PGA TOUR property, TPC Deere Run allows golfers of all levels to experience the challenge of a course that tests TOUR professionals every July. Guests can take advantage of the facility's short game area, full-service driving range, elegant dining at the Deere Run Grille Restaurant and a Top-100 rated Golf Shop.
GREEN VALLEY SPORTS COMPLEX
Sports Covered: Baseball, softball, soccer, cricket
The Green Valley Sports Complex plays host to several sporting events throughout the year. The complex features eight lighted softball fields and is host to International Softball Congress world tournaments and ASA National softball tournaments. It also features nine soccer fields, one cricket field, concession stands and two covered picnic shelters. It seats 800 spectators and has 750 parking spots.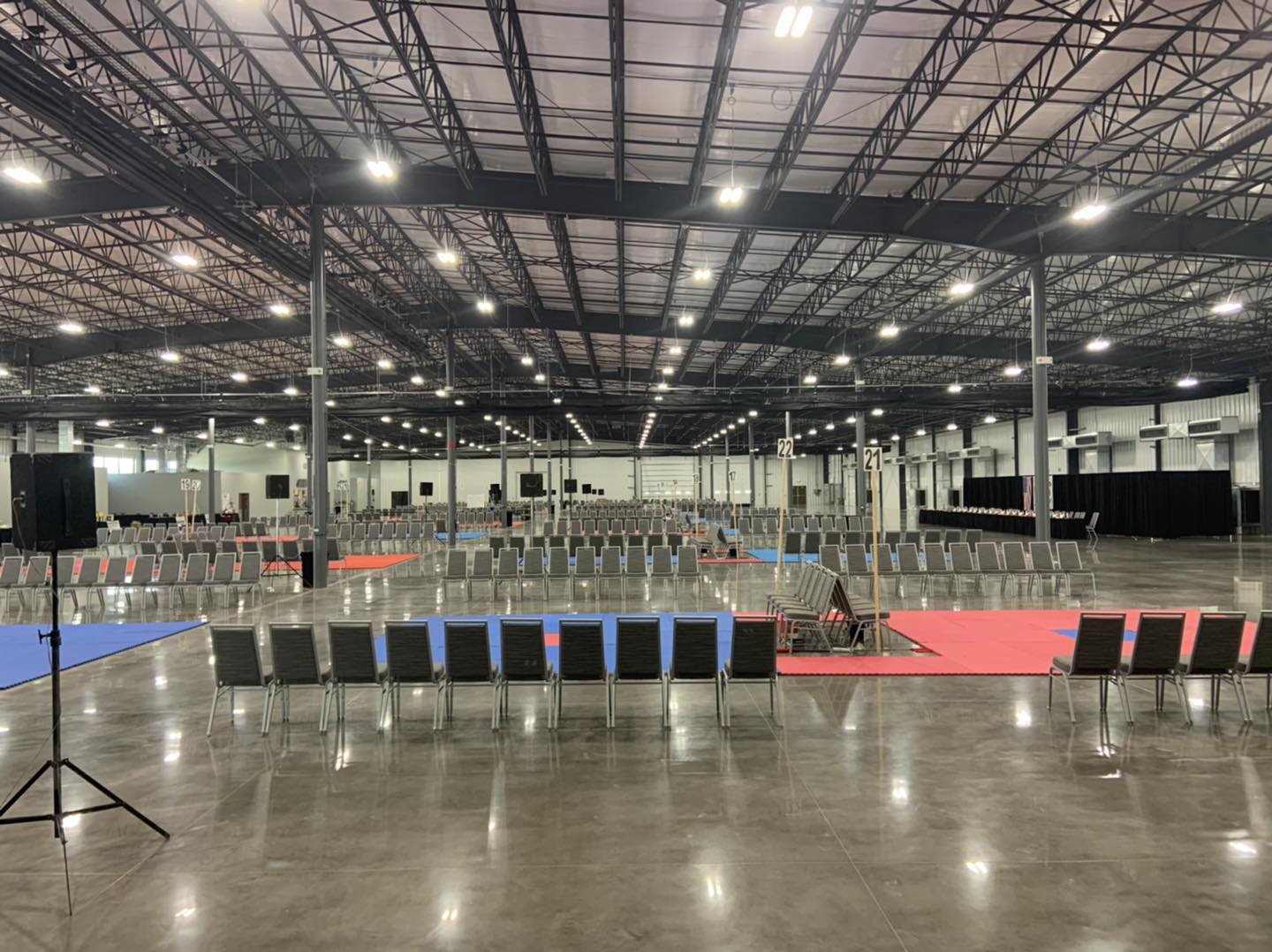 BEND EXPO
Sports Covered: Cornhole, martial arts, cheer, dance, gymnastics, wrestling, weightlifting
Gone are the days of adjusting your event to fit the space you're given. Bend XPO's 100,000 square feet footprint features multiple indoor spaces, outdoor space, large restrooms, and concession stands. With the flexibility of Bend XPO, you can shape the space to fit anything you may want or need. Since opening in mid-2021, they have hosted cornhole & taekwondo tournaments; cheer, gymnastics, and dance competitions.  The entire Bend Campus includes 132 acres of real estate right on the Mississippi River. Included are The Rust Belt Concert Venue; The Bend Event Center; River Bend Park/Outdoor Green Space; Hyatt Place | Hyatt Quad Cities; Restaurants, bars and coffee shops.